Verdict from 16 experts and +100 user reviews
5 reasons to buy
The midsole unit of the Hoka One One Arahi 4 is welcomed because it is able to support the foot responsibly.
Some consumers have noted that the midsole unit is bouncy enough to encourage the potential of the step.
The aesthetics of this product are lauded; the visuals are deemed highly appealing.
Several purchasers believe that the upper unit is breathable enough to enable all-day wear.
The lightweight structure of this running shoe is welcomed by a lot of runners.
2 reasons not to buy
A few people have experienced the foot sliding towards the front of the interior chamber.
A couple of testers believe that the stability mechanisms present in this model are not enough for responsible pronation correction.
Bottom line
The overall reactions of people towards the Hoka One One Arahi 4 have been positive. They like the breathability of the upper unit, as well as the supportive yet bouncy construction of the underfoot platform. The stability mechanisms are deemed inconsistent because some have felt that they weren't enough to fully correct overpronation.
Fans of road running shoes that aim to stabilize the gait are the target market of the Arahi 4.
Tip: see the best running shoes.
Our reviews
Hoka One One shoes have always intrigued me. With the larger stack height and plush cushioning, I've always been interested in trying them.
I never wanted to make the leap. When it finally came time to retire my Asics Metaruns (600 miles later), I came across the Arahi 4, which seemed to tick all of the boxes - support, cushioned, and lightweight.
So I made the jump, and I didn't feel disappointed until I started to feel something just above my arch on my midfoot.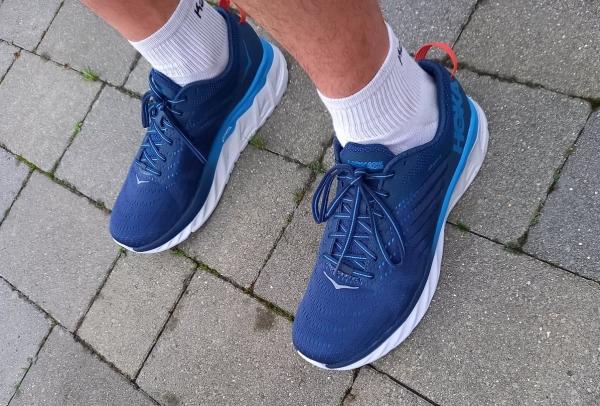 You'll see throughout this review that I'm conflicted. On one side, these shoes certainly deliver what's needed and more but at least for me, a pretty big downside.
These shoes are aimed to provide plenty of cushioning, enough support for mild overpronators yet still be snappy and responsive when you need them to be. They deliver all of these and much more; some key features are:
Lightweight (for a support shoe)
Breathable upper
Early stage Meta-Rocker
Firmer EVA J-Frame™
Flat-waisted geometry
Features zonal rubber placement for durability
Rotation
To give some context to what I'm comparing the Hoka One One Arahi 4 with, the shoes I currently switch between are:
Nike Pegasus 35, for speedwork and shorter distances

Addidas Boston 8, for speedwork and races under half marathon distance
In the past, I've heavily relied upon support shoes. But as shown from above, I'm slowly moving towards a lighter support level. The Arahi aims to replace my Asics Metaruns as my long run and race shoe where I need that extra support.
Core metrics
| | |
| --- | --- |
| Weight | 272g (Men's UK Size 9.5) |
| Offset | 5mm |
| Type | Support |
| Uses | Long run and races over half marathon |
Fit
When it comes to fit, these shoes are a real mixed bag. We'll get onto the aforementioned caveat but for now, let's stick with the good aspects.
Overall these shoes are good at making your fit feel secure without a tightness on the top of the foot. They also give plenty of space in the toe box giving your toes enough space to splay.
It looks like we've gotten to the caveat already. The main issue with these shoes is that something (and I've not able to pinpoint exactly what it is) causes rubbing along the midfoot. Enough rubbing that as you pass the 5-mile mark, you can feel blisters forming.
I've tried different insoles and varying degrees of tightness for the laces, but to no avail. The hope is that this stops after some time. Maybe it could be that I need a wider version but not something I've ever experienced in other shoes.
Upper
Of all the Hoka One One's, these are probably my favourite in terms of looks and the closest to a pair of "normal" looking trainers (which might be why they are my favourite).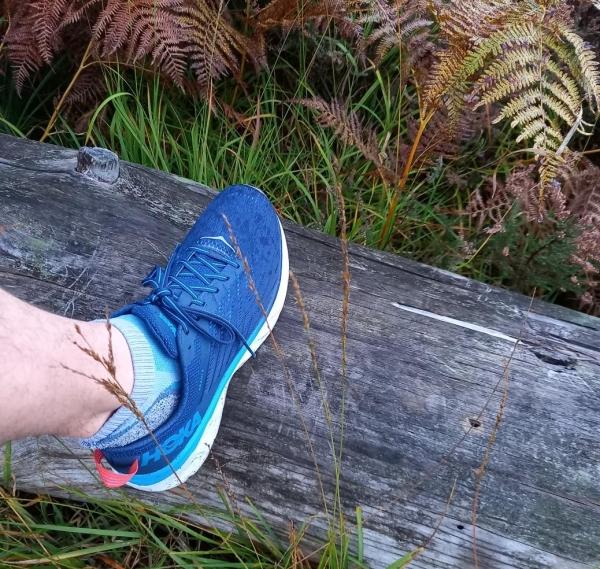 The upper is filled with cool features and nods to the Hoka branding. The reflective logo at the bottom of the laces, the Hoka name emblazoned on the side along with the model name, and a dotted design along the edges all makes for a great overall look (especially when twinned with a dual colour outsole).
The heel loop synonymous with the Hoka running shoes, and they are a great addition, especially if, like me, you don't often want to undo your shoes once you've found the fit that's right for you and also adds a bit of colour to these.
Towards the end of the shoe, there is plenty of room, enough for your toes to splay, and a decent amount of space for any size increases you may see in the long run.
These are also very breathable shoes. There isn't an abundance of padding, meaning that your foot can breathe, and if you're unlucky enough to get caught out in the rain, these won't have you feeling like you've got a pair of lead weights attached to your feet.
They're a lot closer to a mesh fit next to your foot compared to other running shoes.
Midsole
The midsole is really where Hoka has gone against the status quo for support running shoes. The usual arch support and the big external heel counter isn't there. Instead, Hoka relies upon their unique J-Frame, which aims to guide your foot and provide support.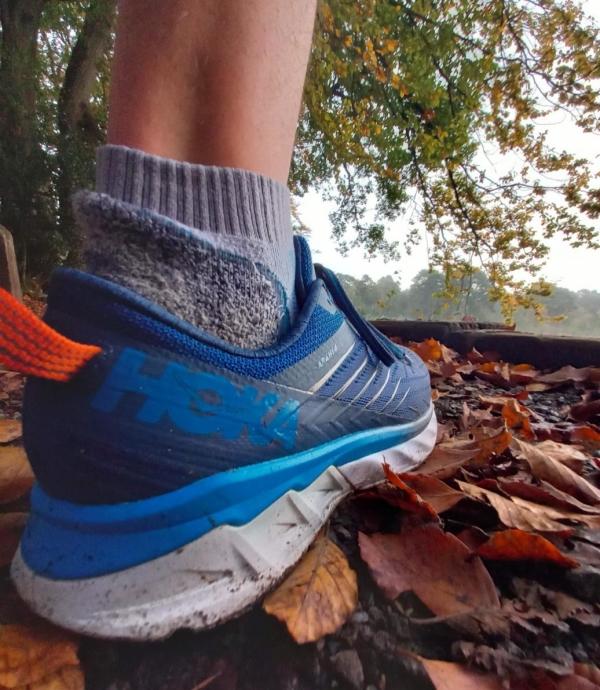 This means the Arahi 4 doesn't come with the usual challenges of a support shoe. They've been able to cut down the weight and offer a real mix of firmness in the areas where it's needed and softness, allowing a forgiving experience when tired.
The support provided is made for mild overpronators or those looking for a bit of support during their weekly miles. Unlike some other support shoes, the overall experience in the midsole is responsive.
You feel protected but connected to the surface. This shoe feels comfortable on slow runs but also when you're up the pace. Firm enough to provide a decent snap, the meta-rocker style also helps push you forward, which helps drive the pace.
Personally, although these shoes can be used at all paces, I prefer them at a faster pace just because of the snappy feel and meta-rocker, but that's very much a personal preference.
There is some time needed to get used to a 5mm drop compared with the standard 8-10mm you'll get with most other running shoes. But once you get used to this, they feel great apart from the issues mentioned previously. The support and cushioning is more than enough for longer runs.
Outsole
What's strange is I didn't actually slip whilst wearing these, but they felt slippery. It was as if the grip was enough to keep you standing but not quite enough for you to feel entirely secure.
It's a strange feeling which takes some getting used to.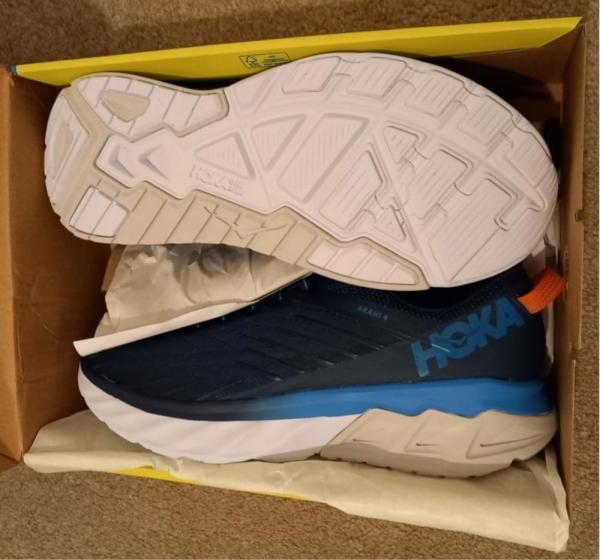 This feeling is only apparent on wet concrete. On all other surfaces, these shoes felt great, able to corner at speed and provide enough grip on trails.
The addition of durable rubber on key wear areas is a great touch to ensure longevity. So far, for the first 50 miles, I did not notice durability issues, and there are no issues with stones or mud getting stuck into the bottom, weighing the shoe down.
Pros
Responsiveness balanced with cushioning allows you to up the pace
Lightweight for support shoes
Enough support for mild overpronators
Plenty of cushioning for those longer distances
Pull tab, if like me you never want to undo laces once you've found a sweet spot
Cons
Initial tightness on arch
Rubbing on inside of foot
Slippery underfoot feel
Conclusion
As you can see throughout this review, I'm conflicted. If you're not someone who feels the same pain and rubbing I have along the inner part of my midfoot, I have no doubt you'll love these shoes, especially if you need some support in a lightweight, responsive package.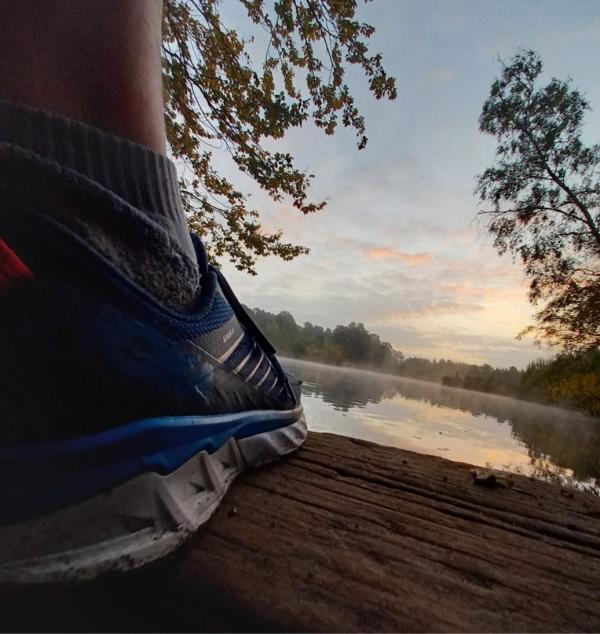 Are the Arahi 4s good enough to retire my Metaruns?
Yes and no.
These have effectively filled the void I was concerned about my Metaruns regarding support and ability to go the distance.
They also give me essential support on long runs whilst still being light and responsive, opening the doors for them to be used as race shoes. However, with the hotspots mentioned above (unless these start to abate post 50 miles), I'm not sure they're going to be good enough in the long run.
What makes this a tougher call is that all other shoe parts are great - the upper, look, overall performance truly is superb. If it weren't for the arch tightness causing blisters, these would score much higher.
I am not much into the looks when I go on my runs, whether it's training or an actual race. Basically, I don't care how my gear looks.
The Hoka One One Arahi's looks were a pleasant surprise. The pink is a soft coral shade, so it's not too bright or neon to distract or be annoying.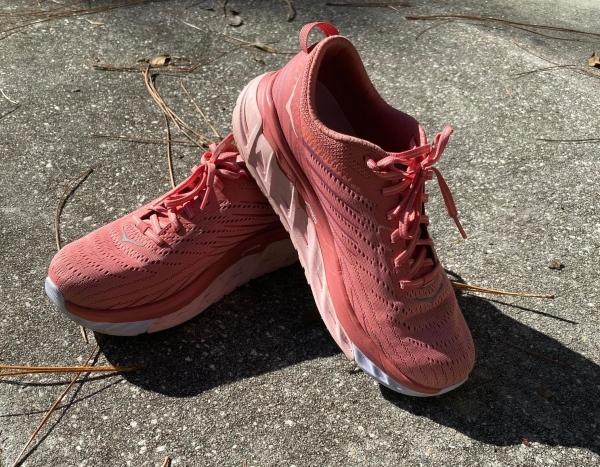 The top is fabric mesh with very few PU inserts making the shoes very breathable, almost like Nike. They look clean-cut and even a bit preppy.
Stability
The Hoka Arahi is sturdy; my feet feel secure and balanced but not squeezed tight.
My very first run in them was a 6-miler, and I forgot I had a new pair on by about mile 2. But they don't feel soft like Saucony. They have nice rigidity to them.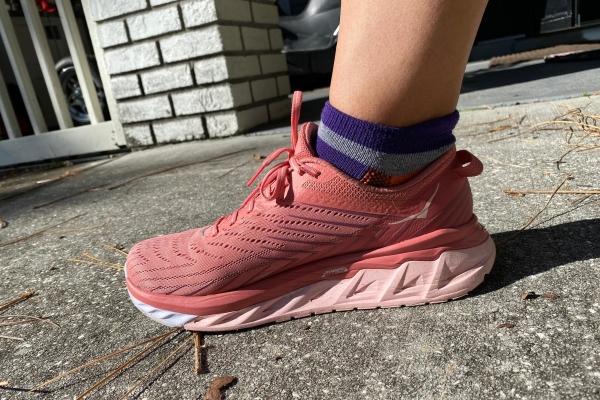 Cushioning
The thick sole creates extra cushion, which, in my case, is extremely helpful. I do have a heavy step; I literally pound the pavement, so every layer of cushioning I can add between me and the asphalt is great as it helps prevent injuries.
At the same time, the extra cushion adds some weight to the shoes. They are not light by any stretch of the imagination, but not as heavy as some Asics models.
I will be using them as cross-trainers (as well) because of this increased thickness of the sole and the fact that it doesn't make them feel like leg weights.
Sizing
I always get my running shoes a size bigger than what I normally wear because otherwise, I tend to lose my toenails (a problem common for many runners I hear).
This pair is in 10.5 W, and it feels true to size. The toe box is wide enough but not too spacious.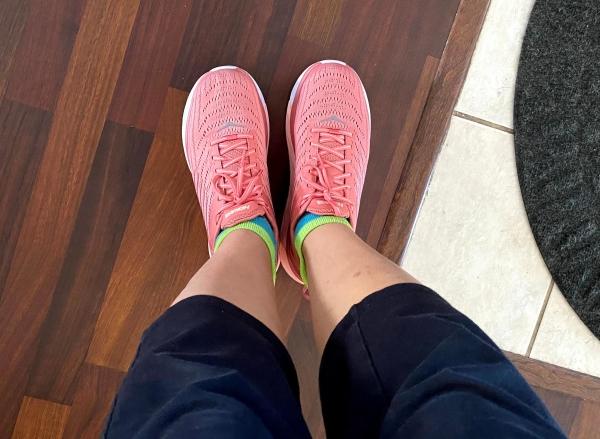 With thick running socks, it made for a very comfortable run. The shoes are regular cut, not for any heavy over/under pronators.
Laces
I am not sure, maybe it's just me, but I find it particularly annoying when the laces are too thin and long (hello, Saucony!) or too short like some NB.
This pair has enough length in its laces, and they are thick and stretchy. It was enough to tie with a "choke" and it would be enough to tie with the "choke" and the fixer.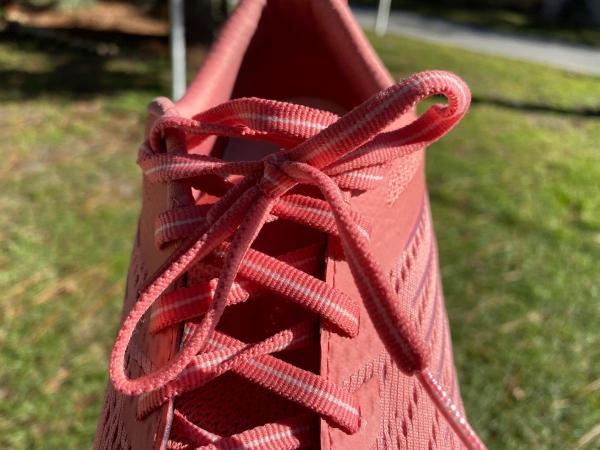 Durability
It's hard for me to judge right now since I have only had them for about a week. I ran 3 runs and a virtual half-marathon in them, and they still look brand new.
All the seams look good, almost no wear on the sole, and the glue is holding, so I would imagine they would go for good 4 months with a regular amount of training (both running and HIIT and weight lifting).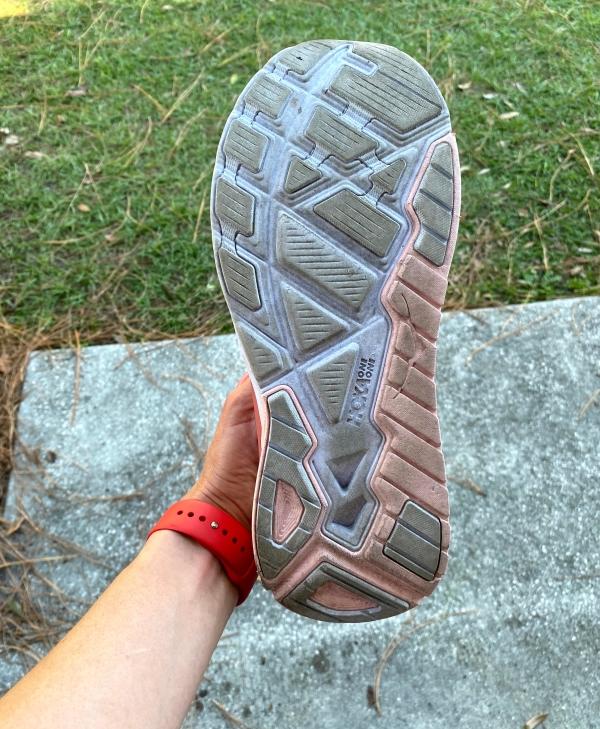 Conclusion
To sum this all up, I would say this pair is a great daily runner, easy to break in, good-looking, and very bouncy.
I will pay attention to how the sole wears to see if the bounciness will hold over time, but for my kind of heavy-step running and various types of training, they will work great.
Good to know
The Hoka One One Arahi 4 is a running shoe that is made for those who have concerns with overpronated foot motion. This product employs a cushioning system that is similar to its immediate predecessor, the Arahi 3, including the stability mechanisms that aim to steady the anatomical positioning and the gait of the foot.
Though it may not look like it has changed, the upper unit of this Hoka One One running shoe has been updated to be more breathable than the prior version. Heel security afforded to the runner via the interweaving printed overlays that pockmark the upper.

Regular sizing schemes have become the basis of the creation of the Hoka One One Arahi 4. Runners are welcome to get a pair with their usual choices of size in mind. Still, it would be beneficial to personally test the shoe first or study user reviews from different media to fully grasp the quality of the in-shoe experience.
The natural shape of the human foot is the target of the shoe's general outline. The upper unit has a stretchy and form-accommodating silhouette while the platform has a semi-curved shape that encourages natural toe-splay.
The outsole of the Hoka One One Arahi 4 is made of Hi-Abrasion Lightweight Rubber. Pieces of this rubber are strategically-placed to cover the areas that are susceptible to wear-and-tear. They're touted to be able to resist the damaging nature of the surfaces and continued use. They also provide surface grip, an element that is essential to all running shoes.
Flex grooves are responsible for making the platform extra bendable. The added movement can enforce a feeling of freedom when it comes to transitioning through the gait cycle. The toe-off is the part of the step that benefits the most from flex grooves as it requires the muscles, joints, and tendons to move.
Ethylene-Vinyl acetate-based midsole foam is used for the cushioning unit of this stability running shoe. This full-length accouterment offers underfoot support, impact attenuation, and springy toe-offs. It even has a substantial stack height to fully deliver a feeling of resting on a flexible yet shock-absorbent platform.
A firm stability element called EVA J-Frame™ covers the majority of the platform's medial side, and it snakes past the rear to the midfoot area of the lateral section. The job of the J-Frame™ is to prevent the foot from rolling excessively inwards when taking each step. It also neutralizes the idle stance to attain a natural anatomical position.
The Early Stage Meta-Rocker is a slightly convex platform shape that encourages a smooth heel-to-toe transition.
A sockliner is placed on top of the primary cushioning system. This add-on serves as a soft surface on which the underfoot can rest. It even has a fabric top to evoke smoothness. Also, it isn't heavy, and it can be replaced with a new one when needed as it is removable.
The upper of the Hoka One One Arahi 4 is made of engineered mesh. This material offers a sock-like wrap that is similarly smooth, stretchy, and lightweight. It is also breathable since it has plenty of breathing holes on its facade. All-day running can become plausible with such a comfort-ensuring feature. Engineered mesh is used in many popular running shoe series, including the Saucony Kinvara line.
Streaks of printed overlays line the sides and instep of this running shoe. These seemingly incognito add-ons are meant to bolster the durability of the silhouette while also helping to secure the foot in place. Their printed nature ensures a non-bulky look.
The rear part has an extra layer of printed material. This wraparound piece helps the collar and the fabrics when it comes to locking the heel in place and preventing it from wobbling during the run. Accidental shoe removals are also avoided by this synthetic print.
A traditional lacing system permits the runner to adjust the tightness or looseness of the coverage with ease.
A fabric pull tab is stitched onto the back of the collar. The purpose of this piece is to help the runner to widen the shoe's opening for when the foot enters, or exits, the interior compartment.
How Arahi 4 compares
Corescore: 54-57
3 shoes (0.32% of shoes)
Corescore: 58-61
6 shoes (0.64% of shoes)
Corescore: 62-65
14 shoes (1% of shoes)
Corescore: 66-69
21 shoes (2% of shoes)
Corescore: 70-73
54 shoes (6% of shoes)
Corescore: 74-76
64 shoes (7% of shoes)
Corescore: 77-80
208 shoes (22% of shoes)
Corescore: 81-84
264 shoes (28% of shoes)
Corescore: 85-88
208 shoes (22% of shoes)
Corescore: 89-93
92 shoes (10% of shoes)
Price: £40 - £70
114 shoes (12% of shoes)
Price: £70 - £100
268 shoes (29% of shoes)
Price: £100 - £130
273 shoes (29% of shoes)
Price: £130 - £160
170 shoes (18% of shoes)
Price: £160 - £190
60 shoes (6% of shoes)
Price: £190 - £220
35 shoes (4% of shoes)
Price: £220 - £250
10 shoes (1% of shoes)
Price: £250 - £280
1 shoes (0.11% of shoes)
Price: £280 - £300
2 shoes (0.21% of shoes)
Price: £310 - £330
1 shoes (0.11% of shoes)
Weight: 100g - 135g
6 shoes (0.77% of shoes)
Weight: 136g - 171g
25 shoes (3% of shoes)
Weight: 172g - 207g
48 shoes (6% of shoes)
Weight: 208g - 243g
135 shoes (17% of shoes)
Weight: 244g - 279g
216 shoes (28% of shoes)
Weight: 280g - 315g
234 shoes (30% of shoes)
Weight: 316g - 351g
83 shoes (11% of shoes)
Weight: 352g - 387g
25 shoes (3% of shoes)
Weight: 388g - 423g
7 shoes (0.9% of shoes)
Weight: 424g - 460g
3 shoes (0.38% of shoes)