Hoke One One Clifton Edge review
The Clifton Edge is an enjoyable running shoe to run in. It is very similar in many ways to the Rincon. Both are relatively lightweight, can be used for training runs or on race day, and have a similar stack height.
One significant difference between these two shoes is the price. The Rincon retails at $115, whereas the Clifton Edge costs $160. So considering the price differential, I would probably go with the Rincon unless I was someone looking for a bit more stability in the ride than what you would get from the Rincon.
I don't think you could go wrong with either shoe, but I think you're going to get more bang for your buck out of the Rincon.
Who should buy it
The Hoka Clifton Edge is ideal for runners who:
are looking for a stable ride
want a road shoe that can do it all
appreciate a breathable upper
Who should NOT buy it
The Clifton Edge is not for you if you:
you have wider feet (the Clifton 8 is worth checking out, it has a wide toebox)
are a runner on a budget (the Hoka Arahi 5 is much cheaper and praised for its plush cushioning and wide-feet friendly design)
prefer a shoe with plush cushioning (in this case, consider the Gaviota 2)
Wider feet, beware!
When you look at the Clifton Edge, its appearance is long and narrow, but the fit is true to size for me. I had plenty of room in the toebox and experienced no hot spots while running, but I have a narrower foot. I think anyone with a wider foot may have issues since the upper is not particularly stretchy, and there is not much volume in the upper. You could try half-sizing up to counteract this. Also of note, HOKA doesn't offer a wide size for the Clifton Edge.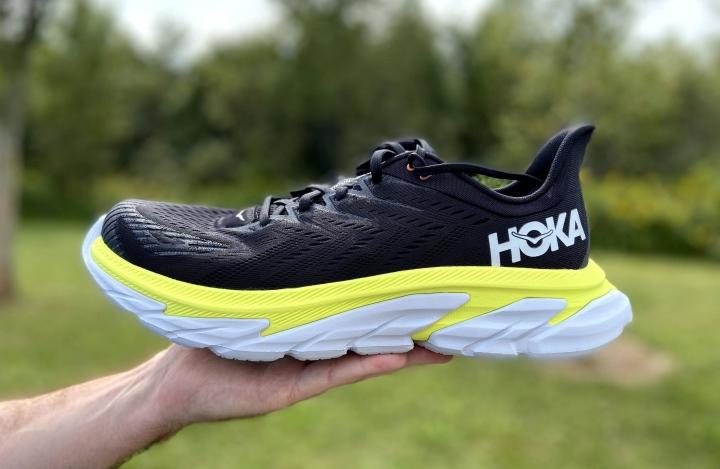 Surprisingly comfortable
The Clifton Edge has a thinly padded performance tongue that you find in many racing shoes these days. Despite this, the upper is comfortable, and I did not have pressure on the top of my foot when lacing down.
The Clifton Edge has a nicely padded heel counter and an exaggerated Achilles notch, which wraps around my foot really well. The exaggerated Achilles notch did not cause any rubbing or hot spots and came in handy as a pull tab when putting the shoe on.
The midsole isn't plush, but it does provide excellent comfort and minimal ground contact due to its high stack height of 33mm in the heel and 28mm in the forefoot.
The sockliner is glued in and very minimal. Due to the lack of volume in the upper, I don't think custom orthotics would work well in this shoe.
So smooth you forget about them
You know you have a good pair of shoes when you don't have to think about them. The ride is so enjoyable that sometimes I forget they're on my feet, which is a good thing. I do wish there was a little more cushioning. It's a bit firmer than what I would like it to be for longer runs; conversely, this is probably what helps it out when you want to pick up the pace.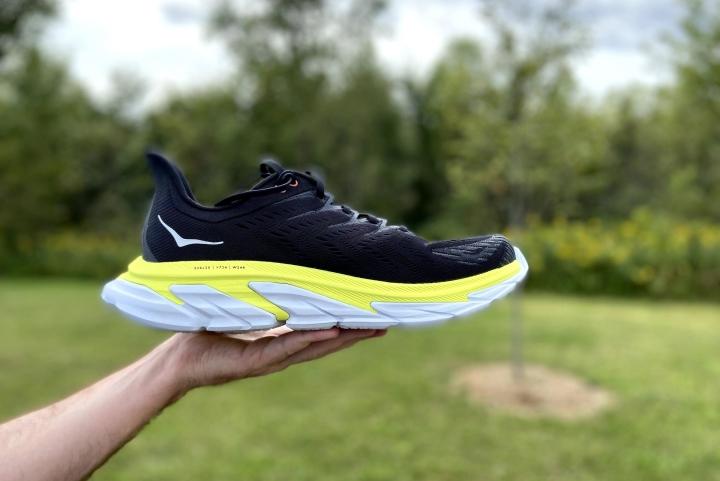 I had a very stable ride in the Clifton Edge
I don't notice the exaggerated heel while running, but you definitely feel stable in the shoe. Even though this is not a stability shoe, I had a very stable ride in it. Not sure if this was the intent, but I almost feel like my foot is being guided through the gate cycle, and there's no tilting of my feet; if you want to call it pronation or underpronation, it seems to keep it in place quite well. So again, although this is not a stability shoe, it feels like one when I'm running in it.
The Clifton Edge can do it all!
This running shoe can do it all on the road. I would not take this on too many trails because of the outsole's durability issues. Its weight allows the Clifton Edge to be used for faster pace runs, and its midsole is substantial enough for longer runs.
I would take this up to a half marathon distance, but the midsole is a little too firm for me to go much longer than that. I could see someone using it for a marathon, but better options are available for such a distance.
The Hoka Clifton Edge is Welterweight
The Clifton Edge weighs in a men's size 9 at 8.9oz (252g) and women's size 7 at 7.2 oz (204g). For my size 12.5 US, it weighs 10.4oz (295g).
To use a boxing term, the Clifton Edge is a Welterweight, so a bit heavier than a lightweight like the Rincon (7.7oz/218g). Even though it is not the lightest of shoes compared to other trainer options available, it actually feels lighter on foot.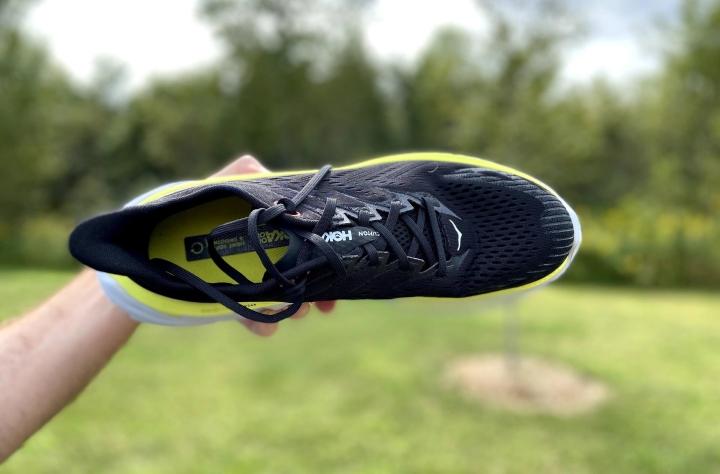 Durability concerns with the outsole
The outsole is rubberized EVA, and I found it not to be very durable. After a few runs, I have already noticed some wear on the tread, and I can't imagine this looking very good after a couple of hundred miles. Tracktion was good, and I did not experience any slipping on my road runs, but once the rubberized EVA frays away, I'd be concerned that they may be a bit slippery.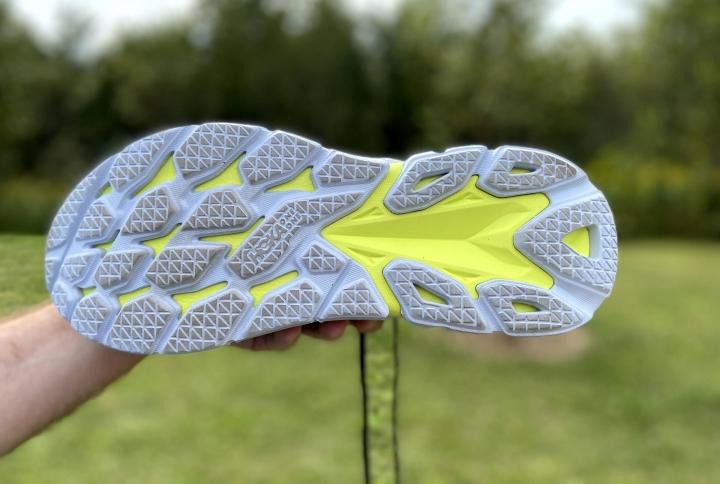 Happy feet in the heat
The upper is very breathable, probably one of the more breathable uppers I have in my arsenal now. Composed of embossed TPU yarn, this material is supposed to be more durable, breathable, and resilient. Time will tell if that is true, but I can vouch for its breathability and comfort. I did not have any issues running during some hot days, and moisture did not gather excessively in the shoe.
Lockdown issues in the Clifton Edge
As mentioned earlier, the tongue is minimal and thinly padded, if you could even call it padded and gusseted. It's a short tongue which drives me a little crazy when lacing up because I keep having to pull on it to make sure the laces stay on top of the tongue and not the top of my foot. I have to use the extra eyelet to reduce heel slippage. The elfin heel looks cool, and you can use it as a handy pull tab, but I'm not getting the best lockdown.
For the night runners
HOKA has done a nice job adding reflective elements into this shoe. The back of the heel and tongue has reflective material providing added visibility for night running. It's a decent amount of coverage on the heel and pops out when light hits it. The tongue is a bit more muted due to the laces covering some of the reflective material.
Compare popularity
Interactive
Compare the popularity of another shoe to Hoka Clifton Edge: