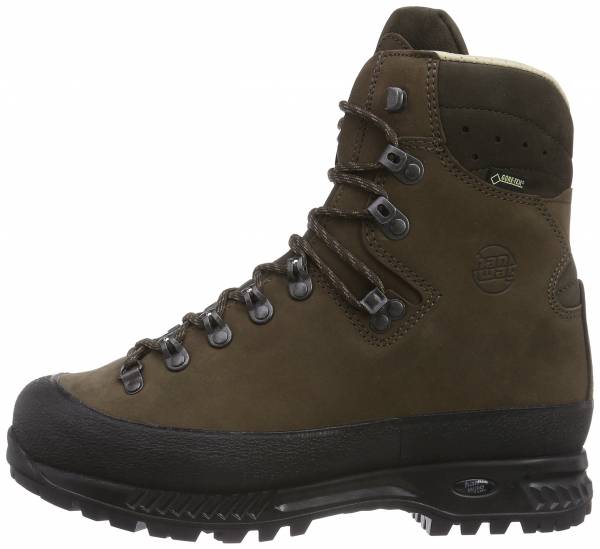 An exemplary backpacking boot from Hanwag—the Alaska GTX—certainly made backpackers get their money's worth. The equilibrium of comfort and support, waterproofness and grip all contributed to the boot's favorable rating. To conclude, despite the Hanwag Alaska GTX's tapered toe box, it is still a product that can deliver an outlasting and remarkable performance.
---
Verdict from 3 experts and 100+ user reviews
7 reasons to buy
The majority agreed that the shoe held up well to wear and tear.
The comfort offered by the Alaska GTX from Hanwag was appreciated by a large number of backpackers.
Numerous buyers welcomed the extra support around the ankle because it prevented twisting while hiking on rough terrain.
The waterproofness of Hanwag's Alaska GTX was approved by several wearers.
A couple of owners found this high-cut backpacking boot to be reasonably priced due to its performance and quality.
This pair has a glove-like fit according to an expert. He acknowledged its half sizes which made a huge difference.
Hanwag Alaska GTX has a good grip based on many consumer reviews.
1 reason not to buy
A few users complained about the narrow toe-box.
Bottom line
An
exemplary backpacking boot
from Hanwag—the Alaska GTX—certainly made backpackers get their money's worth. The equilibrium of comfort and support, waterproofness and grip all contributed to the boot's favorable rating. To conclude, despite the Hanwag Alaska GTX's tapered toe box, it is still a product that can deliver an outlasting and remarkable performance.
Best price from 30 shops
We earn affiliate commissions at no extra cost to you when you buy through us.
64% say it's true to size.


Updates to Hanwag Alaska GTX
Hanwag crafted a multifunctional footgear by combining technologies that deal with a wide range of outdoor activities. The brand ensures that the Alaska GTX has a grippy underfoot through the multi-faceted Vibram Fuora outsole. Assisting in a more reliable ride is the PU midsole which is shock absorbent and reduces impact from ground contact. Likewise, the raised heel for women renders additional support.
The one-piece construction with reduced seams of the upper delivers comfort and eliminates rubbing. It boasts of a nubuck Terracare Zero leather which is a high-quality, environment-friendly material. The elevated brim safeguards the foot against rugged trails and the flex zone at the heel adds comfort.
The Gore-Tex laminate handles the waterproofing and breathability while offering modest insulation. Additionally, the Air Pulse System helps maintain the freshness of the foot as it promotes better air circulation in and out of the boots
Size and fit
The Hanwag Alaska GTX comes in medium and wide widths for both men and women. It generally runs true to size. This backpacking boot features a deep pull lacing which has side clamps to hold and secure the heel in place. Likewise, the easy rollers allow a swift and precise lacing.
Outsole
The Vibram Fuora has self-cleaning grooves that channel out water and mud to ensure grip on muddy, wet or slanting surfaces. The forefront and heel area renders maximum grip while the engraved shanks in the midfoot area ensure a firm hold on uneven grounds. It has a rounded heel that assists in achieving a natural touch down, and the rockered sole promotes a smoother transition from impact to toe-off. The lateral-medial side and undercut heel grants secure braking. It also has a flexion line to deliver a comfortable stride.
Midsole
The polyurethane (PU) shock absorber in the midsole acts as a buffer and reduces the effect of hiking over rough terrains. It distributes the impact of sharp forces, which are concentrated at a point, over the whole surface area. This attribute reduces the risk of injuries and increases the durability of the hiking boot.
Likewise, this pair is compatible with crampons.
The graded memory insole of this backpacking boot has shape retention ability. It is able to return to its original form after use.
Upper
The Hanwag Alaska GTX has an upper made of waxed nubuck Terracare Zero leather. This material is sourced from the Heinen Tannery in Germany which conforms strictly to environmental and social standards. The emission of carbon dioxide during the leather making process are reduced and neutralized by reforestation programs. Nubuck leather is buffed on the grain side that gives it a velvety and attractive look. It delivers breathability, water-repellency and durability making it able to work in a variety of outdoor conditions.
The cemented or one-piece build of this high-cut backpacking boot ensures that there are fewer seams used. With a cemented construction, the shaft is pulled over the last and over the insole to create a unit, and then the midsole and outsole are added. It helps retain the shape of the boots and is more durable and eco-friendly as it can be resoled. The reduced seams technique, on the other hand, decreases the risk of chafing and pressure points.
Using the Gore-Tex Performance Comfort laminate, the Alaska GTX from Hanwag creates a balance between waterproofness and breathability. This lining also offers moderate insulation for a broader range of outdoor activities. Moreover, the Air Pulse System keeps the environment inside the boots fresh and dry by promoting air circulation and wicking away moisture. The holes on the collar allow expulsion of hot air inside and fresh air to be drawn in the boots while walking.
The upper is reinforced with an elevated brim. It is a handcrafted rand that wraps the lower part of the upper that protects against rocks and adds durability. The flex zone at the heel area promotes a more comfortable stride.
Nice to know
Alaska GTX also comes in a winter-hiking boot variant—Alaska Winter GTX.
This leather hiking boot is compatible with strap-on crampons. They are not fit for steep ice and harder mixed climbs.
Categorized under B/C (Trek), they are suitable for lower mountain ranges and off-trail use. They deal with dirt roads, forest pathways and easy Via Ferratas.
Hanwag Alaska GTX can be resoled due to their cement-lasted construction. If necessary, the full rubber rand can also be replaced.
In caring for the boots, Hanwag recommends the following steps:
Brush off dirt every after use. For stubborn dirt, rinse the boots under running water. If unsuccessful, use leather cleaner and avoid soap as it can damage the impregnation and most types of leather.
The insides should be cleaned using a sponge or soft brush and fresh water. Do not use hot water.
Thoroughly dry boots in a well-ventilated, dry and shady place. Open the tongues widely. If the insides are extremely soaked, stuff with paper inside and replace as necessary. Do not expose to extreme heat as it can damage the boot's construction. Never store damp shoes in humid and closed places (e.g., plastic bags)
Regularly apply impregnation sprays (even on new footgear) on dry boots. Do not forget the laces and inaccessible corners of the tongue. The full effect is achieved after 24 hours.
In caring for the leather upper, using a special wax (no grease or oil) is necessary to keep it moisturized. Apply a thin coat of wax. Note that nubuck, suede and other split leather can moderately darken and become smoother after each wax application. Boot owners who don't like this effect should use a special suede brush to roughen up the leather again. Just simply brush off excess wax.
Popularity
The current trend of Hanwag Alaska GTX.