5 Best Waterproof Hiking Boots For Women in 2023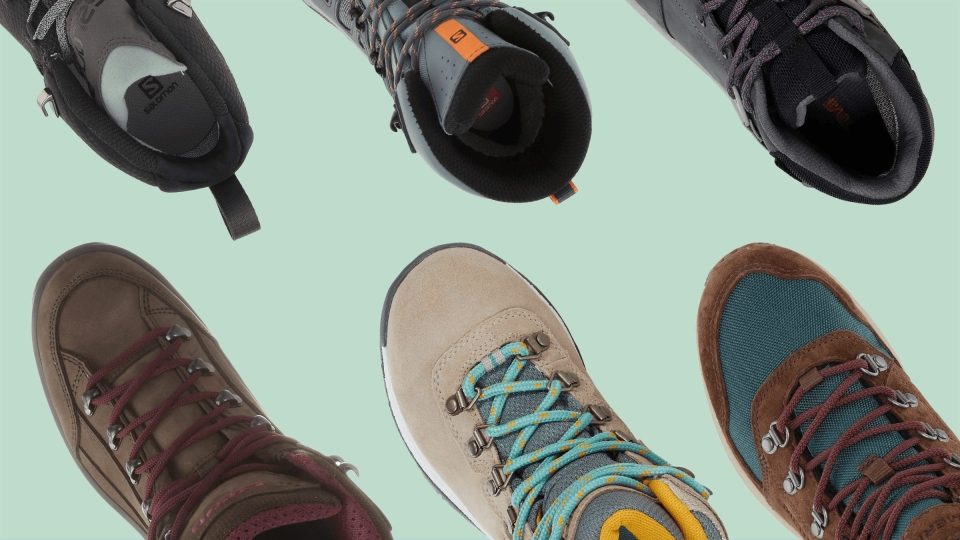 We earn affiliate commissions at no extra cost to you when you buy through us. Why trust us
Where inclement conditions rear their gloomy heads, but you do not feel like staying indoors, you are better off with a pair off waterproof hiking boots. To help you wind up with the best there is, we have come up with this selection of wet-weather top picks.
We have tested over 200 pairs of women's waterproof hiking boots just to give you our choicest picks. So, whether you need a fantastic all-rounder or something light or budget-friendly, your being here is destiny.
How we test hiking boots
For outdoorsy Janes like you, we know how important it is to learn about the best waterproof hiking boots for women by reading objective reviews. Now, we are on top of things when it comes to such reviews. Here is our approach:
Waterproof hiking boots can be quite expensive more often than not. Still, we buy every pair using our own funds to be as unbiased as possible with our reviews.
We test women's waterproof hiking boots for days, hiking in them in a moderate-to-heavy downpour. Whenever possible, we also put each pair through our water submersion test.
Our female-centric reviews reflect opinions and findings from hundreds of regular users and gear experts.
A CoreScore is then assigned to every reviewed hiking boot. This RunRepeat-exclusive rating system played a big part in helping us produce our list of top picks below.
Comparison of the 5 best waterproof hiking boots for women
| | | | | | | |
| --- | --- | --- | --- | --- | --- | --- |
| Best | | | | | | |
| CoreScore | | | | | | |
| Users rating | | | | | | |
| Experts | | | | | | |
| Best price | | | | | | |
| Ranking | | | | | | |
| Popularity | | | | | | |
| # of colorways | | | | | | |
Out on the trail, we're immersed in the outdoors, at the mercy of the weather and terrain in the mountains. The weather out there can quickly change which can ruin great days and potentially be dangerous if we're not prepared properly. That's left most hiking considering how to stay safe and dry on their adventures. Here's our guide on how to find the best waterproof hiking boots for women.
Why get a pair of waterproof hiking boots?
Unsurprisingly, we recommend that you wear waterproof hiking boots in any situation where you might be in wet conditions. Wet feet and socks start out as a minor annoyance while out hiking. But it can become outright dangerous if you're in cold conditions and can't warm back up.
They excel in heavy rain
Waterproof hiking boots come into a class of their own when you're in a torrential downpour with lots of water on the surface of the trail. They allow you to continue on toward shelter without having to worry too much about your feet getting wet.
Adaptable enough for milder days
They're also really useful in conditions that aren't soaking wet too. They're great at keeping you dry during light showers and unexpected patches of poor weather, and they're so useful when it comes to hiking after a storm.
Great in mud and snow
Even in muddy and snowy conditions, waterproof boots are a great choice. The construction of the boot and the materials used help block out moisture and keep your feet dry for your hike. Waterproof hiking boots are even useful off the trail too. If you live in a place with wet winters, you may even find yourself reaching for your hiking boots on particularly rainy days.
The pros and cons of waterproof boots
Personally, I'd only buy a pair of hiking boots without waterproofing features if I lived in a place where it was dry all year round. Of course, there are some downsides to having waterproof boots, but the pros far outweigh the cons for me.
Pros and cons of women's waterproof hiking boots

+ They keep you dry

+ They keep you warm

- They are heavier

- They take longer to dry

- They are less breathable

- They are more expensive
Pro: They keep you dry
The biggest draw of waterproof hiking boots is that they are waterproof. This makes them so much more adaptable in a whole range of environments. They let you hike the trails when you want so that you're not planning every day out around the weather.
When you're dry, you're more comfortable too. Wet boots cause more friction than dry ones, which irritates your feet and cause blisters.
Pro: They keep you warm
One thing that people often don't consider when it comes to buying outdoor gear is how exactly you stay warm out on the trail. Most think that insulation is all you need to consider. Insulation is great at keeping you warm, but if that insulation gets wet, then it loses its heat-retaining abilities.
A boot that keeps you dry will also keep you warm. Even if it doesn't have much insulation at all. You can add insulation with a proper pair of socks and the waterproof boot keeps the rain and water out.
Unfortunately, no boot is perfect for every condition. While waterproof hiking boots are amazing in a whole range of situations, they do have some downsides too.
Con: They're heavier
To be waterproof, waterproof materials need to be used. If natural waterproof materials are used, like full-grain leather, these are heavier than non-waterproof natural materials.
If the boots are made from a synthetic material, waterproofing features need to be added, which contributes to the heavier weight.
On average, women's waterproof hiking boots are 1.8 oz (50g) heavier than non-waterproof ones.
Con: They take longer to dry
Waterproof boots aren't fully immune to water. If the conditions are bad enough, they can get wet and when they do, they take longer to dry out. On a basic level, waterproof hiking boots work by blocking the elements from entering the boot. This also restricts air from passing through which normally dries the boot, so extra care is needed to dry wet boots out properly after hiking.
Con: They're less breathable
This aspect of blocking out the elements also takes away from the breathability of the boot. If you're wearing a boot with poor breathability, the moisture created by your foot has nowhere to go, so it stays inside the boot. Most of the time this just leads to slight levels of discomfort, but in severe cases, this moisture can cause friction which leads to blisters.
Next-to-no air passes through the upper on waterproof hiking boots
Con: They're more expensive
All this extra tech and higher quality materials and construction come at a cost penalty too. Generally speaking, the best waterproof hiking boots for women can be quite expensive when compared to non-waterproof versions. There are some exceptions to this rule though, with some brands being more budget-friendly than others.
On average, you have to pay $15 more for a pair of waterproof women's boots.
What makes a woman's hiking boot waterproof?
When it comes to making a waterproof pair of boots, the responsibility mainly falls on what materials are used for the upper. Of course, if the boot is poorly constructed then water can enter through flaws, but all of the boots on our list are well made.
Natural waterproofing materials
Full-grain leather is the go-to choice when it comes to making the best waterproof hiking boots for women. It's a durable material that's easy to work with and has a high level of water resistance.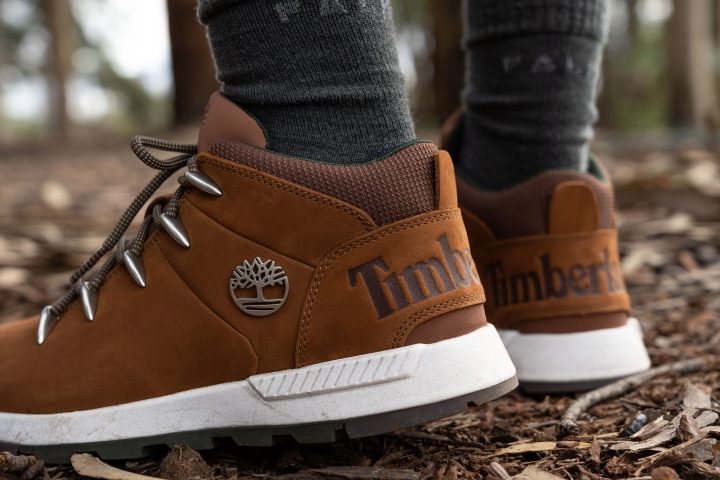 Popular brands of waterproof leather boots for women include Danner, KEEN, Oboz, Scarpa, Timberland, etc.
Leather is a permeable material. This means that moisture can pass through it, so it's not a 100% waterproof material. Instead leather is a water-resistant material that can be made highly water-resistant with different oils and sprays.
Synthetic waterproofing materials
As well as using natural materials to help make boots waterproof, there are also some man-made synthetic materials available too. These are constantly evolving, seemingly getting lighter, more durable, and more waterproof each year.
Similar to leather, synthetic materials are not fully waterproof as they need to have some level of breathability to function well as a hiking boot.
Gore-Tex membrane and why it's so popular
If you've researched hiking boots before, there's no doubt that you've come across Gore-Tex before, sometimes written as GTX. Gore-Tex is a proprietary material that manufacturers use in their boots to help keep moisture out, while also letting air pass through.
This is done by making the material with holes that are small enough to block water from entering through the material, but large enough to let moisture escape through it. On the trail, this means that rain can't enter your boot, but any moisture from your feet can escape, keeping you dry and warm.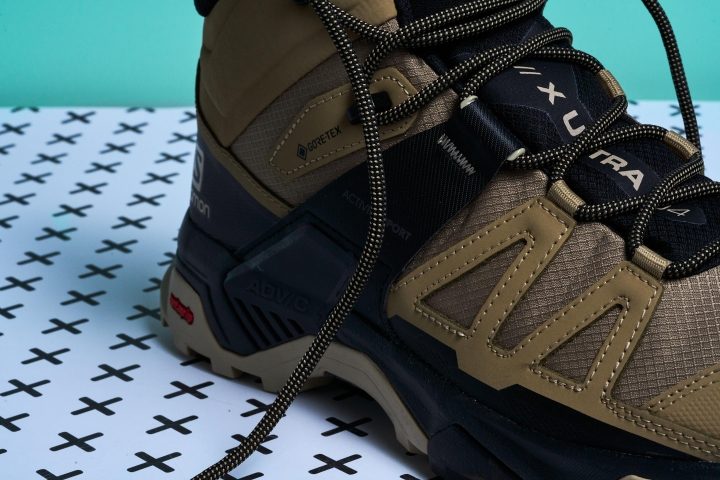 How to maintain leather hiking boots
We put our waterproof hiking boots through some challenging situations, so it's important to take care of them and regularly maintain them, particularly the uppers.
Mink oil is a natural choice
People have been using mink oil to waterproof their boots for generations. It can revive a tired pair of boots by putting oil back into the leather which helps boost the water resistance. One thing to keep in mind though is that mink oil can change the color of your boots.
Wax regularly
Waxing your leather boots works in a similar way to mink oil, but is less severe of a treatment. It won't discolor your boots, but it also won't bring the same level of protection either. These waxes are easy to find in most shops, or you can even make your own at home.
Use a waterproofing spray
Lastly, there are waterproofing sprays available for your boots. There are sprays specific for all types of leather, so make sure you pick up the right one for your boots. The spray applies a membrane to the outer of the boot that gives a water-resistant membrane that blocks out moisture.
How to maintain your Gore-Tex boots
Gore-Tex boots are usually more expensive than other boots, so it's very important to take care of them properly so that they last as long as possible. Here's how to maintain your Gore-Tex hiking boots.
Clean them regularly
This applies to every hiking boot as it's one of the easiest things you can do to extend the lifespan of your boots.
After each hike, shake off any loose dirt or gravel and brush off any other dirt that's collected. If there's any stubborn dirt, you can wash this off with some lukewarm water with a little bit of dish soap. Check the care label for exact instructions for your boots and avoid any abrasive cleaners like bleach.
Dry them after each hike
Drying your boots is a very simple way of getting the most out of your boots for as long as possible. Damp boots wear out quicker, can lose their shape faster, and can even cause blisters out on the trail.
It's particularly important to put the effort in to dry out your waterproof boots. The waterproofing features of a pair of hiking boots reduce the boot's breathability, so they take longer to dry out than non-waterproof boots.
After your hike, take out the insoles, stuff them with newspaper, and leave them to dry naturally in moderate temperatures.
Treat with Nikwax
Using a waterproof treatment spray specific for synthetic materials like Nikwax can give an extra layer of waterproof protection to your boots. Apply it when your boots are clean and dry and you'll give your hiking boots a waterproofing boost.
What makes a woman's hiking boot different from men's
Most people won't notice a vast difference between male-specific and female-specific hiking boots if they just use them every once in a while. But if you're an avid hiker and love to get out on the trails throughout the year, then you'll appreciate the subtle design choices between the two.
Added flexibility makes things comfortable
More often than not, women naturally have narrower and more flexible feet than men, so this means that the foot moves more freely within the boot. Boot manufacturers have done a number of things to help with this.
A narrower fit suits more feet
Women's hiking boots tend to have a narrower fit so that the foot can be secured better. This really helps with comfort levels and also reduces foot movement and friction that causes blisters. The midsoles are also made of a more flexible material to work naturally with the foot and give better comfort across all terrain.
Sizing specifically for women
For some female hikers, they can't even consider buying men's waterproof hiking boots because they aren't made in their size. That's why female-specific boots come in smaller sizes, allowing more and more people to find the best waterproof hiking boots for women to suit their needs.
Lighter boots make it easier
Women's hiking boots, even with the added waterproofing features, are lighter than men's boots, sometimes as much as 10% lighter. This is in part due to swapping stiff, heavy materials for more flexible ones and lower ankle cuffs.
FAQs on the best waterproof hiking boots for women
How long do women's waterproof hiking boots last?
Unfortunately, there is no exact answer - the lifespan of a pair of hiking boots depends on how you use them. If you hike hundreds of miles every season, you'll go through boots much quicker than occasional hikers.
Can you use waterproof women's hiking boots in the snow?
Absolutely. A lot of hikers buy waterproof hiking boots specifically for hiking in the snow. If you're planning to hike in the snow a lot, you should buy a pair of hiking boots that has a good level of insulation. Another factor to consider is if the boot is crampon-compatible. This is great if you're planning to hike in icy conditions and want an additional level of grip.
Do waterproof socks work?
Waterproof socks work pretty well at keeping moisture out. If you're going to be in extremely wet conditions, they can be a great addition. However, hikers have noticed that not all waterproof socks are very breathable.