6 Best Training Shoes For Women in 2023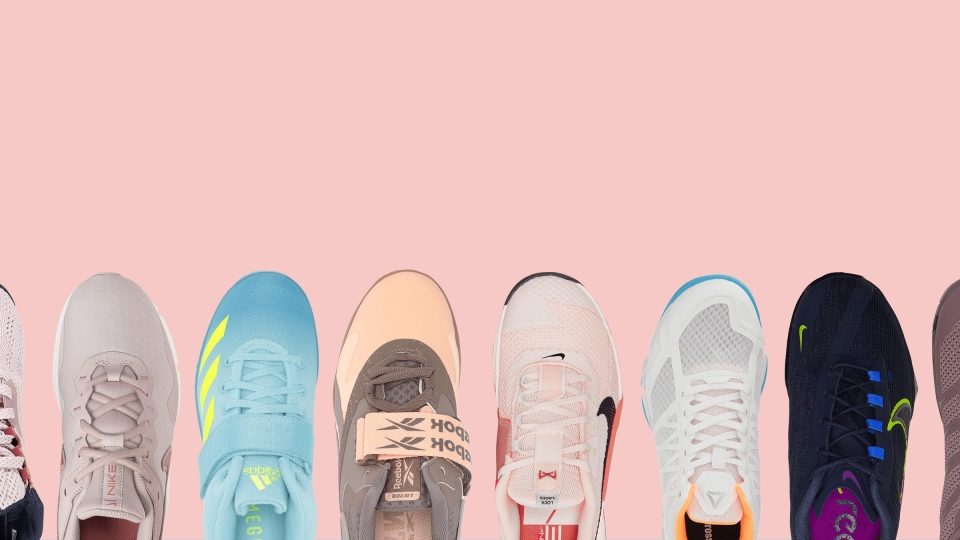 We earn affiliate commissions at no extra cost to you when you buy through us. Why trust us
Like any other sports- and fitness-related domain, the training shoe market for women is dominated by Nike and Adidas. In terms of sales and popularity, no one else comes close to these two. But is it the same when it comes to performance?
Here at RunRepeat, we consider it our mission to test more than 200 ladies' training shoes ourselves so that we can tell facts from exaggeration.
We present here our top picks, and you can rest assured that this is based on actual experience instead of the promised performance. Hence, you can expect to get acquainted with brands other than Nike and Adidas here.
How we test training shoes
When we took to ourselves the task of separating the excellent from the good, we knew that objectivity is of utmost importance. To make sure of that, we do the following:
Test shoes in different workout situations.
Use our own funds to purchase the shoe.
Gather feedback from other athletes who reviewed these shoes.
Besides our qualitative assessments of training shoes for women, we also come up with a quantitative CoreScore, which helps us rank and compare all these trainers.
Comparison of the 6 best training shoes for women
| | | | | | | | |
| --- | --- | --- | --- | --- | --- | --- | --- |
| Best | | | | | | | |
| CoreScore | | | | | | | |
| Users rating | | | | | | | |
| Experts | | | | | | | |
| Best price | | | | | | | |
| Ranking | | | | | | | |
| Popularity | | | | | | | |
| # of colorways | | | | | | | |
Hey ladies - are you tired of trying on different training shoes, only to find one that doesn't fit your requirements? We've got you covered, whether you're a seasoned athlete or just beginning your fitness journey. In this article, we'll explain the factors to consider when choosing the best training shoes, look at the special considerations for women, and compare the features of the top brands.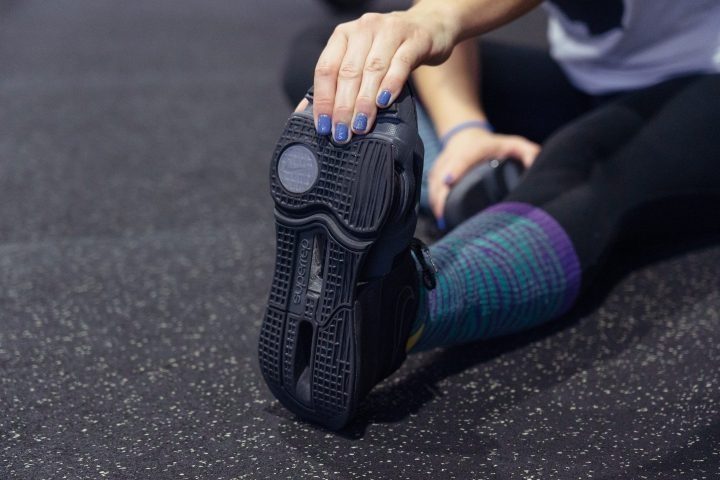 Importance of selecting the right training shoe
Proper training shoe selection is essential for reaching peak performance, avoiding injuries, and maintaining comfort while working out. Incorrect footwear can cause discomfort, agony, and even long-term injury.
Here are four reasons why you need to get serious about your training footwear:
Enhances performance
The proper training shoe can enhance your performance by offering the support and stability required for the type of exercise you're performing. For example, you need shoes with strong shock absorption if you're engaging in high-impact exercises like jogging or jumping to lessen the impact on your joints and avoid injuries. For improved balance and support while weightlifting, you need footwear with a sturdy and secure base.
Prevents injuries
The incorrect footwear can result in sprains, strains, and blisters. If you're doing lateral movement-intensive activities like aerobics or dance in order to avoid ankle injuries, you need shoes that offer strong lateral support and stability.
Ensures comfort
When it comes to training shoes, comfort is crucial. The incorrect footwear might make you uncomfortable and keep you from working out. The ideal running shoe should be comfortable to wear and offer enough cushioning to absorb stress and lessen the impact on your joints and feet.
Supports your specific foot type
Because every person has a different foot type, it's critical to choose shoes that do. By doing this, you can avoid foot pain, blisters, and other ailments that could result from wearing shoes that are too small for your feet.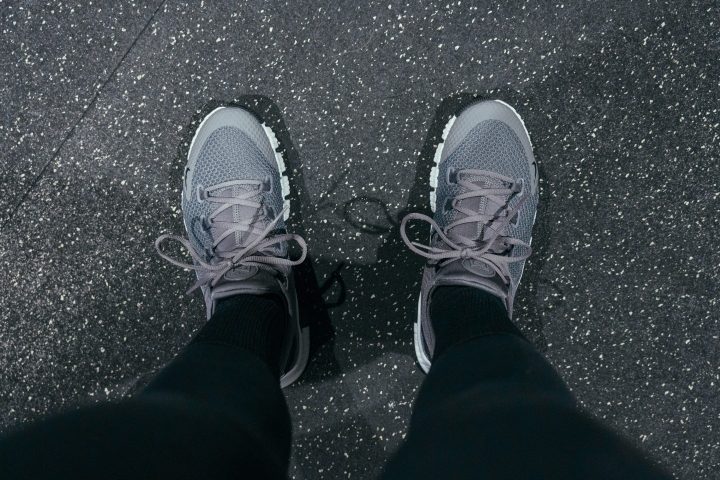 Factors to consider when buying training shoes for women
Unless you've got a game plan, you're likely to end up with a shoe that doesn't fit your needs. Here are 5 things to have top of mind when you enter the training shoe market:
Type of training you do
Matching the shoe to your type of workout should be your first consideration. Here are a few popular categories of exercise footwear and how they differ.
| | | |
| --- | --- | --- |
| Activity | Shoe description | Shoe types |
| Cross-training | Cross-training shoes can be used for a variety of exercises, including weightlifting, dancing, and aerobics. They provide good side-to-side support and are typically firmer than running shoes. | |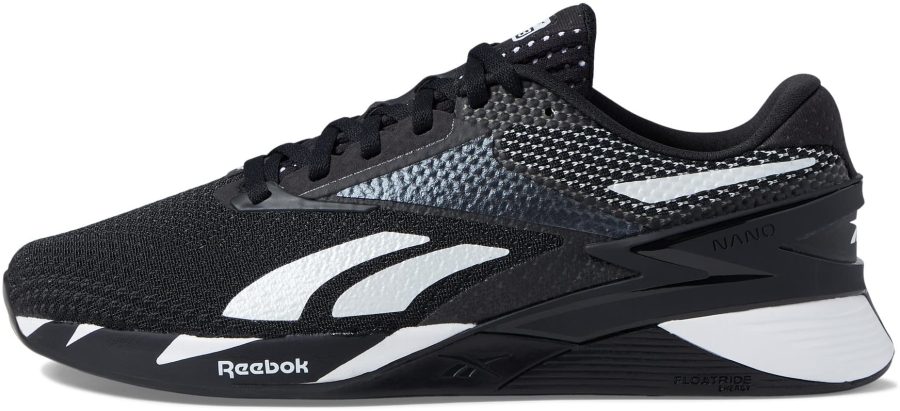 | | | |
| --- | --- | --- |
| Weightlifting | Weightlifting shoes generally have a flat, strong sole and an elevated heel to improve stability and balance when lifting heavy. They also provide enhanced support and an excellent lockdown to prevent lateral movement. These shoes also have a roomier toe area to allow for the toe splay that occurred when you are lifting. | |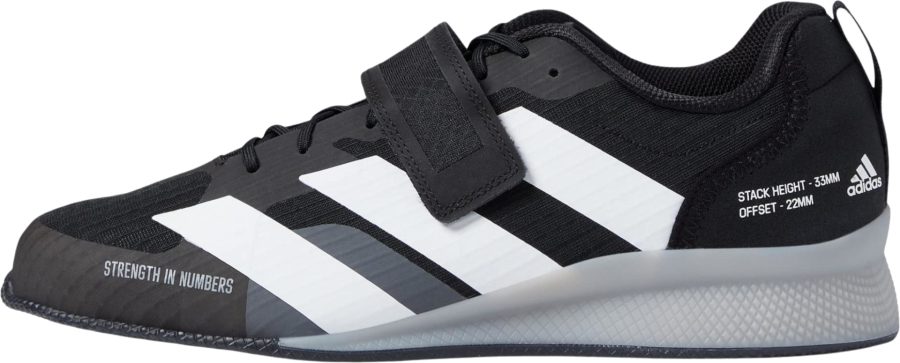 | | | |
| --- | --- | --- |
| Running | Running shoes have a cushioned sole to lessen the stress of impact on the feet and joints. They are made for high-impact sports like jogging. They often have an upper made of breathable material and a higher heel-to-toe drop. This footwear promotes forward motion. | |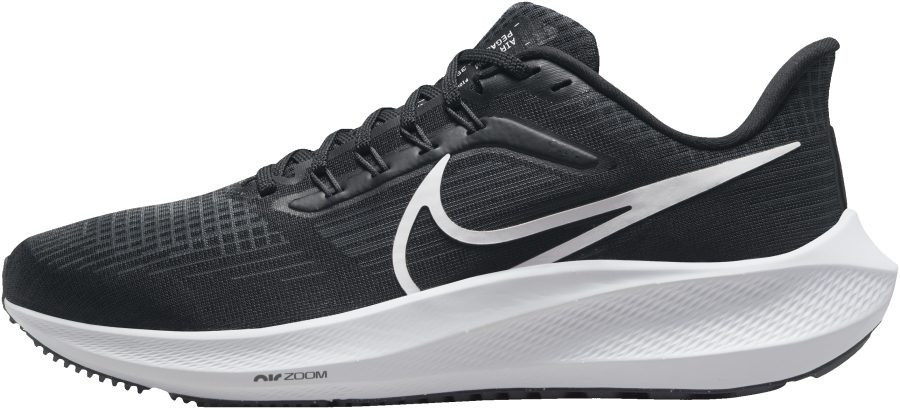 Foot type and shoe fit
The proper fit can lessen injury and promote peak performance.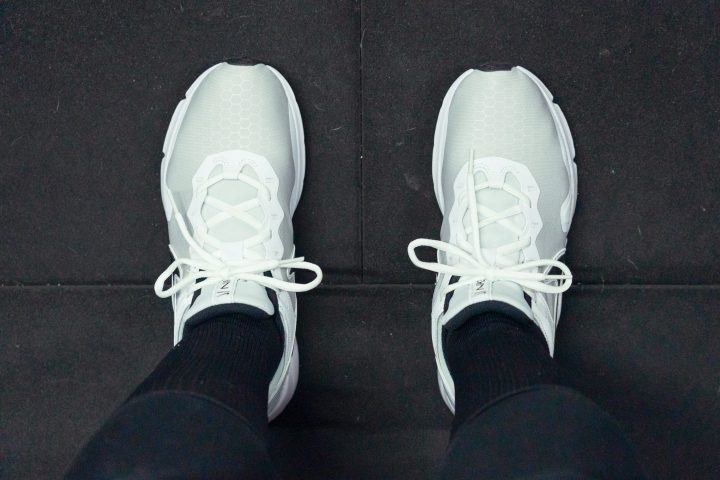 Keep these factors in mind when shopping for your next pair:
| | |
| --- | --- |
| Size | Before purchasing a pair of shoes, measure your feet and consult the manufacturer's sizing chart to make sure you get the correct size. Check that your toes can move freely and that the shoe fits snugly without being too tight. |
| Width | Different shoe brands and designs come in different widths. If you have narrow or wide feet, look for shoes that come in a range of widths. |
| Heel fit | The heel of the shoe should fit firmly but not too tightly, to prevent slipping and sliding inside the shoe. |
Flexibility
The shoe should have adequate flexibility to allow natural foot motion. Check to see that the shoe bends at the ball of the foot rather than the center.
Training shoes vary greatly in their flexibility level. Crossfit shoes and lifters tend to be stiff to provide enough stability.
NOBULL Trainer+ (stiffness 3 out of 5)
But if you do a lot of lunges, burpees, and similar exercises which involve a lot of foot bending, you are better off with a more flexible shoe.
Nike Free Metcon 4 (stiffness 1 out of 5)
Sock Choice
When trying on shoes, wear the socks that you'll have on when working out.
Difference between men's and women's training shoes
When selecting training shoes, there are a number of significant distinctions between men's and women's styles. Here are some of the important distinctions to take into account:
Women will need a different size and width of shoes than men because women's feet are typically narrower than men's.
Women may require greater arch support in their training shoes because they have higher arches than men do. To avoid pain and discomfort, look for shoes with sufficient arch support.
Women's training shoes frequently come in a greater selection of styles and colors than men's, as women typically show more interest in fashion and color.
Components of a training shoe
Knowing the different parts of a training shoe will better equip you to know what to look for when you launch into the marketplace. Here's a breakdown of women's training shoe anatomy:
Upper
The portion of a shoe that covers the top of the foot is its upper. It is often constructed of a synthetic textile or breathable mesh that offers support and ventilation.
Training shoes vary in their level of breathability
Some shoes could feature panels or overlays for more support and sturdiness.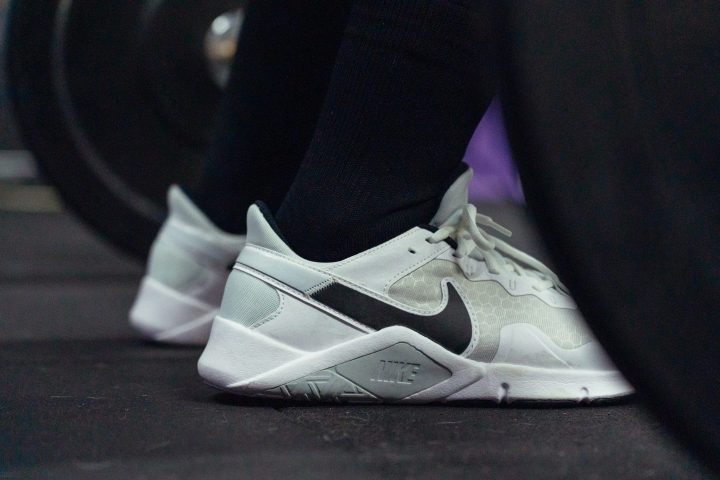 Lacing system
The lacing system allows you to customize the fit of the shoe to your foot. The majority of training shoes are lace-up, although some could also have hook-and-loop fasteners or slip-on styles.
Tongue
The tongue is the material flap that covers the top of the foot and rests just below the laces. Often padded for comfort, it also protects you from lace bites.
Tongue thickness varies greatly in training shoes, from 1 mm to 9 mm, making the shoe feel lighter and more breathable or more padded and cozy.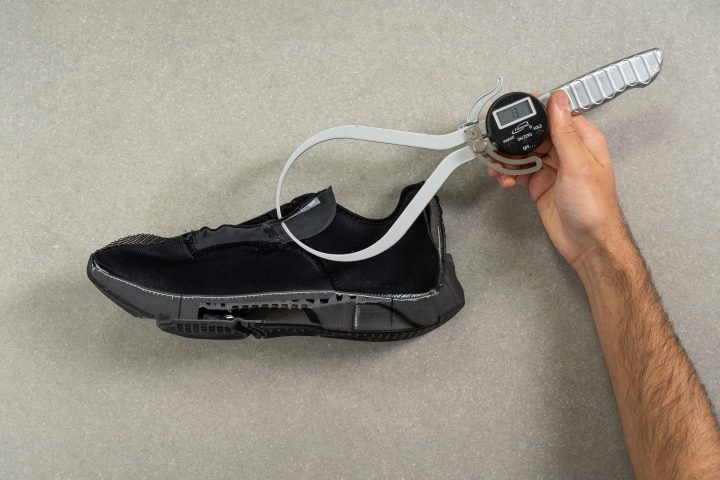 Nike Air Zoom SuperRep 3 has a 1.3-mm tongue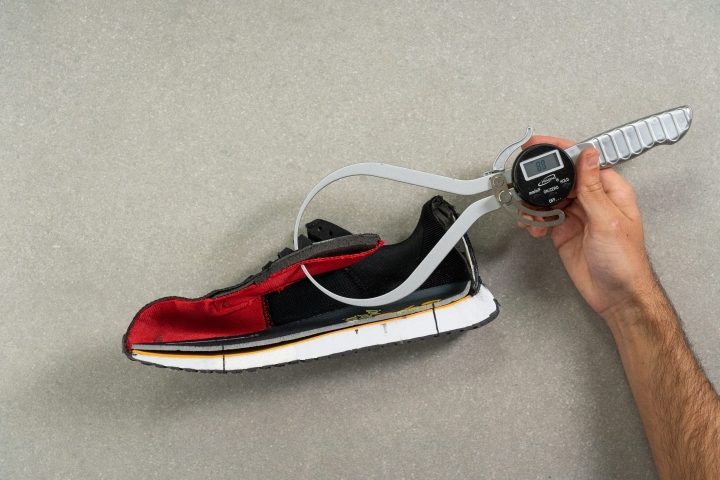 Reebok Nano X1 has an 8.8-mm tongue
Insole
The detachable cushioned insole, often known as the sockliner, is located within the shoe. If necessary, custom orthotics can be used in its place to give more comfort and support.
Just like any other part of a training shoe, insoles vary in their thickness and softness. But the typical range is 3-5 mm in the heel area.
Midsole
The cushioning and shock-absorbing midsole is the layer of material that sits between the upper and the outsole. Foam or other padded materials are often used to enhance support.
TIP: Choose training shoes with lower stack height and heel-to-toe drop if you want a more grounded shoe for lifting and Crossfit.
The average heel stack height of training shoes is 24 mm and the average drop is 4.5 mm.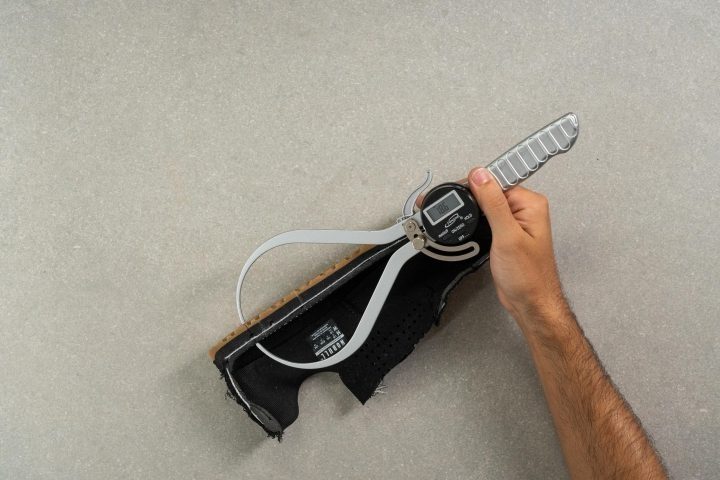 NOBULL Trainer (heel stack: 18.6 mm, drop: 3.7 mm)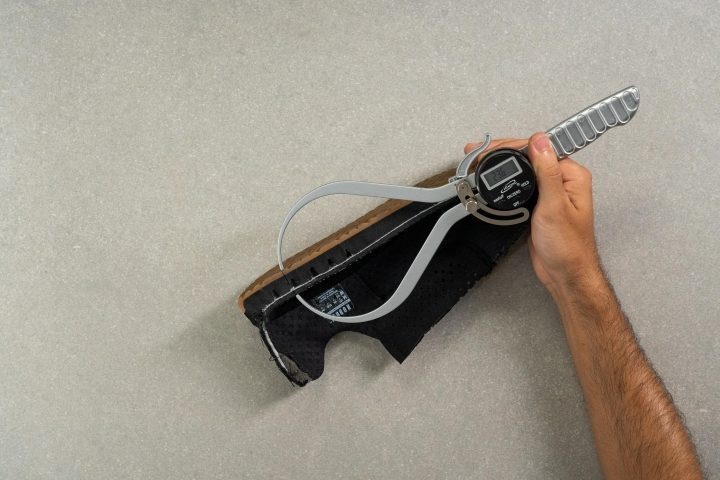 NOBULL Trainer+ (heel stack: 23.6 mm, drop: 4.8 mm)
Outsole
The bottom of the shoe that makes ground contact is known as the outsole. It needs to provide traction and stability and is often constructed of rubber or other robust materials.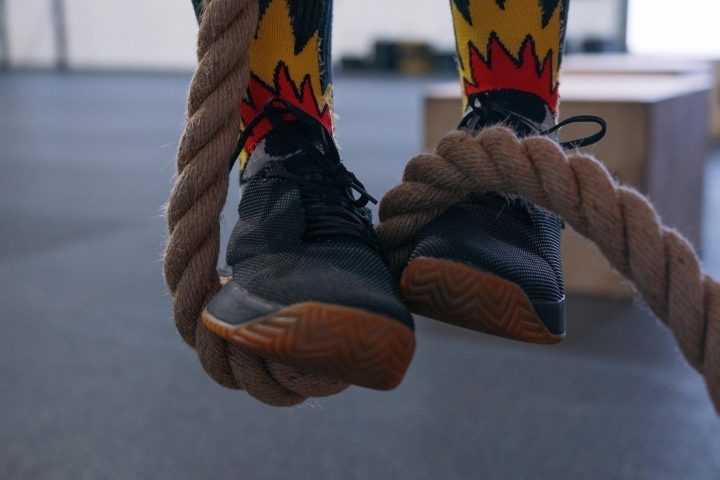 Heel Counter
The hard piece of material that encircles the shoe's heel is known as the heel counter. It helps avoid slipping and sliding inside the shoe by giving the heel stability and support.
Stiffer heel counters provide more stability in the heel and ankle area.
How to maintain women's training shoes
Women's training shoes can last longer and remain in good shape with proper care and maintenance. Here are some pointers for maintaining women's exercise shoes:
Cleaning frequently
Clean your shoes frequently to get rid of bacteria, sweat, and grime that can accumulate over time. Use a moist brush or towel and some mild soap to clean the shoe's outside. Abrasive or strong chemicals should not be used since they can harm the materials of the shoes.
Air dry
Shoes should be air dried in a well-ventilated place after being cleaned or worn. Avoid placing them in the sun or in a hot environment since these conditions can harm the materials in the shoes and cause them to warp or shrink.
Use a shoe tree
Use a shoe tree or stuff the shoes with newspaper to help keep the shape of the shoe and avoid wrinkles while the shoes are not being worn
Rotate your shoes
Have a couple of pairs of training shoes that you can rotate to avoid shoes from deteriorating too quickly.
Ensure proper storage
Place your shoes in a cool, dry area, away from dampness and the sun. Avoid keeping the shoes in a cramped or compact area as this could ruin their form or materials.
Replace as needed
Over time, support and cushioning in running shoes diminish. Replace your shoes when necessary or every six to nine months.
Frequently Asked Questions
Can I do cross-training in my running shoes?
Because running shoes are made primarily for running, they won't offer enough stability and support for exercises like weightlifting or cross-training. You will be far better off with a training specific shoe that is targeted to your type of training.
How often should I replace my training shoes?
Shoe experts advise replacing training shoes every 6 to 9 months or as soon as they begin to exhibit considerable wear and tear. The cushioning and support in the shoes will degrade and lose their effectiveness with time, increasing the possibility of injury.
Do I need to break in my new training shoes?
A new pair of training shoes should be broken in gradually, particularly if they have a stiffer structure or are made for a different kind of exercise than you are used to. Shorter workouts should be done at first, and the intensity and duration should be gradually increased.
Should I buy training shoes that are a half size larger?
It's crucial to buy shoes that are comfortable and that provide your toes room to flex. When it comes to training shoes, some people might prefer a slightly larger size to account for any swelling or movement during exercise, but it's important to try on shoes to get the ideal fit for your feet.