6 Best Indoor Cycling Shoes For Women in 2023
We earn affiliate commissions at no extra cost to you when you buy through us. Why trust us
With stationary bikes flooding fitness clubs and people's home gyms, brands like Nike, Pearl Izumi, and Giro, among others have taken the opportunity and produce a wide range of spin shoes.
We have gathered over a dozen indoor cycling shoes for women here at RunRepeat. Whether you are just starting out or already advancing your indoor cycling journey, we created this guide to help you pick the best indoor cycling shoes based on different categories, may they be budget-friendly or premim-class.
How we test indoor cycling shoes
Before picking the best women's indoor cycling shoes for the different categories, we made sure to test and study them thoroughly to offer you the finest spin shoes that we have.
Each shoe was given a Corescore of 0 to 100. The score was based on the following:
Reviews and ratings of experts
Feedback from the regular indoor bike shoe wearers
Aside from selecting the best for each category, we included their characteristics, pros, and cons so that you can find your match easier.
Comparison of the 6 best indoor cycling shoes for women
| | | | | | | | |
| --- | --- | --- | --- | --- | --- | --- | --- |
| Best | | | | | | | |
| CoreScore | | | | | | | |
| Users rating | | | | | | | |
| Experts | | | | | | | |
| Best price | | | | | | | |
| Ranking | | | | | | | |
| Popularity | | | | | | | |
| # of colorways | | | | | | | |
Sometimes referred to as spin shoes, indoor cycling shoes have come a long way in the last few years and the good news is, ladies, this article is for you! "Finally!", I hear you gasp. Yes, women's specific indoor bike shoes are well represented in the market and we've got all the information right here to help you research your next, or maybe first-ever, pair.
What are indoor cycling shoes
Indoor cycling shoes are, as the name suggests, made specifically for indoor biking and spin classes. These shoes have a special clip on the outsole - known as a cleat - that the biker will clip into the pedal, using a similar system to ski boots.
By being clipped into the pedals the biker can then focus on their pedaling technique and aim to maximize power output without fear of their foot slipping off the pedal. Additionally, many women love that bike shoes allow them to work on their calf muscles by 'pulling up' on the pedal stroke rather than just 'pushing down'.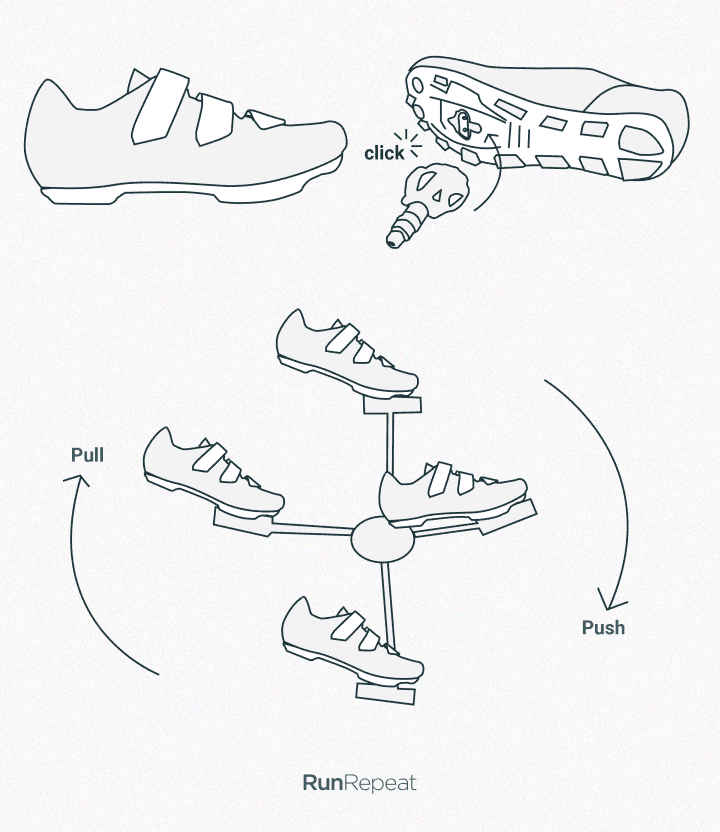 With a pair of indoor cycling shoes women can expect to see this:
RPM's go up as a higher cadence can be more sustainably controlled
Increase calories burned
Sustained BPM is higher: thanks to the extra effort you put out, heart rate goes up
Improved calf muscle definition thanks to the ability to 'pull up' during each pedal stroke
Benefits all around!
Sneakers vs indoor cycling shoes for women
Avid bikers have understood the benefits of cycling-specific shoes for years and as the popularity of indoor cycling increases each year it's only natural that this crosses over to those of us that enjoy our spin classes and Peloton rides.
So are cycling shoes just a fad? Are they even required for indoor cycling? Well, it depends on who you ask. If you ask me, in my experience the rule of thumb is this:
If you enjoy indoor cycling then you will probably benefit from investing in equipment like padded shorts and cycling shoes. They will make your workout more comfortable and more efficient. And the fitter you get, the fitter you want to get. It's a beneficial snowball effect.
Sneakers are great as a starting point for indoor cycling. Use them on a standard pair of flat pedals and start pedaling, not a worry in the world. But if you find that indoor cycling is becoming more and more part of your weekly lifestyle then perhaps it's time to move on from the floppy sneakers and invest in some cycling shoes with hard soles. If you're going to be putting out the RPM's you might as well make them count, and cycling shoes are known to improve power output (wattage).
Sneakers / Trainers
Indoor cycling shoes
Muscles activated
Renting spin shoes
Some facilities offer to rent out indoor cycling shoes to their female clients and that's a great idea if you're just getting started. But renting isn't a great long-term idea. After three tries, it's time to make the decision: Either you're purchasing your own indoor riding shoes or you're going to stick it out with regular sneakers.
Each decision is personal and sport, including cycling, is more than a pair of shoes. If you don't want to wear cycling shoes there's nothing wrong with that; do what suits you. Consider the advantages and disadvantages of your specific situation, and act accordingly.
Four characteristics of women-specific cycling shoes
Although indoor cycling isn't a weight-bearing activity, good shoes still need to fit properly. In this study published in the Journal of American Podiatric Medical Association, researchers confirmed what most women already knew: "female feet differ in size and shape from male feet and are not algebraically scaled, smaller versions of male feet, as is often assumed."
To the untrained eye, there may not be a lot of difference between men's and women's cycling shoes. They look basically the same and yet some are labeled women-specific. Here's why:
| | |
| --- | --- |
| Width | Last shape |
| Women's cycling shoes tend to be narrower - especially in the heel - relative to their length, to match the female foot. | The mold of women's cycling shoes, known as the shoe last, are generally formed for a female-specific shaped foot. Women's shoes have narrower lasts and shorter heel cups. |
| Volume | Color |
| Women's cycling shoes tend to have less overall volume. | Women's cycling shoes often come in different (often better) colorways. Like it or not, marketing has a lot to answer for here. Fortunately, we've come a long way from just a pink option for women and the color options keep rapidly improving each season. |
That being said, if the indoor cycling shoes you've got your eye on aren't labeled women-specific you'll also likely see that they're equally not men-specific either. Many of the world's best women bikers prefer to wear "men's" (or non-gender specific) cycling shoes, so you're in good company! As always, wear what works for you.
Related: Best Indoor Cycling Shoes
Understanding the various pedal systems
To the untrained eye, it's easy to believe there are thousands of different types of bicycle pedals, something only a bike mechanic could possibly understand. Wrong! Actually, it's much simpler: there are really only three basic types of pedals split amongst many thousands of different models.
The following table breaks down the most likely pedals that you'll see on an indoor bike, and in plain language explains what the differences are. Use this table to correctly identify which shoes you need to use on your indoor bike.
Bicycle pedal systems explained
Note: Pedals are not gender specific, they are the same for everyone.
Type

Description

Suitable shoes

Flat pedals

These are just like the pedals you'll see on any regular bicycle, from kids to adults these are the industry standard. There's nothing more simple than flat pedals and the name says everything you need to know: They have a flat platform and will accommodate nearly any shoe. Just hop on and ride.

Sneakers

Pedals with toe clips and straps

Often they look like a regular flat pedal but with some additional accessories attached - a clip that looks like a cage at the front for the toe of the shoe to sit in, and some straps that wrap around the shoe. The straps normally can be tightened around the shoe according to the biker's preference, but the toe clips and pedals are normally 'one size fits most'.

These help keep the biker's shoe attached to the pedal without requiring specific shoes.

Sneakers

Clip-in pedals /Clipless pedals

These are the special type of pedals that are designed to accommodate the cleat on cycling shoes. Clip-in pedals do require cycling shoes with cleats to match the pedals attached.

Because they don't have the straps or clips (mentioned in the pedal type above), clip-in pedals are sometimes, somewhat confusingly, also referred to as 'clipless pedals'. Don't be concerned by the jargon, they're the same thing.

Clip-in pedals come in either two-bolt pattern or three-bolt pattern. See our 'Understanding Cleat Systems' explanation below.

Cycling shoes

Bike-specific types

Some indoor bike brands, for reasons beyond comprehension, will have their own style of pedal built into the bike. The pedal can't be serviced, it can't be replaced and won't fit on anything aside from that particular bike.

For that reason, these are the most annoying, but fortunately least common, type of pedals on the market.

Sneakers
Now that you know about the different types of bicycle pedals you're likely to come across, you'll also want to know what the difference is between the clip-in pedal types. Let's drill down on that and take a closer look:
Understanding cleat systems for beginners
Note: Cleats are not gender specific, they are the same for everyone.
Clip-in pedals for two-bolt cleats
Clip-in pedals for three-bolt cleats

Suits only shoes with a two-bolt cleat pattern in the outsole. The cleats are often metal.

This is often referred to as the 'SPD system'.

Suits only shoes with a three-bolt cleat pattern in the outsole. The cleats are often plastic.

This is often referred to as the 'Look Keo' (simplified to 'Keo'), 'Look Delta' ('Delta'), or 'Shimano SPD-SL' ('SPD-SL')* system (with slightly different types of cleats for each).

Peloton uses the Delta system.

*Don't confuse the SPD-SL (three-bolt) system with the SPD (two-bolt) system.
Note that some (albeit not many) cycling shoes have both the two-bolt cleat pattern and three-bolt pattern integrated to accommodate virtually any pedals available. Here's hoping more manufacturers go down this path in the future, but until then regular indoor bikers like you and I should be aware that's currently the exception, not the rule, and consider this when making the next shoe purchase.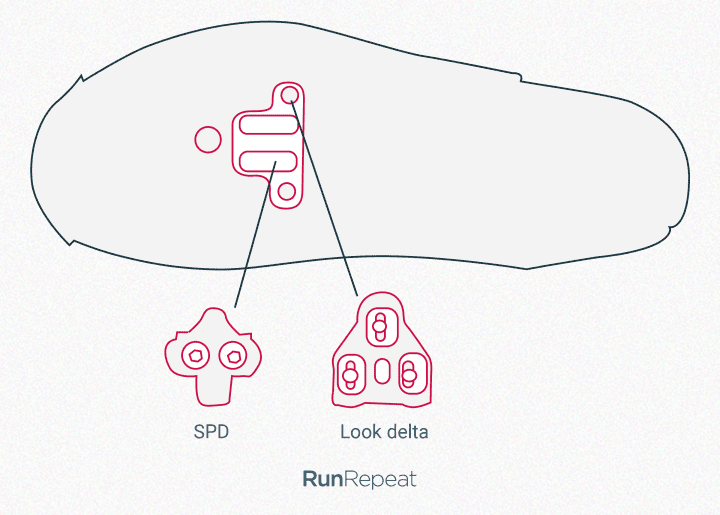 A popular example of such a shoe would be the Nike SuperRep Cycle.

If you find yourself with shoes that have the wrong bolt pattern for your pedals then fear not, shoe conversion adapters are available to ensure you can get the correct cleats installed and spinning up some RPM PR's ASAP.
Changing the pedals to match your shoes
Some facilities may even have staff willing to switch out the pedals for you, or maybe you have spoken to one of the managers and are approved to do this yourself. This is a task that is actually quite easy to do and usually requires a 15mm spanner or an 8mm hex key, depending on the pedal brand and model.
To remove pedals:
The right pedal (known in cycling circles as the 'drive side', simply because that's where the chain and gears normally sits) is removed by turning the tool counter-clockwise;
The left pedal is reverse-threaded, so it loosens by turning clockwise.
To install pedals:
The right pedal tightens by turning clockwise;
The left pedal tightens counterclockwise.
As with all gym etiquette, don't forget to replace the pedals such that you leave the equipment as you found it - ready for the next person.
Buying tips
Identify your pedals: Start by checking which pedals you will be using (use our 'Bicycle Pedal Systems Explained' table, above) and then consider what cleat pattern you need (refer to the 'Understanding Cleat Systems for Beginners'). Cross reference this information with the cycling shoe of your choice. Be sure they're a match.
Choose the right size: Cycling shoes are deliberately designed to have a stiff sole to maximize power transfer through the pedals. For comfort and stability your cycling shoes should be snug on each side plus at the heel, without being overly tight. You should have just enough room in the toe box so that you can wiggle your toes, but your toes should not be touching the front of the shoes.
Consider breathability: Airflow is critical for indoor biking activities and a pair of hot and clammy shoes can make a fun spin session an uncomfortable chore, and when it comes to chores we want less in our lives, not more! Make sure your indoor cycling shoes can breathe as much as you do when you're out of the saddle and punching over that hill.
Frequently asked questions about indoor cycling shoes for women
Why do brands call them 'indoor cycling shoes' instead of 'spinning shoes'?
That's a fair question and the answer may not surprise you. The words Spin, Spinner, Spinning, and Spin Fitness are each individually registered trademarks of a Californian company named Mad Dogg Athletics, Inc [2].
Manufacturers need to be careful they don't infringe upon those legally protected terms, so they are forced to use more generic terms such as 'indoor cycling'.
Can I use my indoor biking shoes outdoors?
Yes, absolutely - there is definitely no rule to say you can't or shouldn't. Because of their breathability indoor cycling shoes might actually be a wonderful choice for outdoor biking in summer. Depending on your climate that may not be the case so much in winter. If you really enjoy cycling, a pair for indoor and a pair for outdoor biking may just complement each other beautifully.
See our guide to the best road cycling shoes.
Of course, just be sure that your outdoor bike has the pedals to suit your shoes (see our easy-to-read Bicycle Pedal Systems Explained table above).
Are indoor cycling shoes good for women like me who want better calves?
Have you ever seen a cyclist with bad calves? Didn't think so. Indoor cycling is a great activity for women seeking more defined and toned calves. And cycling shoes allow you to really engage your calves when they 'pull up' on the pedal stroke. Like anything in life, results come from hard work and time… but your gastrocnemius will love you for it in the long term!
What shoes can I use on my Peloton bike?
Out-of-the-box Peloton uses a three-bolt 'Delta' system on their pedals, the same system for both Bike and Bike+ models [3]. Any cycling shoes with the three-bolt cleat pattern will be suitable for the Peloton bike.
And yes, you can change pedals on a Peloton bike if you like.
What cycling shoes do I need for Zwift?
The beauty of indoor cycling apps such as Zwift is that it is effectively app-only product, thus you can use whatever hardware you want. Your own bike with your own pedals on your own trainer. Or maybe a dedicated indoor smart bike.
To answer the question, you can use whatever cycling shoes you want on Zwift. As always, just make sure they suit your bike's pedals.
How often should I change my indoor cycling shoes?
Assuming you're using them exclusively for indoor cycling, expect your shoes to last years. The nature of the activity is such that the wear and tear, particularly when compared to say running shoes, is minimal.
References
Luo G, Houston VL, Mussman M, Garbarini M, Beattie AC, Thongpop C. Comparison of male and female foot shape. J Am Podiatr Med Assoc. 2009 Sep-Oct;99(5):383-90. doi: 10.7547/0990383. PMID: 19767544
Mad Dogg Athletics, Inc. (Legal & Trademark Notices) - https://spinning.com/legal-trademark/
Peloton Interactive, Inc (Peloton Bike Dimensions) – https://support.onepeloton.com/hc/en-us/articles/360042990472-Peloton-Bike-and-Bike-Dimensions-and-Specifications