5 Best Crossfit Shoes For Women in 2023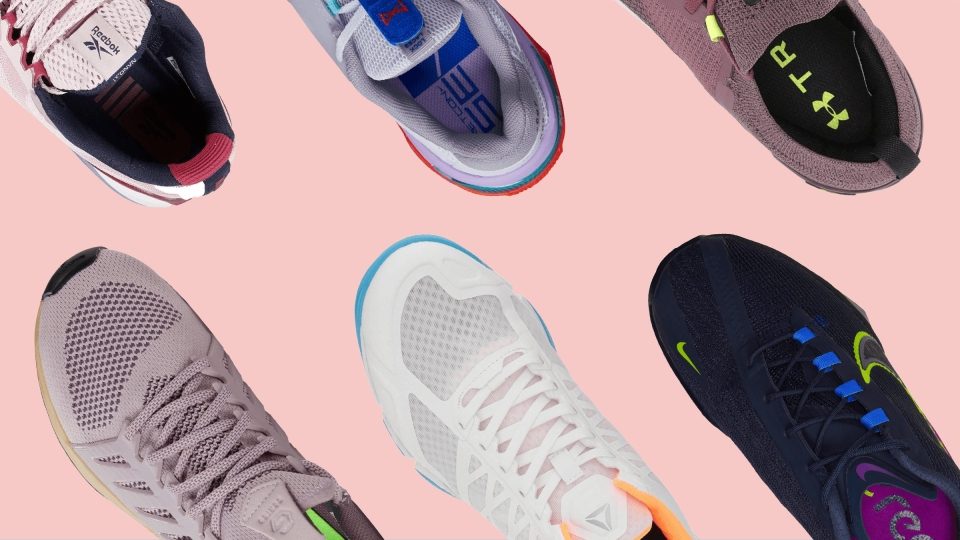 We earn affiliate commissions at no extra cost to you when you buy through us. Why trust us
A CrossFit program is demanding, and the women who engage in it are in need of training shoes that they can trust. To help you gals, we tested every training shoe - all 60+ of them - that we get hold of. Based on these tests, we come up with a list of the ones that are most suitable for CrossFit.
Now what makes a shoe suitable for CrossFit? Versatility. You see, a CrossFit program comprises of different types of workouts: from cardios to ropes to even weightlifting. You can just imagine how much pressure this puts on the shoe!
Being the brand most closely associated with CrossFit, Reebok has a lot of its shoes on our list. Of course, we have some Nike and Under Armour in here as well.
How we test crossfit shoes
In order remain objective when we do our CrossFit shoe assessments, we observe the following:
We say no to sponsorships.
Don't get us wrong here! Sponsorships are nice and we are grateful if they come our way. However, we are afraid that they may color our judgments when we test training shoes. Hence, we make sure that we buy the goods using our own funds.
We actually test the products.
We do not write reviews just for the sake of writing them. You can rest assured that every word that we put there is based on actual experience in actual CrossFit workout sessions.
We take into account the opinions of others.
No two shoes are manufactured in the exact same way. Knowing this, we consider the experiences of others together with our own. In fact, we average the all individual ratings that we get from all over the net so that we can come up with a numerical assessment called the CoreScore. This hopefully makes your comparisons faster and easier.
Comparison of the 5 best crossfit shoes for women
| | | | | | | |
| --- | --- | --- | --- | --- | --- | --- |
| Best | | | | | | |
| CoreScore | | | | | | |
| Users rating | | | | | | |
| Experts | | | | | | |
| Best price | | | | | | |
| Ranking | | | | | | |
| Popularity | | | | | | |
| # of colorways | | | | | | |
Choosing the right Crossfit shoe for women
You can't wear your everyday trainers, or even your favorite pair of running shoes if you want to achieve a great WOD. Your shoe has to handle a wide range of activities, each requiring different functionality from it.
We've put together eight essential characteristics to look out for when shopping for your next pair of CrossFit shoes.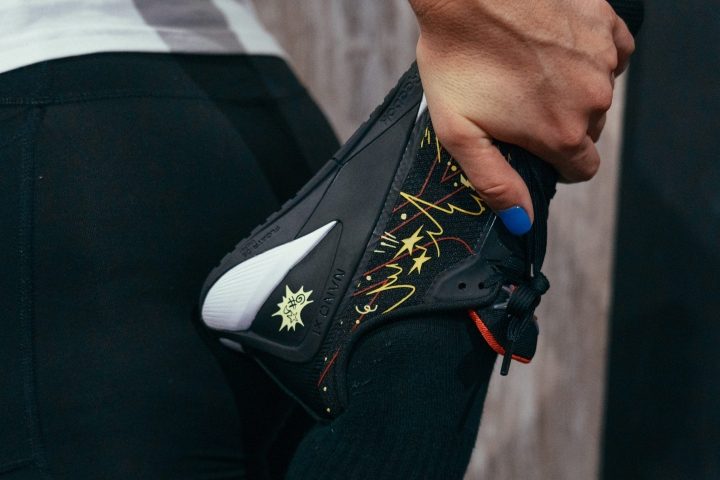 Firm and stable platform
Part of your workout is going to involve lifting a heavy weight overhead. To do that effectively, you need to have a solid, stable, secure base. And that means that you need shoes on your feet that won't slip or sink your feet into them.
The last thing you want is a heavily cushioned heel that will absorb the upward power that you're putting into the lift.
Look for a CrossFit shoe that has a heel counter. This is an exoskeleton that wraps around the heel. It's made of a solid material that will keep the heel upright as it encounters all of the stresses of your workout.
Low heel-to-toe drop
The heel-to-toe drop is the difference in millimeters between the height of the shoe's heel and the height of its forefoot.
For example, in the NOBULL Trainer, the heel stack is 18.6 mm and the forefoot is 14.9 mm. The difference gives us a 3.7-mm drop. The most common drop for Crossfit shoes is 4 mm.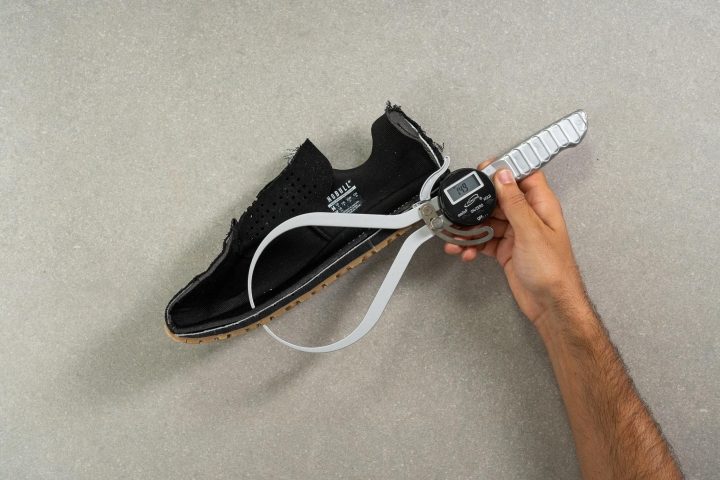 Weightlifting shoes have the highest heel elevation of any type of gym shoe. That's because they are primarily designed for squatting. A higher heel helps you to maintain a more upright body position when you come out of the bottom squat position. The raised heel also promotes ankle dorsiflexion, making it better for people with limited ankle mobility.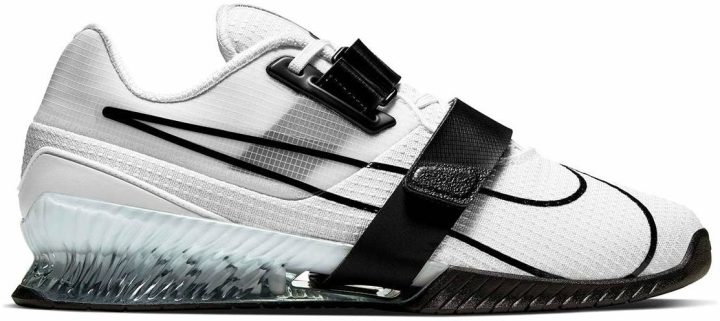 If your training regimen primarily consists of lifting and you want to level up your game, consider investing in a dedicated weightlifting shoe.
While CrossFit workouts often do involve versions of the squat, you'll also be doing a wide variety of other movements away from the squat rack. A prominently raised heel just won't work for box jumps, burpees, or agility sprints. As a result, CrossFit shoes have a significantly lower heel height than their weightlifting counterparts.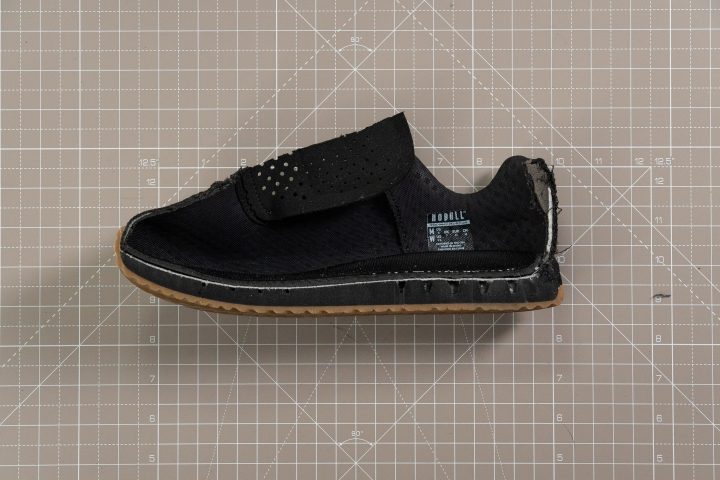 Enough cushioning to protect from impact (but not too plush!)
A typical CrossFit workout puts a lot of strain on your joints. Your shoe needs to be able to allow you to run, jump, and land without obstruction while also helping to reduce the stress impact on your ankles, knees, and hips. It needs to do this while also providing the stability you need for your Olympic lifts.
The most cushioned parts of a Crossfit shoe are the insole and the forefoot section of the midsole. That's where your foot strikes the ground most of the time while doing plyometrics and running.
The foam has more give in the forefoot as opposed to the firm heel in the Reebok Nano X1.
Support for various activities
The more support your shoe provides, the more you'll be able to concentrate on your performance and not your footwear. Athletic shoes provide the bulk of support through the soles.
The two contrasts are weightlifting shoes, which tend to have a hard sole designed to keep you grounded in one position, and running shoes, which have a more cushioned, flexible sole.
CrossFit shoe manufacturers have the challenge of meeting a middle ground, allowing for both of these activities without compromising either.
Comfortable in-shoe feel
A typical Crossfit workout involves a lot of agility work and lateral movement. You need a shoe that won't impede your foot movement during such exercises as burpees, box jumps, and agility sprints.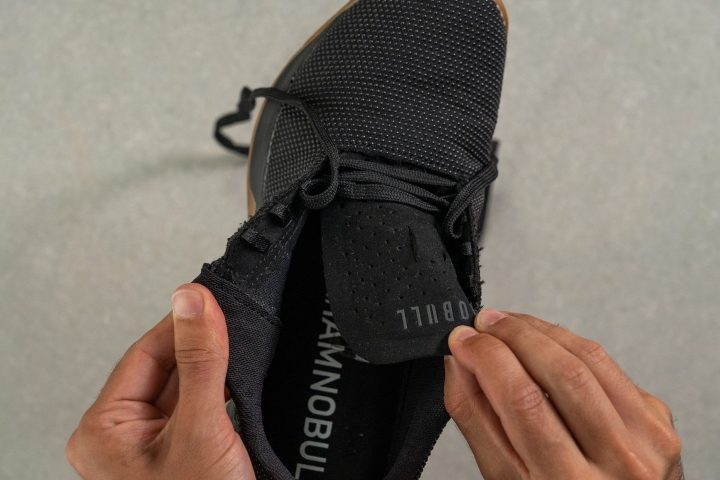 Check the upper of the shoe, looking for a flexible mesh material that will allow for natural lateral midfoot and upper extension without causing the foot to slide. A shoe that fits properly will snugly hug the toes, midfoot, and heel rather than feeling that your feet are in a straight jacket.
Flexibility up front
Crossfit WODs are not exclusively about weightlifting and box jumps. You also want to be able to bend the foot comfortably for lunges, stretches, burpees, and similar exercises. Thus, it is nice to have a trainer that doesn't take pains to bend along with your foot.
Some women's Crossfit shoes are more pliable than others, so you can choose based on your personal preference.
NOBULL Trainer happens to be more flexible than Nike Metcons and Reebok Nanos
Breathable upper to keep you sweat-free
A shoe that traps air and doesn't breathe will cause excessive sweating, making your feet feel uncomfortably hot and sticky. The sweat will be absorbed into the fabric of the shoe and, over time, bacteria may grow. This could cause a fungal infection but even if it doesn't your shoes are going to stink to high heaven.
In order to promote maximum breathability, Crossfit shoes make use of mesh fabrics in specific areas. Ventilation zones and perforations may also be strategically positioned on the shoe to make it airier.
Some fabrics tend to be more breathable than others.
Reebok Nano X1 (breathability: 4/5) vs. NOBULL Trainer (breathability: 1/5)
Fit and sizing
It goes without saying that you need to know what your shoe size is when you're shopping for a new pair of CrossFit trainers. But when did you actually check your size? Many of us, myself included, have held a shoe size in our heads for decades. But, just as we get shorter as we age, our foot size changes too.
That's why it's a good idea to grab a piece of paper and a pencil and measure your foot size before ordering the shoe online.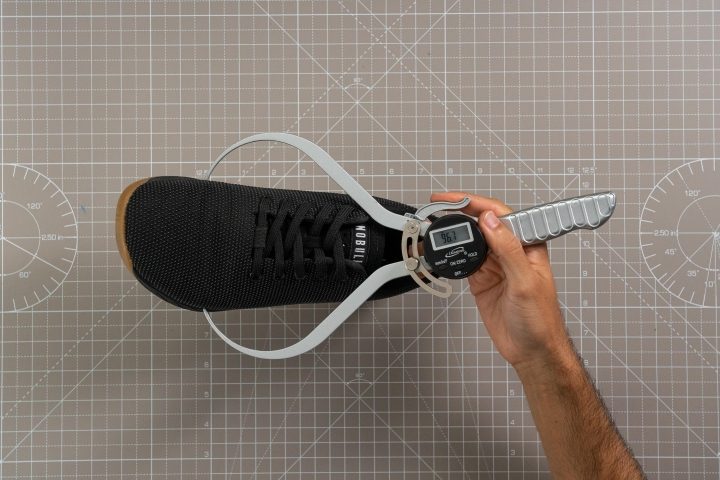 As for the width, it should not be a problem in Crossfit shoes considering that they all come with wider-than-average toeboxes. This design allows you to splay toes comfortably in order to achieve better stability.
Is there a difference between men's and women's Crossfit shoes?
I quite frequently get asked by female gymgoers if there is really a difference between men's and women's training shoes. Often they like the look and fit of a men's shoe and simply want to buy that shoe in a smaller size.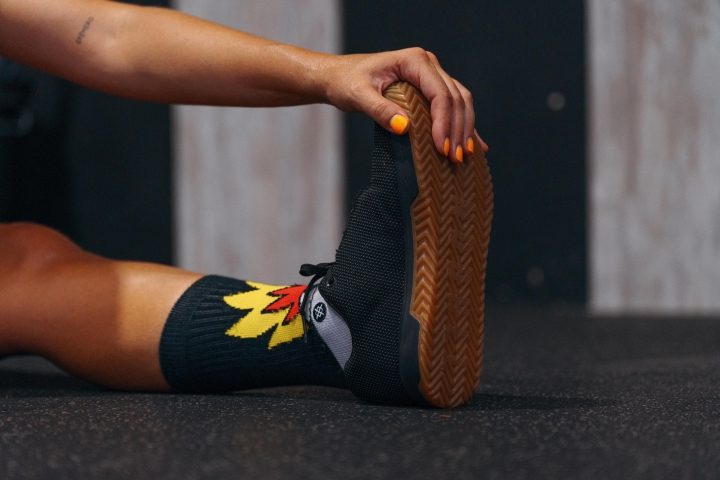 The answer is, yes, there are a number of differences between men's and women's CrossFit shoe designs. Here are four reasons why you should buy a shoe that is made for our gender:
Key differences between men's and women's Crossfit shoes
Width

Men's feet are generally wider than women's. As a result, shoe manufacturers tend to make men's shoes wider for the same length of the shoe.

So, if a woman were to buy a men's shoe that was in her size, she would probably find that it's too wide for her. That's the last thing you want when doing your Crossfit workout because it will probably cause your foot to slide.

Toebox
Women's Crossfit shoes also tend to fit a bit narrower in the heel area. Again, because of the differences in men's and women's foot shapes.
Weight
Women's Crossfit shoes are lighter.
Range and availability of women's CrossFit shoes
Today, we can proudly state that the selection of women's Crossfit shoes is equal to that of men's. Every popular Crossfit silhouette can now be purchased in women's sizes or at least unisex ones.
Brands also try to meet the aesthetic needs of ladies by introducing a variety of pastel hues and more colorful options. Basic tones are available as well.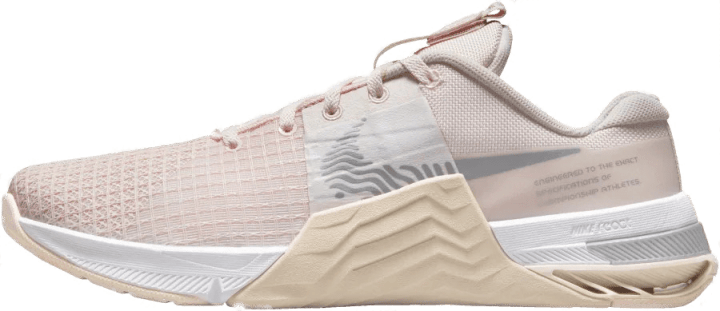 Frequently asked questions about Crossfit shoes for women
Can I use Crossfit shoes for running and walking?
I don't recommend doing walking or running workouts while wearing your CrossFit shoes. They are uniquely designed to provide heel stability and rigidity when you're doing your heavy Olympic lifts. As a result, they don't give you the heel cushioning and flexibility that you need to absorb the impact of the constant foot strike of your walking and running workout.
Running shoes will usually have more of a curved front than CrossFit shoes to help with forward propulsion. The toebox of a running shoe is also more streamlined, while that of a CrossFit is wider to allow for toe splay when lifting. Swap into your running shoes before you head out on the road or trail, leaving your CrossFit shoes for the gym.
You should also limit your outdoor wear of CrossFit shoes as they are not made to handle inclement weather conditions. See our selection of comfy walking shoes instead.
How long do Crossfit shoes last?
The frequency with which you replace your CrossFit shoes depends on how frequently you wear them. If you're working out several times a week, your shoes should last 8-12 months. If you're only training a couple of times a week, they should stretch out to 12-15 months.
Some CrossFit shoe features will increase their lifespan. These include enhanced midfoot materials and rope guards.
How to keep Crossfit shoes clean?
Some brands of CrossFit shoes can be machine washed, so check the label instructions. If you do wash your shoes in a machine, use a hand wash cycle and air dry them rather than using an electric dryer.
If the label advises not to machine wash, use a damp cloth and warm, soapy water to give the shoe a general clean and then give attention to any marks or scuffs.