7 Best Spikeless Golf Shoes in 2023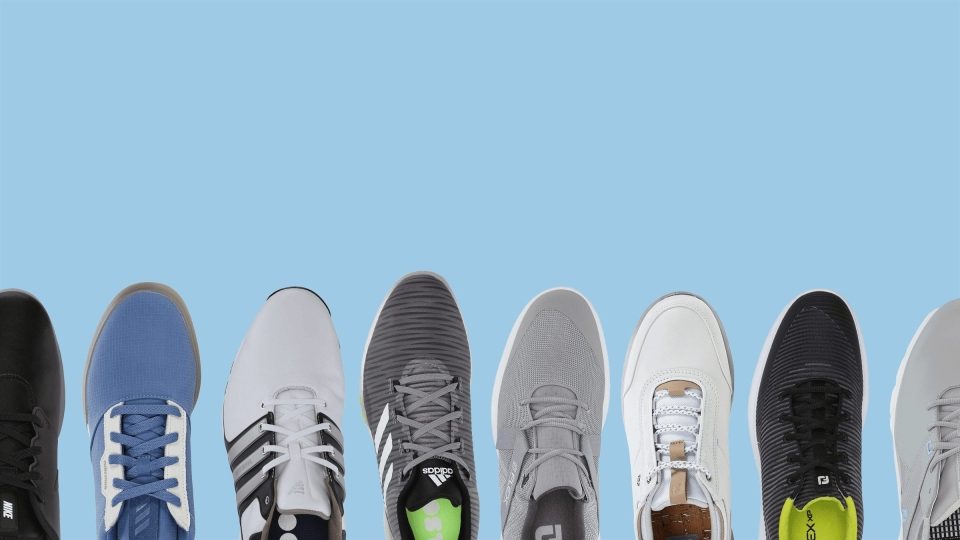 We earn affiliate commissions at no extra cost to you when you buy through us. Why trust us
In the busy business world, there is no time to stop and change shoes. You want to have one pair for commuting to work, holding a meeting, and stepping out for a quick game of golf during lunch.
Thankfully, nowadays, golf shoes have evolved to be more casual than they used to be: leather saddles with nails hammed at the bottom. A spikeless golf shoe will give you a sneaker-like look with a performance comparable to a spiked trainer.
We have gathered and reviewed over 40 of these stylish options to help you find the best one.
How we test golf shoes
Our team has researched over 60 spikeless golf trainers from 10 different brands. We summarized all the pros and cons of each shoe based on the following:
what golf shoe experts think of each model and its performance
what real-life purchasers think of using these spikeless trainers
Each model receives a CoreScore, a number from 1 to 100, reflecting the general users' opinion. The best 10 make it to our cream-of-the-crop selection below.
Comparison of the 7 best spikeless golf shoes
| | | | | | | | | |
| --- | --- | --- | --- | --- | --- | --- | --- | --- |
| Best | | | | | | | | |
| CoreScore | | | | | | | | |
| Users rating | | | | | | | | |
| Experts | | | | | | | | |
| Best price | | | | | | | | |
| Ranking | | | | | | | | |
| Popularity | | | | | | | | |
| # of colorways | | | | | | | | |
Spiked vs. spikeless golf shoes
Even though spiked golf footwear is still held in high regard for the benefits it offers, the game started to change around 2010. That was the year when a brave Danish brand named ECCO released the first-ever spikeless golf shoe. It was soon followed by Adidas, Footjoy, and many others.
While there was a lot of skepticism around these sneaker-like models initially, spikeless platforms have significantly evolved over the past decade. From being the preference of casual golfers only, they have been increasingly present on professional players' feet.
The market is currently split 50/50 between the two shoe types, as there is no straightforward answer to which one is better. Each one comes with a set of pros and cons, so the choice depends on what features you value the most:
Play on wet, soggy, and hilly terrain?

Need extra grip and stability?

Don't mind changing footwear for golf?

Prefer taking the golf cart?

Play in dry or moderately wet conditions?

Need lightness and flexibility?

Want one pair for both golf and casual wear?

Prefer walking on the course?

Choose spiked golf shoes

Choose spikeless golf shoes
How to choose the right spikeless pair for you (3 steps)
Now that you have an idea of what to expect from the shoe's outsole, it's just as important to consider the upper part. Here are 3 important features to check out:
Upper material: leather, synthetic, or knit
Moisture protection: water-resistant, water-repellent, or waterproof
Fit regulation: laces vs. BOA
Upper material
A large part of your in-shoe experience and comfort is determined by the type of material that wraps around the foot. Spikeless golf shoes are available in multiple options:
classic, deluxe vibe

give more structure, support, stability

naturally waterproof

price: $$

variety: options range from the firmer synthetic leather shoes to the more breathable mesh ones

vegan-friendly

price: $-$$

highly breathable: perfect for dry, warm, or hot weather

flexible, light, soft, adaptive to the foot

trendy

price: $$
Moisture protection
If you see yourself regularly playing in wet or rainy conditions, consider getting a shoe with one of these protective features:
Water-resistant
for light rain, morning dew, and damp grass

Breathability

*****

Protection

*

Water-repellent
for moderate rain; might leak when pressure is applied

Breathability

***

Protection

***

Waterproof*
for heavy rain, snow, and stepping into the water

Breathability

*

Protection

*****
*Some waterproof golf shoes employ a Gore-Tex lining that lets air come inside the shoe while but keeps the water molecules away.
Some brands also offer shoes with a waterproof warranty. Depending on the shoe model and the type of damage, it can last for 1 to 2 years. Just make sure to keep the receipt.
Fit regulation
Even though 90% of spikeless golf shoes are employed with the conventional lacing system, there is still that 10%-room for innovation. The table below compares the novel BOA system to the regular laces:
Advantages:

cheaper
easier to replace

faster to tighten and loosen
keeps the hold permanently
doesn't get in the way of movement
resistant to water, mud, ice

Disadvantages:

may lose hold, get untied, lead to tripping and stumbling
takes time to adjust the fit

harder to replace
more expensive
Bottom line: The BOA offers a host of upgrades compared to a standard lasing system. But it also comes at a higher price point. Thus, it can be recommended to the more professional players or those who want to stay on top of the newest tech.
Otherwise, laces are still a reliable option, especially if you are just starting out with golf.
Sneaker icons among spikeless golf shoes
Building upon the world-known fashion silhouettes, these golf shoes will take you from the street to the links without compromising neither comfort nor performance:
Frequently Asked Questions
Do professionals wear spikeless golf shoes?
The "Fred Couples effect" phrase wouldn't be famous for nothing. The first spikeless pair that ever debuted was actually worn by a professional, which created such a buzz in the community. Admittedly, many professionals can be spotted with cleated trainers, but there are many who are also transitioning into spikeless.
Is it possible to wear casual sneakers on the golf course?
Despite the strict golf rules, sneakers are not actually banned in the links. In fact, beginners or players still contemplating on what to purchase can use their reliable pair in the meantime.
Nonetheless, specialized golf footwear is strongly recommended for turf used for different reasons:
Spikeless golf shoes are constructed to endure the multiple hazards of the course.
They ensure safer rounds as the foot is securely planted because of the highly-textured bottom.
These shoes can handle the force of the swing where there is downward, lateral, and rotational pressure involved.
How long do spikeless golf shoes usually last?
One of the downsides that golfers noticed about spikeless golf shoes is that the spikes are not replaceable. This, alone, can heavily affect the lifespan of the product as damaged nubs can already destroy one's game.
The great thing about brands nowadays is that they have revolutionized the outsole that average spikeless golf shoes are built to last for 100-200 rounds. But, overall, it still depends on one's usage.
Which brand makes the best spikeless trainer?
Since the launch of the first-ever spikeless shoe in 2010, brands have already put their thinking caps on and developed some of the most grippy outsoles without the spikes.
ECCO, being the initial producer, comes to golfers' top brand in mind. Other brands that are well-known creators of cleatless pairs are Adidas, Nike, New Balance, Footjoy, Callaway, and Under Armour.