7 Best Spd Cycling Shoes in 2023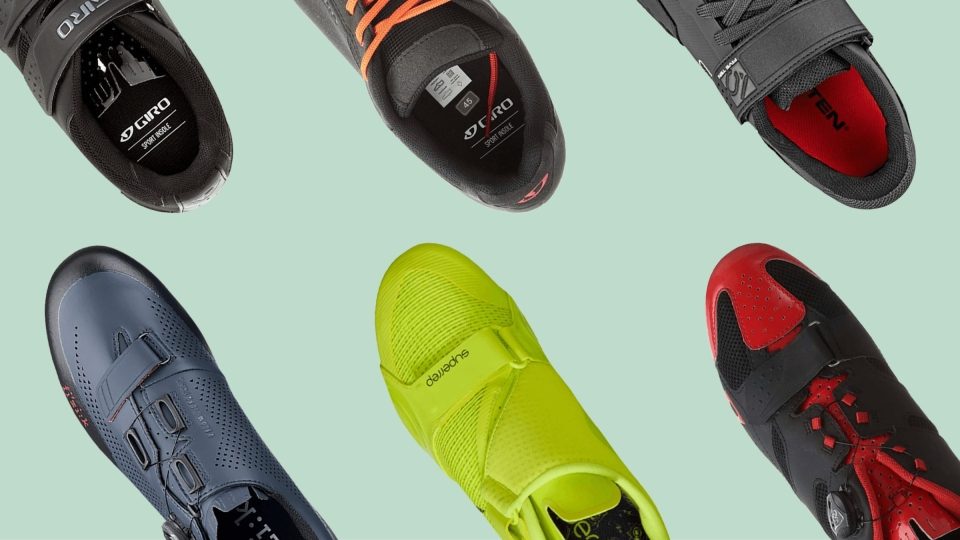 We earn affiliate commissions at no extra cost to you when you buy through us. Why trust us
There are over 100 SPD cycling shoes that you can get here at RunRepeat. Whether you are looking for a budget-friendly SPD cycling shoe, one that can be used for indoor cycling, or other activities, you are bound to find your match.
However, finding the right pair can be an arduous task with so many models to choose from. So, to help you find an SPD cycling model that will fit your needs, we have done an in-depth review of each of them and picked out the best shoes in various categories.
How we test cycling shoes
We want what's best for you. That is why we made a list of the best (not the most popular) SPD cycling shoes for different categories.
We gave each a Corescore of 0 to 100 and picked out the highest scorers. We considered the shoe experts' and avid cyclists' reviews and ratings when scoring them.
Aside from listing them below, we included each shoe's advantages and disadvantages so that you wouldn't have to do your own research.
Comparison of the 7 best spd cycling shoes
| | | | | | | | | |
| --- | --- | --- | --- | --- | --- | --- | --- | --- |
| Best | | | | | | | | |
| CoreScore | | | | | | | | |
| Users rating | | | | | | | | |
| Experts | | | | | | | | |
| Best price | | | | | | | | |
| Ranking | | | | | | | | |
| Popularity | | | | | | | | |
| # of colorways | | | | | | | | |
In this in-depth guide we are going to answer the following questions:
What are SPD shoes?
Why do bikers wear SPD cycling shoes? And why do some not wear them?
The difference between SPD and SPD-SL (hint: it's not as confusing as it might sound)
What is the story behind creating SPD cleats?
Some questions bikers frequently ask about SPD shoes
What are SPD shoes?
SPD shoes are a type of biking shoes that are designed to attach to 'click' into the pedals. SPD is the phrase used to denote the shoes (and matching pedals system) that feature a two-bolt pattern on the sole where the cleat attaches. This is different from other shoes, in particular road cycling shoes, that feature a three-bolt pattern (designed for different cleats and pedal systems).
The slimline nature of the SPD cleat system means it can be 'hidden' within the sole. With that design in mind, the biker can use the SPD cleat to 'clip in' to their pedals to bike, clip out when they stop, and then walk on the shoes without walking on the actual cleats. An ideal solution for the biker that finds themselves not just biking in their biking shoes. Genius, eh?
Five reasons why bikers choose SPD shoes
Unlike road-specific shoes such as the SPD-SL version (explained in a section below), SPD shoes are a bit more adaptable to various terrains and conditions.
1. SPD shoes are easy to walk in
Sometimes it's just convenient to walk in your biking shoes. Whether you're walking in the gym to your next spin class, or exploring the great outdoors and jumping over fences and through creeks, biking shoes shouldn't be made for only biking. SPD shoes are designed to do both.
2. It doesn't matter which bike you ride, SPD shoes are suitable
Road cycling shoes are made for road bikes. Triathlon shoes are made for people on triathlon bikes. Indoor shoes? You guessed it, ideal for indoor bikes. But what about SPD shoes? Well, they can be used on each of those bikes plus nearly any other bike you can think of. Previously SPD shoes were known as MTB shoes but that is no longer the case… they're now multi-functional, suitable for all.
3. SPD cleats last longer
If you're like me and keen to make your equipment last as long as possible before it ends in a landfill, you'll be pleased to know SPD cleats will last much longer than most other cleats on the market before needing to be replaced. Big thumbs up to SPD for this.
4. Improved pedal efficiency
The science might be out (see 'Are cycling shoes worth it?', below) but most seasoned bikers agree - cycling shoes make biking more pleasant. From slogging along into the headwind or pushing uphill, anything that makes it easier without taking away the accomplishment factor is a win in my books.
5. Improved safety

It may sound like a bit of an oxymoron, but having your shoes securely clipped into the bike pedals actually makes it safer. How? You have more control of your bike. From single-trail tracks to open-wide pristine gravel, sometimes the surface gets the better of you and you need to take action. Rather than simply grabbing onto your handlebars and turning in another direction, pulling up or outward with your leg core muscles will also allow you to control the rear of your bicycle. Not easy to do if you're not "clipped in."

Additionally, we all know the feeling of sitting on a bike pedaling away and suddenly your shoe slips out, the pedals jerk suddenly and cut into your shin. Ouch! With clipped-in pedals that's no longer a problem; you clip out only when you want to.
Five reasons why some bikers DO NOT choose SPD shoes
| | |
| --- | --- |
| 1. Cycling shoes may not be necessary | On the flip side to the Tour de France and Kona Ironman athlete mindset, some people just want to enjoy riding their bike without all the fancy gadgets. So while shoes aren't ordinarily considered 'gadgets' there's a fair and reasonable argument that the pedals and cleats that come with them are. Sometimes a pair of sneakers with flat pedals does the job just right. At RunKeeper we've often said that sport is more than a pair of new shoes. Check out our guide on the best gym shoes instead. |
| 2. Too much choice | Paralysis by analysis anyone? We've all been there. Sometimes there's just too much choice, and you end up doing nothing. That's why we made this guide for you, to help you find the best SPD shoes for you! |
| 3. Some bikers think SPD is just not cool enough | For whatever reason, some local (think: club level) cyclists think they're elite cyclists, and will only wear and use the equipment of the actual elite (think: sponsored) riders. SPD is not used in the professional road peloton and for that reason Joe Average couldn't possibly lower his standards. With the introduction and subsequent popularity of gravel biking expect this to change over the coming years. But for the moment there is still some disregard in the road community for what is considered MTB equipment. Which leads us to the next point… |
| 4. SPD is not suitable for road racing or triathlons | In fairness to Joe Average (above), SPD is not really suited to road racing, granfondo, or triathlon events. SPD-SL is a far superior choice in that regard. So, Joe, if you're reading this and got offended earlier you're excused now. |
| 5. Unlike some other cycling shoes, SPD shoes are not aerodynamic | Serious cyclists are notorious for their love of aerodynamics. From shaved legs to carbon rims, some bikers are always looking for the next advantage. So if the Tour de France or Kona Ironman is your M.O. then perhaps a pair of road cycling shoes or triathlon-specific shoes are more suitable for you. |
What's the difference between SPD and SPD-SL?
Though they sound similar, the SPD and SPD-SL pedal systems are quite different. "SL" is Shimano's marketing acronym for 'Super Light' and is designed specifically to appeal to road cyclists. Confused yet? Well, everybody starts somewhere, so let's try to break it down for you:
| | | |
| --- | --- | --- |
| | SPD | SPD-SL |
| Cleat pattern | 2 bolts | 3 bolts |
| Cleat material | Metal | Plastic |
| Cleat installation | Easy | Easy |
| Cleat wear | Need to be replaced infrequently | Requires regular replacement |
| Pedal entry | Double sided | Single sided |
| Commuting and urban biking | 4 stars | 2 stars |
| Off-road cycling (mountain biking and gravel biking) | 5 stars | 1 star |
| Road cycling | 2 stars | 5 stars |
| Indoor cycling | 5 stars | 4 stars |
| Walking | Easy | Awkward |
| Cleat size | Small | Large |
| Pedal platform | Small | Large |
| Power delivery | 3 stars | 5 stars |
| Efficiency | 3 stars | 5 stars |
| Weight | 3 stars | 5 stars |
| Mud-shedding | 4 stars | 1 star |
| Shoe characteristics | Treaded sole | Aerodynamic, no tread |
| Suitability for beginners | 5 stars | 2 stars |
| Suitability for intermediate bikers | 5 stars | 4 stars |
| Suitability for advanced bikers | 5 stars | 5 stars |
Please note the above table is general in nature. Some brands do manufacture some products which are designed specifically to 'be different'. When shopping online in particular, the devil is in the details - take note of them prior to making your purchase.
The origins of the SPD system
First released in 1990, the SPD system was created by one of the biggest brands in the bicycle parts and accessories game, Shimano. It will come as no surprise for you, then, that SPD is a brand-model acronym simply abbreviated from 'Shimano Pedaling Dynamics'.
But why was the SPD system created in the first place? Well, according to Shimano's 100-year history guide1 it was designed specifically for off-road biking which requires the ability to both bike and walk in these shoes. And with that, the clever - albeit now discontinued - marketing phrase 'bike it or hike it' was coined.
Not much has changed since the original design. The metal cleats are slim and easy to install, the pedals are robust and easy to use, and there is no question the SPD system is the default market leader for mountain biking. In more recent years it's also become the standard for indoor cycling (see our guide to the best indoor cycling shoes) and of course, has easily accommodated the gravel cycling boom too.
Opening the SPD playing field
SPD may well be a Shimano trademark, but its SPD pedal patent has now expired4 thus opening the door to any other manufacturer in the world. In the future, expect to see more brands coming out with their own version of SPD pedals and cleats. For the moment? Shimano still dominates.
In real terms, consumers these days can buy any brand of SPD cycling shoes these days without fear of having purchased the 'wrong brand'.
Most popular SPD shoe brands
Shimano may be the industry leader with their claim on the SPD products, but there are some quality bike-specific brands coming out with some great gear…
Fizik is a proudly Italian brand with a heritage in the road cycling space. But they've become increasingly popular amongst the gravel and mountain biking communities for their aesthetically appealing designs and quality products. Check out our guide to the best Fizik cycling shoes and see for yourself.
Giro is a popular brand in the biking world most notably for their helmets. Naturally, this US brand has expanded to shoes and their range of SPD shoes will appeal to bikers of all types. Our guide to the best Giro shoes has got you covered.
Lake is a brand primarily known for their quality cycling shoes. Born in Boulder, Colorado they actually claim to have made the first-ever mountain bike shoe5. Trivia aside, take a look at our reviews of the best Lake biking shoes and decide for yourself.
Are cycling shoes worth it?
The general consensus among the cycling community is that yes, bike-specific shoes are well worth it. Aside from the benefits of comfort, safety, and additional bike control they are said to maximize pedaling efficiency too.
In 2016 the University of Colorado's Department of Integrative Physiology decided to test that efficiency claim2 by comparing the on-bike performance when wearing a standard pair of Nike Free sneakers compared to when wearing cycling shoes with cleats. Controversially, the results found no significant differences and it was concluded that "(cycling shoes) do not enhance efficiency".
That being said, most cyclists still prefer cycling-specific shoes and swear by them so with that in mind this master's thesis at the Fort Hays State University3 was out to set the record straight and concluded that indeed there are "significant differences in power output when comparing clipless pedals to toe-strap pedals and clipless pedals to flat pedals".
Aside from scientific analysis of power output, most of us just want to know if we should buy some SPD shoes if we've never tried them before? And to that the RunRepeat advice is consistent: if you're going to get value out of them, and if the shoes are going to help your cycling then absolutely it's something worth considering. But don't just buy new replacement shoes unless your current ones are worn out. Sport is more than a pair of new shoes.
FAQs
Can I install SPD-SL cleats on SPD shoes?
No (at least not without an adapter). If you have SPD shoes I recommend you stick with SPD cleats and pedals.
Can I install SPD cleats on SPD-SL shoes?
As above, no - not without an adapter.
Can I use SPD shoes on a road bike?
Yes. So long as your bike has the matching SPD pedals installed (they are easily switched out, by the way) it doesn't matter what type of bike you're riding or what type of riding you're doing.
How do I get SPD cleats?
The cleats are sold with the pedals, not with the shoes. You can also buy replacement cleats when they wear down.
Will I look silly walking in my SPD shoes?
Not really. Unlike road shoes walking on SPD shoes is easy and most people won't even notice.
Do triathletes wear SPD shoes?
I really like this question as it takes some critical thinking to come to this point. Let's break it down.
Triathletes do their bike leg immediately prior to running, and the transition (between bike to run) is a time-consuming point of anxiety for all triathletes of all levels. And if you can wear SPD shoes off the bike why can't a triathlete not bother changing shoes and just wear their biking SPD shoes for the run leg…? (I mean, sounds reasonable right?) Unfortunately, the technology just isn't there yet. Cycling shoes feel more comfortable when biking and running shoes feel more comfortable when running. And in triathlon, feeling as comfortable as possible is important.
So to answer the question, no, triathletes will wear triathlon-specific cycling shoes for the bike leg and then transition to running shoes for the run leg.
References
Shimano: New Pedaling System Expanding the Possibilities of Cycling (https://www.shimano.com/en/100th/history/products/result.php?id=52#:~:text=Shimano%20entered%20into%20a%20partnership,system%20for%20off%2Droad%20bicycles.)
Asher H. Straw & Rodger Kram (2016) Effects of shoe type and shoe–pedal interface on the metabolic cost of bicycling, Footwear Science, 8:1, 19-22, DOI: 10.1080/19424280.2016.1140817
Kuhn, Brandon, "A Comparison Of Three Bicycle Pedal Types And Power Output" (2012). Master's Theses. 119. https://scholars.fhsu.edu/theses/119
John Douglas Steinberg (1999) Clipless pedal (United States US6640663B1). USPTO. https://patents.google.com/patent/US6640663B1/en
BikeBiz, "Profile: What does the future hold for Lake?" https://bikebiz.com/profile-what-does-the-future-hold-for-lake/