7 Best Soccer Cleats in 2023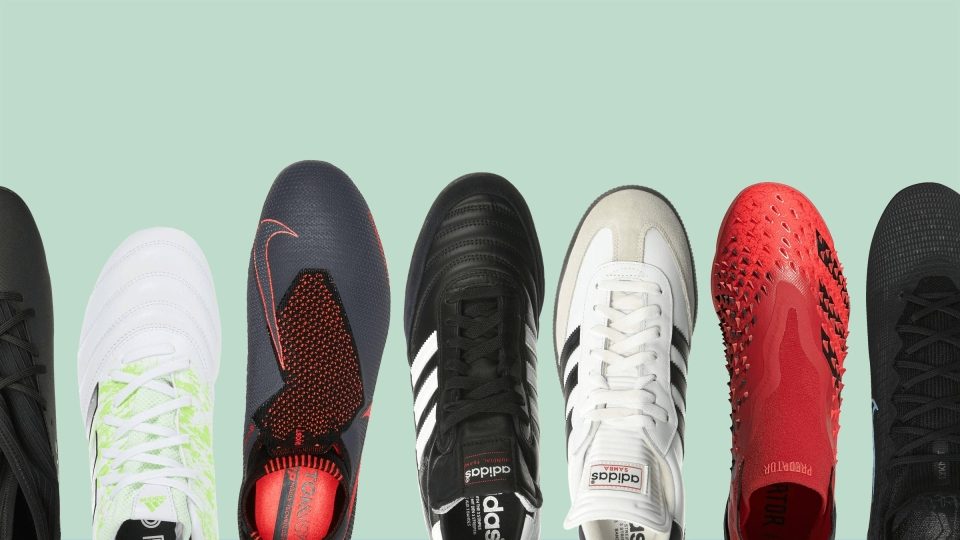 We earn affiliate commissions at no extra cost to you when you buy through us. Why trust us
Choosing the right soccer cleat can be a difficult task, especially for beginners. But worry not!
We have reviewed 70+ pairs of cleats to pick out the best performers. Whether you are playing on firm ground, turf, or indoors, we've got some highly recommended options for each surface.
Here you will also find some expert tips on choosing the right cleat for you. Scroll down to the guide sections below to learn about which cleat is right for your playing surface, what is the best material for ball touch, and how soccer cleats should fit.
How we test soccer cleats
Here at RunRepeat, we give each soccer cleat a CoreScore from 0-100. This score is an indicator of how well liked the shoe generally is.
A corescore is computed by weighing in all the reviews that we could get--from expert reviewers, to players, and even ordinary users who leave their comments and ratings on retailer sites. We spend hours each day collating them. You can trust that the Corescore is a comprehensive quantitative assessment of each soccer cleat.
To come up with the list below, we surveyed almost 600 experts and around 67,300 users who leave their reviews on retailer websites.
Comparison of the 7 best soccer cleats
| | | | | | | | | |
| --- | --- | --- | --- | --- | --- | --- | --- | --- |
| Best | | | | | | | | |
| CoreScore | | | | | | | | |
| Users rating | | | | | | | | |
| Experts | | | | | | | | |
| Best price | | | | | | | | |
| Ranking | | | | | | | | |
| Popularity | | | | | | | | |
| # of colorways | | | | | | | | |
3 things to consider if you want to get the best soccer cleats
Choosing the right model out of the best ten football cleats is a daunting task. You can make it easier by following 3 quick steps.
Playing Surface
All soccer players except the goalie are expected to run around the pitch. When it comes to choosing the right soccer cleats, their playing positions don't have as much weight as the type of surface they're playing on.
Manufacturers are pretty straightforward as to what type of surface their products are for. The surface type is usually added as an extension to the product's name (e.g. Adidas Predator 19.3 Firm Ground).
Surface

Sample

Description

Firm ground (FG)

FG cleats are for natural grass surfaces. They usually have molded conical or bladed studs. Multi Ground (MG) and Firm Ground/Artificial Grass (FG/AG) options may have shorter studs, but still long enough to ensure their performance on the firm ground.

FG cleats are the most common type.

Soft ground (SG)

SG cleats are for muddy grass surfaces. They are referred to as metal soccer cleats because their removable studs are longer and usually metal-tipped. These are most likely worn at the beginning of the season, which coincides with rainy spring.

Indoor (IN)

IN cleats have flat gum rubber outsoles with no real studs. They look like lightweight sneakers. These are for the glossy hard court or asphalt. Some brands call these Sala, Street, or Futsal shoes.

Turf (TF)

TF cleats have small, compact spikes that are made of durable rubber. These soccer cleats are used on old-school carpet-type fields and artificial turf.
Touch
Touch refers to how responsive the shoe's striking area is. This factor is important because this determines how well the player can handle the ball.
Two major features affect touch– upper material and closure system. In general, the upper material must provide a comfortable and snug fit. Looseness can affect not only touch but also the player's gait.
Common upper materials for soccer cleats

Upper Material

Touch Rating

Pros

Cons

Kangaroo Leather

Very comfortable and durable (with proper care)

Expensive and not available in some areas

Calfskin Leather

Durable and fairly protective

May take long to break in

Knit

Light, comfortable, and fits like a sock

Easily gets dirty and soaked

Synthetic

Light and withstands all weather conditions

Less form-fitting and less durable
Soccer cleats are usually laced footwear. The laces allow the wearer to tighten the shoe's fit, enhancing touch. However, these laces may disrupt the shoe's striking surface. To get rid of the distraction, some brands now offer laceless slip-on cleats.
But laceless options have issues with fit. Because there are no mechanisms for adjustments, they are either too loose or too tight. To remedy this, the top soccer brands produce ghost lacing cleats; which are still laced but with an external cover to keep the striking area clean.
Fit
It's obvious that you should get the right size to maximize a shoe's potential. Here are a few tips that you can follow to get the best soccer cleats that fit you perfectly.
Take into account potential stretch. Bear in mind that leather stretches and softens over time. Your kangaroo or calfskin leather cleats should be OK if they feel tight right out of the box.
Shop or at least measure your feet late in the afternoon. Physiological processes cause our feet to swell at some points. They are said to be in their most optimal size late in the afternoon.
Consider the thickness of your socks. Anything that you put on your feet adds bulk to them. If you are fond of thick socks, then go for cleats that are slightly bigger than your actual foot size.
Learn how to gauge size online. Brands fit differently. Whenever possible, stick to brands that fit you well when you shop online. If you must, use sizing tools provided by some online retailers to get the right size estimate.
How long should the replacement studs be?
Soft ground soccer cleats are most likely the ones that have detachable spikes. The general rule is quite simple: the softer the ground, the longer the stud. The stud lengths of a soft ground soccer cleat are generally between ½ to ⅗ inches.
Soccer cleats price classifications
Not all soccer cleats are created equal. Some are just more premium than others in terms of the materials used and technologies incorporated.
Some brands make price classifications of their soccer cleats quite explicit. Nike and Adidas, for example, add indicators in the product names.
Soccer cleats price classification

Price

Nike

Adidas

$$

Elite

+ (laceless) or .1 (with laces)

$

Pro

.2

$

Academy

.3
Soccer cleats vs football cleats
In the United States, soccer and football are two very different sports, and their athletes use cleats that are very different from each other.
Soccer cleats vs Football cleats

Football Cleats

Soccer Cleats

heavier

lighter

come in 3 types: high, mid, and low

are usually just lows

has a toe stud

has no toe stud

less responsive striking area

highly responsive striking area
Compared to football cleats, typical soccer cleats have the following characteristics:
Feel lighter. Manufacturers keep soccer cleats light because players are expected to run most of the time during their games.
Have no toe spikes. In football cleats, the extra stud near the big toe provides more traction for when players push against their opponents. No such contact happens in soccer, so this extra feature has no practical value.
Are usually low-tops. Because they run most of the time, their feet must be free from all sorts of obstructions. Low-top cleats give soccer players this much freedom.
Responsive striking area. The responsiveness of the striking area, or more commonly referred to as touch, is a major factor in soccer because players handle the ball mostly with their feet.