4 Best New Balance Sneakers in 2023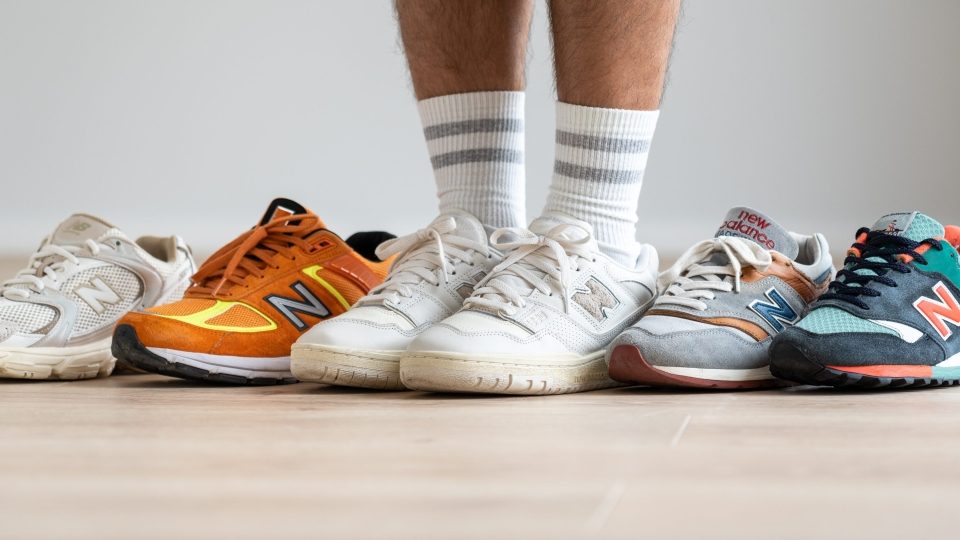 We earn affiliate commissions at no extra cost to you when you buy through us. Why trust us
When style, comfort, and quality are your priorities in sneakers, the best brand you must consider is New Balance. With so many models to choose from, we brewed this foolproof guide to help you find the right NB shoes for you. 
With that in mind, we tested and reviewed more than 50 New Balance sneakers. We put together a list of the NB kicks that are prominent during our meticulous scrutinization. We chose the best under various categories to make it easier to find the right model that suits your needs.
Comparison of the 4 best New Balance sneakers
| | | | | | |
| --- | --- | --- | --- | --- | --- |
| Best | | | | | |
| CoreScore | | | | | |
| Users rating | | | | | |
| Best price | | | | | |
| Ranking | | | | | |
| Popularity | | | | | |
| # of colorways | | | | | |
With a long-standing history which is now more than 100 years, New Balance is a brand that has found itself in the top echelon of sneakerwear, thanks to its focus on quality and comfort.
In this guide, we look into what sets New Balance sneakers apart and how they have become a manufacturer known to release some of the best sneakers in the market. We'll explore the features and attributes that go into the best New Balance sneakers, and what you should look for and why.
Let's start with some fun facts:-
5 things you didn't know about New Balance
Technically focussed from the very start: Before becoming a global sneaker giant, New Balance started in 1906 in Boston as the "New Balance Arch Support Company." They initially designed arch supports and orthopaedic footwear, and their now iconic sneaker line was a later addition to their portfolio.
Let's just take a moment to appreciate that; more than 100 years ago, before most of their rivals had ever been thought of, New Balance was a technically-minded brand that relied upon science to sell their shoes. A modern train of thought even by today's standards.
Made in the USA: Not many people know that New Balance proudly manufactures a portion of their sneakers in the United States (and some are made in the UK too). This commitment to domestic production is a rarity in the footwear industry and reflects their dedication to quality, which is in contrast to many of their competitors which are entirely made in Asia in order to achieve a certain price point.
Wide range of widths: One of New Balance's unique features is also one that many people are passionate about - it's their wide range of widths available across most of their shoe models. They offer options from extra-narrow through to extra extra wide feet. For people with a foot that isn't a standard width, it's a real game-changer.
The unchanged logo: Originally conceived by highly regarded designer Terry Heckler, New Balance's "N" and "NB" logos have remained largely unchanged since their creation over four decades ago. The New Balance brand logo does what a logo is supposed to do: it is simple but effective, and showcases the brand's relationship with speed and power. The rotated positioning makes it look as though the "NB" is constantly in forward motion, progressing towards its goal - just like all New Balance sneaker wearers should be.
Commitment to product, not sponsorship: For a long time, New Balance bucked the trend by not sponsoring big name athletes and instead choosing to let their shoes sell themselves. This became known as the "Endorsed by No One" philosophy, one whereby resources were directed towards research, design and domestic manufacturing instead of famous sportspeople. Although that philosophy technically no longer exists, as New Balance do sponsor some sports stars these days - the history lingers.
Performance over style is the ultimate Dad vibe
Since its beginnings, New Balance has been all about making sneakers that don't just look flashy but deliver top-notch performance. These shoes were born to outperform the competition, and they've quietly gathered a dedicated following of all ages.
With their assuming grey suede and mesh design almost a trademark of the brand, New Balance sneakers exude functionality over flamboyance. It's this passion for what's under the hood that has turned New Balance into a go-to choice for Dads worldwide who prioritise comfort and functionality over flashy style and the latest trends.
Understanding the New Balance model number naming convention system
The style number (or model number) is a unique naming system New Balance has introduced. As a general rule, the higher the number the more technology, however, be aware that is not always the case.
Series number
The first character(s) typically represent the series or category of the shoe. For example, "9" in the model number usually indicates the 900 series, which is known for its premium quality and advanced features.
Features
The next character(s) often represent the type of sneaker as identified below:
| | | |
| --- | --- | --- |
| Number | Feature | Description |
| xx40 | Optimal control | Shoes in this category provide superior control, stability, cushioning and support for biomechanical needs, such as pronation or low arches (e.g., 940, 1540). |
| xx50 | Fitness running | For training on roads or for indoor workouts, the 50 series offers the combination of visual attitude and innovation with the responsiveness and power athletes need. |
| xx60 | Stability | Designs that offer industry-leading stability to reduce pronation while also providing unparalleled cushioning and comfort (e.g., 860). |
| xx70 | Light stability | The perfect combination of stability and speed, all in a lighter, sleek profile designed for runners who train at a faster pace (e.g., 770). |
| xx80 | Neutral | For high-mileage runners who require light shoes and the protection of superior cushioning (e.g., 1080) |
| xx90 | Speed | For faster runners who want every advantage, including a superior ride and fit. The choice styles for professional and nonprofessional speed and distance runners (e.g., 890). |
Version
Additionally, the model number may also include a 'v' followed by a number. This 'v' signifies the version number of the shoes. For instance, consider the New Balance Fuelcell Propel v4, which has seen several updates, denoted as v2, v3, and so on, since its initial launch. In this case, 'v4' indicates that it's the fourth version.
Understanding this can be quite useful if you're on the lookout for a bargain, in which case you'd want to find earlier versions, or if you prefer the latest and greatest, then keep an eye out for the highest 'v' number.
New Balance performance features
New Balance has consistently stood as a beacon of innovation in the athletic footwear industry. With a dedicated focus on enhancing performance, they've integrated a range of cutting-edge technologies into their sneakers. Let's take a closer look at some of the most popular:
FuelCell
Injected with nitrogen, New Balance's FuelCell technology is a cushioned foam targeted primarily towards athletes. With this it achieves impressive energy return and responsiveness. Designed to be lightweight without compromising on cushioning, FuelCell offers a comfortable, well-cushioned ride, making it a versatile choice for runners and athletes of all kinds. Its durability, competitive edge, and application across various athletic pursuits make FuelCell a standout feature in New Balance sneakers. 
Fresh Foam
Fresh Foam is known for its plush cushioning, offering a comfortable and responsive ride while maintaining a lightweight feel. It's often used in running shoes for its impact absorption and support.
REVLite
REVlite is another cushioning technology designed for lightweight, responsive comfort. It's commonly used in athletic and lifestyle footwear.
N2
N2 technology provides a lightweight and responsive cushioning system for runners, reducing the overall shoe weight while maintaining support and shock absorption.
ABZORB
This technology offers exceptional shock absorption in the heel and forefoot, making it ideal for running and other high-impact activities.
ACTEVA
ACTEVA foam provides cushioning that's both lightweight and durable, ensuring a comfortable ride over extended use.
Ortholite insoles
Many New Balance sneakers feature Ortholite insoles, known for their moisture-wicking and odour-resistant properties, enhancing overall comfort.
Gore-Tex
New Balance incorporates Gore-Tex technology in some models, making them waterproof and ideal for outdoor activities in various weather conditions.
T-Beam
T-Beam is a lightweight, flexible TPU shank that provides torsional stability and arch support, particularly in running and athletic shoes.
No-Sew construction
New Balance utilises no-sew construction techniques in some models to reduce friction points, enhance comfort, and provide a sleek, modern look.
Comparing New Balance to their rivals
Nike vs New Balance
New Balance is often seen as a more understated alternative to Nike. While Nike is known for its bold designs and extensive celebrity endorsements, New Balance focuses on comfort and fit, with many models offering wide-width options. Both brands excel in performance footwear, but New Balance tends to cater more to those looking for a comfortable, everyday athletic shoe.
If Nike is more your style, check out our guide to the best Nike sneakers.
Adidas vs New Balance
New Balance and Adidas both offer versatile athletic and lifestyle options. However, Adidas is known for its trendy and fashion-forward designs, often backed by high-profile collaborations and endorsements. In contrast, New Balance emphasises fit and comfort, especially for those with specific width needs.
Want to take a look at the Adidas offerings? Visit our guide to the best Adidas sneakers.
Puma vs New Balance
New Balance and Puma share a commitment to style and function. Puma, with its sports lifestyle approach, is favoured by those looking for a blend of athletic performance and streetwear aesthetics. New Balance, on the other hand, focuses on offering a wide range of widths, making it a go-to brand for individuals with specific fitting requirements.
Take a look at the best Puma sneakers while you're browsing around.
Reebok vs New Balance
Reebok and New Balance have a history of performance-oriented footwear. New Balance often excels in wide-width options and premium cushioning, while Reebok is known for its versatile training shoes. Both brands cater to athletes and fitness enthusiasts but with distinct design and comfort preferences.
Please visit our guide to the best Reebok sneakers to learn more.
Vans vs New Balance
Vans specialises in skateboarding and lifestyle footwear, featuring a distinctive, casual look. New Balance, on the other hand, is more oriented towards athletic and running footwear. While Vans offers a unique style, New Balance emphasises cushioning and width options for a more comfortable and tailored fit.
The best Vans sneakers guide will show you more.
New Balance loves to offer a wide range of wide widths
One of the standout features of the New Balance sneakers is their commitment to inclusivity, accommodating a wide range of foot shapes and sizes, including extra wide widths.
Inclusive sizing
One of the core principles of New Balance is to offer a spectrum of width options, ranging from Extra Narrow to Extra Wide. This inclusive sizing approach allows individuals with very wide or very narrow feet to find the perfect pair of sneakers.
Understanding the width lettering system
To help make it easier to select the correct width sneakers, New Balance uses the following lettering identifier system:
| | | |
| --- | --- | --- |
| Letter | Men | Women |
| 4A | - | Extra narrow |
| 2A | Extra narrow | Narrow |
| B | Narrow | Standard |
| D | Standard | Wide |
| 2E | Wide | Extra wide |
| 4E | Extra wide | Extra extra wide |
| 6E | Extra extra wide | - |
The New Balance sneakers size guide
We understand it's a concern buying the wrong size shoes online, so we've done a lot of the hard work for you to reduce this pain. Please refer to our dedicated and easy to use online New Balance size guide here.
What does the future of New Balance look like?
The future for New Balance sneakers appears promising as the brand continues to evolve and adapt to changing consumer preferences and market trends. New Balance's commitment to comfort and fit, with a particular focus on offering wide-width options, is likely to remain a key selling point.
In a world where inclusivity and personalised fit are increasingly valued, New Balance's dedication to accommodating a variety of foot shapes and sizes positions them well for the future.
Moreover, sustainability is a growing concern in the footwear industry, and New Balance has already taken steps in this direction. It's expected that the brand will continue to explore eco-friendly materials and manufacturing processes, aligning with the rising demand for environmentally responsible products.
As the intersection of performance and lifestyle becomes more pronounced, New Balance's versatile offerings, from athletic sneakers to fashion-forward models, may find an even broader audience. In essence, the future for New Balance sneakers could involve further innovation in fit, sustainable practises, and an expanding presence in the global athletic and fashion footwear markets.
How we test sneakers
To help you save time and effort, we narrowed down our top picks under various categories. 
We buy all New Balance sneakers with our own money to avoid bias.
We sport the shoes in our casual events and daily undertakings. During this time, we evaluate the shoe's pros and cons like durability, price, breathability, and others. We even style them with different fits to see how their aesthetic adapt to every look.
To gather accurate results, we subject these shoes to countless trials and comparisons inside our lab. One particular thing we look for in sneakers is their ability to repel stains. We smudge their upper with coloured chalk, as well as stream them with a liquid dye. We then observe if the material easily absorbs the stains or completely resists them. We clean the shoes afterward and we evaluate how quickly or difficult to transform them to their brand-new state.