5 Best Motion Control Running Shoes in 2023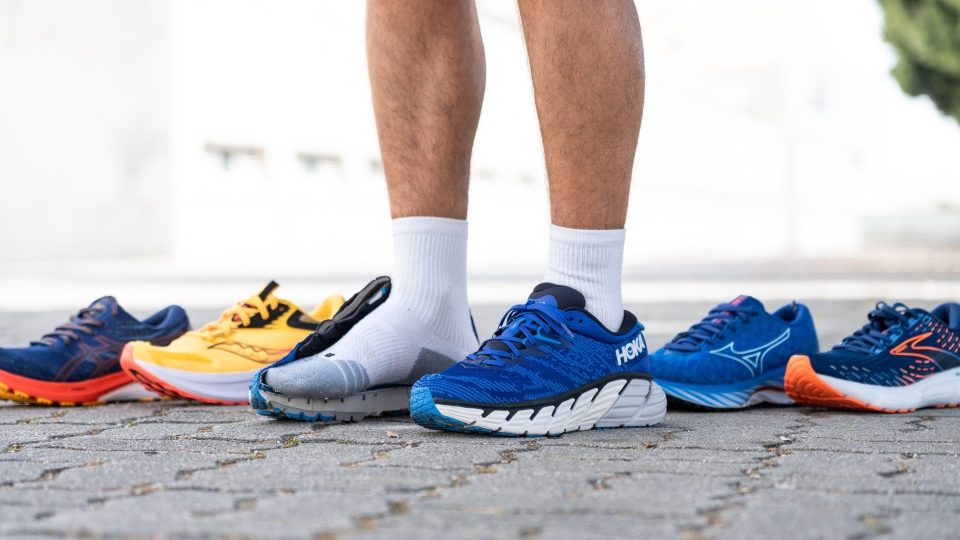 We earn affiliate commissions at no extra cost to you when you buy through us. Why trust us
Disclaimer: Brands have different approaches to naming categories of supportive running shoes. So, we will be using the term 'motion control' in reference to shoes with the highest level of stability. The purpose of this guide is to educate, not to make any medical diagnosis or recommendation.
Although there are very few motion control running shoes on the market these days, we have put them all through our lab and wear tests to find the top performers.
Also, to make sure that motion control running shoes are the right choice for you, see our guide on pronation and shoe types below the top picks.
How we test running shoes
Even though very few brands still make running shoes with maximum support, we make sure not to overlook any. You can find models from Brooks, New Balance, Saucony, Hoka, among others in our rankings below. Here is how we end up with the top 10:
Buy shoes with our own funds to avoid brand loyalty and bias.
Determine whether a shoe can be classified as "motion control" based on our standards
Summarize nearly 100,000 user and expert reviews for 30+ motion control shoes.
Take each pair on a test run of at least 30 miles before delivering feedback.
Cut shoes in half at RunRepeat lab and measure over 30 parameters that contribute to their performance.
Finally, we give each shoe a CoreScore from 0 to 100 to determine the best ones.
Comparison of the 5 best motion control running shoes
| | | | | | | |
| --- | --- | --- | --- | --- | --- | --- |
| Best | | | | | | |
| CoreScore | | | | | | |
| Users rating | | | | | | |
| Experts | | | | | | |
| Best price | | | | | | |
| Ranking | | | | | | |
| Popularity | | | | | | |
| # of colorways | | | | | | |
What are motion control shoes?
Stability and motion control footwear helps to minimize the degree of overpronation and the discomfort associated with it. Unlike regular neutral running shoes, which have minimal interference with the foot biomechanics, supportive shoes have additional components that help stabilize the runner's gait.
While stability running shoes are designed for mild to moderate overpronation, motion control trainers offer maximum support for the more severe cases.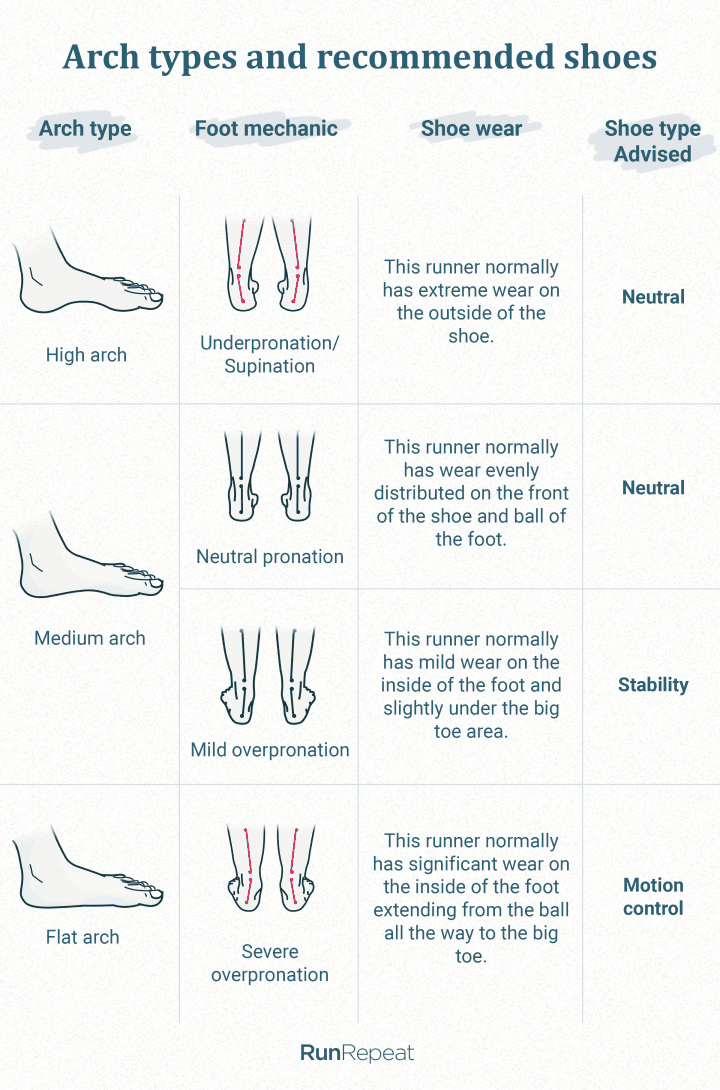 Pronation is a natural inward rolling of the foot which occurs during its transition from heel to toe. But when it becomes exaggerated, moves past the comfort zone, or even causes pain in the feet, legs, or back, it is a clear sign of overpronation.
Learn more about different types of pronation and how to find out yours in our comprehensive guide on the topic.
Disclaimer: The purpose of this guide is to educate, not to make any medical diagnosis or recommendation.
What makes up a motion control shoe
To prevent the foot and ankle from excessively rolling inwards, shoes employ a whole system of components. Even though the key stabilizers are found in the back portion of the midsole, you can also find supportive elements in the upper that cooperate with them.
Primary stabilizers
Brands select different approaches: from incompressible TPU posts, shanks, and plates to the less intrusive technologies. We gathered some of the common examples below from the stiffest to the less rigid ones.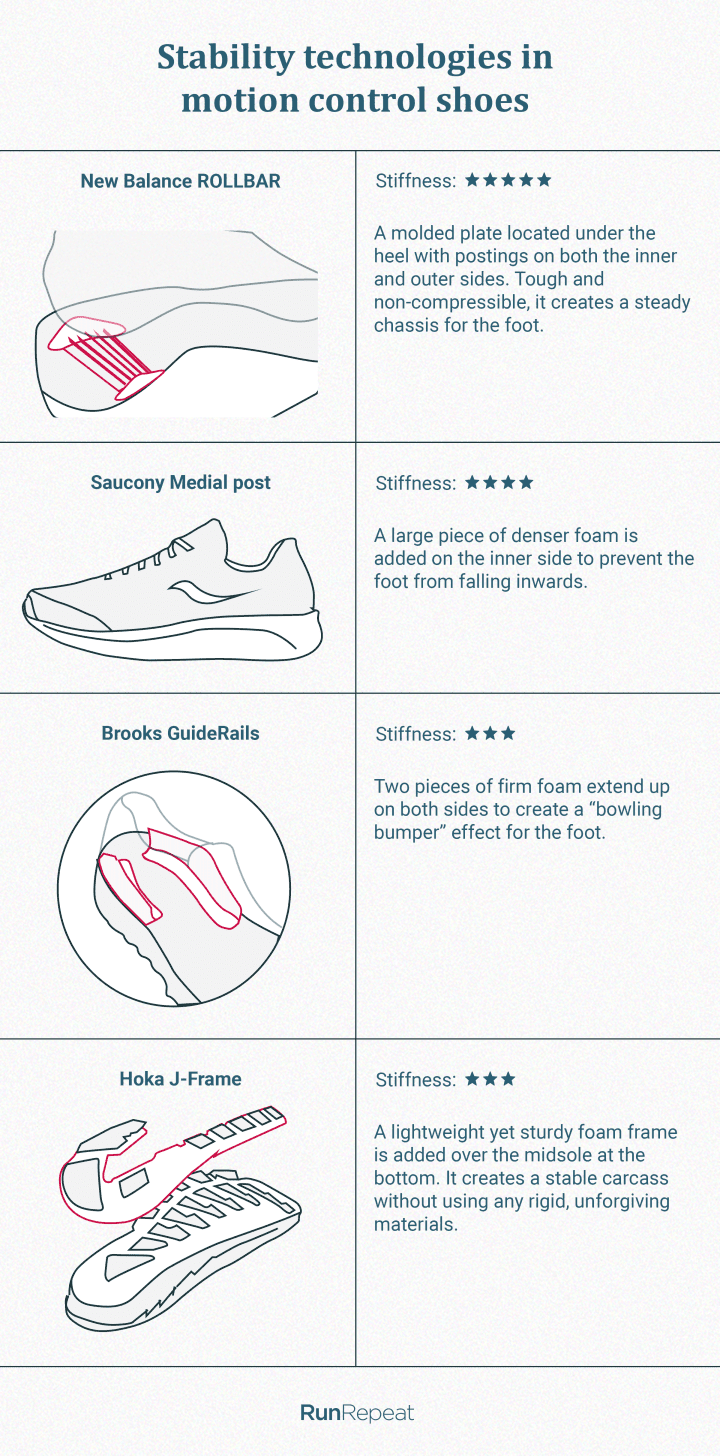 Here is what these technologies look like on the actual shoes: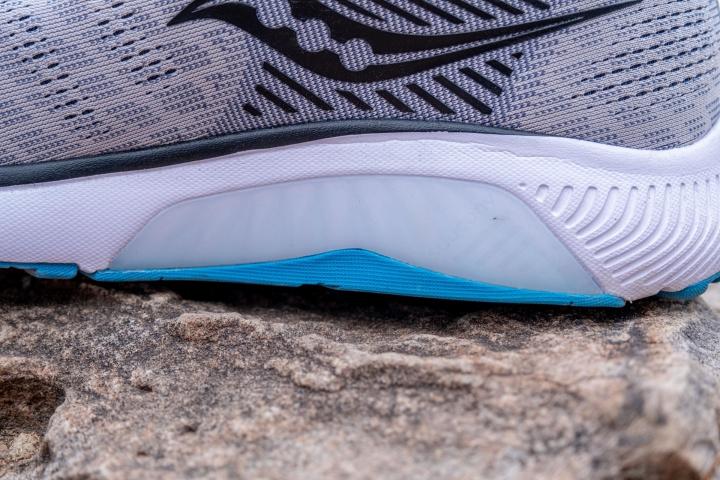 Saucony Medial post embedded on the inner side of the sole (Saucony Guide)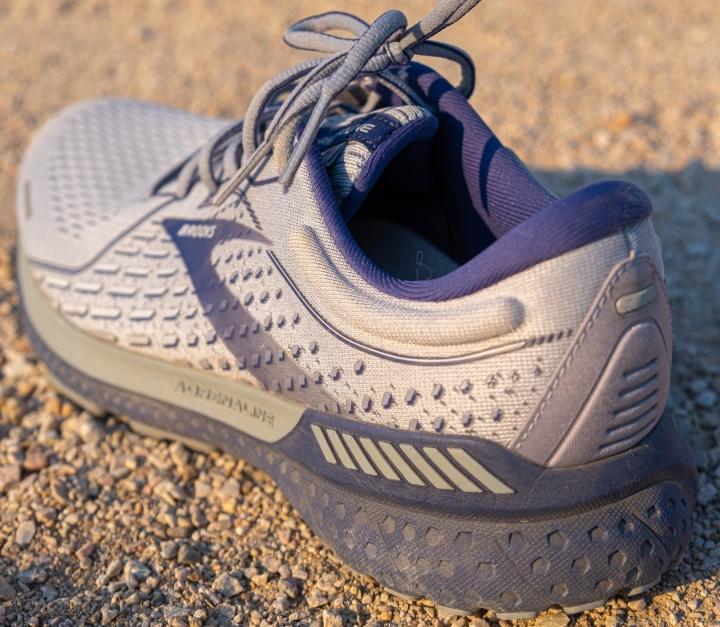 Brooks GuideRails frame the foot on both sides (Brooks Adrenaline)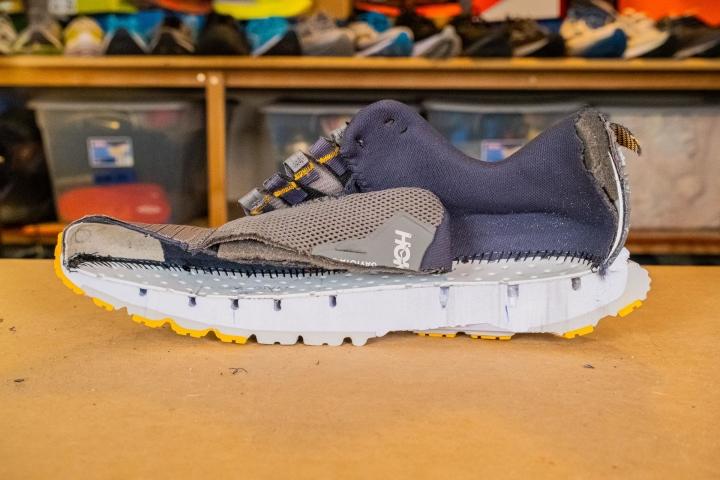 The grey component at the bottom of the midsole is the Hoka J-Frame (Hoka Gaviota)
Secondary stabilizers
The upper design of motion control running shoes also tends to look and feel more substantial compared to neutral shoes. It is meant to keep the foot and ankle securely locked in to minimize the change of twisting or sliding sideways. Here are some of the features that help with that:
side overlays made of leather, suede, or sturdy fabric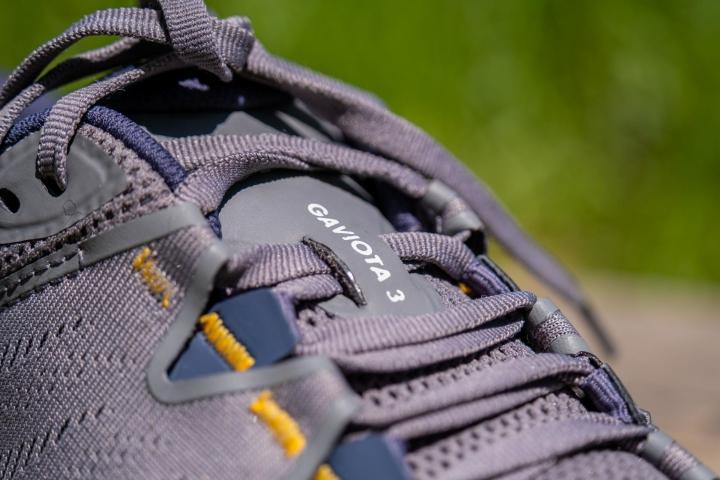 generously padded tongue and collar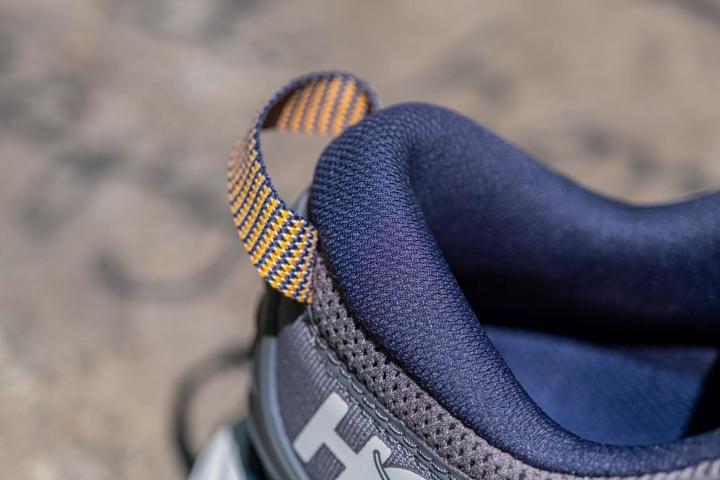 rigid heel counter that clutches the rearfoot
Stability vs. Motion control shoes
To put it simply, take a stability shoe, amplify all its stabilizing components, and you get a motion control trainer. The latter would end up firmer, tougher, wider, steadier, and...pricier.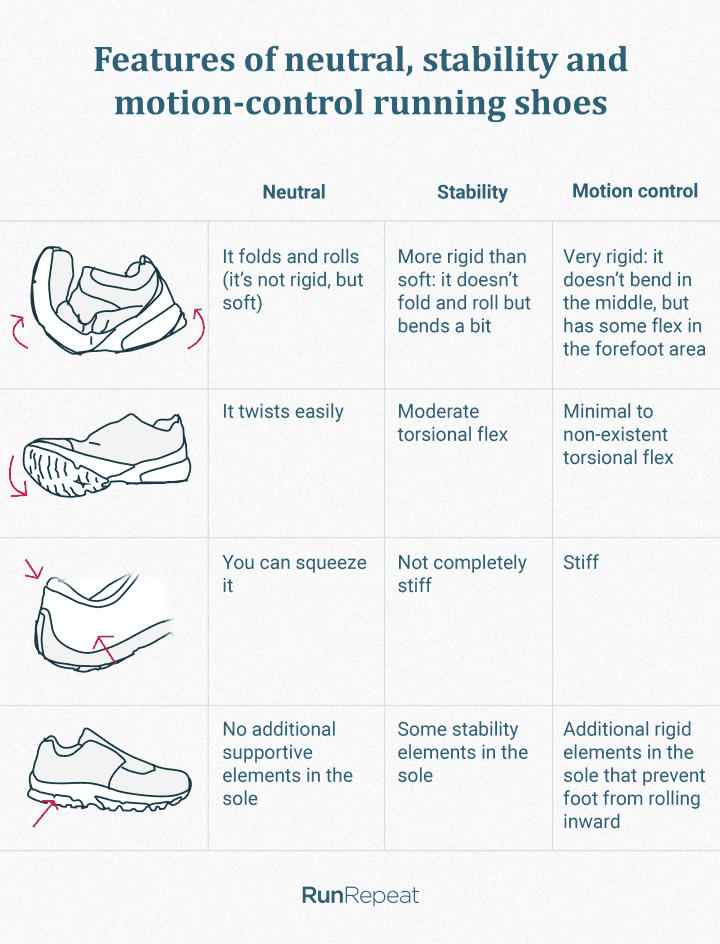 neutral shoe
stability shoe
motion control shoe
Looking at the bottom of a shoe can also tell you about its stability level at a glance: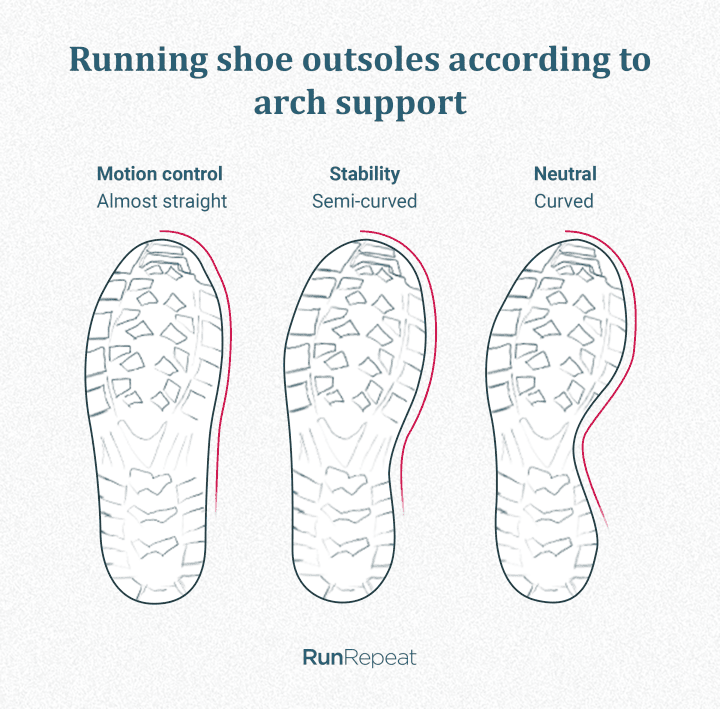 Sole width and curvature on a motion control vs. neutral shoe

With all the added materials, technologies, and research put into stabilizing footwear, there is a clear tendency in their pricing policy.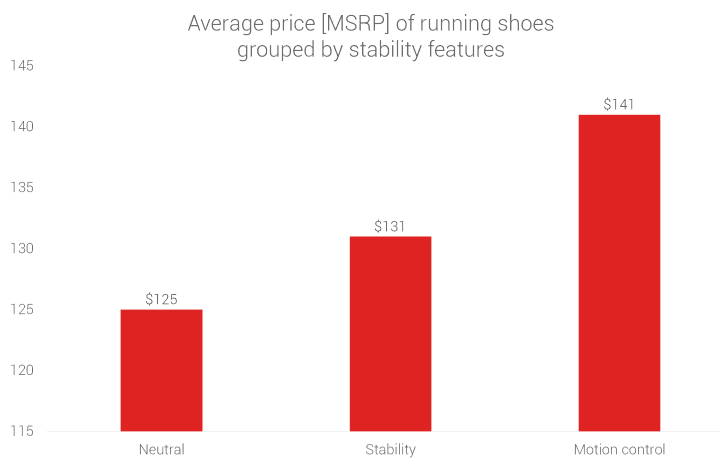 But the good news is that you can get almost any motion control shoe at a discounted price.
Frequently asked questions
Can shoes really correct overpronation?
Not exactly.
Studies show that supportive footwear can help with gait correction only slightly (think 2%) [sources: 1,2,3]. But there is definitely a benefit from having a firmer, wider, and laterally more stable platform as compared to a marshmallowy-plush neutral shoe that squishes instantly under the inner side of your foot.
Alternatively, consider a pair of custom orthotics to maximize your chances of receiving a more accurate, individual support that your feet need. A pair of shoes with removable insoles should help to accommodate the orthotic inserts.
Why are there so few motion control shoes?
Bulky medial posts and TPU shanks found in motion control shoes are quickly becoming a thing-of-the-past as runners ask for lighter, less intrusive alternatives. Even the long-time stability favorite like ASICS Kayano got released in a more stripped-back Kayano Lite edition that feels more like a neutral shoe with no loss in stability.
Secondly, because there is a thin line between motion control and stability, most brands even merge them into one category named "Support." In addition, we see the rise of the so-called "Inherent support" category that bridges the gap (that no one knew existed) between stability and neutral running shoes, pushing motion control shoes further out of the picture.
Are there any motion control shoes for trail running?
No. But there are quite a few stability trail shoes to choose from.
However, all of the motion control shoes above are rugged and durable enough to be used as hybrid shoes for hard-packed, non-technical trails.