5 Best Crossfit Shoes For Men in 2023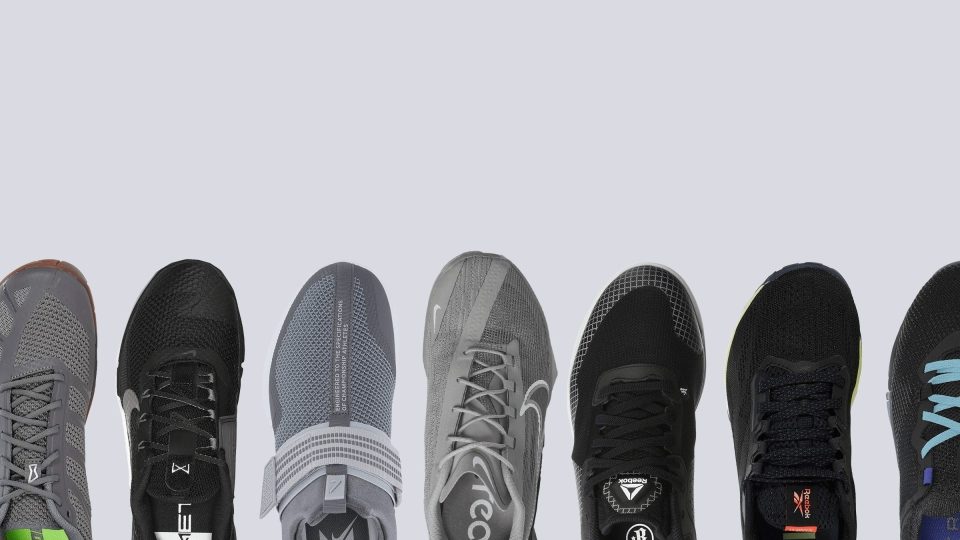 We earn affiliate commissions at no extra cost to you when you buy through us. Why trust us
CrossFit is a workout program that incorporates a lot of exercises. Cardio, weightlifting, calisthenics, name them all - they are all included in the program in one way or another. Because of this, any man who wants to do well as a CrossFit practitioner needs the support of a dependable training shoe that's really made for this sport.
To help you guys choose the best CrossFit shoes for men, we tested every training shoe - all 60+ of them - and then came up with the list of those shoes that have the most capacity to lead you to CrossFit success.
CrossFit is technically a Reebok brand, so you can expect a lot of Reebok shoes on this list. Of course, we have some Nike and Under Armour in the pile, too.
How we test crossfit shoes
Maintaining objectivity is a must for anyone who wants to come up with a best-shoes-for-whatever list. Hence, we do the following:
Buy the shoes using our own money
Test the shoes in actual CrossFit workout sessions
Weigh also the opinions of others before finalizing our assessments.
In addition to our concise qualitative assessments, we also present a figure that we call the CoreScore. Every training shoe has it, and it's calculated by getting the weighted average of all the ratings that we stumble upon online. These ratings may come from experts like ourselves, CrossFit practitioners, and even hobbyists who just enjoy a good workout.
Comparison of the 5 best crossfit shoes for men
| | | | | | | |
| --- | --- | --- | --- | --- | --- | --- |
| Best | | | | | | |
| CoreScore | | | | | | |
| Users rating | | | | | | |
| Experts | | | | | | |
| Best price | | | | | | |
| Ranking | | | | | | |
| Popularity | | | | | | |
| # of colorways | | | | | | |
5 things to look for in a men's CrossFit shoe
Here's our guide to selecting the ideal men's CrossFit shoe to meet all your training requirements.
Offset (Heel-to-toe drop)
Otherwise known as heel-to-toe drop, the offset is the difference between the heel height and the toe height. The higher your offset the higher your heel position will be.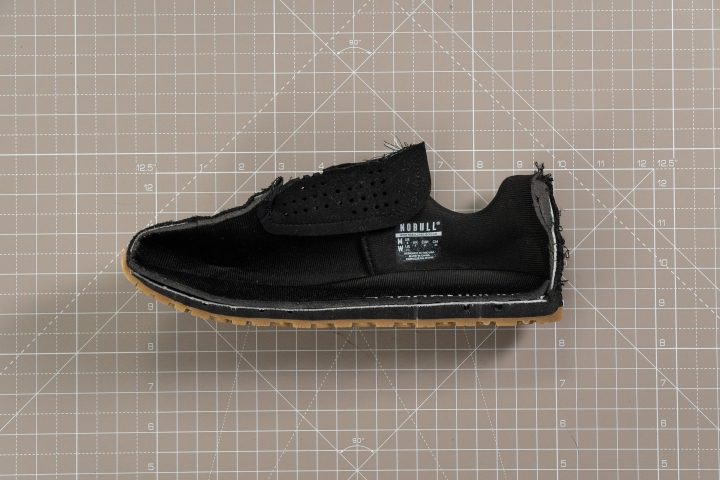 Example of a 4-mm drop (NOBULL Trainer)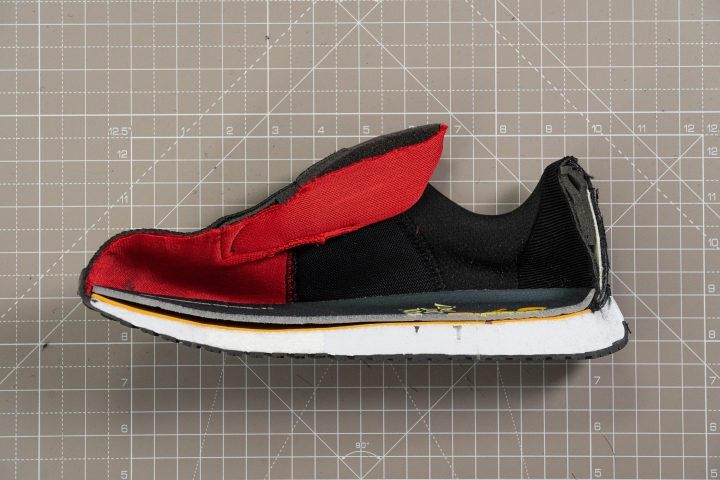 Example of a 7-mm drop (Reebok Nano X1)
CrossFit shoes usually range between 2 mm and 8 mm, with the average being a 4 mm heel drop. This is not as high as a typical workout shoe (8-10 mm) and is intended to provide a middle ground that allows you to do Olympic lifts as well as a range of other functional movements.
A higher heel height is going to be a real hassle when it comes to doing plyometric moves like box jumps or running. That's why you'll find that the most popular CrossFit shoes, like Nike Metcons, generally have a 4 to 6 mm heel drop.
There is no standardization when it comes to the best heel drop for you. The more flexible your ankle is, the lower the heel drop you require. If you know that your ankle mobility isn't the best, look for a heel drop in the 6 to 8 mm range. The popular Reebok Nano models starting from X1 (X2, X3) have come out with a 7-mm drop which made them more versatile.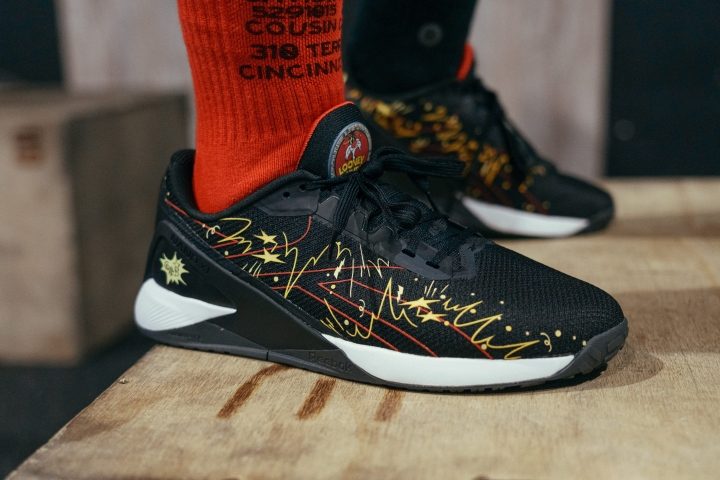 Nike Metcons (from version 5 onwards) come with a heel insert called the Hyperlift. Without the insert, the drop is 4 mm. When you include the insert it goes up to 12 mm. That allows you to use the higher heel drop for your Olympic lifts and then pull them out when you move on to the rest of your workout. You can also buy cheap inserts that can be placed in the sole of any of your workout shoes to increase the heel drop.
Dedicated weightlifting shoes have a much higher drop (8+ mm) to put the foot into a plantar flex position prior to moving. This sets up the ankle better for dorsiflexion as well as also allowing the knee to track forward more easily. You will be able to achieve greater depth in your squat with a more upright torso position. You may want to consider getting a dedicated pair of lifters if weight training makes up a significant portion of your Crossfit regimen.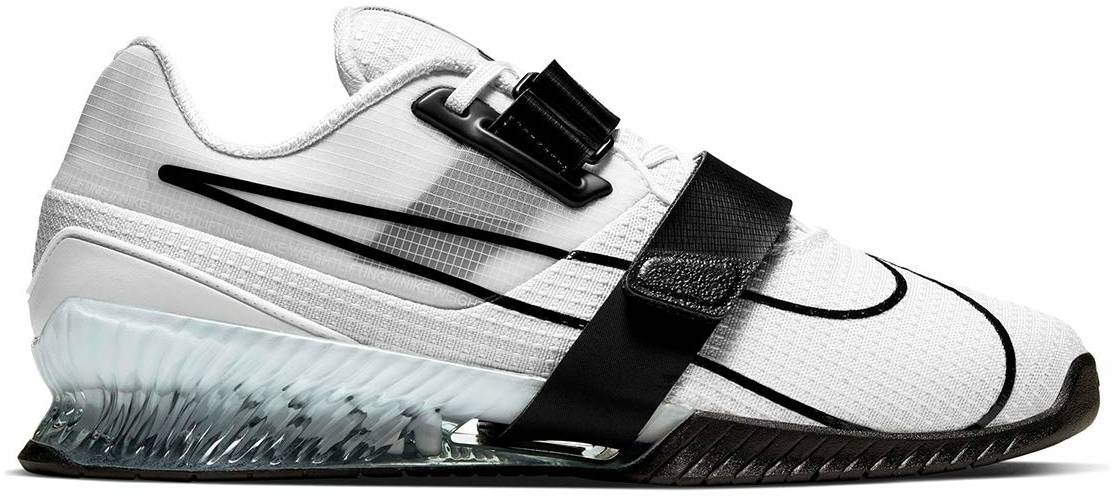 Roomy toebox
The toebox of a CrossFit shoe is the space in the forefoot between the balls of your feet on the ends of your toes. The toe box needs to be wide enough to allow you to splay your toes in order to enhance your grip on the floor. A toe box that is too narrow will make your foot feel cramped, which can cause a cascade of problems up the kinetic chain that robs you of both strength and stability.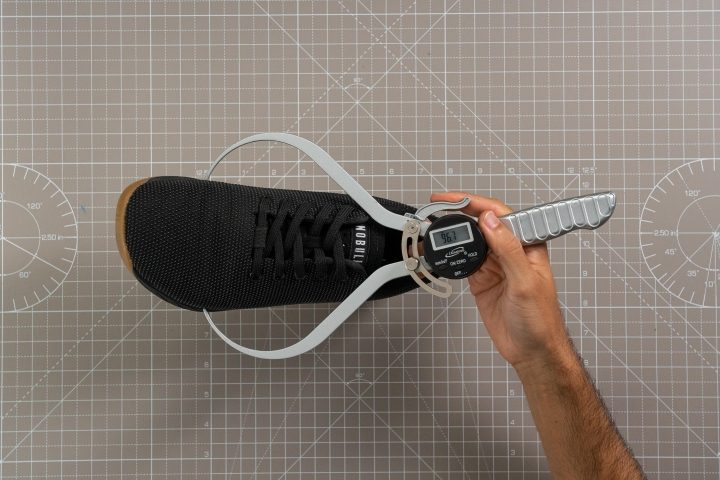 On average, the widest part of the toebox in Crossfit shoes is 100 mm.
When CrossFit shoes are made, the manufacturer uses a 'last', which is a mechanical form shaped like a human foot. It sets the size, silhouette, and outline of the shoe. Shoe companies can choose from more than a hundred lasts, so they try to go with one that will cover the greatest market share of customer foot shapes. They generally stick with the same last for all of their shoes.
As a result, even if you get the same size in every Crossfit shoe, the shape of the toebox is likely to be different.
The ideal CrossFit shoe will allow for a small amount of room between the end of your toes and the toe box. But it shouldn't be too much that it will cause your foot to slide. A gap of around 0.4" will enable toe splay when lifting and prevent the foot from feeling too cramped. A shoe that is either too tight or too loose will cause cramping or foot slide when doing plyometric exercises.
Midsole & Stack height
The midsole construction of a CrossFit shoe is the material that separates the insole from the outsole. Stack height refers to the amount of material that separates your foot from the floor.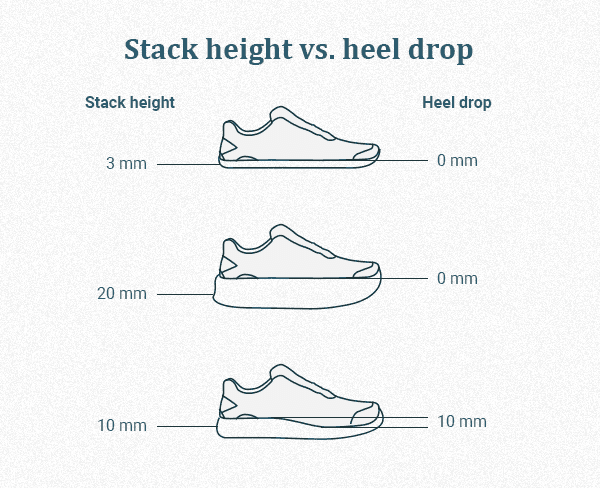 Lifters who are using max poundages will want a shoe that has less stack height between the foot and the floor. This minimizes the compressibility of the shoe, allowing for far more secure support and reducing the possibility of ankle mobility.
However, other CrossFit activities need a decent amount of compression. Your WOD might see you going from 15 snatches to a one-mile run, then on to a dozen pull-ups and 20 box jumps.
The challenge for manufacturers of CrossFit shoes is to achieve a happy medium that will allow trainers to get the stability they need on heavy lifts as well as the cushioning required when running and doing plyo moves.
CrossFit shoes tend to use a dual-density foam: softer and more responsive in the forefoot but stiff and firm in the heel to provide stability for heavy lifting.
Upper
CrossFit shoe uppers need to be strong enough to handle such exercises as rope climbs and burpees without beginning to break down.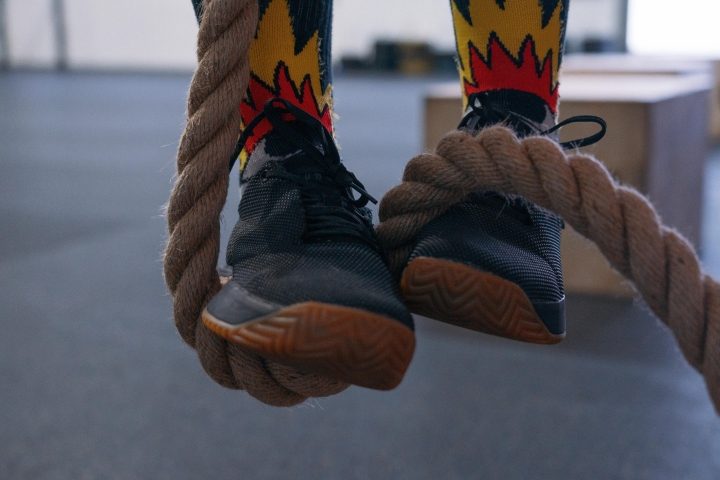 The upper should also be breathable, allowing air to circulate to the feet and preventing sweat build-up.
Reebok Nano X1 (left) vs. NOBULL Trainer (right)
Knit-weave uppers are a good option, being light, flexible, and airy
Outsole
If you are doing a lot of outdoor training you should go for a full rubber outsole with quite an aggressive tread pattern. If your workouts are going to be mainly in the gym, a flatter tread pattern will work best.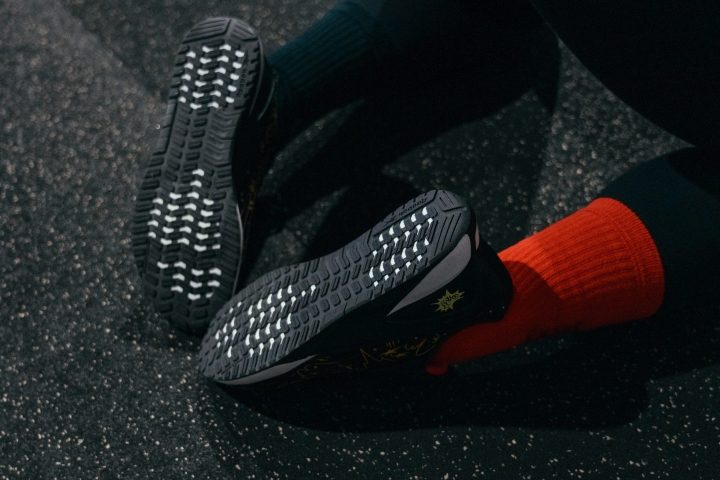 Rope climbing probably presents the greatest shoe challenge of any CrossFit activity. To get up that rope you've got to clamp your feet tightly to an extremely abrasive rope. Unless the shoe is built to counter this stress, it will soon deteriorate. Sidewall blowout is, not surprisingly, the most common CrossFit shoe failure.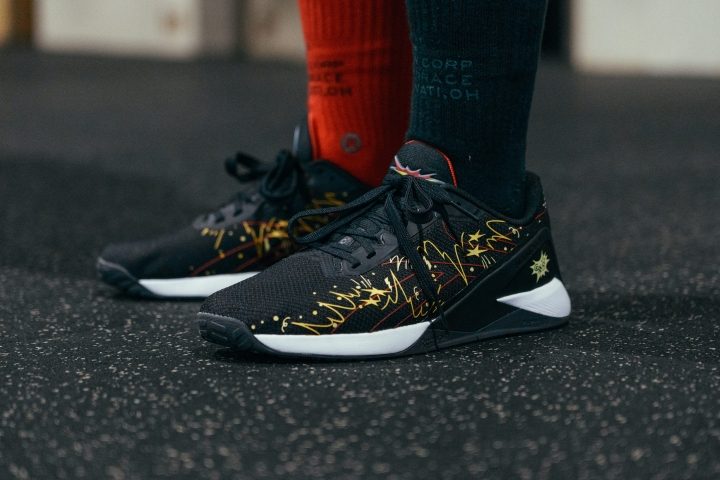 That's why many CrossFit shoes have an extended outsole that comes up the side of the instep featuring ridges where the foot grips onto the rope. Others add a TPU reinforcement to strengthen the sidewall of the shoe.
A couple of shoes with excellent midfoot guards for rope climbing are the Nike Metcon 6 and 7.
The best brands of men's CrossFit shoes
There are three standout manufacturers in the men's CrossFit shoe space.
Reebok
Reebok is the OG when it comes to CrossFit shoes. They brought out the first CrossFit shoe with the release of the Nano in 2011. That same year, Reebok became the official provider of licensed CrossFit footwear. The Nano has gone through more than a dozen iterations.
Nike
Nike's answer to the Reebok Nano is the Metcon. First released in 2015, it has become the most popular CrossFit shoe. Every version from the Metcon 5 on comes with removable Hyper Lift inserts that increase the heel-to-toe ratio. The inserts can be used for heavy lifting and then removed for functional training.
NOBULL
The youngest brand in the bunch (est. 2015), NOBULL managed to become the CrossFit community's favorite in a matter of a few years. The crowd loved the brand's Trainer shoe for its simple yet highly functional design and an endless variety of color options. Sturdy and hard-wearing yet blissfully comfortable, the NOBULL Trainers are rated with high scores by thousands of reviewers. The Trainer Low and the beefed-up Trainer+ are the most popular choices for CrossFit.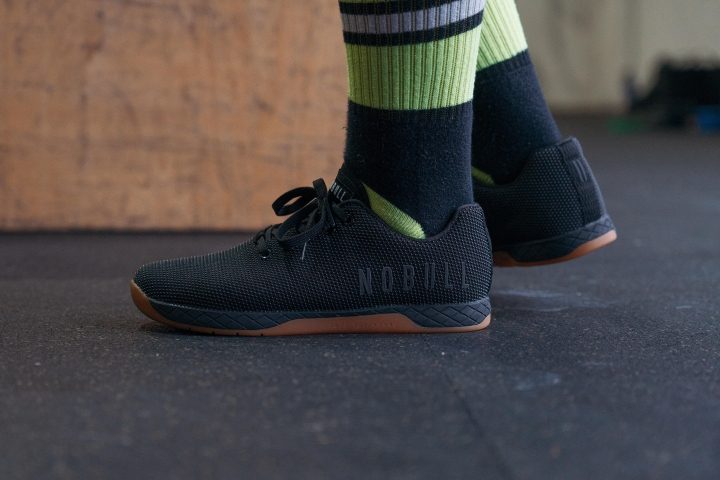 Frequently Asked Questions
Do I really need a dedicated pair of men's CrossFit shoes?
If you're a regular CrossFitter then, yes, you really should have a pair of CrossFit shoes. They'll provide the stability you need for your heavy lifts along with the flexibility and cushioning needed for plyometrics and running. CrossFit shoes will also provide you with the durability needed to handle abrasive activities like rope climbing.
How are CrossFit shoes different from running shoes?
Running shoes have a lot more cushioning than CrossFit shoes. They also tend to have a higher heel-to-toe drop. CrossFit lifts such as the snatch, deadlift, and squat require a rigid sole, while runners need a soft sole to provide maximum impact absorption and cushioning.
CrossFit shoes also have a wider toe box than running shoes. This allows for the natural toe splay that occurs when you are pushing a heavy object straight up. Many CrossFit shoes also feature a rope guard to strengthen the midfoot during rope climbs and a sturdy heel counter to protect the heel during headstand push-ups.
CrossFit shoes also have more reinforced uppers. You will need that extra durability when doing exercises such as burpees, weighted planks, and push-ups.
How long do men's Crossfit shoes last?
The amount of life you get out of your CrossFit shoe will depend on how often you work out, how intense your sessions are, and how much abrasive stress the shoe gets with things like rope climbing.
As a general guide, you should expect your CrossFit shoe to last between 8-12 months. Anything less than 8 months is a poor lifespan while getting more than a year's life from a pair of shoes that you wear several times per week should be considered a bonus.
There are a few things you can do to prolong the life of your CrossFit shoes:
How to take care of CrossFit shoes (so they last longer)
Wash them properly
Don't just throw them into the washing machine and dryer. Doing so can lead to early degradation of the PVU, foam, and mesh caused by the sudden change from water logging to extreme heat.
Handwash preferred
Instead of putting your CrossFit shoes in the washing machine, clean them by hand with a washcloth, soft soap, and warm water. Dab the washcloth in the water and add a dollop of soap to it and then spot clean.
Air dry
When it comes to drying the shoe, take out the insole and put them in a dry area. Then stuff some newspaper into the shoe until you replace the insole.
Put them on with care
Do you have the habit of jamming your feet into your shoes to get into them as quickly as possible? It's not a good move, especially if you're wanting to get as much life out of the shoe as possible. Retrain yourself to unlace your shoes when you're putting them on to avoid wrecking the internal heel construction.
Keep them for gym use only
Wearing your CrossFit shoes only for your workouts will help to preserve their life. They aren't designed for everyday wear so don't wear them on the street, no matter how cool they look.
Store them properly
You should also store your shoes properly. If you keep them in your gym bag along with your sweaty lifting belt and gloves, the moisture and humidity are going to take a toll on the polyurethane and foam. Get them out of your gym bag, air them out, and place them in a dry area with a neutral temperature. If you don't already have one, it would pay to invest in a shoe rack.