3 Best Laceless Soccer Cleats, 20+ Shoes Tested in 2023
In an effort to make the cleats lighter, and in the process design a boot with a clean uninterrupted striking surface, the laceless soccer cleats came into existence. Adidas and Umbro are two of the premier brands that have spearheaded this innovative move in cleat technology.
Needless to say, soccer fans welcome this modernistic twist in cleat design. It offers players of all levels a bigger strike zone for more precise ball control and powerful strikes whether playing on firm or soft ground pitches or in the indoor arena.
To kickstart your search for the best laceless soccer cleats, we've rounded up and reviewed 20+ of them. After several sessions of wear tests on the pitch, we have highlighted our top selections in different categories. Check them all out below.
How we test soccer cleats
Each pair on this list is methodically tested before a final rating is given. That means putting all the laceless soccer shoes to the wringer and seeing which ones stand out as worthy of our best selections. After playing several hours on the soccer field, we give our corresponding feedback for each model.
Here's how we do it:
To provide in-depth profiles for all the laceless soccer shoes, we test them in real games and subject the shoes to the pressures of the game. The goal of each test session is to determine the actual fit, comfort, grip, precision, and ball control, among others.
We go to the micro-level of real-world wear testing on soft or firm ground surfaces. We also scrutinize every nook and cranny of each model's construction to be more comprehensive.
We adhere to our "No play, no review" policy. We don't only wear-test the shoes. We see to it that each model goes through the rigors of the sports to determine their actual value and performance.
To conclude, we utilize the numerical rating system called the CoreScore. After calculating all the collated data, each pair of shoes in the database is given an overall score from 0 to 100.
Best laceless soccer cleats overall
Adidas Predator Tango 18+ Trainers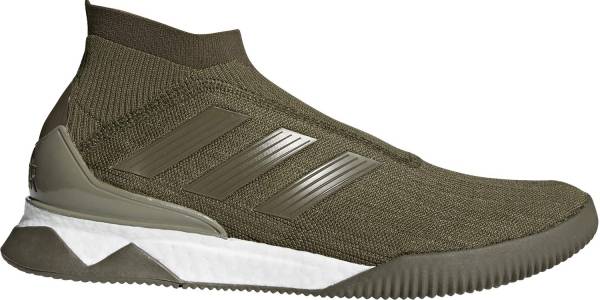 Shoebacca
Free shipping & returns
Amazon
Prime & free shipping
Pros
Comfortable
Hugs the foot
Stylish design
Versatile
Laceless convenience
Partially covered outsole
Cons
Too narrow
Poor quality stitching
Verdict
The Adidas Predator Tango 18+ Trainers leads the 2018 Predator collection as it comes out in a sleek laceless design. This soccer cleat has a versatile design and comfortable fit. Many also liked the convenience of not having to lace up the cleats. But some reviewers complained about the cleat being too narrow. Still, this soccer cleat is another good option for those who are looking for a multipurpose shoe.
Adidas Predator Tango 18+ Trainers full review
Laceless soccer cleats with best ball touch
Adidas Predator Edge+ FG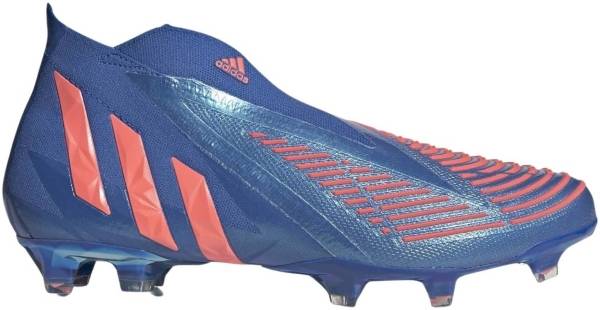 Amazon
Prime & free shipping
Pros
Uber grippy upper
Solid traction
Easily makes powerful strikes
Natural-feeling collar
Provides stability
Top-of-the-line materials
Pretty lightweight
Streamlined look
Cons
Poor foot containment

Needs to be broken in
Hard to put on
Verdict
The Adidas Predator Edge+ ditches the upper technology used on the ones before it and it provides a remarkable touch on the ball. This technology change has made wearers gain more control over their movements, which in turn makes them more effective in their passes, dribbles, and eventual strikes. Indeed, this shoe is for the soccer player who is thirsty for that win on the pitch!
Adidas Predator Edge+ FG full review
Best laceless street soccer cleats
Adidas Predator 19+ shoes
Pros
Locked-in fit
Lightweight
Grippy
Stable
Durable
Reliable lockdown
Breathable
Verdict
The Adidas Predator 19+ shoes is a gateway pair that allows you to bring on-pitch style into the streets. It Makes use of technologies originally only found in the soccer field has been applied to this Adidas street model's construction. Add in its snug and supportive upper, you don't have to worry about slips with the Predator 19+ from Adidas.
Adidas Predator 19+ shoes full review