3 Best KEEN Hiking Sandals in 2023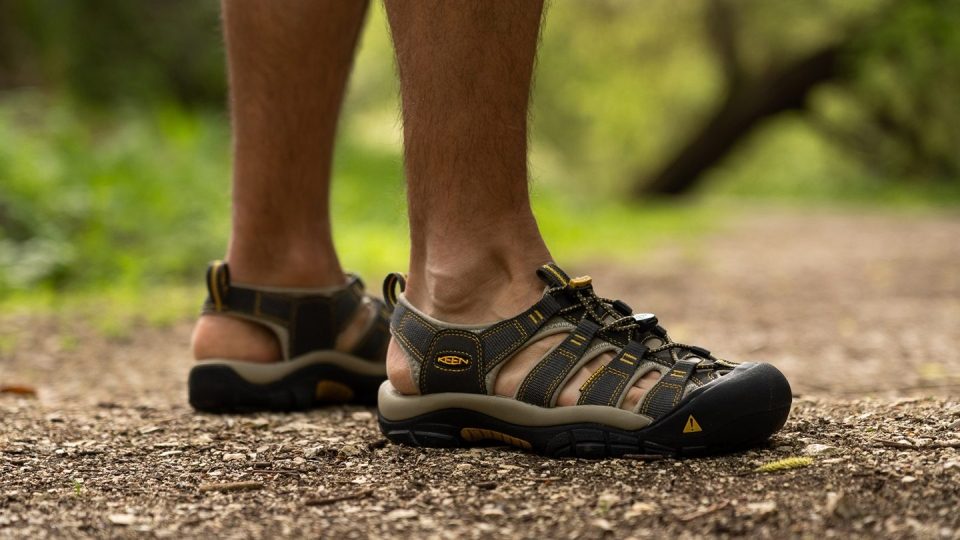 We earn affiliate commissions at no extra cost to you when you buy through us. Why trust us
In 2003, the startup KEEN company in California released its first-ever hybrid footwear with a beefy outsole, a conspicuous bumper at the toe, and a cutout webbing pattern upper. It was a hard-to-categorise shoe or maybe not a shoe. One thing is sure: the design simply looked different, and the market loved it.
Years later, the company has introduced an impressive lineup of quality hiking sandals that offer truly superb comfort and functionality. Whether you're into hardcore sailing or creek hikes, or someone who loves to go to warm-weather adventures, the KEEN hiking sandals are a great choice.
To help you decide which one is perfect for you, we've rounded up KEEN hiking sandals available today. We have tested each of them and made a comprehensive review that acts as a one-stop spot for everything you need to know from lab results to wear tests. We discussed our best highlights in this article.
Best KEEN hiking sandals overall


















What makes it the best?
After rigorous testing in the lab and off the trail, the KEEN Newport H2 emerged as the best overall KEEN hiking sandal. Boasting superb stability and arch support, it is incredibly comfortable and has a grip comparable to a hiking shoe.
The wide platform of the KEEN Newport H2 offers a rock-solid ride with little room for toppling. Using a caliper in our lab, we measured the width of the midsole. With 88.8 mm at the heel and 121.1 mm at the forefoot, it's no wonder it's so stable. It's 4 mm wider at the forefoot than average and wider even than some winter hiking boots! We found it near impossible to roll our feet on uneven ground.
We felt raring to go from the moment we put the sandals on. They needed no wear-in time, and they were unbelievably comfortable during our hikes. We pressed a durometer to the midsole, and the reason became clear. The durometer showed 19.5 HA, 35% softer than average. That explains the all-day comfort and slipper-like feel we experienced!
These sandals hold firm even on loose gravel and soft muddy trails. The sturdy lugs measure 4.1 mm deep, only 0.2 mm shallower than the average hiking shoe. In addition, the softer outsole - which we found is 12% softer than average - helps the sandal to grip well on smooth rocky surfaces as well. We feel confident taking these sandals anywhere.
Whilst not exactly clunky, the KEEN Newport H2 still weighs in quite a bit more than the average hiking sandal. It tips the scales at 13.4 oz (381g), 2.3 oz (67g) heavier than average. Hikers looking for a featherweight sandal may want to explore other options.
Pros
Versatile for various hikes
Exceptionally plush
Incredible grip level
Stable and supportive
Day-one comfort
Easy and fast to lace up
Quick-drying
Stink-proof
Cons
Heavier than average
Traps debris
Full review of KEEN Newport H2
Best KEEN hiking sandals for water activities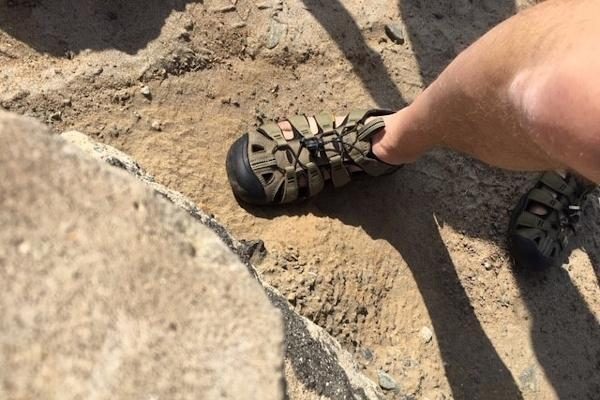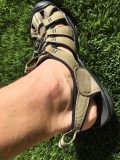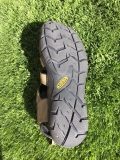 What makes it the best?
We can be as carefree in doing our thing in the water as long as the KEEN Clearwater CNX is on our feet. Its material is quick drying so our feet didn't soak and drip for so long after we surfaced from the water. Stepping on wet and smooth stones in rivers is a chill task with this sandal, so no need to hang for dear life.
The upper of the KEEN Clearwater CNX, made of synthetic with some hints of suede, has well-thought-off vent hole positions, promoting efficient airflow. Due to this, we found that the sandals dry in no time. Walking under the water with all sorts of slipperiness is also not an issue with the sandal's traction.
With the light construction of this sandal, we found waddling and navigating while submerged in water easily. It also made our lives easier on the hikes as it is sitting around the average at a weight of 9 oz (255g).
For a hiking sandal, we are usually spending a little less than £100 but for the KEEN Clearwater CNX, we got it for 22.8% more at £120. For the functionality, we think it's worth it but if you find the price tag unreasonable, feel free to browse other wallet-friendly selections.
Pros
True to size
Lightweight
Durable, waterproof upper
Excellent fit
Good arch support
Grips well on wet rocks
Cons
Too thin for hiking
Expensive
Full review of KEEN Clearwater CNX
KEEN hiking sandals with the best style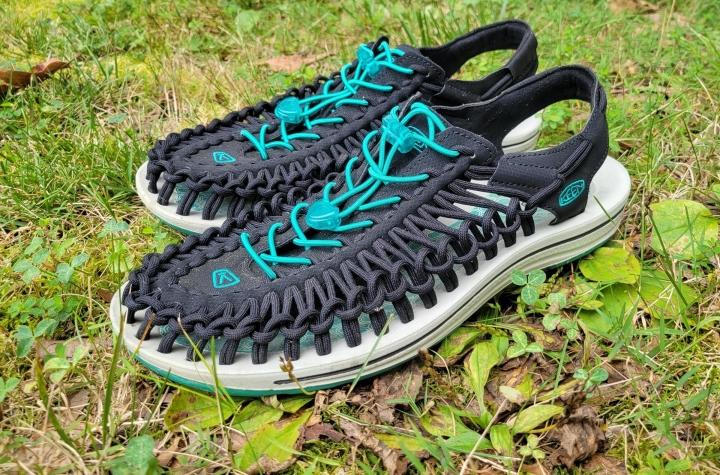 What makes it the best?
Its comfortable feel, versatility, and breathability were just some of the features that made the KEEN Uneek a likeable sandal. A general-purpose hiking sandal, the Uneek works incredibly for short hikes, daily wear, and water sports. Not meant for technical terrain, the KEEN Uneek is still worth checking out as it seems able to tick all the basics, performance-wise.
Pros
Breathable
Excellent grip
Very supportive
Durable
Comfortable fit
Cons
Needs break-in
Not for long hikes or technical terrain
Full review of KEEN Uneek
Comparison of the 3 best KEEN hiking sandals
| | | | | |
| --- | --- | --- | --- | --- |
| Best | | | | |
| CoreScore | | | | |
| Users rating | | | | |
| Experts | | | | |
| Best price | | | | |
| Ranking | | | | |
| Popularity | | | | |
| # of colorways | | | | |
How we test hiking sandals
Before making our recommendations, we take the hiking sandals on a series of hikes and all sorts of H2O action. After putting in solid distances and traversing some terrains to check every important aspect of the sandals, we sit down and come up with our assessments.
Here are the steps of our selection process:
We purchase pairs of hiking sandals from the KEEN brand. We spend our own savings on this to keep our reviews 100% bias-free.
We wear each pair of hiking sandals for wear and tear tests, engaging in actual hiking adventures. We determine the sandals' comfort, durability, waterproofness, and many more. We further subject the hiking shoes to a variety of outdoor environments, including inclement conditions.
After we clock up considerable distances for each model, we measure the parameters of the shoes from durability to stack height. Through the process, we also cut the shoes into pieces so everything is out in the open.