6 Best Indoor Cycling Shoes in 2023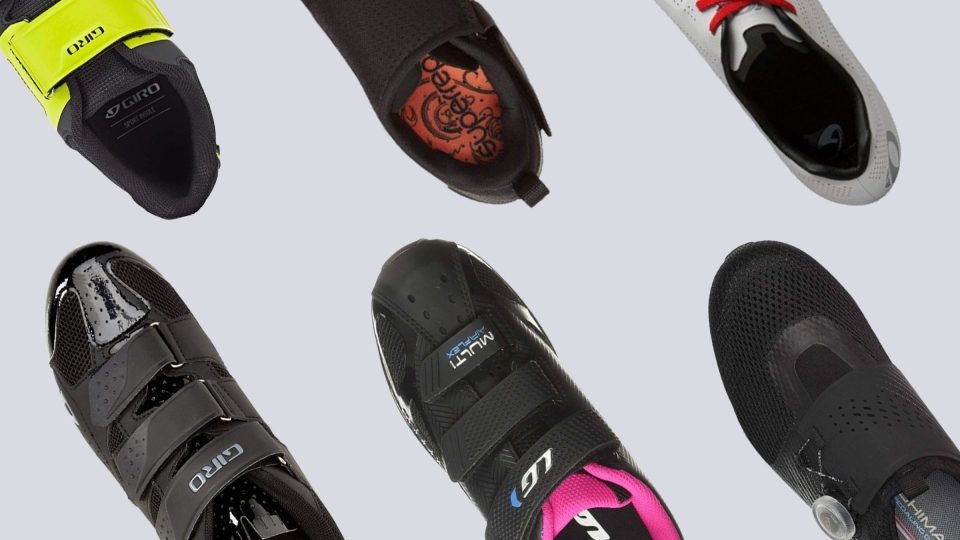 We earn affiliate commissions at no extra cost to you when you buy through us. Why trust us
You know that you are serious about results when you get your own pair of spin shoes.
Whether it's a Peloton session at home or a new membership at a local spinning studio, a specialized indoor cycling shoe will help you get the most out of it.
We have reviewed over a dozen of indoor cycling shoes to help you buy the best one. Whether you're looking for a premium option, a budget-friendly one for beginners, or a solid all-arounder, we've got a top pick in each category.
And if you are still not convinced about the benefits of having a special pair of spin shoes, scroll down to our guide below.
How we test indoor cycling shoes
To single out the top 10 most recommended models, we do a thorough research of each shoe based on the following:
what bikers and cycling shoe experts have to say about it
what the real-life users think of the shoe
The full summary of the pros, cons, and characteristics is provided on each product page, while the short verdict reflects in the CoreScore. It is a number from 1 to 100, which illustrates the shoe's overall rating.
Comparison of the 6 best indoor cycling shoes
| | | | | | | | |
| --- | --- | --- | --- | --- | --- | --- | --- |
| Best | | | | | | | |
| CoreScore | | | | | | | |
| Users rating | | | | | | | |
| Experts | | | | | | | |
| Best price | | | | | | | |
| Ranking | | | | | | | |
| Popularity | | | | | | | |
| # of colorways | | | | | | | |
What are indoor cycling shoes?
Like most cycling footwear, indoor bike shoes, or spin shoes, connect your foot to the pedal. This way, you not only push the pedal but also pull it, which engages your feet and legs more effectively.
Spin shoes are a mix of road and mountain bike footwear. What makes them different is that they are:
more walkable than road shoes
less rugged than MTB shoes
Why choose spin shoes over trainers?
That is a fair question, especially if you have seen guys at the gym locking their regular workout shoes inside a special cage on the bike pedals. You can certainly do so if spinning is just a small part of your workout routine.
But those who mainly focus on cycling will find greater benefits in using a dedicated bike shoe:
Sneakers / Trainers
Indoor cycling shoes
Muscles activated

Why NOT use trainers:

Not suitable for long sessions: The feet tend to arch too much and go numb

Less power transfer: Part of the energy gets lost in the foam cushioning. It makes you work harder to maintain faster speed.

More stress on the knees: Trainers are not designed for the biomechanics involved in cycling

Toe cages are less secure: Made of soft straps, cages provide less stability for the foot

Why USE cycling shoes:

Suitable for long sessions: The foot has an optimal placement for cycling

Better power transfer: Uber-stiff soles transfer all your energy directly to the pedal. It also helps you be faster.

Less stress on the knees: Bike shoes are constructed for the most efficient muscle activation in cycling

Cleats provide better fixation: The foot is kept in a stable position throughout the ride
3 steps to getting the right indoor bike shoe
You surely want to feel good and look good while spinning your miles. But unlike casual sneakers, cycling shoes are designed as a very technical type of footwear.
So, before you grab the most pretty-looking pair, do consider these crucial features for your biking performance:
Choose the cleat system: SPD, Look Delta, or both?
Check the upper material and its breathability.
Consider the retention system: Velcro, laces, or BOA?
Learn more about each component in the sections below.
1. Cleat system
Find out what type of pedal system is used by your studio or the spin bike you purchased.
In most cases, it will be the two-bolt SPD cleat system. It is a common setup because it takes up a small area of the shoe, allowing you to walk and even do some other training exercises.
Such reputable franchises as Peloton, Flywheel, and others also use the three-bolt Look Delta system.
But what is the difference?
SPD (2 holes)
Look Delta (3 holes)
Used by:
Advantages:

can be used for mountain biking, commutes, and casual rides
small and recessed cleats allow to walk

can be used for road cycling
easier to clip into bike pedals

Disadvantages:

beginners might find clipping into the pedal more difficult
If you need your bike shoes for indoor cycling only, get a universally compatible bike shoe. This category has holes for both SPD and Look Delta cleats.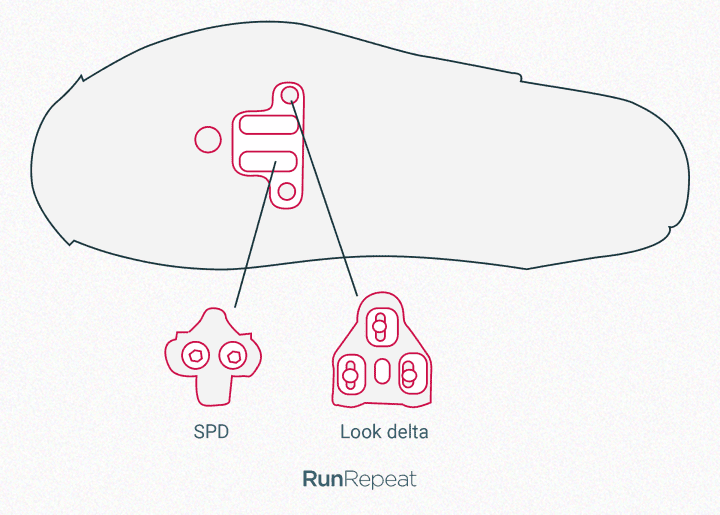 PLEASE NOTE that indoor cycling shoes and cleats are sold separately
2. Upper material and breathability
A vast majority of indoor bike shoes are made of synthetic materials. The brands design all sorts of fabric variations to achieve a balance of support and breathability.
Perforations
Mesh

Breathability

Use if you want to double spin shoes for outdoor or road adventures
Use if you only cycle indoors or in dry weather
4. Retention system
When you are up on a bike, adjusting your shoe becomes more of a nuisance as you need to stop and dismount.
That's why most spin shoes employ straps and other tricky mechanisms to allow for quick on-the-go adjustments. Find out the pros and cons of each one below:
Advantages:

sleek and simple design
cheap and easy to replace

very snug fit
mid-ride fit adjustment
cheap

very snug fit
mid-ride fit adjustment

Disadvantages:

fit cannot be regulated on-the-go

can lose stickiness because of debris
cannot be replaced

expensive
harder to replace
Some shoes also employ a combination of two closures to balance out the disadvantages of each and provide more fit regulation options.
Frequently asked questions
What are some of the indoor cycling models made for Peloton?
Any type of cycling shoe will work with the Peloton bike as long as it employs the three-bolt cleat system (commonly called SPD-SL or Look Delta). However, it is worth noting that the brand also sells proprietary Peloton cycling shoes.
When to replace indoor bike shoes?
Like any other cycling shoe pair, there will be signs when you need to retire your trusty old spin shoe:
Parts are starting to come off or break, such as hardware or upper materials.
Materials start to feel inefficient, which hinders your performance or comfort. Maybe the sole feels more flexible than usual, or the upper no longer provides a snug fit.
How should spin shoes fit?
Indoor cycling shoes are modeled after road and mountain bike shoes. If your chosen spin shoe looks more like a road shoe, then the fit should be snug without any pressure points. If you chose an indoor bike shoe that resembles an MTB shoe, the fit is a bit more giving without compromising the supportive feel.
Here are a couple of reminders to guide you in your next purchase:
When you first try out any bike shoe, it will feel rigid because of its stiff soles.
Check if the closures cause any pinching or pain when tightened.
Walk and make pedal motions while sitting to check if there is any moving or slipping action happening. If there is, try the next size down.
Ensure there is a little room in front of your toes (around 5 mm) but not as much as you would have in running shoes.