3 Best Five Ten Climbing Shoes in 2023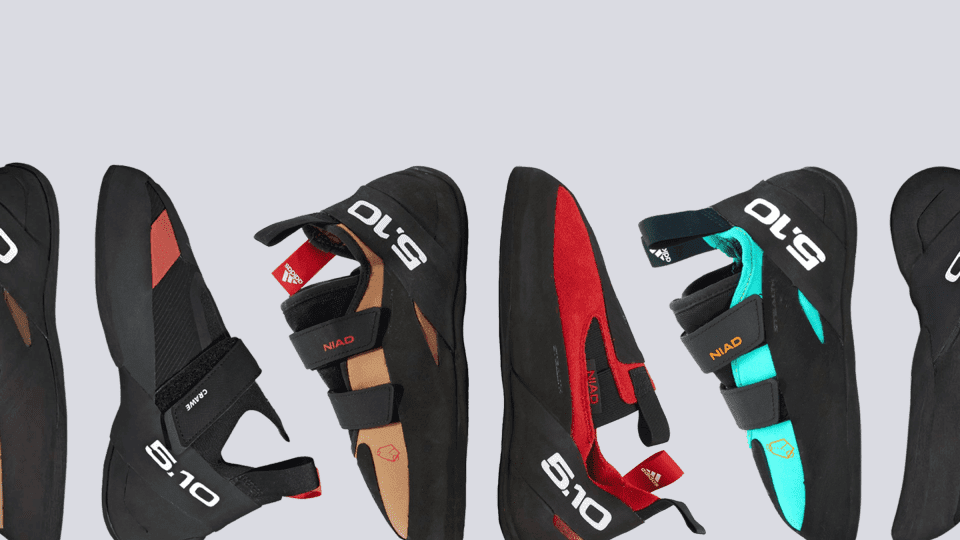 Secure each foothold with confidence in shoes that provide a comfy fit with a lacing system that locks you in. Our team of testers recommends their top picks of highly-rated Five Ten climbing shoes that allow climbers of all levels to get the most of their climbing experience.
For remarkable edging prowess and optimal crack-climbing performance, the 5.10 Anasazi Lace and Pro models are a solid choice. The Pro version was a collab design with professional climber Shauna Coxsey. For entry-level rock shoes, the 5.10 Mocassym can do the job pretty well.
For this guide, we've rounded up the best of Five Ten climbing shoes. We put all of them to rigorous performance tests to identify the high performers. Take a look at our top picks below.
How we test climbing shoes
RunRepeat is out to provide the climbing community with comprehensive selections of athletic footwear for their needs. We've reviewed and tested hundreds of shoes each year to bring you the latest updates and top rankings of the best releases out there. Here's our approach:
We invest our own money and time to buy and test the climbing kicks from the Five Ten label. We do not accept sponsorship to keep our reviews and rankings 100% independent.
We slip into the 5.10 shoes to test them out in actual climbing or bouldering. We take note of our impressions and insights for our reviews and final rankings. We do meticulous tests to assess the strengths (and shortcomings).
We spend time outdoors and in the gym to assess the footwear's break-in period, comfort, surface grip, climbing precision, versatility, and more.
We further get more info from testimonials given by other testers, climbing experts, and enthusiasts.
In the end, all the Five Ten climbing shoes are graded based on the data above. See the CoreScore highlighted on this page for your convenience.
Best Five Ten climbing shoes overall
Five Ten Hiangle Pro
Amazon
Prime & free shipping
Adidas
Free shipping and returns
Pros
Excellent smearing and edging performance
Heel wonder
Excellent responsiveness
Fantastic toeing capabilities
Glove-like fit
Cons
Lackluster support
Expensive
Verdict
Perhaps having "Pro" in its name is a double-edged sword. On the one hand, the Hiangle Pro lets you "climb with both power and accuracy" (as said by professional climber Janja Garnbret). On the other hand, the shoe's softness might demand too much technical footwork from those still wet behind the ears. That said, once you get a proper feel for this expensive piece, you will be far more in control through daring routes than ever before.
Five Ten Hiangle Pro full review
Best moderate Five Ten climbing shoes
Five Ten Crawe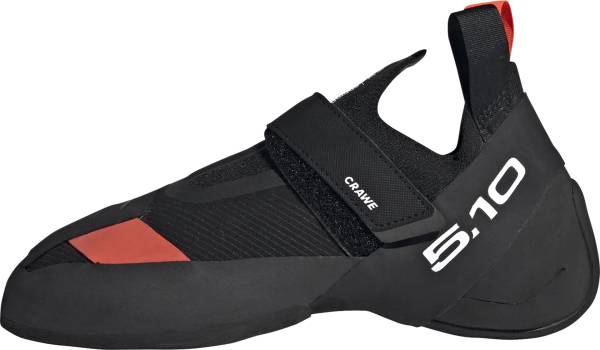 Pros
Incredible edging performance
Impressive surface feel
Responsive and mighty supportive
Comfortable climbing shoe
Straightforward access
Cons
Frail rubber rand
Too pricey
Long break-in period
Verdict
"A wonder front and back" is a description that gives the 5.10 Crawe justice. Although not a highly downturned shoe, this piece will make a pair of precise pincers out of your feet, empowering you to boldly send steeps like never before. It is a pretty convincing and balanced climbing shoe, although something that might be better used in short bursts.
Five Ten Crawe full review
Best Five Ten intermediate climbing shoes
Five Ten NIAD Lace
Amazon
Prime & free shipping
Pros
Tough as nails
Edges like a champ
Mighty adhesive
Comfier than its predecessor
Fantastic heel fit
Great on pockets
Breathable
Cons
Subpar sensitivity
Uninspiring on toe hooks
Verdict
The Anasazi Lace is back but better than ever in the NIAD Lace, according to a professional reviewer. That said, this all-rounder from Five Ten is able to "forge a reputation of its own", as another tester puts it, with its exemplary platforming capabilities and dreamy confines. Indeed, staying in command is the shoe's A-game, and you'll be doing so for many sends, thanks to its stellar durability.
Five Ten NIAD Lace full review