7 Best Cycling Shoes, 100+ Shoes Tested in 2023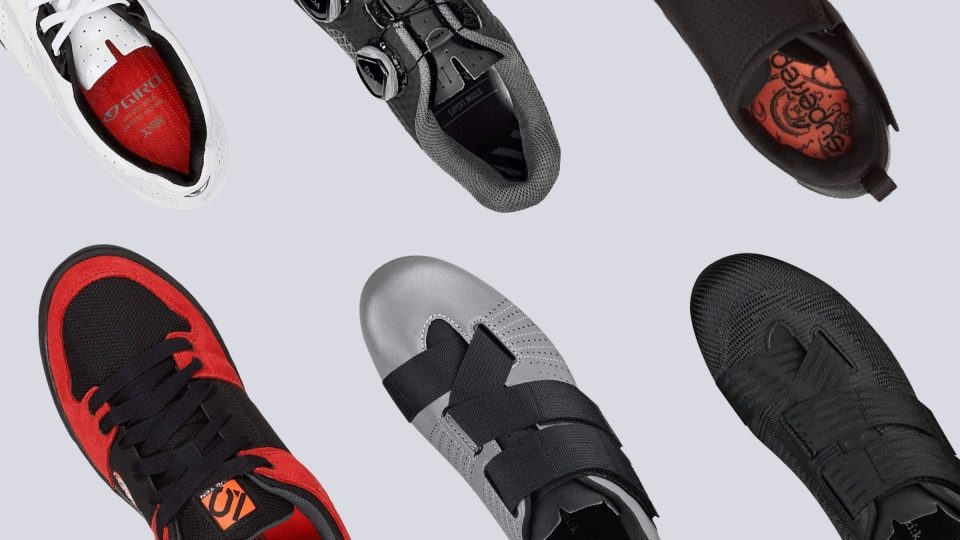 We earn affiliate commissions at no extra cost to you when you buy through us.
The search for the ideal bike shoes could be daunting. But your worries end here. We have compiled everything you need to know to pick the best cycling shoes for your needs and preferences.
Having tested over 90 bike shoes, we can now recommend the best ones in five different categories. Whether you're after a road shoe or an MTB shoe, flat or clipless, there is a great option for each one.
And if you want to understand which cleat and closure systems will work best for your rides, scroll down to the guide section below.
How we test cycling shoes
To come up with our list of the best cycling shoes, we spent hours scouring the web for reviews left by regular cyclists and less technical hobbyists. We were able to gather data from almost 400 hardcore cyclists and almost 4,000 recreational bikers.
Their opinion on a wide array of products– from the more popular Shimano and Giro cycling shoes down to the less talked about Pearl Izumis and Sidi bike shoes– are sought to come up with a comprehensive list.
Their scores are then weighted and averaged to come up with a corescore for each product.
Why bother with cycling shoes?
Because biking is a form of exercise, many wrongfully assume that typical trainers already do the work on the bike. But there are significant differences between shoes meant for cycling and the ordinary trainers.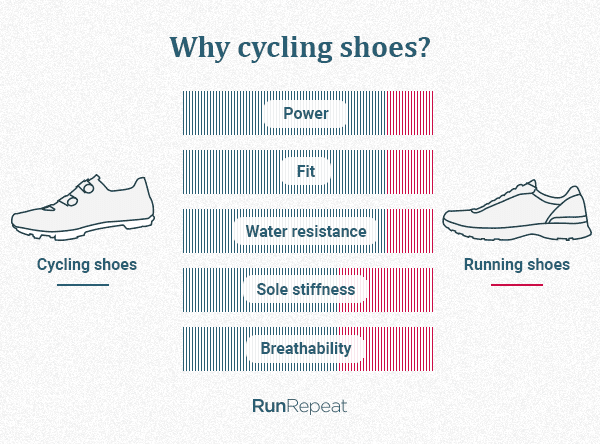 Most bike shoes are characterized by a relatively snugger fit and stiffer soles than typical trainers for running.
Given the snug fit of cycling shoes, newer fastening systems such as BOA dials and ratchet buckles closure systems are designed to prevent pressure points across the top of the foot.
Their upper of a cycling shoe is made of lightweight textiles that are not easily penetrable by liquids. Cycling footwear also employs several air pockets for ultimate breathability.
Down below, soles are engineered to provide rigidity to aid in the efficient transfer of energy onto the bike. Most bikers deem that the stiffer the sole, the higher the power transfer is.
Getting the right cycling shoes: 4 things to consider
Choosing one among many seemingly great options is already a daunting task. You can make your search easier by following the four quick steps below.
Purpose
There are different types of cycling shoes depending on the kind of activity that they are used for.
| | |
| --- | --- |
| Type | Description |
| Road | Road bike shoes are for cycling on smooth pavement. They employ the stiffest soles to allow ultimate energy transfer. Road shoes aren't recommended for prolonged use off-bike. |
| Triathlon | Cycling shoes made for Triathlons are basically road bike shoes with modified or added features for smooth and quick transitions such as easy draining, fast-drying materials, and on-the-fly adjustments. |
| Mountain | Mountain cycling shoes are burly, protective, and rugged. They have impact-resistant features and soles employ aggressive lugged treads for grip. While many brands have a stand-alone cyclocross shoes category, many MTB shoes are still used for cyclocross. |
| Casual | Casual or commuter shoes utilize relatively softer soles than road bike shoes. They also feature a sneaker-like design complete with molded midsoles. |
| Indoor | Often called Spinning shoes, indoor cycling shoes are used on stationary bikes in fitness centers. Spin shoes have more rubber lugs on the sole than their road counterparts to properly walk around the studio, while also constructed to be sleeker than mountain cycling shoes. |
| Winter | Winter cycling shoes have more insulation and sport a high-top profile for maximum coverage and protection against the cold, wind, and moisture. |
Pedal system
There are two types of pedal systems cyclists can choose from - Clipless and Flat.
Bike shoes for clipless pedals have holes in the sole to accommodate cleats that clip onto the bike's pedal for better connection.
Clipless shoes employ three varieties of hole numbers depending on the cycling activity. 2-hole clipless shoes, also known as SPD, are usually seen on mountain bike shoes. 3-hole shoes, often called SPD-SL or Look Delta, are commonly placed in road bike shoes, while the 4-hole type is the least common.
Flat cycling shoes do not have holes in their soles and instead have a regular sneaker sole look. However, their outsoles are characterized by excellent traction to help keep the foot planted on the bike while pedaling.
Closure system
Cycling shoes are a bit snug, so their closure systems are designed to not put additional pressure on the foot, which may lead to discomfort.
There are at least four types of closure systems used on cycling shoes.
| | |
| --- | --- |
| Closure System | Description |
| BOA | BOA cycling shoes have thin wires placed throughout the upper that clasp the foot more closely when the dial is tightened. |
| Ratchet | The ratchet buckle secures the top part of the foot while Velcro straps clinch the mid and forefoot sections. Ratchet shoes are easy to adjust while on the saddle, but they are heavy because of the buckle. |
| Velcro | Velcro straps are usually used on Triathlon shoes. They are utilized in conjunction with other closure types. |
| Lace-Up | Many bikers still prefer lace-up cycling shoes because they are light, efficient, and do not have hotspots. |
Make sure of the fit
Cycling shoes are engineered to be narrower than the everyday trainer. The relatively tight fit is designed for improved power transfer.
As for measurements, most cycling shoes come in European sizing, so it is beneficial to know what your EU size is.
Why are cycling shoes expensive?
Cycling shoes are specialty footwear built and engineered for efficiency. Materials, designs, and technologies employed in these shoes aren't ordinary.
Making a pair of good quality cycling shoes requires a significant amount of craftsmanship and skill. It has been proven that the better the quality and lighter the weight, the more expensive the bike shoe is.
Accessories for cycling shoes
Bike shoes come with accessories to further aid in the cyclist's comfort and performance. Each brand offers a distinct set of accessories, but some of the most common ones are insoles with a variety of arch support, laces, and overshoe.
Overshoes are made from waterproof materials. They are usually worn over the cycling shoe during winter to protect the wearer's foot from the elements such as water, dirt, and chilly wind.
Other buying guides