7 Best Climbing Shoes For Beginners in 2023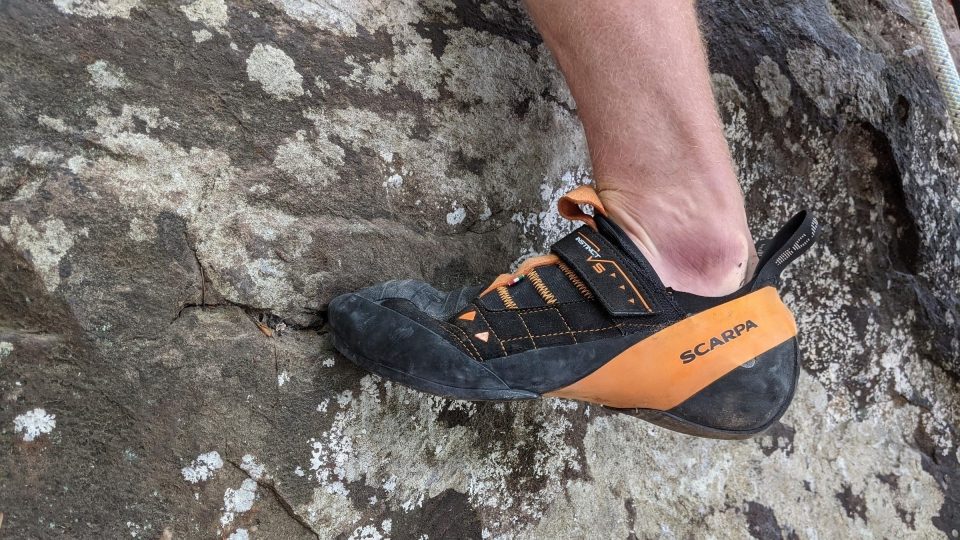 We earn affiliate commissions at no extra cost to you when you buy through us. Why trust us
If you are new to climbing—whether indoor or outdoor—you need a nice pair of entry-level climbing shoes. And it is best to have reliable gear that won't let you down.
Many of the best beginner climbing shoes are all-around kicks. These types are capable of handling anything you throw at it. Their aim is to provide comfort, allowing you to focus on the task at hand while letting you enhance your climbing ability.
We have gathered and reviewed over 60 of these shoes to single out the truly best ones. Here are our top picks in five different categories.
How we test climbing shoes
RunRepeat aims to give you what you need (and not what you THINK you need). Thus, we are here to give you a list of top-rated beginner-friendly climbing kicks based on opinions from both would-be and skilled climbers. Not only that, but we made it a point as well to calculate and give each one a CoreScore. The scores are there to help you easily gauge the likeability of each shoe.
Comparison of the 7 best climbing shoes for beginners
| | | | | | | | | |
| --- | --- | --- | --- | --- | --- | --- | --- | --- |
| Best | | | | | | | | |
| CoreScore | | | | | | | | |
| Users rating | | | | | | | | |
| Experts | | | | | | | | |
| Best price | | | | | | | | |
| Ranking | | | | | | | | |
| Popularity | | | | | | | | |
| # of colorways | | | | | | | | |
Climbing shoes are a big investment
The shoes we've investigated and included in this article range from around $45 up to $180. In the grand scheme of things, that is pretty cheap. But as you begin to consider how much money to spend on your first pair of climbing shoes, there are a few crucial items to consider.
Your first pair of climbing shoes may not last that long. This may be true for a couple of reasons. The first is that beginner rock climbers tend to have poor footwork– no offense. This typically means that the edges and toe caps of your shoes wear out quickly.
The second essential item to consider is to start simply. As a beginner climber, you do not need a $200 pair of aggressively downturned climbing shoes you saw Adam Ondra wear to send his project. That would be like gifting a budding teenage driver an Italian sports car.
All of this is to say that climbing shoes are a big investment. So if you think you might wear out your shoes quickly or not enjoy the hobby in the long term, think about shopping for bargains like the Black Diamon Momentum or Scarpa Origin.
On the other hand, if you suspect that you will fall in love with the sport, you might consider buying a more expensive and higher-performing climbing shoe that you can progress into as you improve, such as the La Sportiva Miura.
5 things to consider when looking for the best beginner climbing shoe
A good pair of entry-level climbing shoes is a must, especially if you wish to ascend on vertical indoor environments or challenging outdoor pitches. Climbing shoes for newbies are easy to discern when out shopping because they are not as flashy as those meant for intermediate to advanced climbers. This section aims to discuss the things or characteristics you need to check when picking your first pair.
1. Materials
Climbing shoes are often made of leather or synthetic. Some are made of both. Their main difference?
Leather climbing shoes stretch while synthetic climbing shoes often maintain its shape. Synthetic shoes are often the shoe-of-choice of vegan climbers. Apart from stretchability, there are other things you ought to know to figure out which type of material will work best for you. Read on to find out.
Upper Material

Leather (Unlined)

-breathable

-personalized fit overtime

-inhibits the growth of stink-causing organisms

-stretches up to a full size after some time

-longer and painful break-in

-loses its shape in the long run

Hybrid/Lined

(leather + synthetic)

-minimal stretch in high wear areas

-fits comfortably over time as the leather materials mold to the shape of the feet

-less ground sensitivity for kicks with lined toe boxes

Synthetic

-zero to minimal stretch

-provides performance on the get-go

-keeps its original shape

-break-in is less painful

-some are vegan-friendly

-might stink except if it's antimicrobial

-less airy if not made of mesh
2. Closure system
When it comes to the closure system, rock shoes either use laces, Velcro or straps or hook-and-loop, and slip-on (also known as slippers).
Closure System

-all-rounder

-lets you personalize the fit

-best for climbing cracks

-hard to slip on and off

-laces tend to rip over time

(hook-and-loop/strap)

-easy to slip on and take off

-great for bouldering and sport climbing

-tends to come undone in overhanging routes and cracks

-limited ability to customize the fit

-straps tend to wear out quicker than laces

(slipper)

-comfy

-easy-wearing

-best used in cracks and slabs

-stretches over time

-can't dial in the fit
3. Stiffness
Beginner climbing shoes often come with a medium-to-stiff sole. Minus the discomfort from aggressive shoes, newbie climbers are able to focus on developing their footwork. As they improve their techniques, softer shoes become an option since these types of shoes provide increased ground sensitivity.
4. Outsole
Thicker and firmer soles can be expected from entry-level shoes. This offers lasting durability. It also provides the support you need since you don't want to tire your feet quickly. Outsoles that are sticky and thin are great for intermediate to advanced climbers since they require enhanced ground sensitivity.
5. Price
As a novice climber, enhancing your skills is your priority. With that said, picking an expensive shoe is not a wise move. You'll likely wear your shoes faster since you'd be working on improving your footwork and techniques. Once you're ready to amp up your climbing game, you can then transition to pricey, performance shoes.
Find the right fit with these 4 steps
While intermediate and advanced climbing shoes often sacrifice comfort for enhanced performance, entry-level rock shoes are known for their tight yet still cozy fit. As a newcomer, getting a shoe that offers just enough comfort is your best bet given that you don't have to climb extremely technical slabs yet. To help you find the perfect-fitting shoe, here are a couple of tips:
Every brand uses its own sizing system. Each model is also shaped differently. So, forget about your usual size and expect to try on a couple of sizes before getting the right one.
Researching helps. It saves you time if you're able to read the reviews about the shoe and take note of the comments about the sizing.
Try the rental climbing shoes you find in the gym on and see how it fits. If you like how it fits, consider it as one of the options for your beginner climbing shoe.
Men's and women's climbing shoes' fit and overall volume differ. Generally, women's shoes have a slimmer profile and a narrower fit. Those for men come in wider constructions and stiffer styles. The majority, however, offer models in unisex sizing.
Help! I have weirdly shaped feet
All feet are a little weird. But in all seriousness, when talking about feet, we prefer using the word "unique" instead of "weird."
If you have been struggling to find a pair of climbing shoes that fit you just right, try not to be discouraged. Despite your trials and tribulations, there is a pair for everyone when it comes to climbing shoes.
Here are some helpful tips to help you find the right pair.
Switch up the brand. If you have only been trying one brand of a climbing shoe manufacturer, you may be missing out on other shoes that could fit you better.

Get down to the science. Referring to your feet as weird won't help you find the right shoes. Instead, try to figure out the specific podiatric characteristics that your feet uniquely display. Then, find shoes that are designed to accommodate those characteristics.

Consult a professional. If you can, consult a climbing shoe expert. For example, get on the phone with someone from La Sportiva, walk into a Black Diamond store, chat with a brand representative, and try shoes on during a demo at your gym.
Breaking in your new climbing shoes
Congrats! You are the proud new owner of a brand new pair of sleek climbing shoes. Now it's time to break them in.
The break-in process depends on the model of the shoe you purchased and how you sized them. The simplest way to break in your new climbing shoes is to wear them while you climb. However, you can use other intentional tactics to break into your new shoes.
Use a plastic bag
If you have trouble fitting your foot into your shoes, you can cover your foot with a plastic bag. Better yet, you can simply use a small piece of plastic wrapped around your heel.
The plastic bag reduces the friction between your sticky foot and your new shoe. The plastic effectively helps shoehorn your foot into the shoe.
Freeze your shoes
To help break in and stretch your shoes, you can fill ziplock bags with water and stuff the bags into your shoes. Once your shoes are stuffed, place them in the freezer and allow time for the water to freeze.
As it freezes, it will expand and invariably stretch your shoes. Just ensure that the ziplock bags have space for the water to expand; otherwise, the bags may implode.
Soak your climbing shoes
If you want to break into your shoes more rapidly, you can try the soaking method. Simply wrench your shoes onto your feet and wear them during a hot shower or bath. The hot water soak softens the material and allows it to stretch more easily.
After soaking, wear them around the house and allow them to continue stretching. As they dry out, stuff them with newspaper or socks to absorb the rest of the moisture.
The soaking and freezing methods are effective life hacks. However, it's hard to beat the tried and true classic method of wearing your shows and persevering through the discomfort as they slowly mold themselves perfectly to your feet after a few good sessions.
Frequently Asked Questions
Have more questions? Perfect, because we have more answers.
As a beginner climber, should I rent climbing shoes from the gym or buy my own?
As a beginner climber, renting climbing shoes from the gym is perfectly okay. In fact, it's the most strategic decision.
We recommend renting climbing shoes from the gym because purchasing your own can be quite an investment– especially if you don't know if you will stick with your new hobby. Plus, most climbing gyms have bargain deals that provide rental shoes with your day pass.
However, renting climbing shoes may become financially unrealistic after a certain point. This is only if you "catch" the climbing bug and fall in love with the hobby. Ultimately, purchasing a single pair of shoes will make more financial sense than continually renting them.
In that case, it is best to invest in a pair of climbing shoes using the list we compiled in this article.
Which beginner climbing shoe is best for the gym?
No one climbing shoe is specifically designed for indoor or outdoor use. Any of the shoes we talked about in this article can be worn in the gym. However, one pair of climbing shoes may be better for you than the others.
If you climb exclusively indoors, you want a climbing shoe that matches the type of climbing and terrain type you prefer to climb. For example, if you enjoy the steep and overhung terrain in your local gym, then a downturned shoe with a more aggressive fit will suit you better.
You also want a shoe that matches your comfort level for indoor climbing. In other words, if you prefer to keep your climbing shoes on during a gym session, finding a shoe that fits you comfortably is ideal. However, if you don't mind slipping your shoes off in between efforts, you may want to select a shoe that fits you tighter.
Consider a model with a velcro closure system if you prefer to take their shoes off. On the other hand, if you like your shoes to stay on for the long run, you might be okay with shoes with laces.
How can I keep my climbing shoes from smelling?
Unfortunately, climbing shoes are notorious for smelling bad. The warmth your feet provide and the moisture from your perspiration transform your climbing shoes into a breeding ground for foul-smelling bacteria.
The good news is you don't have to settle for smelly shoes. There are steps you can take to prevent your shoes from smelling.
Spray your climbing shoes with antiseptic spray or shoe deodorizer spray.
Douse your shoes with odor-absorbing powders, for example, baby powder.
Let your shoes breathe and dry out after a climbing session.
You can wear socks to provide an extra layer of protection.
Should I wear socks in my climbing shoes?
Wearing socks with your climbing shoes is a 100% personal preference. However, most climbers choose not to wear socks when they wear their climbing shoes.
Some climbers prefer not wearing socks because their shoes fit better without them. Climbing shoes are also more sensitive without socks– meaning you can feel the rock beneath your toes better without an extra layer of material from your socks.
However, some climbers do like wearing socks with climbing shoes. For example, some climbers like to wear socks with climbing shoes on a cold day or when prefer how their climbing shoes fit with socks.
Is smaller better?
When it comes to climbing shoes, smaller is not always better.
The main advantage of smaller, tight-fitting climbing shoes is that they provide better performance. With smaller climbing shoes, you can feel the rock better and be more precise with your footwork. Smaller and tighter climbing shoes also prevent your shoe from slipping off when performing heel or toe hooks.
But it is possible to have shoes that are too small. For example, you know your climbing shoes are too small when your feet are in so much pain that you cannot finish a rock climb or boulder problem without experiencing excruciating pain.
In time, small climbing shoes should break in and accommodate your foot better. However, it's not worth it if you are consistently in pain– your climbing shoes are too small.