When braving the winter seasons, it's essential to keep your feet dry and warm. This is where the Fizik Artica R5 comes in handy. This winter bike shoe presents an impermeable structure for long-lasting comfort through extreme conditions. It ticks all the essentials when it comes to footwear that can make winter riding more pleasurable.
Pros
Excellent ventilation
Waterproof
Easy-to-clean
Sleek style
Lightweight
Reflective detailing
Supportive
Easy to put on
Cons
Restrictive high cuff
Too stiff
Who should buy the Fizik Artica R5
The Artica R5 is one of Fizik's winter cycling shoes. It builds on the standard R5 features by utilizing the same sole construction. It is a solid option if you:
You are looking for a well-ventilated shoe that keeps your feet cool and fresh during the ride.
A cycling shoe that takes less time and effort to tidy up is what you prefer.
You are after a shoe that would not burden your feet with its weight.
Who should not buy the Fizik Artica R5
The Artica R5 might not be for those who prefer a cycling companion that offers more room for the heel to move freely. Some users lament that the heel section of this Fizik pair is somewhat restrictive. Also, folks looking for a shoe supple enough to provide enhanced comfort might have to look elsewhere. Others observed that this bike shoe is a bit stiff for them. That said, it might be ideal to have a look at other Fizik cycling shoes to find the most suitable pair for them.
Carbon-reinforced nylon sole
This shoe employs a carbon-reinforced nylon sole. It provides efficient rigidity without adding unnecessary bulk and weight.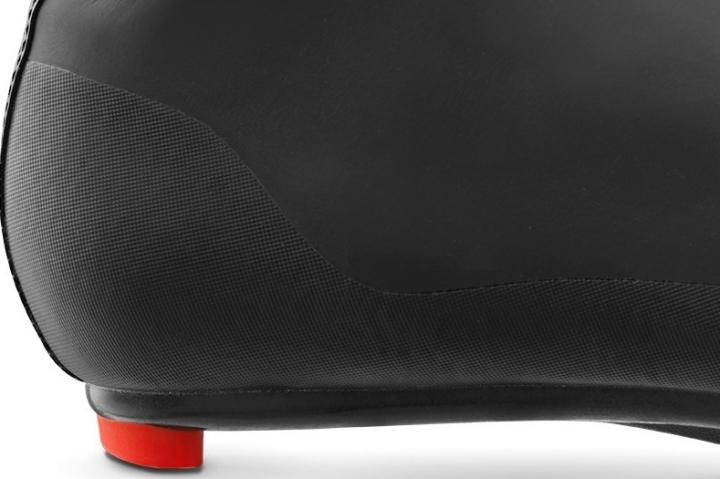 Three-bolt cleat design
The Fizik Artica R5 features a three-bolt cleat design. Minimal markers are provided that makes the positioning of cleats easier.
Try the following pedals to pair with this shoe: Speedplay Zero, Time Xpresso 6, and Shimano 5800.
Waterproof and easy-to-clean
The shoe's top part is crafted from Microtex reinforced shell. It is waterproof, while the insulation is provided by inner thermal linings. The materials also offer sleek aesthetics and, more importantly, are easy to clean.
Secure fit and reflective detailing
The Artica R5 employs three closure types that keep the foot warm, dry, and in place. The speed lacing system yields a snug fit without causing pressure points, while the zipper keeps the cold and elements at bay. Finally, the Velcro strap neoprene ankle cuff protects the top part of the foot.
Equipped with reflective materials, the shoe offers added safety measures essential for unpredictable weather.
A couple of riders lauded its cozy fit that despite some concerns about its tightness by a few wearers, the shoe's highly-adjustable construction helps users in achieving a personalized and comfy fit.
Winter edition insoles
The Artica R5 employs footbeds equipped with a cozy fleece upper and aluminum foil on the underside for the ultimate insulation. Several cyclists observed that this bike thos by Fizik offers a warm and cozy in-shoe experience. One owner even claimed that wearing this shoe during cold months for several hours still keeps his feet warm.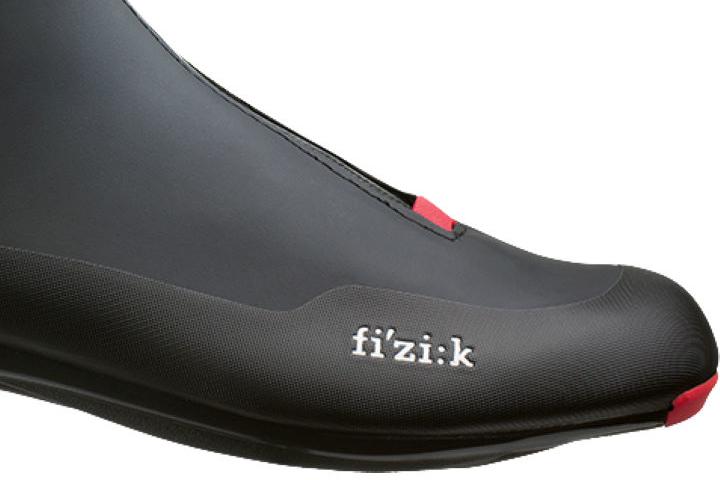 Quick to put on
The Artica R5 earned the praises of wearers as it takes them less time and energy to put the shoe on.