Who should buy the Five Ten Kestrel Lace
This model's low profile allows maximum ankle movement while pedaling. It is an updated version of its older sibling. It is a solid option if you:
Need a shoe that improves its predecessor's shortcomings such as durability, flexibility, and improper lockdown fit.
Prefer a shoe that highlights the alterations such as the switch to lace-up and Velcro closure, nylon shank, and Stealth C4 rubber outsole.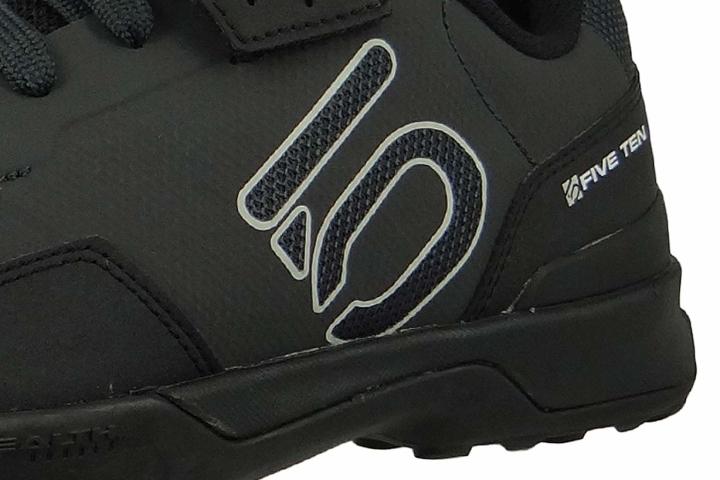 Excellent power transfer
The shoe's outsole is made from the brand's Stealth C4 technology. This innovation strikes a good balance between flex and rigidity. Combined with a nylon shank, this model provides stiffness in the right places that provide efficient power transfer.
This version employs the Stealth C4 technology in exchange for its predecessor's Mi6 rubber. Studies show that the former rubber technology is more durable than the latter.
Comfortable feel off the bike
Replacing the carbon shank of its older sibling is the nylon shank. According to the brand, this change reduces stiffness by 15 percent. Encased in a compression-molded EVA midsole, this shank update helps in a more comfortable feel off the bike.
Note that the shank is placed behind the cleat area extending to the rear part of the shoe. The empty space in the toe area offers flex for walking. The C4 technology fused with the brand's Dotty tread pattern results in a classic Five Ten traction.
2-hole cleat system
The Kestrel Lace is compatible with all SPD pedals. It doesn't matter if you ride a road or a mountain bike. SPD pedals have a 2-hole cleat system and allow pedal entry from both sides.
The cleats are recessed into the sole that allows the wearer to walk comfortably. It avoids an excess clump that hangs from the outsole, which makes noises and makes walking difficult.
Secure fit
The combination of a lace-up closure, a Velcro strap, and a non-slip heel cup enhances the fit of the original Kestrel model. The laces evenly distribute pressure throughout the upper while allowing for an adjustable fit. The large Velcro strap helps keep the laces in place and further locks down the foot.
Water-resistant and adequate toe protection
This version utilizes the same PU-coated synthetic construction as its older sibling. This material efficiently resists water.

Synthetic toe box equips the shoe with appropriate toe protection against impacts. This feature makes it an ideal mountain bike shoe.
Regular cushioned insole
The Five Ten Kestrel Lace comes with a regular cushioned insole. This helps enhance in-step comfort and cushioning.