Boot Grading for Crampons
Overall catalog lists
Meindl categories
Outdoor lovers who need a performance-centric pair for their alpine adventures may want to look into Meindl mountaineering boots. Since this type of outdoor activity demands a lot from you, the footgear you're going to wear should be sufficiently reliable. The brand's quality boots for mountaineers are built to handle harsh alpine conditions and adverse weather.
Moreover, they keep your feet safe and comfy in this environment. If you require these attributes, you may find them in these offerings from Meindl.
The various classifications of Meindl mountaineering boots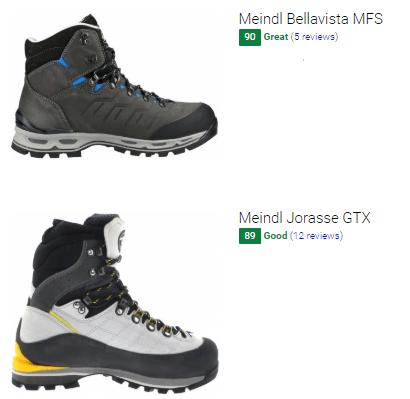 D. Some of the finest leather outdoor boots from Meindl are categorized as an ultimate alpine product with a D classification. They are designed for use in extremely-challenging landscapes, like pathless glaciers. As such, they come with various technologies that keep your feet safe and planted on treacherous terrain. These Meindl mountaineering boots are also compatible with crampons to optimize traction.
B/C. Select Meindl mountaineering boots under this classification are made for technical climbs or trekking in low alpine ranges. The brand integrated durable uppers, rigid midsoles, and grippy outsoles to handle the demands of this terrain.
Advantages of the best Meindl mountaineering boots
They deliver a comfortable fit
Meindl's mountaineering boots are built to keep your feet comfortable while you're out tackling a challenging terrain. Some of the brand's offerings use a microfiber and mesh upper for weight reduction. This quality helps you be more agile on your mountaineering trip.
The top Meindl mountaineering boots use a Digafix lacing system, which grants a secure and plush lockdown. This component works together with a padded tongue and cuff to promote a comfortable fit.
The top Meindl mountaineering boots promote safety
Meindl's quality boots for mountaineers come with certain features that prevent harm from falling on your feet. For starters, they feature a waterproof membrane that keeps your feet dry from wet conditions. It also allows air to circulate inside the footgear to prevent excessive sweating.
The best Meindl mountaineering boots are equipped with robust toe caps and overlays. These components shield your feet from accidental knocks and abrasive elements. Moreover, the cuff and tongue found on these offerings prevent debris from entering. These components work in unison to promote safety while you're out mountaineering.
Notable technologies found in the top Meindl mountaineering boots for men and women
Gore-Tex. Meindl offers Gore-Tex outdoor boots for mountaineers. This technology features a membrane filled with over a million pores to effectively prevent water from penetrating it. This same microporous design also allows excess moisture to pass through. As a result, Meindl mountaineering boots with this feature are able to provide protection from wet conditions while maintaining breathability.
Vibram. The best Meindl mountaineering boots are equipped with a Vibram outsole. This component is made of a rubber compound that can handle rough terrain and low temperatures without freezing off. It also employs an aggressive lug pattern that renders traction on challenging surfaces and steep angles.
Air-Active Soft Print Drysole. This is the brand's patented insole technology. Apart from rendering arch support, cushioning, and underfoot comfort, it also possesses a moisture-wicking property. Thanks to this characteristic, air circulation is optimized inside the footgear while excess heat is dispersed at the same time.