Verdict from 10 hours of research from the internet
6 reasons to buy
Weight: Most users appreciate the lightweight structure of the Brooks Hyperion Elite 2.
Value: Multiple users agree that it is a worthy investment.
Comfort: The padded heel collar and accommodating top have gained praise from numerous runners.
Midsole: A lot of testers have mentioned that the shoe is bouncy and responsive.
Upper: This running shoe is highly breathable, based on reviews.
Performance: Many reviewers testify that it is great for racing and long-distance runs.
2 reasons not to buy
Traction: A few users complain that the Hyperion Elite 2 does not grip well on wet surfaces.
Heel: One user experiences rubbing and blisters on the back of his heel.
Bottom line
Crafted with up-to-date technologies, the Brooks Hyperion Elite 2 aims to improve the overall performance of racers and athletes alike. This
cushioned shoe
boasts a carbon-plated platform that give a balance of comfort and energy return. It is a good option for consumers seeking a fast and
lightweight running companion
.
Tip: see the best running shoes.
Our reviews
Brooks Hyperion Elite 2 is Brooks' pro-level race day shoe. Keep in mind that it's not an everyday trainer like the Tempo or Launch; the Elite 2 is really something to reserve for race.
I'm hearing a lot of good feedback about this version. So in this review, I'll share with you the updates, comparison from its predecessor, and my experience with the Elite 2.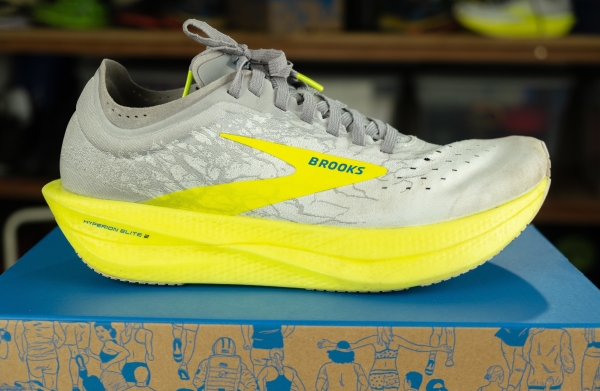 Initial impressions
I went 10 miles on my first run. It was super fun! Even if the Hyperion is stiff, it's still soft and squishy underfoot (all thanks to the carbon fiber plate).
It may not be as springy as I expected, but I think it's a good thing. It's a little more controlled and stable.
Updates
This shoe is the second version of the Hyperion Elite, and they've made significant changes. A huge upgrade is the midsole wherein Brooks went from DNA zero to DNA flash midsole.
Runners don't like the DNA zero from the past that they even call it "the brick." The said midsole was dense, heavy, and a little too stiff. This second version, on the other hand, is soft, responsive, and a bit more durable.
Talking about durability, the Hyperion Elite 2 should last 200-400 miles as compared to the previous version wherein you're lucky to get 50 or maybe 75 miles in it.
Brooks also added a 2mm stack and a little bit more cushioning. They listened to most of the runner's feedback protesting that the midsole is too stiff and too harsh, and made this one softer and better.
The last thing that they updated is the rocker on this shoe. The Elite 2 now has a more pronounced rocker.
Upper
The upper is a mechanical stretch woven upper. It's a little different than your engineered mesh upper; it's not as flexible and forgiving.
It really doesn't stretch that much, but it's the same upper they had on the first version. I think it's a good decision to keep the upper the same.
It's a super thin racing upper, and I did not experience any blister or hot spots at all. The seams are really flat and breathable with the help of breathability holes on top.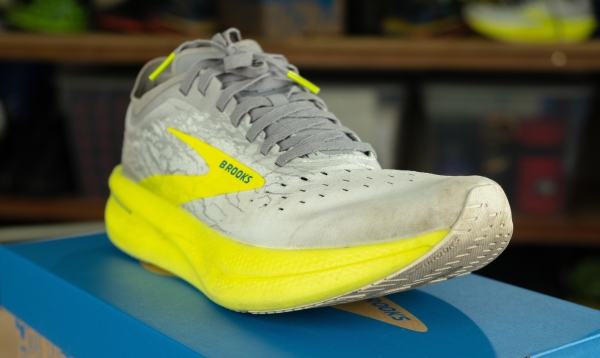 The tongue in these shoes is unpadded but comfortable. It's super minimal with some engineered mesh and welded overlays.
I like that it's not over padded. It stays where it's supposed to be and doesn't add any extra weight where you don't need it.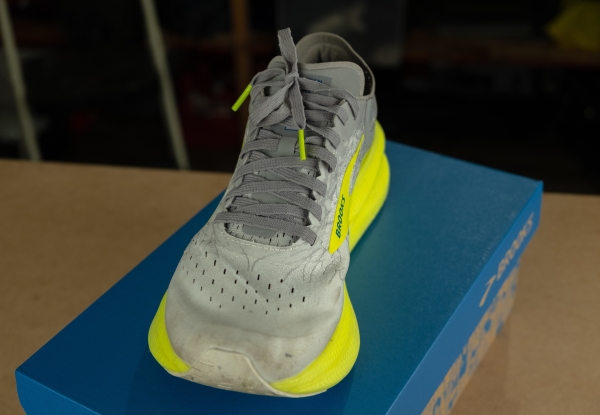 The heel collar is super thin. There's a cushioning ring around the heel cup to provide good heel lockdown.
Overall, I find the heel collar great! I did not feel any heel slip, which is a pleasant surprise since it's an issue I've complained a lot about lately in past reviews.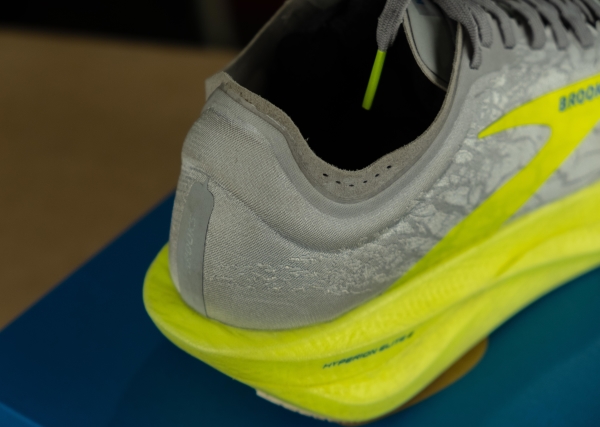 Midsole
The midsole is the showstopper in this shoe. It is a Nitrogen-infused DNA flash midsole. It's very responsive and comfortable to run in.
At first glance, it looks bulky but it's actually lightweight and soft. They also added 2mm stack for cushioning.
The rocker shape design is noticeable as well. This is called the rapid roll technology.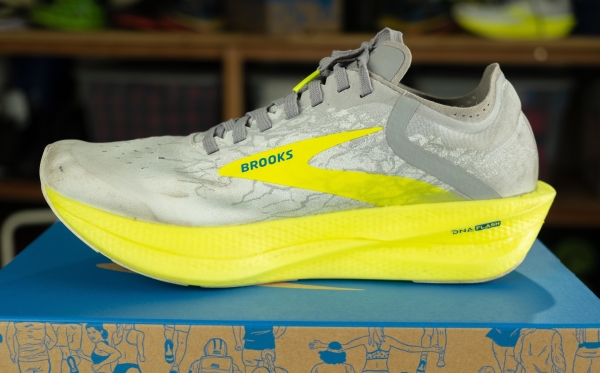 It feels a little unstable when you first lace it up. When you are just walking around (prerun), it feels a little bit unstable. It's a very small gripe because as soon as you get the speed, that carbon plate kicks in and stabilize your run.
Now, if you're a heel striker, that might take some adjustment. There isn't a lot of heel at the back. If you're landing at the back of your foot more predominantly, this might take some time to get used to.
However, once you get used to it, you'll appreciate how it rolls onto the tips of your toes and pushes you to go fast.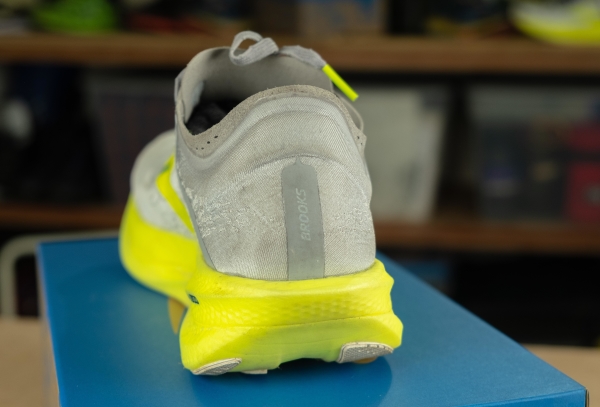 Outsole
As you can see in the photo below, there's not a ton of outsole in this shoe. They only got 2mm strategically-placed rubber patches.
For the ones worried about the grip, these shoes work in wet surfaces.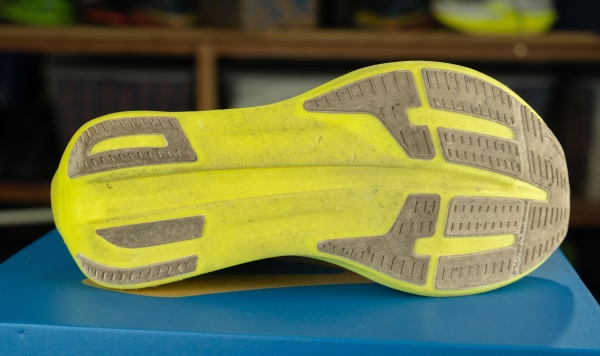 In terms of durability, I've seen a little bit of wear after 20 miles running in these shoes. Again, this is a race shoe; it's not gonna have an extended life but should last at least 200-400 miles.
Fit & comfort
As far as fit goes, I felt this shoe is a little narrow for me. It only comes in D width and unisex sizing. We're in 2020, and I don't think unisex sizing will work.
I've read a lot of feedback from some women runners saying that this is a little wide on them. So it's kinda falling in between the right fit for women and the right fit for men.
For comfort, this shoe is a little tight but overall still comfortable. I did not experience any hot spot at all, but instead, I'm getting patellar stress.
Patellar stress is a pain in front of the knee and around the kneecap. I'm not sure if it's because I'm far forward in these shoes or if it's just stiffer than what I'm used to.
Weight
Averaging at 7.6 oz, these shoes are light, which ultimately is nuts, considering all this midsole!
If you are familiar with the first version, the Elite 2 actually gained an ounce. So it's got a little heavier, but I still have to say at 7.6 oz, this is a lightweight racing shoe.
Conclusion
Overall, If you are looking for energy efficiency for your next long race or you want to try a carbon plated shoe for your next marathon, it's a solid choice to try out.
It's a major improvement over the Elite 1. Ultimately Brooks has something here that should compete nicely with other plated race shoes like the Nikes and Sauconys.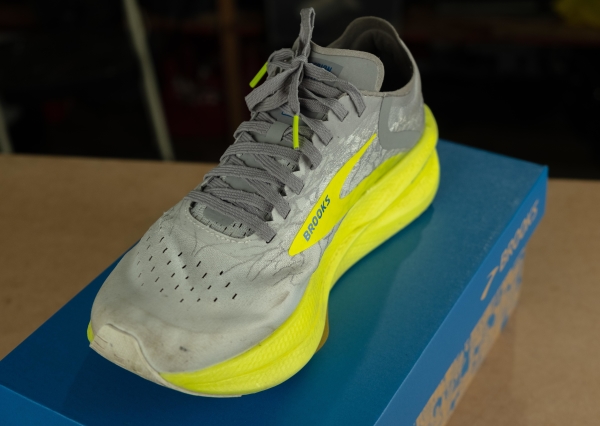 Brooks Hyperion Elite 2: The brand's fastest race shoe
The original Brooks Hyperion Elite was created with the goal of making a lightweight race shoe that remains stable over the marathon distance. In its second iteration, the Brooks Hyperion Elite incorporates notable upgrades that promote a smoother and faster ride than ever.
Who is it for? This neutral running shoe is ideal for athletes with a normal running pattern or those who do not overpronate (when the foot rolls inward). Runners who supinate (when the bodyweight rolls onto the outer edges of the foot) may also love the soft platform of this Brooks running shoe.
What is it for? It is a road shoe that is suitable for running on tracks and pavements. It is also a great companion for marathon races, long-distance runs, and everyday training.
Nice to know
Introduced as Brooks' fastest marathon shoe, the Hyperion Elite 2 combines the best features of the original model and the popular Hyperion Tempo.
Utilizing the previous model's carbon-fiber plate and the Hyperion Tempo's DNA Flash midsole, the Hyperion Elite 2 is sure to deliver a more efficient and energetic ride.
Brooks Hyperion Elite 2 vs 1
The brand improved the Hyperion Elite 2 to provide a more durable and faster feel compared to its predecessor the, Hyperion Elite. Here are some of the improvements featured in the Hyperion Elite 2.
DNA Zero is replaced with DNA Flash midsole for a smoother and faster running experience than the earlier model.
The stack height is 2mm higher than the original version for enhanced cushioning.
The new Rapid Roll technology allows for faster turnover.
Size and fit
True to size
based on 9 user votes
How Hyperion Elite 2 compares
Corescore: 58-61
2 shoes (0.22% of shoes)
Corescore: 62-65
6 shoes (0.65% of shoes)
Corescore: 66-69
9 shoes (0.98% of shoes)
Corescore: 70-73
36 shoes (4% of shoes)
Corescore: 74-78
70 shoes (8% of shoes)
Corescore: 79-82
100 shoes (11% of shoes)
Corescore: 83-86
196 shoes (21% of shoes)
Corescore: 87-90
249 shoes (27% of shoes)
Corescore: 91-94
221 shoes (24% of shoes)
Corescore: 95-98
33 shoes (4% of shoes)
Corescore: 99-99
0 shoes (0% of shoes)
Price: £40 - £70
112 shoes (12% of shoes)
Price: £70 - £100
265 shoes (29% of shoes)
Price: £100 - £130
269 shoes (29% of shoes)
Price: £140 - £160
167 shoes (18% of shoes)
Price: £170 - £200
61 shoes (7% of shoes)
Price: £200 - £230
35 shoes (4% of shoes)
Price: £230 - £260
9 shoes (0.98% of shoes)
Price: £260 - £290
1 shoes (0.11% of shoes)
Price: £290 - £320
2 shoes (0.22% of shoes)
Price: £320 - £350
1 shoes (0.11% of shoes)
Weight: 100g - 135g
6 shoes (0.78% of shoes)
Weight: 136g - 171g
24 shoes (3% of shoes)
Weight: 172g - 207g
46 shoes (6% of shoes)
Weight: 208g - 243g
137 shoes (18% of shoes)
Weight: 244g - 279g
208 shoes (27% of shoes)
Weight: 280g - 315g
234 shoes (30% of shoes)
Weight: 316g - 351g
86 shoes (11% of shoes)
Weight: 352g - 387g
24 shoes (3% of shoes)
Weight: 388g - 423g
6 shoes (0.78% of shoes)
Weight: 424g - 460g
3 shoes (0.39% of shoes)