Verdict from 7 experts and +100 user reviews
5 reasons to buy
Stability: Runners with overpronation praise the support provided by the GuideRails system.
Heel hold: Despite its sock-like design, the Bedlam 3 gives a secure heel lock. None of the testers experienced heel slippage.
Ride: Multiple athletes took note of the smooth heel-to-toe transitions.
Traction: A few reviewers who tried the shoe on rainy days affirm the outsole's good grip.
Look: Many people love the sleek and sharp aesthetics of the Bedlam, calling it one of the best-looking stability shoes.
3 reasons not to buy
Cushioning: More than a few runners find the midsole too firm and unresponsive for their liking.
Fit: Most buyers are put off by the restrictive upper which puts pressure on top of the foot and the toes. It's not a design for wide feet.
The shoe can be hard to put on.
Bottom line
The Bedlam 3 belongs to one of Brooks' stability shoe lines. It stands out as a lighter, more streamlined design that makes it hard to identify it as a stability shoe. It can be easily confused with its neutral counterpart - the Levitate 4 trainer.
Although the 3rd Bedlam falls short of a comfortable fit, it may work for people with narrower feet that prefer a firm and stable ride for their daily miles.
Tip: see the best running shoes.
Our reviews
The Brooks Bedlam 3 is billed as their springiest shoe yet. Since I am a "show me, don't tell me" kinda guy, I needed to see for myself. The proof's in the pudding, right?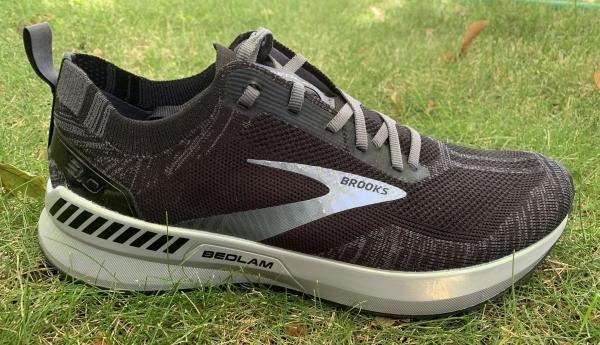 Stepping into the Brooks Bedlam 3, the shoe had a pretty rigid feel in the sole. I was skeptical, to say the least. Laced up and out the door is where the magic happened.
A weighted foot strike gave way to a more cushioned feel and the energy return of the promised spring in your step. It was a welcomed surprise, and my runs in the Brooks Bedlam 3 since have been nothing short of enjoyable. The DNA Amp sole of the Brooks Bedlam 3 definitely delivers.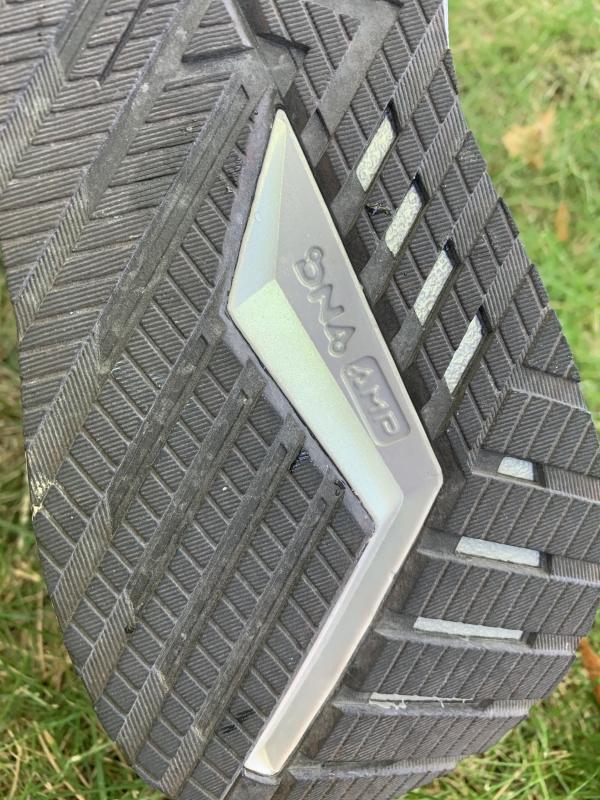 Use: Road
Drop: 8mm
Type: Stability
Wt.: 11.25 oz
Fit
The fit of the Brooks Bedlam 3 hits the nail on the head. The upper has a super soft and pliable weave. The fabric wraps the foot securely and comfortably. Meanwhile, the material has a nice airy feel to it, perfect for these hot summer days.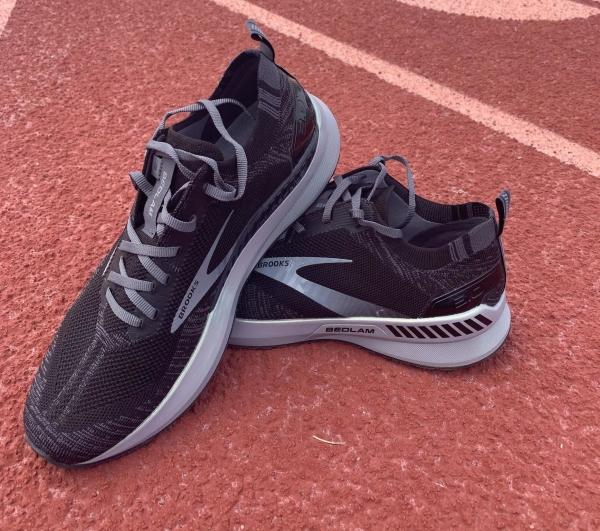 The ankle collar is wafer-thin and molds to the ankle superbly. I like this snug sock-like feel, and personally, the excess padding that other brands fluff out the ankle collar with is unneeded in my humble opinion.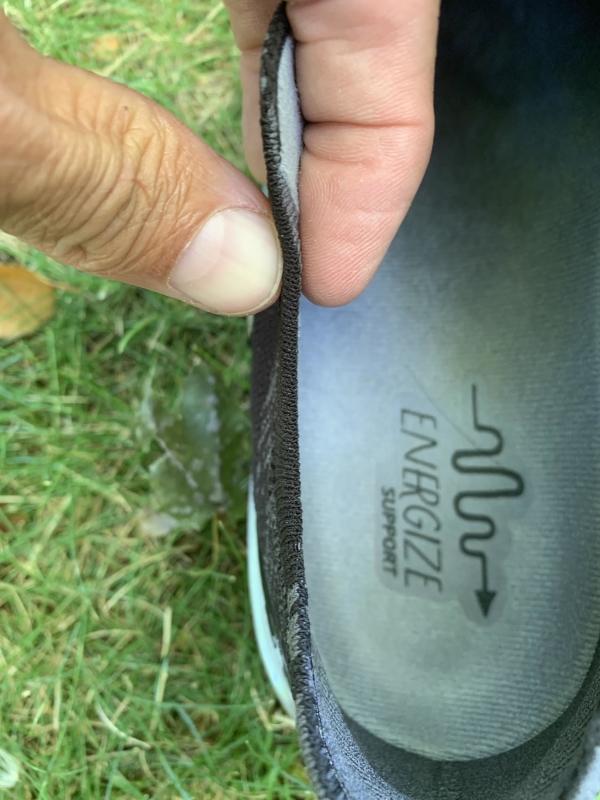 The toe box nails that sweet spot of just enough room to feel comfortable but not feeling sloppy and duckish. I've grown accustomed to roomy toe boxes in my trail running shoes, so oftentimes road shoes feel overly constricted.
That was not the case with the Brooks Bedlam 3. For a road running shoe the Bedlam has a good amount of toe room, but not too much.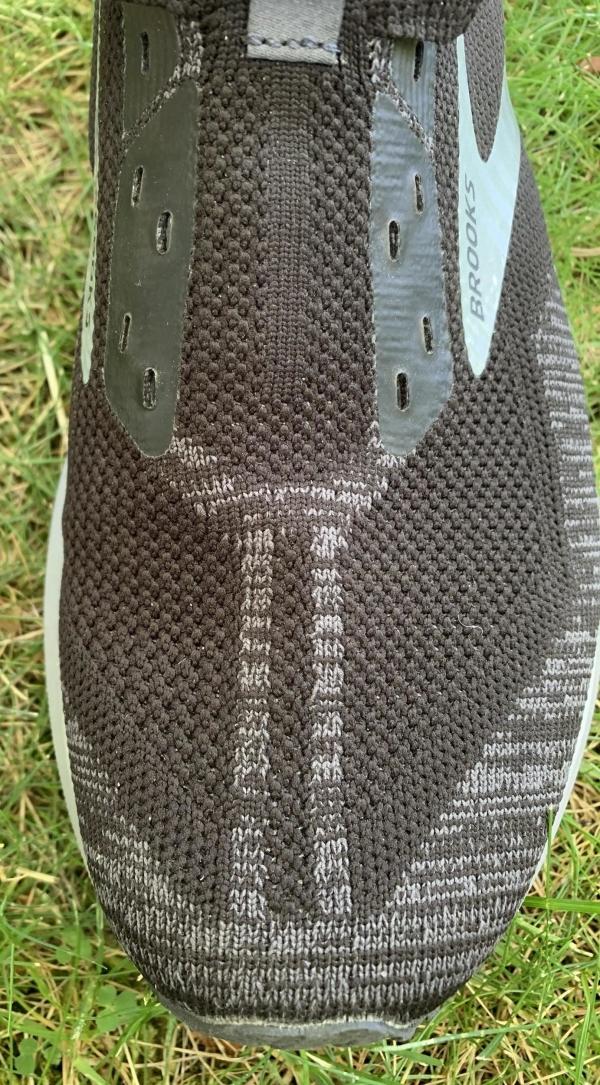 Performance
As mentioned, the promise of a springy step is totally delivered. The DNA Amp technology provides enough cushion to save your knees and ankles, while at the same time providing ample energy return for a quick foot turnover. I was a little put off by the 11.25 oz weight.
I guess I've been coddled into the luxury of an era of 7 to 9 oz running shoes. By any measure, these are not heavy shoes. The extra weight could likely reflect a higher quality of construction and material that will stand the test of time compared to the ultra-light shoe.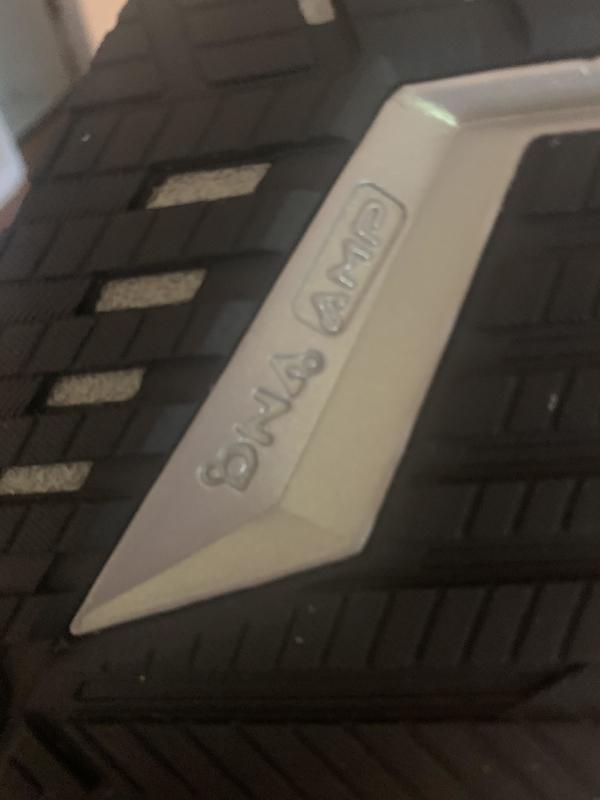 The sole of the shoe has a minimal tread. This seemed to suffice on the dry asphalt, cement and high school track surfaces that I tested this shoe on. The abiding weather as of late has not given me the chance to run on wet surfaces yet.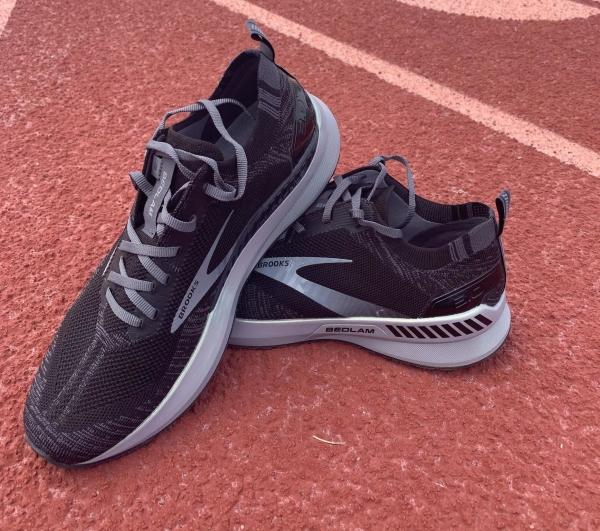 The GuideRails technology helps to give the Brooks Bedlam 3 a very stable ride with great lateral control. I tested these, in part, on a track and they cornered with secure control.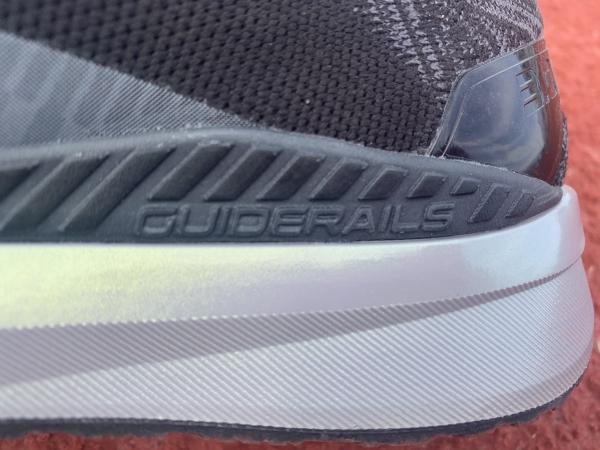 The sole surface area is nice and wide and provides a sure footing. The heel counter has a rigid plastic reinforcement that house the heel nicely.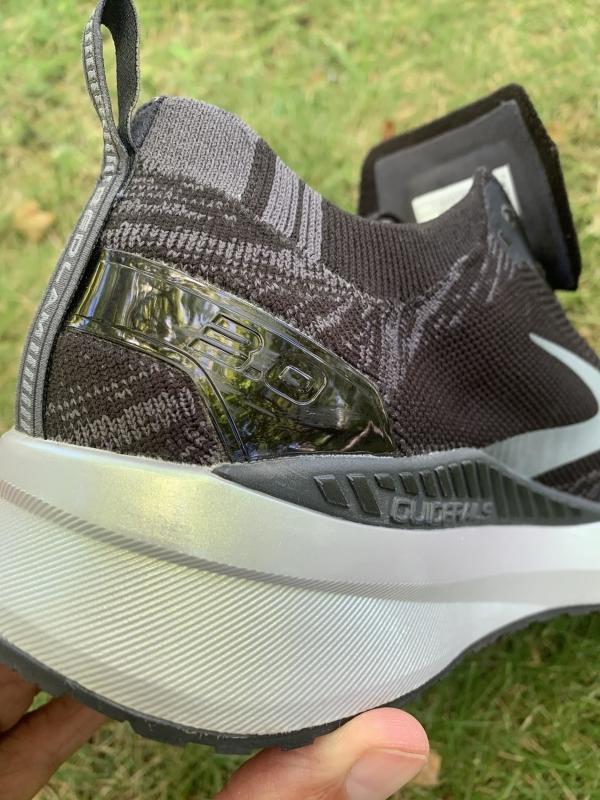 The tongue and lace guides have some unique features that I like. The reinforcements for the laces are split, allowing for a supple anatomic fold on the top of the foot while running. The laces are flat, and consequently, the lace hole is too. It's the little details that go a long way.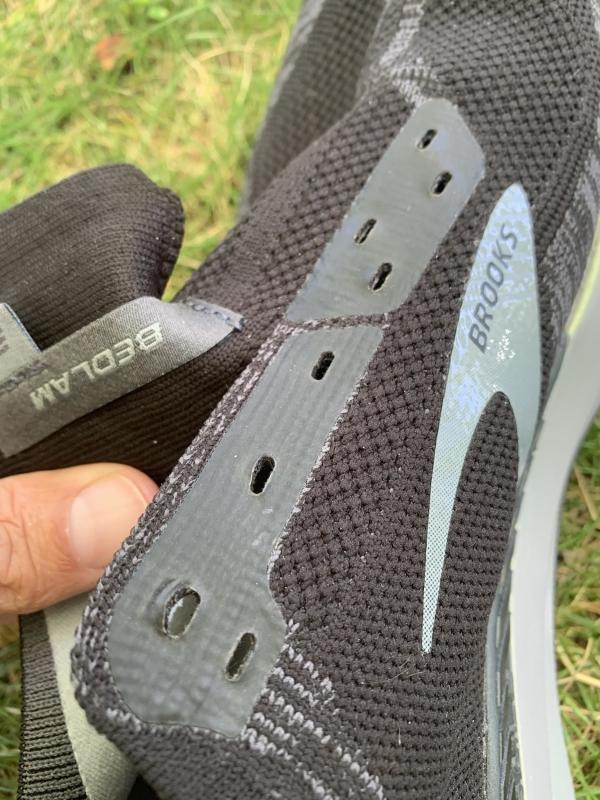 The staggered lace hole also creates varied points of lace tension and pull to create a more secure stronghold around your foot.
The tongue itself is unique. It starts about midway down the upper and is attached to the rest of the shoe with a small 1-inch wide swath of fabric. I was a little confused by this and wondered why they didn't just go with a one-piece booty style upper?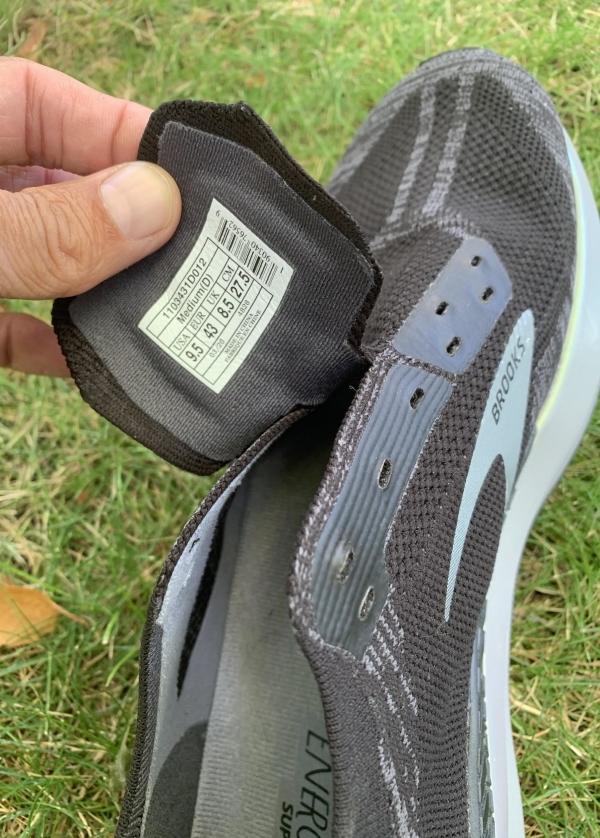 Either way, the super-thin tongue doesn't get in the way and is anchored in place by a long lace conduit that virtually eliminates tongue migration.
Overall
The Brooks Bedlam 3 is a solid shoe. A springy step in a stability shoe is what Brooks promised, and that's exactly what they delivered. The DNA Amp cushioning is just right, and its responsiveness is excellent.
A well-designed upper with some ingenious features gives this shoe a special quality. As a daily runner, this shoe is perfect. I was a little put off by the weight of the shoes, but what it lacks in being super lean, might be made up for in longevity.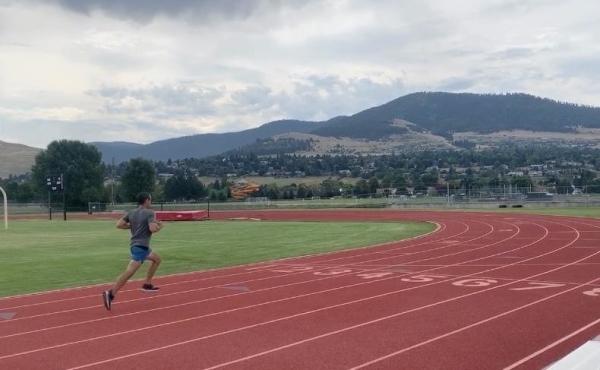 If you're someone who's looking for a solid shoe for daily training or maybe even a 10K PR, this one to check out. At an MSRP of $150.00, it falls into the high end of middle pricing for running shoes these days, but this reviewer thinks it's worth it.
Pros
Springy and responsive
Pliable, airy upper
Cool lacing system
Cons
I loathed the Bedlam 3 on the first run. Out of the box, the shoe offered an odd, although true-to-size fit. I was not able to cinch the laces as much as I typically like to due to a glove-like knit upper. Meanwhile, the tongue was a bit detached (and square).
Also, I got blisters under the arch of my foot thanks to the "guide rail" system that Brooks features in this model, and the soles of my feet were hot from too much movement/friction within the shoe.
With that said, I now love the Brooks Bedlam 3 despite its many flaws. It's the most aggravating, yet most impressive stability shoe I've ever tried.
The Brooks Bedlam 3 features a knit-upper, energetic DNA AMP midsole (that's 20% lighter!), 8mm midsole drop, and GuideRail support system in a 10.8oz (men's size 9) package.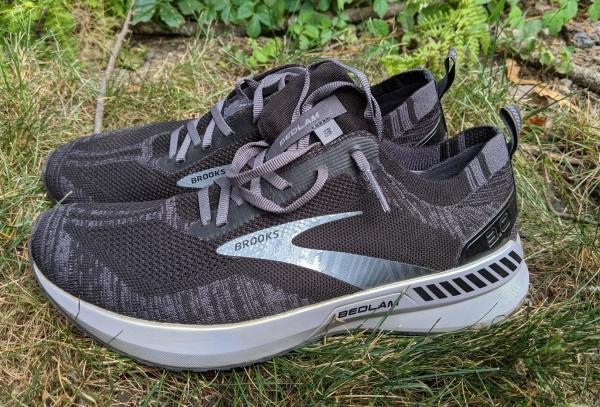 Praise: Everything I like about the Brooks Bedlam 3
Perfect DNA Amp Cushioning offers a firm and bouncy ride
The cushioning of the Brooks Bedlam 3 was an ideal balance for me. I was surprised by how snappy the shoe felt. A quick turnover, midfoot strike, and efficient stride were relatively easy to achieve in this shoe.
I expected a sluggish ride, but the Bedlam 3 helped me quickly forget that I was in a stability shoe. It felt just as quick as the Brooks Ricochet 2 and nearly as responsive as the Adizero Boston 8.
It also offered ample cushioning, which provided a bouncy and supportive ride mile after mile. In shoes like the Adizero Boston 8 or Hoka One One Cavu, I tend to desire more cushioning after the fifth mile or so. My legs begin to feel a little tired, and I want a shoe to give a little bit more energy return.
With the Brooks Bedlam 3, I never wanted more cushioning or liveliness, even after ten-plus miles. The DNA AMP midsole foam, now 20% lighter according to Brooks, impressed and felt like a significant improvement over the foam used in shoes like the Brooks Ricochet 2.
Before, the foam has felt a bit too clunky and sloppy for me, but Brooks nailed the cushioning on the Bedlam 3, especially if you like a slightly firm, yet far from jarring, ride.
The Bedlam 3 has a metallic grey midsole that features DNA AMP foam, which offers a springy and cushioned feel.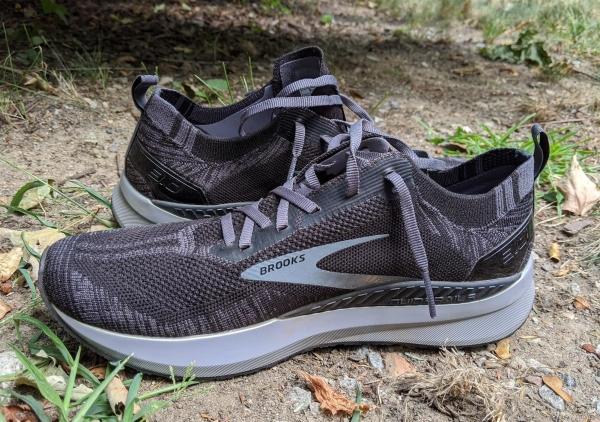 Supportive
I'm typically a bit hesitant to try shoes that are marketed as stability because I often find the advertised "support systems" to be a gimmick and obtrusive annoyances that interrupt a runner's natural gait.
At first, I thought the GuideRail support system was a mere gimmick, but am happy to say, despite the initial blisters, that the GuideRail support system did feel like it helped me achieve a more fluid, stable, and centered stride.
I tend to veer and sway mid-stride due to a bit less flexibility in my right hip than my left, which has led to some minor aches and pains in the past. Though the Bedlam 3 certainly is not a cure for this issue, nor likely a very effective crutch, I did feel a bit less wobbly on my runs.
I felt like it was easier to maintain balance and good form as the miles added. If anything, the Bedlam 3 seemed to help me preserve a little bit of energy that may have been wasted had I not been in a shoe as stable.
GuideRails run along the inside of the shoe and are marketed to "keep excess movement in check," which they seemed to do, despite the blister they caused on my left arch.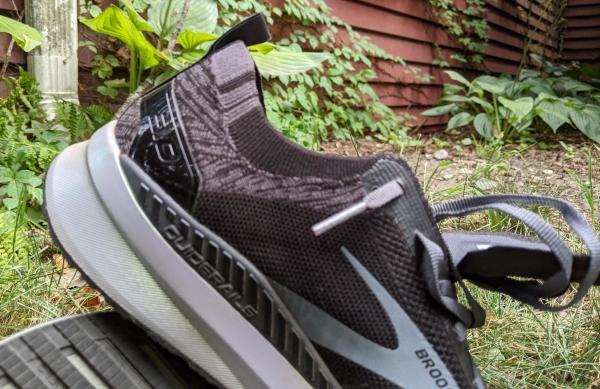 Sleek and category-defying
Stability shoes have come a long way with regard to how they look compared to their neutral counterparts. I love that Brooks made the Bedlam 3 look nearly identical to the neutral oriented Levitate 4. This encourages runners to go with whichever shoe feels most comfortable, rather than what looks the fastest or sleekest.
The Bedlam 3 defies and reinvents what stability shoes are capable of. I tend to like lighter trainers such as the Adidas Boston line, but the Bedlam 3 nudges itself into the lightweight market, whilst offering a wide and stable platform.
I was amazed at how sleek the shoes looked and how quick they felt. I would not hesitate to take it on faster runs and recovery runs alike. When a shoe can do nearly everything for the majority of runners, it deserves high praise. The Bedlam 3 features do-it-all capability, which will make many people happy.
The sock-like upper and overall look defy the usually bulky stability shoe aesthetic.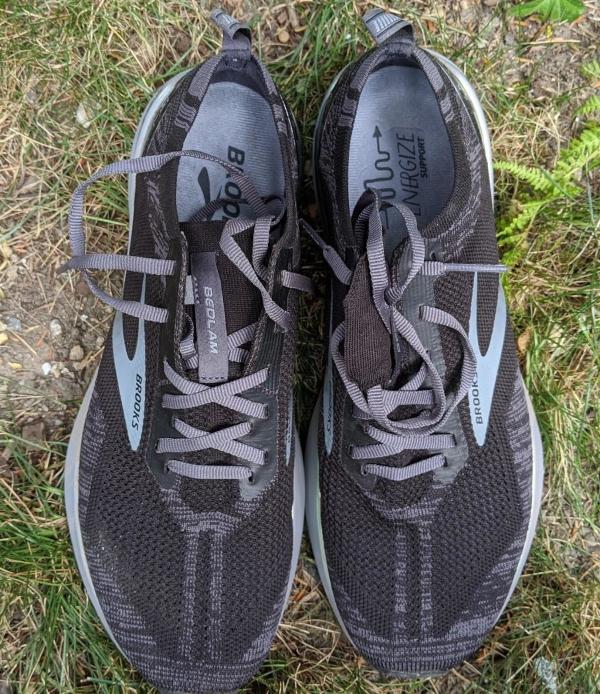 Durable: No signs of significant wear after 50 miles
These shoes have no sign of breakdown or early wear after 50 plus miles. I expect them to last at least 300 miles due to the liveliness of the cushioning, high-quality knit-upper, and rubber outsole.
The outsole features almost all rubber, which should bode well for durability.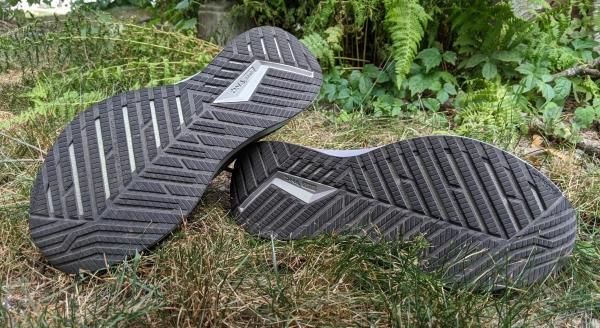 Critiques
An inconvenient tongue
The tongue connects to the shoe through a narrow strap and has large flaps that you have to tuck in each time you lace-up. Tucking in the tongue only takes a few seconds, but it successfully annoys me each time I put on the Bedlam 3s.
Further, the tongue seems rather pointless due to the already sock-like fit. I think they could have just done without the tongue all together and connected the knit material. Nonetheless, this gripe does not affect the overall comfort.
The tongue folds out into a square and must be tucked back into the shoe each time you lace up.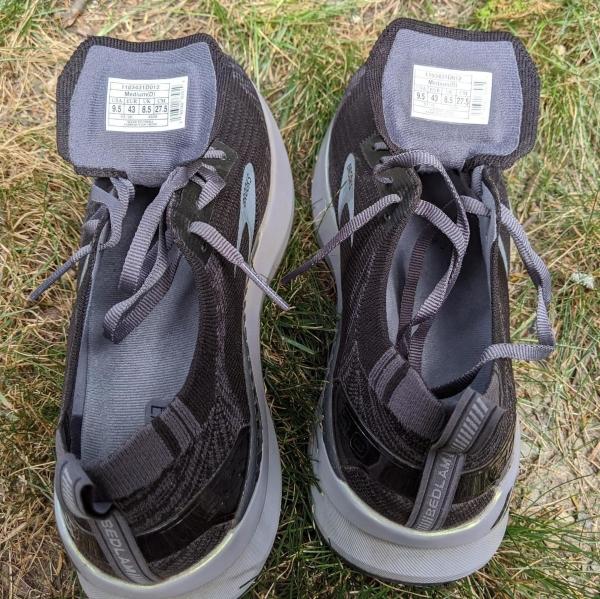 GuideRail discomfort that disappeared (for me)
About two miles into my first run, I felt the guide rail on the left shoe digging into the arch of my foot. The discomfort was prominent and made the run much less enjoyable.
I am not sure if the sizing just did not match up with my arch perfectly or if my arch collapsed a bit too much over the plastic rail, but it caused a lot of concern for the potential of the Bedlam 3.
When I got home, I had a large blister on the arch of my foot and did not take the Bedlam 3 out for a few more days after that. Luckily, I did not experience the same problem on subsequent runs.
Hence, there's a bit of a risk that the GuideRail system may not work for you and will dig into the bottom of your foot. Hopefully, they just require a little break-in and runners will be fine.

The stiff GuideRail dug into the arch of my left foot. The area pictured shows the spot I experienced the discomfort.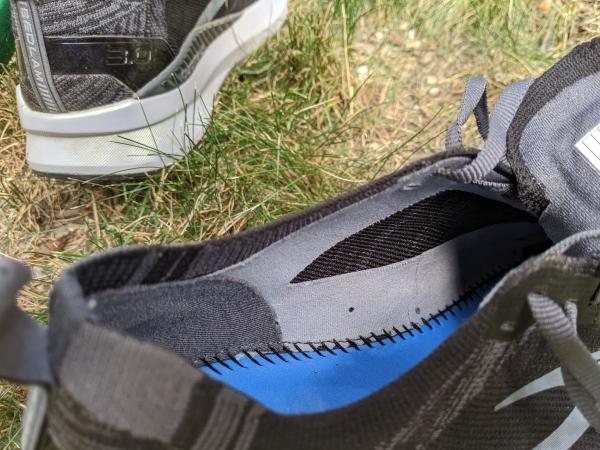 Hot underfoot: Friction between the bottom of foot and insole
On summer days, the shoes have felt very hot underfoot. Though the knit-upper does a decent job at securing the foot, I think there's a bit of micro-movement which causes friction between the sole of your foot and insole of the shoe.
This creates a hot/burning sensation, which can lead to blistering. On cooler days, the problem does not feel as bad, but on hot days, my feet heat up significantly around the fourth mile.

The soles of my feet tended to heat up due to slight friction between my foot and the insole.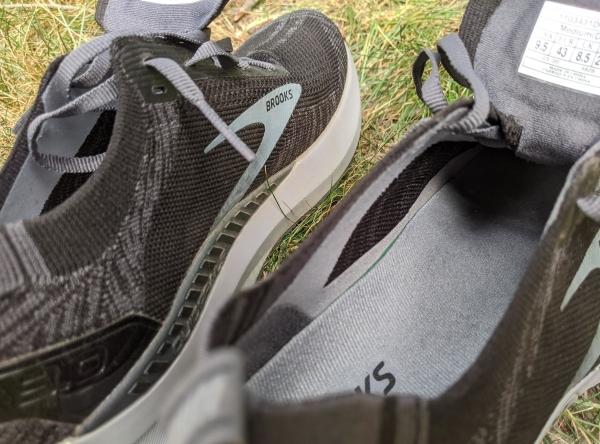 Shallow toe box: Minor discomfort throughout the run
The length of the shoe fits true to size, but it has a shallow toe box that presses slightly on my toes, which leads to discomfort after a few miles. On one of my runs, my right pinky toe started to feel a bit numb, and attribute it to the shallow toe box.
If you have a high volume foot, this issue could definitely be exacerbated for you, as my feet are standard width and relatively low volume.

The toe box stretches and provides adequate width but is shallow from top to bottom. My toes pressed up against the top.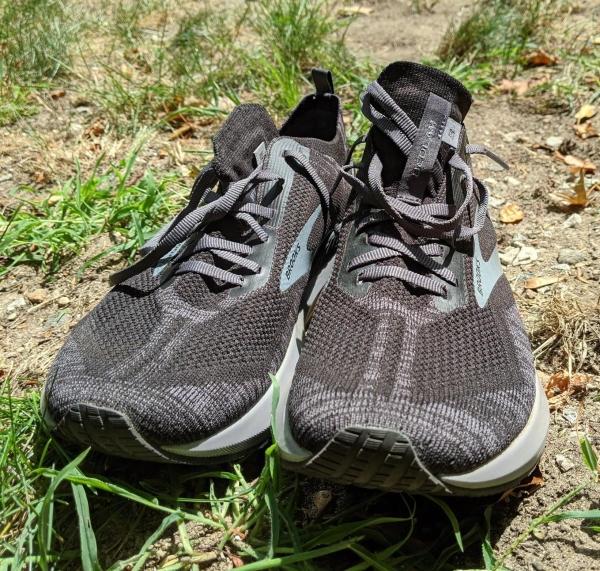 Overall thoughts and recommendations
The Brooks Bedlam 3 certainly has flaws: a shallow toe box, semi-obtrusive support rails, hot underfoot feel, and annoying tongue. These issues may be minor for some but may cause extreme discomfort and make the shoe unusable for others.
Therefore, I definitely would take these for a test run before committing, as $150 is a lot to spend. However, for me, these faults were worth looking past, as the Bedlam 3 offers a quick ride and sleek aesthetic that few other highly cushioned stability shoes are capable of.
The Bedlam 3's standout ride compensates for several flaws.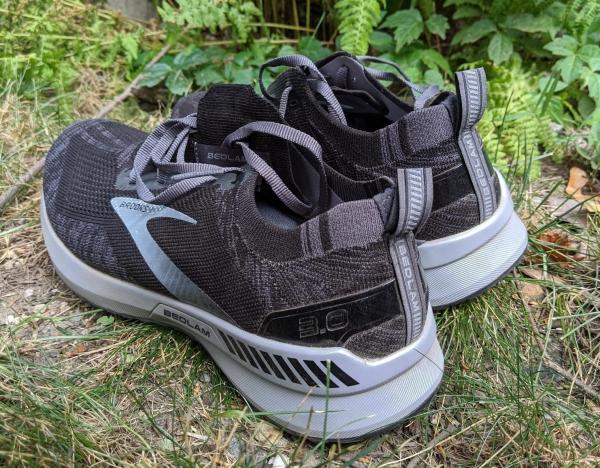 Ever wish you lived in "the future" and could cruise the galaxy in style? Well, the future is here and this may be the shoe for it!
The 3rd Bedlam update looks and feels like a silver ship gliding through a dark Star Trek universe (of course with some stability built-in). Flashy yet reliable, this rocket ship is a 20% lighter update on their popular Bedlam 2, with an enhanced midfoot design and upper.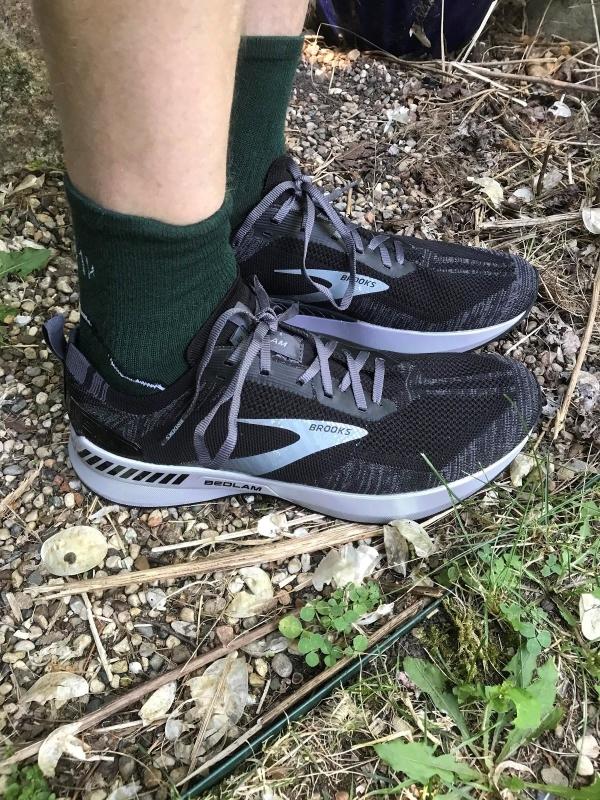 Details
Weight: 10.8oz, Men's size 10
Heel-to-toe drop: 8mm
Support: Holistic GuideRails "all-around" Support Technology & Lighter DNA AMP
Sole: Sticky Aero-patterned
Upper: Flat fit-knit socklike with minimalist tongue & Breathable Quick-Dry material
What's new?
This is a solid update with no huge surprises, just lighter and with a nicer streamlined look than its predecessors.
Brooks' newest stability shoe with GuideRails technology provides adequate support for pronators or those with knee or arch issues, without feeling like a traditional stability shoe.
All of the above combine to produce a shoe that thankfully is not in the least bit "plush" with a ride that is extremely fun.
I took the Bedlam 3 out on many different runs, from slow, long-distance (paved) runs to hard-packed trails and treadmills, as well as to some walk or runs with my daughter in the neighborhood. Its hallmark is versatility, as it is breathable, durable, yet light.
Additionally, with the Bedlam 3 update, I had more room in the length of the shoe than in the previous version, fitting more like a 10.5. At first, this disappointed me, until I realized it was perfect with thicker socks on cold mornings, and winter running season coming up soon!
The heel cup also has a bit of plastic reinforcement, preventing slippage of an otherwise minimalist-structured upper.
I continued to "feel" the terrain much better than with other recent cushion-focused stability shoes. And the new DNA AMP also has much more "springy" responsiveness than other shoes in this category.
Having run in the Ghost, Levitate (similar design), and the GTS Adrenaline (a traditional stability support shoe), I can confirm that this is a much more responsive ride.
The Bedlam line definitely doesn't feel as clunky as traditional support shoes to me while still supporting my overpronation. It keeps a secured and comfortable feel, producing no knee pain or shin splints over different training routines. What else could a space explorer ask for?
A 21st century Space Odyssey story
I live in Florida, and rocket launches are a big deal, as is space nostalgia. We even have a Space Coast Marathon every year (a great course and experience complete with astronauts & uniformed Star Trek or Star Wars characters, if you're ever looking for a winter marathon).
Anyway, this summer of 2020, we were completely virtual for work, so I was able to escape to Michigan for some summer running with my family away from the tropical heat. Fortunately, our family had to clean out the Michigan basement to make room for our summer stay when my old Star Trek comic book and film collection were unearthed!
At about this same time, I was serendipitously entrusted with testing this Bedlam 3 update, and immediately realized I was in the midst of a Starship Enterprise type shoe: the kind that is made for exploring and finding new territory, that holds up to many miles on alien terrains, yet is agile and supportive when it hits those bumps and tractor beams.
The stage was set. I grew to love the silver reflective nature and silky sleek material, which felt much lighter than my previous stability model. I also had a lot of firefly-filled evening walks and exploring new neighborhoods and trails with my wife, who is also an avid runner or walker.
We were limited in luggage space, so I could only bring two pairs of shoes for travel or walking and running, and was glad I chose this as one. It's very durable and versatile, fits just about any outfit, and I could honestly walk all day in (or be on Zoom meetings).
It has held up extremely well all summer as I put in a few 100+ mile months on cool evenings, mostly roads, sidewalks, and hard-packed trails around woods and parks (see Durability section below).
I would also bet that Leonard Nimoy (Spock) and William Shatner (Kirk) would have flipped over wearing this instead of their plain black leather boots, as it is truly much more futuristic in all possible ways: design, technology, etc., which I'll get into right now.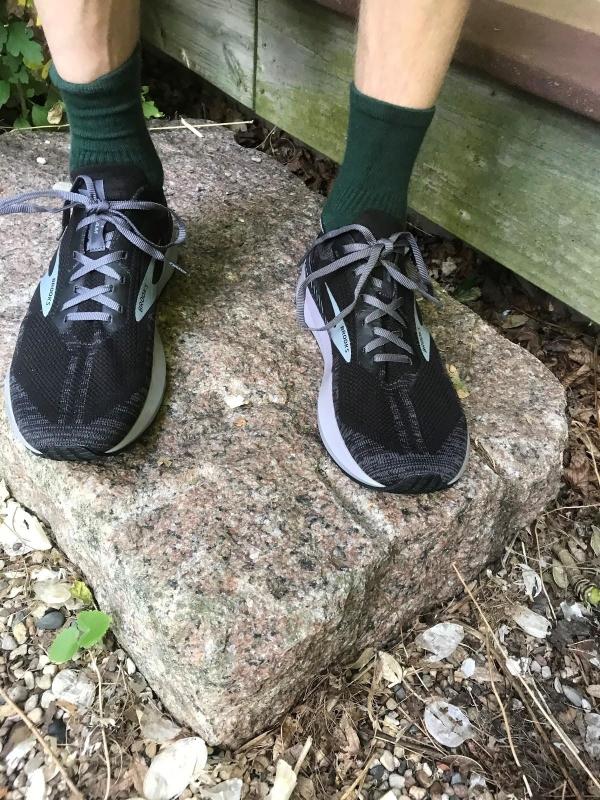 Feel & flex
This update has many positives but stays true to the feel and stride flex of the previous Bedlam 2. As someone who is a mild overpronator with flat feet, it provides just enough support by focusing science and R&D on the overall body knees or hips alignment, as opposed to bulking up the shoe.
It is a responsive and springy ride as compared to their other stability line (GTS Adrenaline), which one can definitely feel the terrain in more easily.
It provides exceptional stability support with DNA AMP underfoot & "holistic" GuideRails, and is a great all-around trainer for those who have overpronation or arch issues. The suggested best running distances are 5K to half-marathon, and daily tempo runs.
What does "holistic stability support" mean, and how is it different?
Brooks is a dedicated running shoe company and has paid attention to recent research showing that, in fact, overpronation should not be corrected by hefty stability foam, but rather gently guide the foot into holding the right position, leading to good overall alignment (hence the "GuideRails" system).
The ride is very smooth, thanks to this GuideRails technology and new streamlined upper, featuring a supportive heel that is not a heavy or dense material (see photo).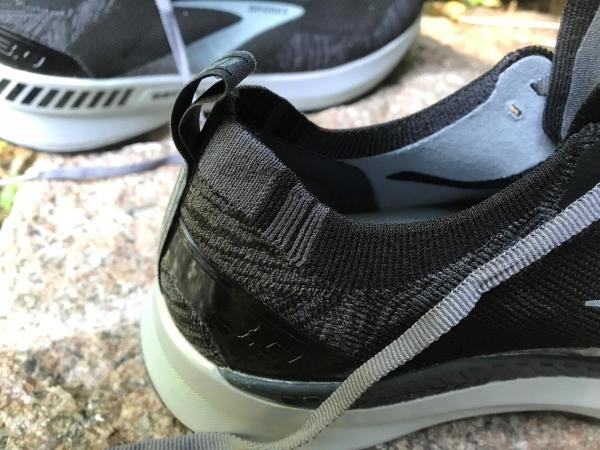 Those with overpronation and some arch issues may enjoy this fresh approach to motion control. It doesn't feel like your foot is being forced into a certain position or form every step, but has a much more natural and minimalist feel for a stability shoe if that is possible.
Overall ride
While it definitely doesn't feel as hard or springy as a carbon-plated shoe, it is about halfway between that and a Hoka Clifton for me.
As mentioned previously, it is a springy, responsive ride with a good transition for midfoot to forefoot strikers, even at my 7:45 to 8 min/mile tempo pace.
I could still feel the terrain and pavement well at race pace, in slippery conditions as well, which is part of the joy of running for me. More importantly, I never felt I was sinking into the midsole or that my shoes were getting stuck anywhere in the gait cycle.
This to me indicates good technology application and responsiveness.
As I got more miles in the shoe and began doing virtual races, I was impressed by the durability and how they still felt "new" after a dozen or so runs. FYI, my Bedlam 2 pair, which uses the same sole material and technology, has over 300 miles and still feels very responsive.
DNA AMP technology and weight
The new, lighter DNA AMP midsole technology is wrapped around the entire shoe and provides a responsive and fast ride. This design does add a tad bit more weight to the shoe than some others in this daily trainer category from Brooks (but still much lighter than many stability shoes).
This shoe feels very low to the ground and responsive, almost like when I have tested Altras. This must be due to the new type of stability foam and the all-around application rather than using different types of foam in different parts of the shoe (normally a stability shoe has thicker blown foam on the inside and some support gel or foam in the middle and normal, less dense foam on the outside of the foot).
This resulted in a much better connection to the terrain I was running on, overall good turnover, and less likelihood of turning an ankle. The feeling was "close to the ground"; I felt like I was riding with the pavement and trails rather than above them.
Paradoxically, the weight is definitely lighter than previous models, even with the roomier length and toe box. When I rotate and switch to a less supportive lighter shoe, I don't notice a great deal of weight difference at the 5k-10k distance, but I do notice the lack of stability support in others.
This may or may not be a selling point for you, but I felt extremely good in this shoe for walking or standing, probably due to the all-around knee, hip, and ankle support technology as opposed to the traditional approach.
As mentioned above, the feel when walking or standing is similar to my favorite Teva hiking sandals, but not super flexible in the sole, which appeals to me for tempo runs, walks, and trips to the airport even.
For this same reason, it feels different in my running stride from all of the stability shoe lineups of other major running shoes (New Balance and Hoka), which are normally very plush.
I welcomed this as a nice break in training runs, but I would very much suggest you do a good treadmill run before committing to see that it suits your stride.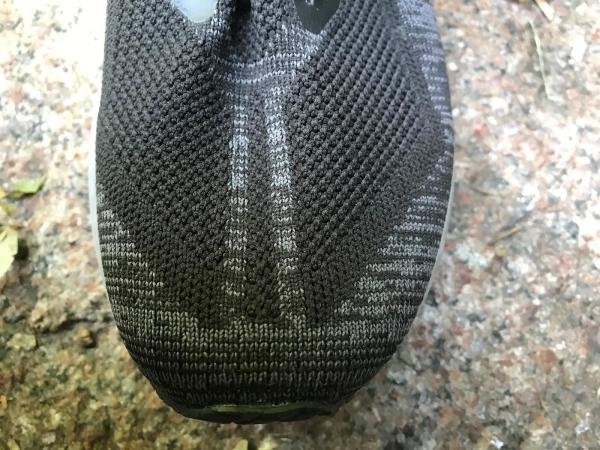 Upper
Bedlam 3's fit knit upper has a great snug wrap on the foot and no overlays. In fact, it's the best-fitting shoe I have worn since the Bedlam 2 and has a similar feel to my Teva sandals. It also boasts a super-thin but durable tongue connection with the upper.
The sole of the shoe is not incredibly flexible due to the tread material and the Guide Rails, but the upper makes up for that by providing more flexibility. It provides more than enough support to keep the heel or ankle snug for the rear to midfoot strikers who are pronators.
It almost sounds cliche to say, as all shoes lately claim this, but it is really breathable and dries quickly when wet. It also has tougher tighter-stitch material around friction or problem areas near the toe, which will help with durability.
It has zero overlays and seamless underlay points created no rubbing or friction on longer runs, nor do I see where there could be (see photo).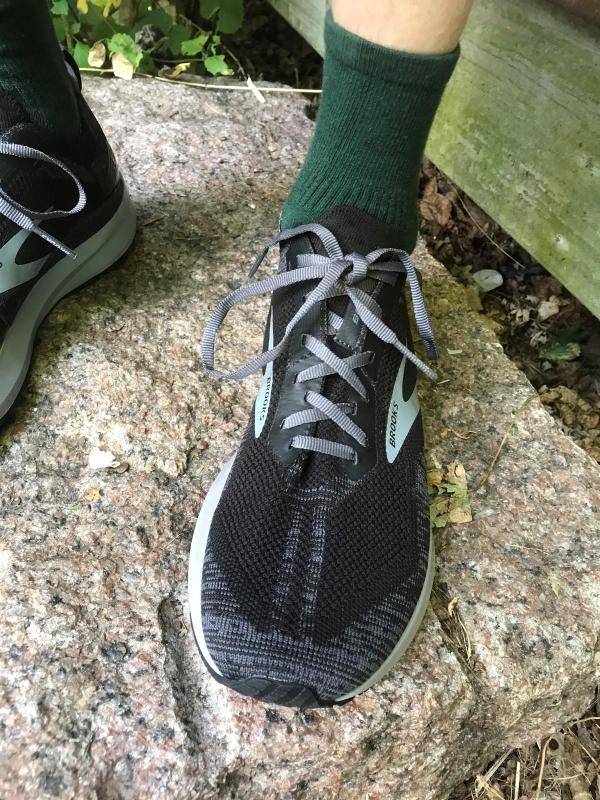 Style
With regard to style, as mentioned above, this is truly a futuristic, sleek design, with reflective accents on the side, heel, and toe area. I loved the simple patterns and color choices that stand out in a subtle way, not a traditional flashy running shoe.
Also, one of my favorite functional things about this shoe is the new stylish rear pull tab, which makes for easy transitions.
Sizing
For those that have worn a Bedlam or Brooks Ghost shoe in the past, I would recommend sizing down (those wearing a normal 10, buy or try a 9.5, for example). This newest version fits a tad longer than other Brooks shoes, for whatever reason.
For a foot on the slightly narrower side, such as mine, the fit is snug and close to perfect, but the fabric does synch or overlap a bit in the generous toe box area.
It doesn't bother my foot in any spots at all and fit is still seamless. As mentioned, you may find the toe box length and width roomier than other Brooks of the same size.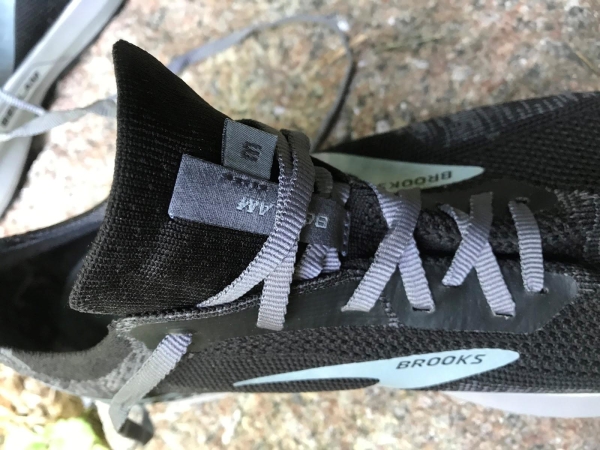 The laces are nothing spectacular, what I would call "simple standard", glide very easily through lacelets and tie well, which also really cinch up well with the knit upper.
One thing I do really like about this shoe is that you can easily adjust the overall fit in just a few seconds. They have designed the lacing system to synch. And therefore if you go from a pleasant walk to a spontaneous gym visit or run, you can tighten or loosen them quickly.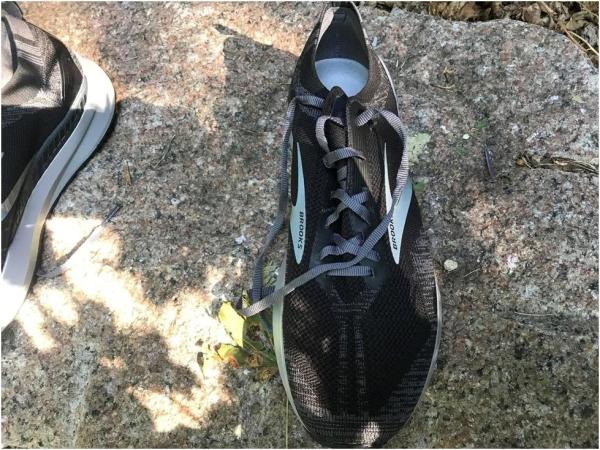 Durability and on/off time
No issues with durability for me. The DNA AMP material is much longer-lasting than softer foams (BioMogo) that most running shoes are made of. But for that tradeoff, it is a tad heavier.
The Aero pattern tread on the bottom has also held up incredibly well and is more substantial than the previous model (thicker for more tread). The pattern is also less likely to pick up debris or rocks than other shoes, which I appreciate.
As a coach, I would recommend rotating this shoe with another shoe you're accustomed to and let your foot adjust to this type of support and landing over time.
Finally, it is extremely easy to slip on and off due to the "flexible collar", without wearing out the back of the heel cup like many shoes do when you slip them on or off many times.
Downsides?
For starters, the narrow fit in the heel and midfoot may be too tight for some but was a perfect fit for me. Also, as mentioned, it fits a bit longer in length than other Brooks line shoes, so be wary of sizing and try-on is important for both of these reasons.
Second, perhaps the responsiveness/weight tradeoff. It has gotten much better with this update, I still felt it was easy and fast on my feet at most shorter distances training runs (up to 10 miles), but grew to feel heavy on over half-marathon distances.
It still had that springier transition compared to other more cushioned shoes at runs of the same distance, but I am not sure I would want to run an entire marathon-length in them for the above weight reason.
However, I am a very light runner at 145lbs and I am used to really light shoes such as Hokas as I do a lot of trail running, so this may not be an issue for some.
Lastly, this is not your go-to for wintry icy or snowy conditions, as the traction is minimal and not deep tread (see photo).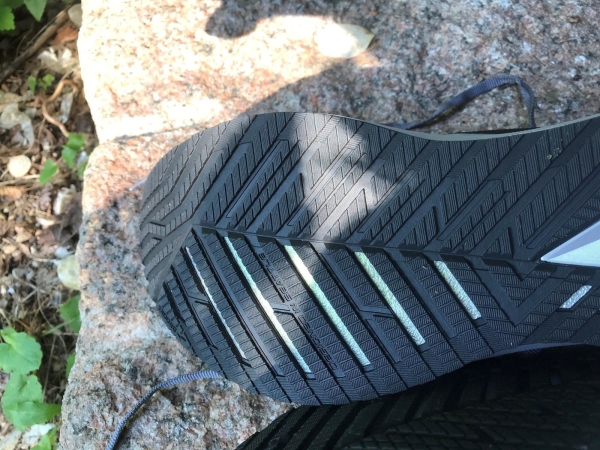 Pros
All around GuideRails technology helps keep knee, hips, and ankle alignment for pronation
Updated sock-like fit knit upper with transition flex collar offers flexibility and breathability
Lighter DNA AMP offers balanced stability support with responsiveness
The spaceship-like sleek design is stylish and fun
Sticky Aero Pattern on the sole hold up amazingly
Neutral
Roomier toe box fit, slightly longer than previous Bedlam 1 & 2
Made for a narrow, tight fit in the heel and midfoot, with ample arch support
Cons
Traction is minimal, not designed for technical trails or icy or slippery conditions
May lack comfort orsoftness for some long-distance runs
Conclusion
To paint a more concise picture, this is a stellar update and features many subtle refinements that make it a much more suitable go-to trainer. It does fit well on a narrower foot, but as mentioned, runs long in the length.
It is a great "all-around" shoe" for all your exploring. I think it fits the perfect balance of lightness and durability while still being a refreshingly sleek, streamlined shoe. It can easily be used for travel, outdoor walks, cross-training, informal work environments, and social occasions.
This shoe can do just about anything but is ideal for me on the road or hard-packed trails at 5k to half-marathon distances. It is not great for technical trails, icy conditions, marathon training, or ultra running.
The Bedlam 3 also has much less stack and built-up foam than a traditional support shoe and supports your body from the hips or knees down with Brook's newest technology in GuideRails, instead of focusing on the ankle and arches as is traditionally done with "more condensed foam!". It has a good flex point midfoot in the shoe and provides a smooth ride with a good transition for me.
As I asserted in the previous Bedlam 2, this is the springiest and most responsive support/stability shoe I have tested. The shoe is very breathable and flexible due to its knit upper and offers plenty of room in the toe box.
If you are not concerned about having the lightest or fastest shoe out there but want great support and a spacey, futuristic look, this could be the best all-around shoe you purchase in 2020 or 2021.
No matter what shoe you are in, I wish you Happy Running that you may "Live long and prosper"!
(My wife Meghan and I at Space Coast Marathon, 2017)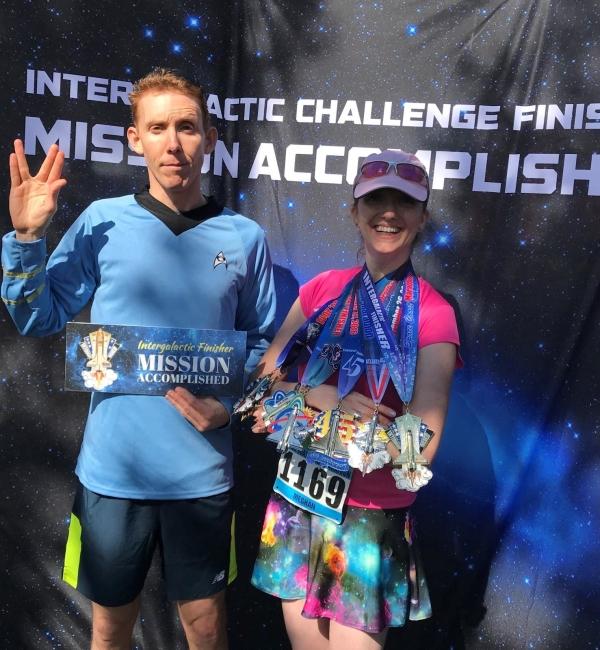 Brooks Bedlam 3: Reformed for superior stability
Bedlam is among the popular Brooks running shoe lines renowned for their ability to conserve energy. In its third iteration, the Brooks Bedlam boasts a lighter and sleeker design to help enhance the runner's overall performance.
Packed with advanced stability features, the Brooks Bedlam 3 is specifically designed to provide support for runners who exhibit mild to moderate overpronation (when the arch collapses inwardly). It empowers the user to run comfortably and efficiently by guiding the foot to proper alignment.
Best for: The Brooks Bedlam 3 is a road running shoe that works well on various paved surfaces. It is suitable for daily runs, regular training, and casual wear. Aside from overpronators, athletes with normal running patterns may also appreciate the soft and flexible platform of this stability running shoe.
Brooks Bedlam 3 vs 2
The Brooks Bedlam 3 has been refined to provide a more comfortable and stable ride compared to its predecessor, the Brooks Bedlam 2. Here are the differences between each model.
the updated upper material that delivers a softer and more breathable in-shoe feel than the Bedlam 2
the lighter DNA AMP midsole for a fast and efficient ride
a modified outsole pattern for speedy transition and enhanced traction
How Bedlam 3 compares
Corescore: 57-60
4 shoes (0.47% of shoes)
Corescore: 61-63
7 shoes (0.83% of shoes)
Corescore: 64-67
12 shoes (1% of shoes)
Corescore: 68-70
11 shoes (1% of shoes)
Corescore: 71-74
49 shoes (6% of shoes)
Corescore: 75-78
111 shoes (13% of shoes)
Corescore: 79-81
168 shoes (20% of shoes)
Corescore: 82-85
233 shoes (28% of shoes)
Corescore: 86-88
145 shoes (17% of shoes)
Corescore: 89-92
103 shoes (12% of shoes)
Corescore: 93-93
1 shoes (0.12% of shoes)
Price: £40 - £60
66 shoes (8% of shoes)
Price: £70 - £90
187 shoes (22% of shoes)
Price: £90 - £110
153 shoes (18% of shoes)
Price: £110 - £140
225 shoes (27% of shoes)
Price: £140 - £160
112 shoes (13% of shoes)
Price: £160 - £180
53 shoes (6% of shoes)
Price: £180 - £210
32 shoes (4% of shoes)
Price: £210 - £230
5 shoes (0.59% of shoes)
Price: £230 - £250
8 shoes (0.95% of shoes)
Price: £260 - £280
3 shoes (0.36% of shoes)
Weight: 100g - 133g
6 shoes (0.85% of shoes)
Weight: 134g - 166g
13 shoes (2% of shoes)
Weight: 167g - 200g
37 shoes (5% of shoes)
Weight: 201g - 234g
104 shoes (15% of shoes)
Weight: 235g - 268g
175 shoes (25% of shoes)
Weight: 269g - 301g
186 shoes (26% of shoes)
Weight: 302g - 335g
121 shoes (17% of shoes)
Weight: 336g - 369g
48 shoes (7% of shoes)
Weight: 370g - 402g
11 shoes (2% of shoes)
Weight: 403g - 436g
2 shoes (0.28% of shoes)
Weight: 437g - 437g
1 shoes (0.14% of shoes)