88
The Corescore is a score from 0-100 that summarizes opinions from users and experts. Below shows the distribution of scores for all running shoes.
Verdict
The Brooks Bedlam 2 is a stability shoe that takes the spotlight, well, in stability. This shoe kept our strides surefooted and slip-free. But where it falters is in the comfort arena. After breaking it in, our feet still felt sore. Oddly, the shoe is comfortable for walking, just not for running. But if you're searching for a shoe that's a looker and is durable, take the Brooks Bedlam.
Pros
Really good looking shoe
Super durable
Fixes pronation problems
Very comfortable and snug fit
Cons
Causes foot pain
Not grippy in wet conditions
Super expensive
Heavy, heavy shoes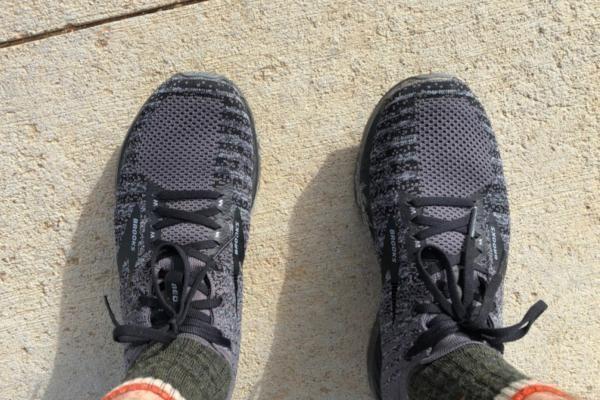 85% say it's true to size.
We earn affiliate commissions at no extra cost to you when you buy through us.
Comparison to similar running shoes
Brooks Bedlam 2 review
I was really hoping I'd fall in love with the Brooks Bedlam 2, but I'm sad to report it's a crush that never materialized into a full-on healthy relationship.
I'm still wearing the Bedlam 2 from time-to-time, but for the sake of my poor feet, it hasn't made its way into my go-to shoe selection. Why? Continue reading.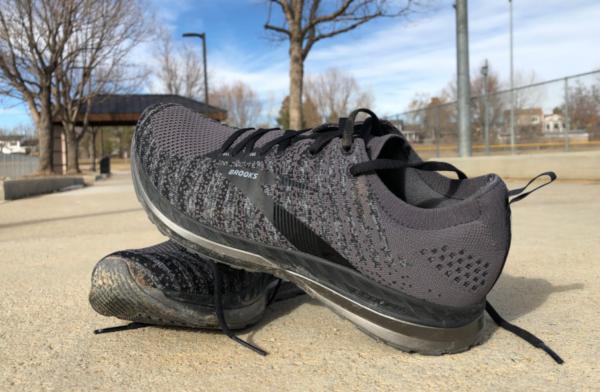 This shoe checks all the right boxes. Really, there's only one reason. One major complaint takes this shoe from nearly perfect to perfectly impractical.
I'll explain why in my complete shoe review below.
A little background is necessary
For using an ultra stability shoe like the Brooks Bedlam 2, it's important to have context. This footwear is a max stability shoe for runners with moderate to severe pronation.
So, if you're not a pronator, go ahead and look elsewhere. And if you pronate just the slightest, a minimum to moderate stability shoe is probably more up your alley.
But, if you're like me and tend to pronate to the extreme, then you'll benefit from this review.
A few months ago, I visited the podiatrist to address some ankle pain I was experiencing. After visits with him, the sports doctor and my physical therapist (a strange narrative started to come together).
In a nutshell: my hallux rigidus (basically stiffness in the big toe) was causing my foot to pronate on impact.
The constant pronation was doing a number on my poor beat up calves. My poor beat up calves was unable to absorb shock like they're supposed to and causing pain in my ankles (for various reasons).
Well, that was the diagnosis, and my podiatrist recommended (among many other things) that I ditch my more minimalist footwear in exchange for stability running shoes.
So, that's how I ended up interested in the Brooks Bedlam 2. Months after my initial pain, while enjoying quality running again and loosened calves, I slipped on the Bedlam 2. This is what happened.
First impressions of the Bedlam
When I unboxed the Bedlam 2, I was pleasantly surprised. This is a downright good-looking shoe! Even my wife commented from across the room, "Wow, those look better than all of your other shoes."
She was referring to the rarely-sexy Hoka collection gathering in my closet, which isn't necessarily hard to beat. But still, I couldn't argue with her. This shoe looks nice!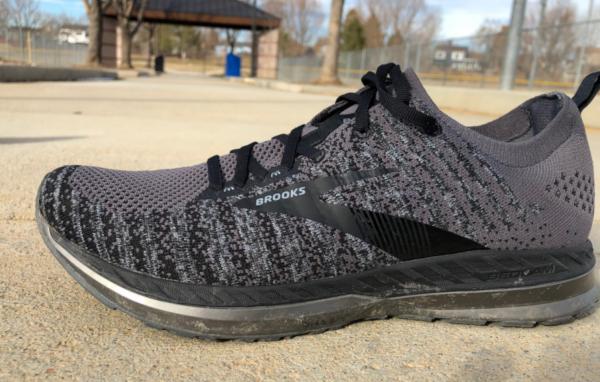 I slipped on a pair with relative ease and was delighted by the sock-like fit. I'm a huge fan of the flat-knit upper, and it feels light and airy on the top of my foot.
The shoe instantly hugged my foot comfortably. I was gaining a crush on this shoe quickly.
I immediately headed off to the gym to get a good treadmill workout in (Colorado is absolutely freezing right now—when the temperature drops below 20, the treadmill and I become best friends).
Things started off nicely. I felt like the Bedlam 2 delivered a fair amount of cushion on the ride, though the stiffness and rigidity of the outsole were prevalent. Seriously, these shoes are stiff!
I started with an easy 5% incline treadmill hike, but my arches began to ache 10 minutes in. Okay, it's normal for a shoe to cause some aches from the get-go—they need to be broken in first.
After 60 miles, I still get similar (although not quite as nasty) aches when using the Bedlam 2. It could be a weakness in my feet, or it could be the constricting rigidity of the shoe.
When my foot started to hurt on the initial workout, I hopped off the treadmill and reworked the laces to see if it was just the fit that was wrong: Nope, all good to go.
I jumped back on the treadmill and started my run, and I found the ride was a lot better after I dialed back the incline and increased the pace. But still, after about 15 minutes of running, I had to hop off again and massage my aching feet.
As of now, the most I've been able to run in this shoe consecutively is about 3 miles before the pain starts creeping in. Not a great first experience.
Comfort & ride
As far as comfort goes, I love how this shoe feels when I'm walking around the office or sitting at the computer. But the comfort dies soon after I start a run.
I'm still skeptical and think that it might just be my feet, but I've never experienced anything quite like this. I've run hundreds of miles in Brooks, Altra, Hoka, Nike, Vibram, Vivobarefoot, North Face, and Salomon shoes.
But, I have to say, the Bedlam 2 does fix my pronation. I ran in front of a mirror alternating between the Bedlam 2 and my Hoka Cavu, and I noticed a significant improvement in my running form when wearing the Bedlam 2.
The DNA Guide Rails prevented my foot from pronating, and my leg swung in a more linear pendulum. It does feel like the shoe is forcing me into this positive running form, which is where the pain may be coming from.
I may have been pronating for so long that my normal foot muscles haven't fully developed, and thus they're overtaxed when having to be used correctly. So, there's a fair chance after another 50 miles in these shoes over the coming weeks that my experience will improve.
Brooks touts this shoe's energy return, but I don't feel like this is where the shoe shines. Yes, there's energy return, but no more than what I feel when running in a lightly cushioned alternative.
Unfortunately, the Brooks Bedlam 2 is a heavy beast. At 11.6oz, this is a shoe that's definitely on the chunkier side, and you can feel that weight after miles and miles, too.
The Brooks upper
The upper is probably my favorite part of the shoe. Made of a redesigned flat-knit, the upper features a soft, sock-like fit.
Combined with a convenient heel tab and a snug heel collar, you really can't ask for more. Granted, I don't imagine it'd hold up great in nasty weather conditions. I can just see these puppies soaking up water like a dehydrated sponge.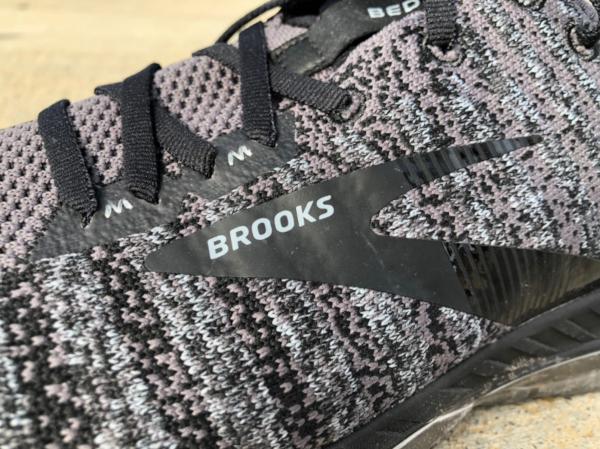 The lacing system just feels right, and I find it's super quick and easy to find the perfect fit. The ventilation is excellent, and despite running in a stuffy gym for hours on end, I haven't had any problems with hot, sweaty feet in the Bedlam 2.
Midsole
It's hard to tell if the DNA AMP in the midsole is delivering on the cushioning it promises since my feet kill me when running. Noted that my feet don't hurt when I'm barefoot running or running in minimalist shoes.
So, it very well could have great cushioning and energy return. I just haven't experienced it due to the discomfort.

The midsole also contains the GuideRails technology. It's basically a sidewall on top of the foam that keeps your foot stable.
That works! My knees have felt fantastic while running in Bedlam 2, but my feet haven't.
Outsole
The outsole feels strong, and the rubber makes for some good traction on dry surfaces. Wet surfaces—not so much. There's very little give in the outsole. It seems to be very durable, though.
You can see from the photo above that there's really no visible wear or tear on the outsole, and that's after 60+ miles. I imagine it can withstand hundreds of miles without a problem.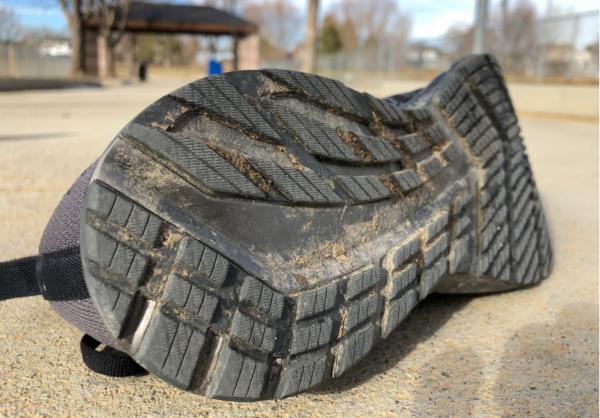 Brooks Bedlam 2 is tough
All of the materials in this shoe's upper, midsole, and outsole seem high-quality and super durable. I'd imagine this shoe would last for hundreds of miles without any real issues.
The first to degrade would likely be the upper, and this is just because the knit material won't hold up long-term in rain, mud, and rocks quite as well as synthetic material.
All-in-all, though, I think it's a very durable shoe.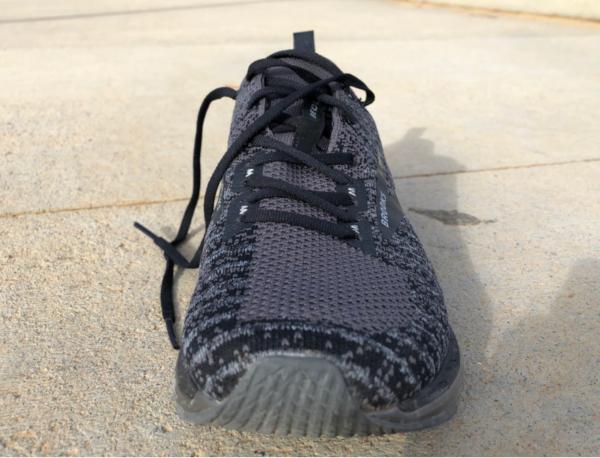 Looks
I love the look of the Bedlam 2, which is another reason I'm so disappointed this shoe just didn't work out for me. I think it's a great looking shoe for running, gym workouts, or casual wear-to-work use.
Price
At a $150, *whistle. It's a hefty price tag!
Then again, this is a specialized shoe for those with specific needs, so I can understand an increase. However, this is a big bump in price for some GuideRails and cushioning. Not a huge fan of the price.
Compare popularity
Interactive
Compare the popularity of another shoe to Brooks Bedlam 2:
Brooks Bedlam 2 video reviews