Balenciaga Triple S Trainers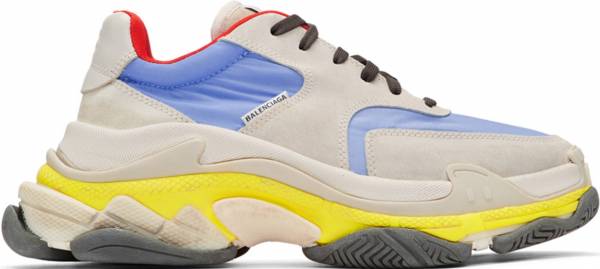 The chunky dad sneaker trend has been all the rave. Balenciaga responded by releasing one of the chunkiest sneakers ever – the Triple S Trainers. Some have pertained to the shoe as a natural phenomenon in fashion, adding that it is an adverse reaction to the fame of minimal and ultra-clean sneakers like the Stan Smiths. Ultimately, while the Triple S Trainers' design is not for everyone, many still choose to cop a pair for its quality materials, well-made construction and comfortable feel.
---
Verdict from 65 user reviews
6 reasons to buy
Some wearers of the Balenciaga Triple S Trainers claim that it is a very comfortable shoe.
The shoe's materials and construction are deemed to be of excellent quality by several sneaker fans.
The Balenciaga Triple S Trainers are available in multiple colorways.
Some view these sneakers' considerable attention to detail as the rationale behind its hefty price tag.
A reviewer is delighted that the Balenciaga Triple S sneakers provide added height.
A good number of video reviewers have marveled about having a pair as, according to them, since not everyone could afford it, owning one makes them unique.
3 reasons not to buy
The majority of the commenters didn't like the shoe's distressed and bulky construction.
Most consumers consider this shoe as expensive.
Some shoe users have disclosed that this pair is heavy because of its massive triple midsole.
Bottom line
The chunky dad sneaker trend has been all the rave.
Balenciaga
responded by releasing one of the
chunkiest sneakers
ever – the Triple S Trainers. Some have pertained to the shoe as a natural phenomenon in fashion, adding that it is an adverse reaction to the fame of minimal and ultra-clean sneakers like the
Stan Smiths
. Ultimately, while the Triple S Trainers' design is not for everyone, many still choose to cop a pair for its quality materials, well-made construction and comfortable feel.
Best price from 30 shops
We earn affiliate commissions at no extra cost to you when you buy through us.
57% say it's true to size.



Size and fit
The Triple S Trainers is a unique sneaker with a triple-stacked sole that inevitably adds weight to the shoe. Several notions of the users include that the kick is heavier and not as flexible as standard sneakers. Nevertheless, this kick is reported to provide excellent in-step comfort thanks to its well-padded footbed, collar, and tongue.
For those who want to cop a pair, the Balenciaga Triple S Trainers is available in US men's and female's sizing.
Balenciaga Triple S Trainers Style
Whether you're into this kick or not, the Triple S Trainers are undoubtedly a pair that's hard to ignore. Its unprecedented design coupled with its successful attempt to theatricalize the latest sneaker trend has most definitely captured your attention, whether you like it or not. This kick took cues from the 90s trend of chunky shoes, combined it with your grandpa's vintage sneakers and ran with it. It resulted in an out of this world looking sneaker, prompting some consumers to dub it as merely a futuristic kick.
These sneakers' color-blocked upper combined with its triple-stacked sole and finished with a worn-in look doesn't suit most outfits, unfortunately. But with today's social media, styling tips for dressing the Triple S Trainers in different outfits are readily available.
Men's styling tips
Some of the Balenciaga Triple S men's outfits you could try are: pairing it with joggers or straight cut jeans, colored socks, and a shirt and jacket for the ultimate streetwear look or opt for sweatpants and sweatshirt for an athleisure-inspired outfit. For a complementary dad outfit, match your sneakers with oversized, cropped slacks and a button-down polo.
Women's styling tips
The women could easily rock this kick with an oversized tee as a dress and accessorize with a puffer jacket for an effortless look during cold seasons. For a normcore-inspired ensemble, go for solid midi skirt matched with an oversized boxy top layered with a long coat. As a general rule of thumb, fashion-savvy wearers advised not to pair the shoe with tight-fitting pants, as this kick will look more massive than it already is.
Notable Features
These American-inspired oversized kicks are decked out in distinct attributes that were never seen before. Its upper comes clothed in various colorways, from tonal cream hues to color-blocked distressed look and metallic accents. Upper materials include 60% polyester, 25% calfskin, and 15% lambskin, which offer a myriad of textured styles. Its laces are bicolored and are fashioned after round hiking shoelaces.
Some other unique features of this shoe are the embroidered shoe size on the toecap, the extended heel sole with a quilted effect, and of course the triple-stacked sole. Earlier versions of this kick featured pull tabs on the tongue and heel, but latter versions attempted for a more minimal look by getting rid of the pull-tabs, utilizing a thinner nylon material with suede accents, and toned down hues.
Features that set the real ones from the fake ones
Fake and replica iterations have unfortunately been rampant in the market lately so here are four significant features you could look for to authenticate if your pair is the real deal. First, real Triple S models' logos and brandings display faultless and clean stitching. So check if yours have an excess thread showing. Second, compare your shoes to pictures of the shoe in Balenciaga's site and see if overlay pieces are of the same size and cut. Third, compare if the mesh sections are of the same hue as that of the picture of the real one. Lastly, the debossed logo on the shoe's outsole appears to be deeper compared to fake models. Taking these steps could help in making sure you get the bang for your buck.
Balenciaga Triple S Trainers History
Balenciaga is a luxury fashion house that was founded in 1919 by Cristóbal Balenciaga. The brand was initially known for creating couture clothing that had to be handmade and pre-ordered. The fashion house's distinctive trait is that they created clothing from an architectural standpoint. In 1986, Balenciaga took a turn from its couture traditions and dove into the ready-to-wear market under the management of Jacques Bogart.
The label's first dip into sporting clothes, however, was in 1992 where they designed the French team's uniforms for the Summer Olympic Games under Nicolas Ghesquière. His term ended in 2011 and was replaced by Alexander Wang in 2012. This time the brand was driven by Wang's signature style that is widely regarded as the athleisure. Balenciaga started to release products that combined athletic wear with high fashion and somehow helped bring sports-rooted streetwear into the mainstream. Wang only stayed with the brand for a couple of years and was replaced by Demna Gvasalia who carried on with the athleisure trend.
Demna Gvasalia is a Georgian fashion designer who, aside from being Balenciaga's creative director, is also the head designer for Vetements. Demna is known to push the envelope of possibilities when it comes to design - this is especially evident in his arguably most famous composition, the Triple S Trainers.
The Triple S Trainers put the trend "ugly/dad/chunky sneakers" to a whole another level. It debuted during the Balenciaga's FW17 runway shoe. The brand described this kick to be a visual medley that took inspiration from three different sports: running, basketball, and track and field. The shoe displays a triple sole that is stacked on top of the other, which is unheard of.
Balenciaga Triple S colorways
This kick is available in various colorways with a few being released in collaboration with other companies. This includes the Balenciaga Triple S drenched in blue and yellow which is a colorway released in collaboration with Ssense. The Balenciaga Triple S in neon green and cream is a Mr Porter collab while the Balenciaga Triple S in cream and yellow is a Dover Street Market release.
Other colorways available also include grey/blue/white, white/green, blue/gri/red/black, vanille, black/yellow, orange/grey/blue, white/navy, gray, neon pink/black/white, black/red, white/ecru/black, lime green/black, grey/black/volt, blue/orange, cream, Bred, and white.
Various iterations of the Triple S
Balenciaga introduced a stripped version of the Triple S sneaker in 2018 with an aim for easier pairing with everyday wear. This newer iteration features fewer overlays and simpler lines than its predecessor. In exchange for the multi-material upper and vibrant color schemes are mesh with nubuck overlays and fewer color contrasts and brandings, giving a more minimal aesthetic. The shoe also displays a barcode and the size on its tongue tag.
Another update of this famous sneaker is called the Balenciaga Triples S Clear Sole Trainers. This version features clear midsoles with air bubble units, which most likely is a response regarding comments about the weight and stiffness of the original model. The upgrade offers more shock absorption and reduced weight. This China-made Balenciaga Triple S is offered in black and white colorways.
This third update is essentially merely an aesthetic upgrade. Dubbed as the Balenciaga Triple S Trainers Bicolour, the shoe retains all features of the original design but this time displays a 'half and half' colorway with two different colorways split down in the middle. It is available in two options: grey/black and grey/blue/white.
The successful run of the Triple S trainers
Arguably the most famous Balenciaga sneakers to date, the Triple S has hit the jackpot when it comes to sparking the market's interest. This sneaker's history ticks off every box of a mega-successful sneaker release: celebrities are regularly seen rocking them, fake versions are being made, and reselling prices are unbelievable. Some of the personalities that love this kick are models Bella Hadid, Abbey Clancy, Hailey Baldwin, Gigi Hadid and musicians Rihanna, Pharrell, Rita Ora, Teyana Taylor, and Migos.
Another indication that the shoe is such a hot commodity in the sneaker world is the fact that Balenciaga Triple S fake versions are rampant in the black market, especially in Asia. And replicas by other brands have also saturated the market. Brands such as Calvin Klein, Topshop, Ash, SNKR Project, and Zara are some of the companies who have released their Triple S-inspired sneakers. Lastly, the fact that resellers in the aftermarket are offering it from around $800 up to $1,900, and some people have actually acquired them due to the shoe's scarcity show that this kick is in demand whether you're in favor or not.
Nice to know
The Triple S Trainer was initially manufactured in Italy, but in 2018 the brand announced that they transferred their production to China. The reason for the transfer, according to the brand, is China is more equipped to manufacture a lighter version of the kick.
This pair comes with an extra pair of laces and a shoe bag.
The Triple S in the shoe's name means 'Triple Soled.'
Popularity
The current trend of Balenciaga Triple S Trainers.