Who should buy Asolo AFS 8000
The mid-priced Asolo AFS 8000 is recommended for wearers who prefer an insulated, double boot. It's an ideal purchase if:
The user expects to tackle cold, snowy mountain trails
A plastic boot is preferred
The adventurer needs a waterproof boot
Climbing-focused outsole
The dual-color Vibram Nilgiri is a crampon-ready outsole. The angled lugs on the toe and heel area ensure grip on descents and ascents. Its aggressive and self-cleaning lugs, which are strategically laid out, give stability and enhance the braking ability of the boots.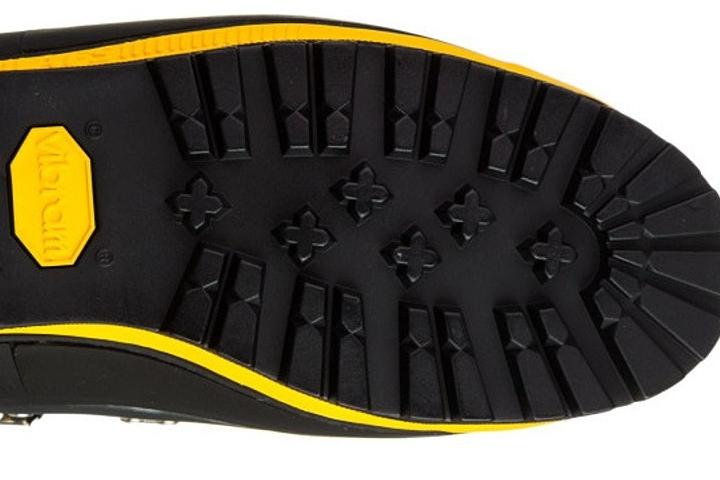 Asolo AFS 8000's stabilizing midsole
The AFS 8000 has a PU midsole with carbon fiber and a fiberglass skeleton. This layout makes the boot supportive and stable without adding too much weight. The PU midsole soaks up the vibration from ground impacts while keeping a durable cushioning thus, enhancing walking comfort. The AFS anatomical footbed provides additional padding and support.
Asolo AFS 8000's multi-feature upper
The Asolo AFS 8000 is a double-boot that uses Pebax for its outer shell. This elastomer (a polymer with elastic properties) has a multitude of benefits, making it favorable for a broad range of outdoor activities. This material is appreciated for its low weight, flexibility, and stress resistance. Also, it is widely used in the footwear industry as it can withstand extreme environments (low to high temperatures).
The hard shell design of the outer, which includes a tongue, is accompanied by metal lacing hardware which combines hooks and D-rings for secure lace-up closure. It is also reinforced from the toes to the back of the heel for utmost protection.
The anatomically shaped inner boot of the AFS 8000 is a combination of PU sandwich and 3 mm polyethylene. The former gives the boot a stronger yet lighter feel while the latter grants an agreeable amount of hardness and rigidity. Furthermore, polyethylene feels waxy when touched. It has a separate tongue and closure system using Velcro.
An inner boot that promotes warmth
The lining of the inner boot is made up of Thinsulate and Velveteen which render insulation and promote comfort. Thinsulate , a lining manufactured by 3M, has microfibers that trap air and block heat loss while allowing moisture to escape. Its thin and lightweight composition is less bulky and promotes freedom of movement. Velveteen has a smooth back and is usually made of cotton. It resembles velvet but doesn't drape as easily.
Asolo AFS 8000's protective heel and forefoot
As part of the Asoframe technology, this mountaineering boot has a microporous rubber inserted at the heel for shock absorption.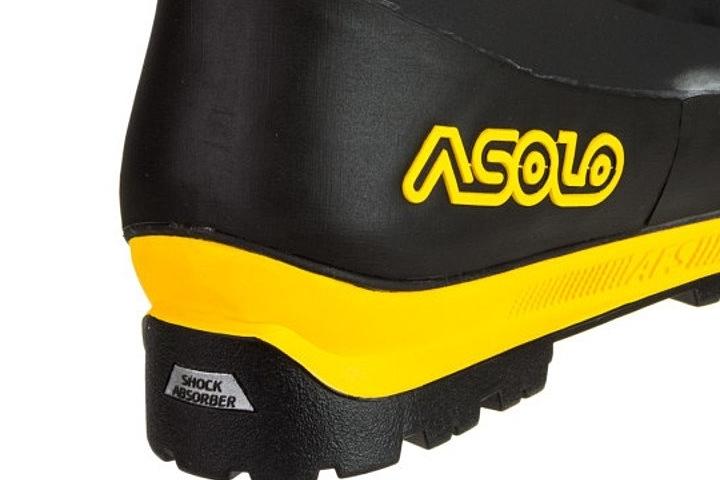 Likewise, it includes a toe box structure that protects the toes from jamming and pinching.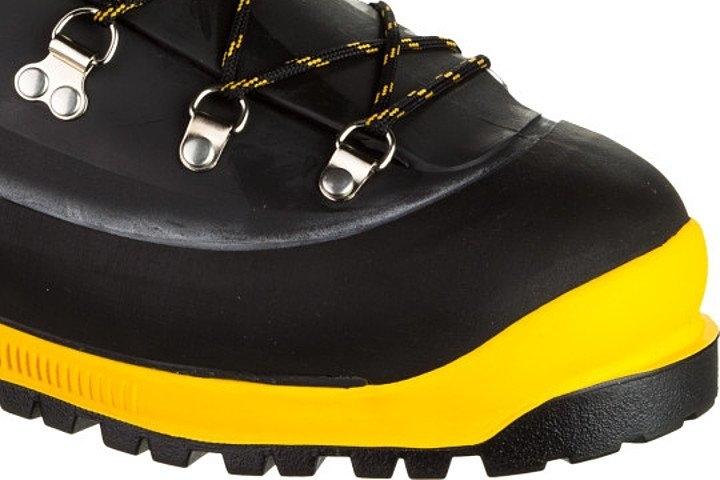 Compare popularity
Interactive
Compare the popularity of another shoe to Asolo AFS 8000: