Verdict from 6 experts and 67 user reviews
7 reasons to buy
Ride: The runners describe their experience in the Hyper Speed as "nimble", "smooth", and laud the rocker design for quicker transitions and a decent push-off.
Price: For a budget-friendly racer, its quality and performance exceeded the reviewers' expectations.
Weight: It's got the lightness of a racing flat that is welcomed for sprints and tempo runs.
Breathability: With its large venting holes, the upper has excellent airflow and works great on hot days.
Durability: Those who ran over 50 miles in the shoe are amazed at how well it holds up: there is no visible midsole creasing or outsole wear.
Impact protection: The shoe offers enough cushioning for mid-distance runs up to 10K.
Race-flat fit: Runners with medium and narrow feet are happy with the form-fitting upper that gives a great lockdown despite minimal padding.
3 reasons not to buy
Stiffness: Both the upper and midsole feel more on the rigid side, so comfort is not the shoe's strongest point.
Not for heel strike: The transitions don't feel as seamless when you land on the heel.
No heel tab
Bottom line
The Hyper Speed from Asics is not only light on the foot but on the wallet as well. It has a simple design that works wonders on short and mid-distance runs. The shoe is perfect for speed training and can even handle a race.
It's a great starting point for those who are new to the low-profile race shoes.
If you're looking for a more premium race flat that's infused with a carbon plate, see Asics MetaRacer.
Tip: see the best running shoes.
Our reviews
The Asics Hyper Speed is an entry-level race flat with budget and weight as its highlight. It is chiefly designed for tempo day and race day.
The Hyper Speed has been a long-standing race shoe in the Asics lineup, but it went AWOL a few years back. With the new Hyper Speed, it's definitely come back time! And since it's totally revamped, I won't be comparing it to older models.
Pros
Upper
The upper is composed of an open mesh material that has very large venting holes, amplifying breathability. Not only that, but it is also very light and it's minimally padded.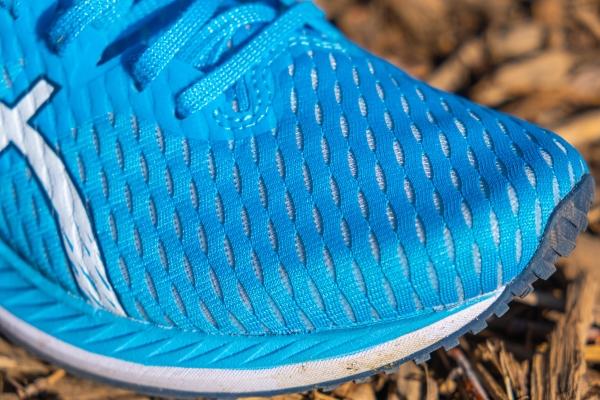 Tongue
It has no padding, which I like. However, I have more to say about the tongue in the cons section.
Heel counter
It's not totally soft like many race shoes; it just has medium stiffness. There's also some padding on the collar, which feels good on the foot but it doesn't really provide great heel lockdown.
Midsole
The midsole of the Asics Hyper Speed is made up of a lightweight EVA foam. It's nimble, and it very much feels like a race day shoe—it's neither plush nor overly firm.
It also has plenty of cushioning for mid-distance runs, providing protection from the ground, but feels pretty minimal, other than that. Moreover, it has a nice rockered design with Asics' Guidesole technology.
Despite not having a carbon plate, it has nice, smooth, and quick transitions, plus a good toe-off.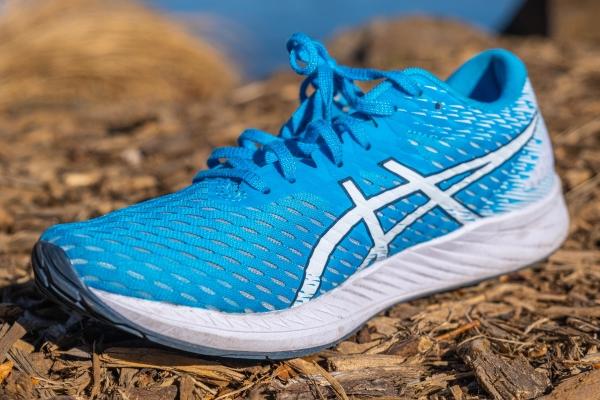 Outsole
It is simple, lightweight, which is the primary goal of this shoe. It also has full coverage throughout, which is a nice plus.
The outsole is just a few mm of rubber but that's more than adequate for a race shoe. In terms of grip, it's pretty standard. There's nothing to write home about.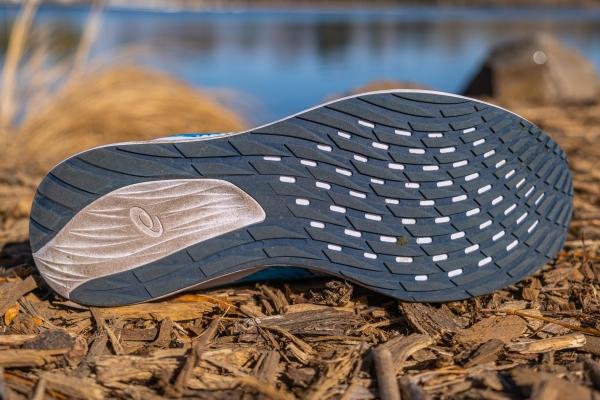 Cons
Upper
It's not really as flexible nor as soft as I would have preferred. Since this is some sort of a narrow design, I would have liked a little more give in the upper. However, I do get that this is a race shoe so it needs to be stiff for lockdown.
Tongue
There are no gussets, while the hem on the edge only goes halfway down. Again, I get that they tried to trim down the weight, but it just feels unfinished.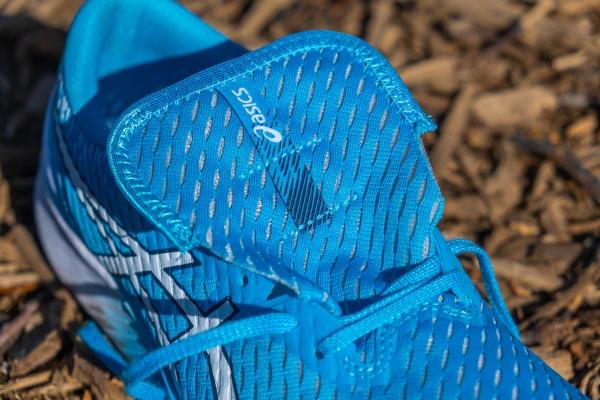 Lacing system
The shoe has a standard lacing system, but the laces are very short and they feel a little minimal in hand. I'd recommend that you upgrade to a little longer and more robust laces.
Heel counter
As I mentioned, I had some heel slip, and it feels a little shallow. The lace length made it difficult to do a modified lacing technique to solve this. Lastly, the shoe has no heel tab.
Midsole
Obviously, the ride is not as plush as that of the Flyte Foam. But bear in mind, it's a racing flat, not a trainer, and it's working on a budget, so it can't have that premium foam.
It's a little narrow underfoot, and even though it's close to the ground, I felt the narrowness on turns and uneven ground.
Specifics
Fit
It's a narrow platform with a narrow fit. But—and this is a huge but—it's an Asics race shoe, and I have a slightly wider foot, so I was surprised that it fit at all. I think it should work for most people, as it's actually not as narrow as other shoes set up for race day.
The stiff upper may not break in or flex enough for those with wider feet. Plus, there's the issue with the heel slip and the laces being too short.
Comfort
It's not the world's most comfortable shoe. It's stiff underfoot, and it's definitely not plush. It kind of feels unfinished.
The tongue also needs manual placement to get it where you want it. It's also built for speed and definitely not for comfort.
Overall, I think it's great for short race days, 5-10K, or tempo runs up to 6 or 7 miles.
Weight
It's only 7.48 oz, and this is the major draw. It's just insanely lightweight!
Drop/stack
Durability
It's light, and I think they cut some corners here to make it this light. Probably, 200-300 miles, I'd say, but mostly because the upper may fall apart.
I don't have big concerns on the outsole, or the midsole, really. But again, as a race shoe, that's really not bad.
Looks
I dig it. It looks fast, minimal, and light. It legit looks like a race shoe. The other colorways for men look great, with lime green accents and some black on the upper.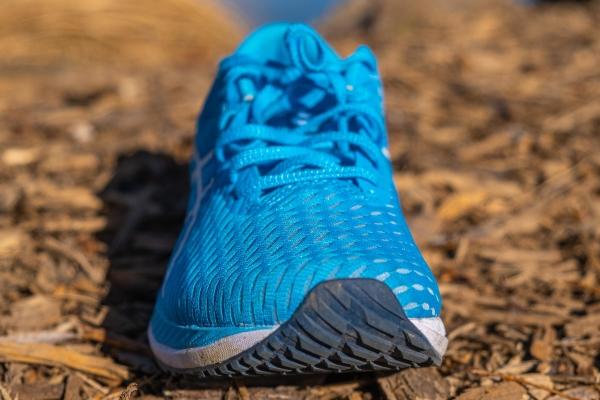 Price
Here's the big value add. It only retails for $90. And yes, you heard me right!
This is a value-oriented, lightweight race shoe. I love the price even though I may not love the shoe. It fills a very needed slot for first-time racers or those needing a second or third shoe to add some speed training in.
With other carbon-plated race shoes these days with $250+ price tags, it's nice to see Asics create this shoe.
Overall conclusion
I mean it's not the Hyperion Elite or the Rocket X, but it's a lightweight, race-ready, bargain-priced shoe that performs well.
The Hyper Speed has never had many bells or whistles. There are no changes with this new version.
It's minimal, and some corners were cut to keep weight down, but it's a decent shoe option for those looking to add a very decent race flat or speed shoe to their lineup without breaking the bank.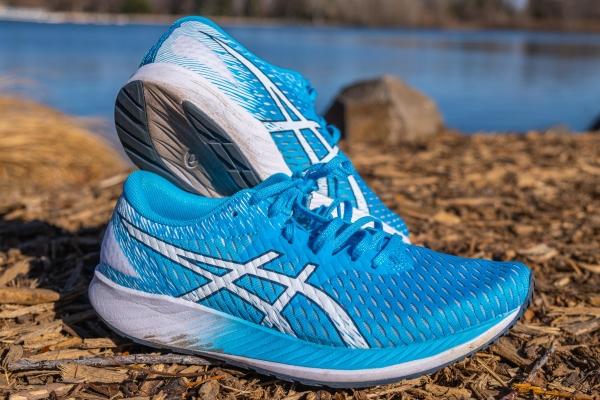 Asics Hyper Speed: a no-nonsense racing shoe
A simple racing flat like Hyper Speed is easy to overlook in the times of fancy carbon-plated shoes. Although this Asics model doesn't scream elite, it brings all the essentials you would expect from a basic race-day shoe:
Lightweight (at 7.4 oz, it's lighter than 80% of competition shoes)
A low-to-the-ground midsole with firm minimal cushioning won't drag you down on high speeds
Thin, highly breathable upper
With a budget-friendly price, it is a solid entry-level racing shoe.
Asics Hyper Speed vs. Asics MetaRacer
With the retail price of $200, it is quite clear that the MetaRacer is Asics' first-class race flat. Don't let the look-alike visual designs of the two trick you. Here is what makes the MetaRacer taller by a head:
Carbon plate: a super-stiff piece inside the midsole that creates a propulsive effect to boost your pace
Lightness: it is 1 oz (30 g) lighter than the Hyper Speed
Bouncier foam: the brand's A-list FlyteFoam is among the springiest cushioning setups
If 'Hyper Speed' rings a bell...
Asics already had a line of staple racers with the same name. The latest one, Asics Hyper Speed 7, was released in 2017. However, there are very few similarities between that shoe and the revamped Hyper Speed. But the concept stays the same: it is a straight-forward cost-efficient race flat.
How Hyper Speed compares
Corescore: 56-59
1 shoes (0.1% of shoes)
Corescore: 60-63
7 shoes (0.72% of shoes)
Corescore: 64-67
15 shoes (2% of shoes)
Corescore: 68-71
25 shoes (3% of shoes)
Corescore: 72-75
72 shoes (7% of shoes)
Corescore: 76-78
116 shoes (12% of shoes)
Corescore: 79-82
252 shoes (26% of shoes)
Corescore: 83-86
249 shoes (26% of shoes)
Corescore: 87-90
199 shoes (21% of shoes)
Corescore: 91-95
32 shoes (3% of shoes)
Price: £40 - £70
75 shoes (8% of shoes)
Price: £70 - £90
218 shoes (23% of shoes)
Price: £90 - £110
183 shoes (19% of shoes)
Price: £110 - £140
259 shoes (27% of shoes)
Price: £140 - £160
129 shoes (13% of shoes)
Price: £160 - £190
55 shoes (6% of shoes)
Price: £190 - £210
34 shoes (4% of shoes)
Price: £210 - £230
4 shoes (0.41% of shoes)
Price: £230 - £260
8 shoes (0.83% of shoes)
Price: £260 - £280
3 shoes (0.31% of shoes)
Weight: 79g - 114g
3 shoes (0.36% of shoes)
Weight: 115g - 150g
10 shoes (1% of shoes)
Weight: 151g - 185g
34 shoes (4% of shoes)
Weight: 186g - 221g
90 shoes (11% of shoes)
Weight: 222g - 257g
200 shoes (24% of shoes)
Weight: 258g - 293g
232 shoes (28% of shoes)
Weight: 294g - 329g
169 shoes (21% of shoes)
Weight: 330g - 364g
57 shoes (7% of shoes)
Weight: 365g - 400g
23 shoes (3% of shoes)
Weight: 401g - 437g
4 shoes (0.49% of shoes)