ASICS Gel Kayano 26 review
This shoe is a workhorse with great build quality, great fit, and lots and lots of mileage. Due to the tread, the shoe is usable on roads as well as easy dry trails (in my opinion).
It is a very stable shoe that minimizes overpronation. I would consider it being a good option for a medium-to-severe overpronating runner that doesn't care too much about speed, who needs a daily trainer that will last a long time.
I would, however, not recommend running longer than 20K in these shoes, since the cushioning is relatively firm.
This is probably a general downside of being a stability shoe: it is difficult achieving both stability, cushioning, and flexibility in the same shoe, and the Gel Kayano 26 leans heavily towards being a stability shoe.
The upper
The shoe has a mesh upper with padded tongue and collar. The mesh is stabilized somewhat by the ASICS logo and the toe trim and eye-stay that are made with less flexible material.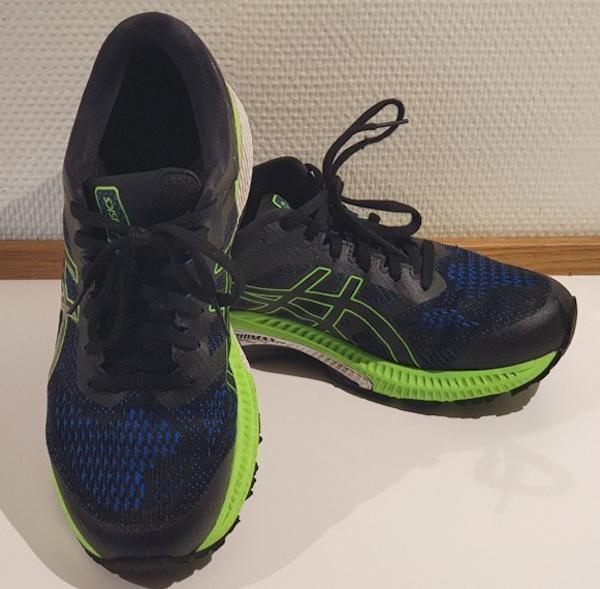 The sole
The midsole consists of part Flyte Foam, part DuoMax. The heel has a wedge of the famous ASICS GEL, and around the arch, you will find some thermoplastic meant as a stability measure.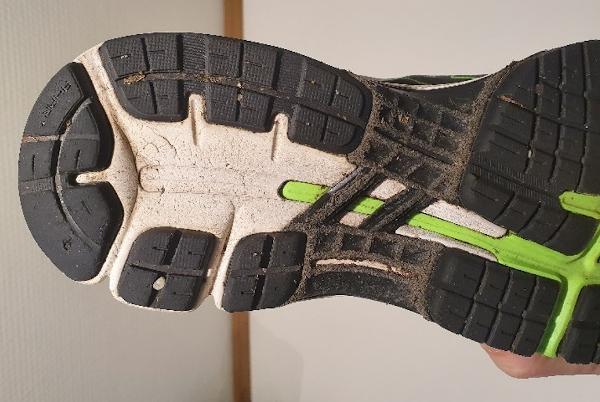 With a relatively thick outer sole that will last for many, many kilometers, this shoe is a workhorse.
With a 10mm heel-to-toe drop from 29mm in the heel to 19mm in the forefoot, this shoe is designed to be a heel-striker.
Why I bought the Gel Kayano 26
I had a goal in 2019 of being able to run half a marathon, and I simply couldn't run much further than 10km before I started getting fatigued and sore in my knee joints.
After having recorded and watched my gait on a treadmill, I was recommended a stability shoe and bought the Gel Kayano 26.
My thoughts on the shoe
The good
Comfort and stability: The shoe upper is very comfortable with a perfectly accommodating toebox. I never experienced any blisters anywhere, and I ran around 12K the first time I tried them.
The shoe is very stable, and I believe that I have this shoe to thank for reaching my last year goal of running a half marathon. In fact, I ran two half-marathons and a trail run of 17km last year.
Even though this shoe is a road shoe, the sole has just enough tread that you can also run on (dry) trails and paths.
All terrain-ish: Due to the tread of the sole, you're able to take this shoe on dry trails and paths through the woods.
However, the tread-design also picks up some smaller debris and granules on the way. You will quickly find yourself with a muddy behind if you try to transverse muddy terrain.
But on the other hand, the shoe is not intended to be an all-terrain vehicle.
Build quality: I've run 333 km (207 miles) in these, and a bit of wear is apparent on the outer sole.
Mostly on the outsides of the heels, and a bit of creasing in the Duomax midsole. But, other than that, these shoes hold up great. I suspect there is at least another 300km of running left in them.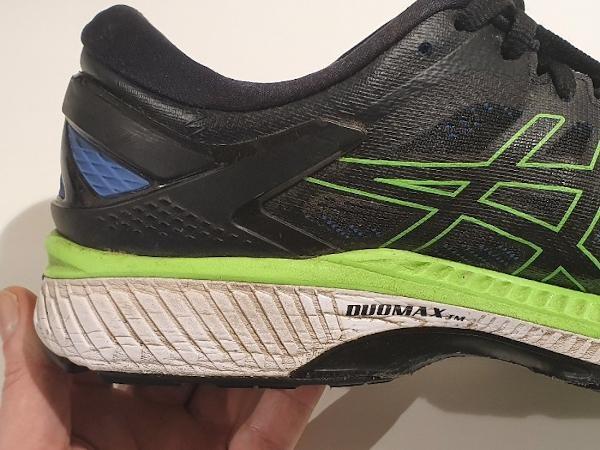 The bad
Unsecure fit: Comfortable as it is, I wasn't able to get a good lock-down of my foot. With an accommodating toe box, I believe it is necessary to get a good lock-down around the midfoot and heel.
But, even when I tightened the laces to the point that felt even a bit too constricting, the shoe could just slide right off and on again without undoing the laces. I believe this is due to slightly too much padding around the heel and collar.
Rough ride: With a 10mm drop and relatively high stack height, the shoe is meant to be a heel-striker. Thus, you rely almost solely on the cushioning of the sole (pun intended), but the shoe does not feel very cushioned at all.
I'd consider the shoe relatively firm and on top of that not very flexible. This means that the shoe feels very flat and that you land pretty hard.
When you land on your heel, the transitioning from heel to midfoot is a bit rough. I believe this is due to the thermoplastic embedment in the arch-part of the sole, not allowing for any flexibility at all.
The transitioning from midfoot to toe is a lot better, however. But generally, it is difficult to get a smooth landing in this shoe.
Also, I found that it feels a bit flat and slow, especially when you compare it to other shoes like Hoka's that have their meta-rocker technology. However, landing on your midfoot helps a bit to soften the landing and the transitioning.
Absorbs water: This shoe is quite horrible in wet conditions. The padding around the heel, on the tongue, and collar absorbs water. This means that the shoe gets even heavier and that it makes squishy sounds when you land.
Aesthetics (The ugly in this case): This shoe looks like something that was designed in the 90s. It is big, bulky and filled with crisscrossing lines of contrast textures and colours. I prefer a simpler, cleaner appearance.
My PB's in the Gel Kayano 26
5K: 24:34 - 10K: 51:08 - 21,1K: 1:50:15 - Max distance: 22,3K
Compare popularity
Interactive
Compare the popularity of another shoe to ASICS Gel Kayano 26: