Our reviews
TLDR: This Gore-tex trail shoe has a lot of bells and whistles, but its tight toe box and subpar breathability fall a bit short of its premium price tag.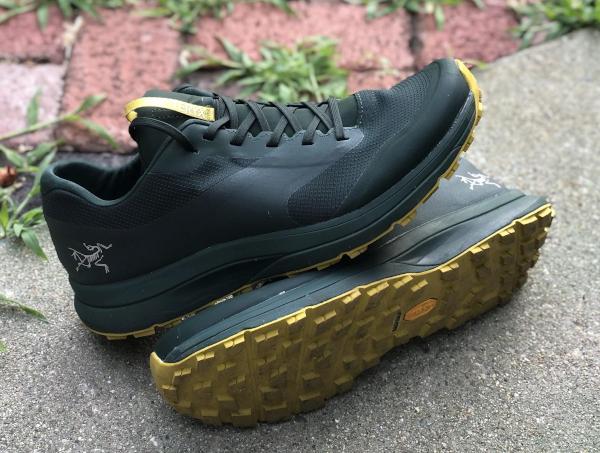 Fit: You can feel the ruggedness of this shoe from the moment you put it on. The shoe is built solid and feels stiff—which is not a bad thing considering it is a long-distance trail shoe.
The toe box is snug on me. I wear an average width size 10.
Support: This shoe has firm cushioning, and is protected with a Vibram outsole for rocky and wet conditions.
Performance: Traction is awesome on rocks and vertical terrain. Meanwhile, waterproofing is only so-so.
Looks: Like most Arc'teryx products, this shoe has a premium feel and a sleek minimalist look. Available in a small handful of solid colors, I chose the forest green with yellow accents.
Test Run
Distance: 5K | Terrain: Varied Trails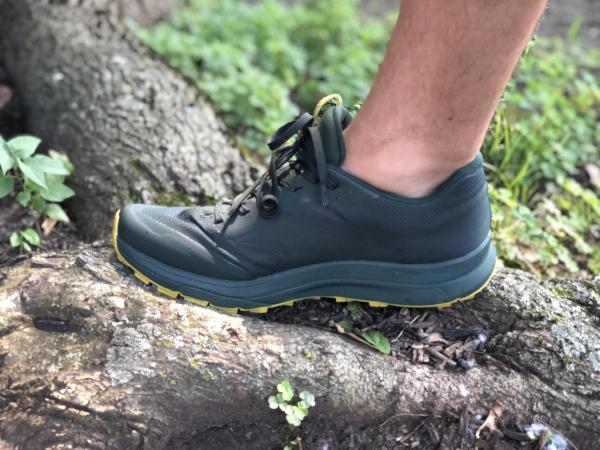 Location: Massachusetts | Season: Summer | Conditions: 85F and sunny
Warm-up
I am excited to take these babies off-roading, as that's what they're built for.
As a long time fan of Arc'teryx winter and hiking jackets, I appreciate their durability—their products are engineered to last—which seems to be a rare thing these days.
I'll be taking them on some varied trails on the North Shore of Massachusetts, ranging from flat and well-maintained, to rocky, vertical, and full of tree roots.
First impressions
They strike me as being quite firm from the get-go, which could be expected since these are the most trail-specific shoe I've ever run in.
Compared to the Asics GT-2000 Trail, they feel much more solid and protective. This is a huge plus since I've had some painful experiences in the past with road shoes and lesser trail shoes.
The toe box is a bit cramped by comparison, my big toe and second toe are snug together. The toe box also creases slightly on the strike, which calls my attention to that part of the shoe.
On roading
The first half-mile of my run is on the road. These shoes are comfortable for a short road run, but I wouldn't wear these for an all-road run.
On pavement, they feel a bit heavy and very stiff, as compared to say something like the Asics GEL-DS Trainer 24.
Off-roading
Finally, I hit the dirt. The lugs give noticeable traction even on firm dirt trails.
As I start to cover some rockier ground, I can barely feel the pebbles beneath my feet. These shoes definitely feel protective from the smaller rocks and roots that you'll find on most trails.
I hit my first rocky ascent, and this is where these babies shine. The traction on rocks is superb. The Vibram outsole really feels different, more like a hiking shoe than a running shoe.
This traction is fun and leads me to accelerate on the uphill—something that I rarely do.
Downhill
On the downhill, these shoes still have great traction, as I jumped from rock to rock in rapid succession I never lost my footing. That is until I hit the bottom of a hill and turned onto a flat trail.
As I turned left, my left foot slipped, and I landed on the side of my foot. I had noticed that the mid and heel of this shoe felt a bit loose, especially compared to the toebox.
I, at least, partially attribute this slippage to the shoe. I stopped and tightened the laces and didn't have any issues from here on out.
The home stretch
Coming back uphill on the last half mile of my run, I noticed that my feet felt pretty hot. As these shoes feature Gore-tex, I was willing to trade off a bit of breathability for waterproofing.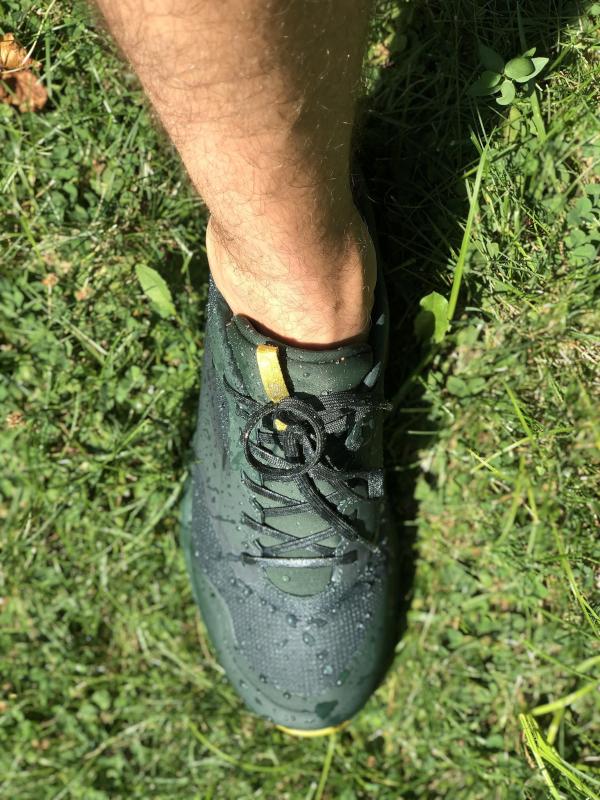 However, the waterproof layer was pretty minimal in my brief testing. Under a lawn sprinkler, these shoes stayed dry inside.
However, under a medium pressure hose over the toes of the shoe, my sock got damp inside.
Conclusions
All in all, these shoes were great for running up and down rocky trails with tree roots and other obstacles. Moreover, the traction on the outsole was impressive.
However, the toe box was a bit snug for my taste, and the mid and heel a bit loose unless really tightened up via laces.
Finally, the shoe wasn't as breathable as would be ideal for warmer trail runs.
Notable elements of the Arc'teryx Norvan LD GTX
- The most significant update on the Norvan LD GTX is stated in its name. It features the Gore-Tex® membrane, which delivers the shoe's waterproof performance. It is lighter, and a more comfortable Gore-Tex membrane with GORE Invisible Fit technology for durable waterproofing and breathable protection.
- This trail running shoe from Arc'teryx also incorporates the Vibram® MegaGrip™ rubber compound in its outsole. It is both durable and grippy with a semi-aggressive tread that provides steady traction over technical terrain in either wet or dry conditions.
- The shoe's strategically placed thermoplastic polyurethane (TPU) film and synthetic toecap add protection with just minimal weight. For long-distance comfort, the shoe is equipped with a long-wearing ethylene-vinyl acetate (EVA)/Polyolefin midsole which helps mitigate the impact to the wearer's feet.
- Lastly, an ergonomically patterned 3.5mm square-shaped lugs are built in the shoe's outsole for better footing and assured traction.
Size and fit
The Arc'teryx Norvan LD GTX is available in men's and women's versions following the standard running shoe. The shoe comes with a roomy toe box that guarantees the wearer a very comfortable trail run. It allows room for the toes to splay naturally, thus, avoiding any injuries to the runner. The shoe fits medium to low foot volume and users with medium arch height. It also comes with a traditional closure lacing system than guarantees a customized and secure lockdown.
Outsole
The Norvan LD GTX is designed with the Vibram Megagrip outsole which is also the same technology found in the popular Hoka One One Speedgoat 3. The Vibram Megagrip uses extremely sticky rubber for uncompromising traction and it also provides a unique combination of grip and durability. This defines Vibram Megagrip to be an ideal high-performance rubber compound for extremely demanding activities such as trail running.
The shoe's outsole is also fitted with 3.5mm square-shaped lugs that are ergonomically placed for reliable traction on a variety of terrain.
Midsole
The midsole of the Norvan LD GTX is made with the EVA/Polyolefin material. It uses 85% compressed EVA and 15% polyolefin blend to provide an optimal underfoot experience that provides efficient shock and vibration absorption. It also offers excellent energy return for long-lasting comfort even on challenging trail runs.
A 0.7mm TPU Plate is also inserted beneath the shoe's forefoot for better protection against sharp objects on the trail.
The TPU Plate works alongside an Anti-Fatigue Insert which is a higher density piece material fitted in the shoe's midsole. It is designed to provide support to the feet for the entire course of the trail run.
The shoe then also has Raised Sidewalls to provide inherent stability, guiding the foot naturally inside the shoe.
Also one of the midsole's features is the 4mm Ortholite 3D molded insert. It helps resists bacteria and provides comfort directly beneath the foot.
Upper
The Arc'teryx Norvan LD GTX features the GORE Invisible Fit. This is a shoe technology that uses a GORE Membrane which is directly bonded to the upper. This allows the shoe to have decreased weight, increased breathability, and an extremely comfortable fit compared to standard waterproof shoes.
The single-layer polyester closed mesh, which is used on the shoe's upper material is both lightweight and durable. It provides the shoe its uncompromised breathability and comfort.
Added to the single-layer polyester mesh is the 0.4mm TPU film overlay. It offers structure to the upper with minimal weight.
The Norvan LD GTX is also designed with a synthetic toe cap that provides additional protection for the toes without excess weight on the shoe's upper in general.
The shoe's closure system is the traditional lacing system. It uses a fused lace pocket that allows for laces to be safely stowed while running.
Compare popularity
Interactive
Compare the popularity of another shoe to Arc'teryx Norvan LD GTX:
Arc'teryx Norvan LD GTX video reviews