Verdict from 12 experts and +100 user reviews
6 reasons to buy
The customers believed that the Altra Torin 3.0 provided the 'right' kind and amount of cushioning; it was neither too squishy nor insufficient.
Many testers confirmed that the shoe stayed in a good condition, even after many miles of running.
The majority were happy with how firmly the latest version of the Torin held their feet inside the shoe, thereby preventing wobbling during the running session.
A few people decided to get extra pairs of the Torin 3.0 since its cushioning system helped speed up recovery from injuries.
A runner was satisfied with how this shoe assisted in maintaining the natural running pattern.
A user described the experience in these lightweight shoes as 'walking on clouds'.
4 reasons not to buy
Most testers complained about the blisters they had due to the shoe's apparently narrow toe box.
A few runners mentioned that the shoe's outsole started to come off after only several miles of running.
One user talked about its upper not being breathable enough to allow a cool and dry experience throughout the day.
Another individual wasn't able to feel the much sought-after 'springiness' in these shoes.
Bottom line
The Altra Torin 3.0 has certainly acquired many fans worldwide through its remarkable cushioning and firm grip both inside and outside the shoe. It was deemed excellent on inclines and the asphalt; however, based on the users' experiences, the pair can use an improvement to the design of its forefoot region.
Tip: see the best running shoes.
Our reviews
Since the minimalist running movement turned mainstream, many of us have altered our preferred shoe type from barefoot to minimalist and back again to basic cushioning.
The Altra brand prides itself on designing shoes on what they call a ZeroDrop™ platform. If you're unfamiliar with shoe terminology, "drop," is best described as the heel and forefoot being the same distance from the ground.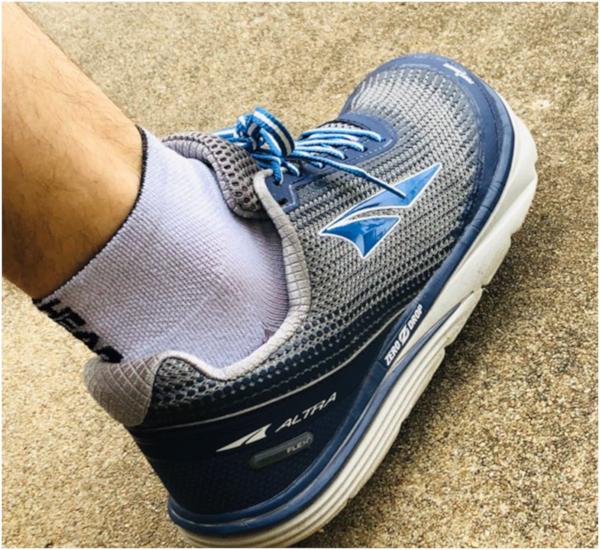 Altra states, "This natural foundation aids in optimal alignment, cultivate better form, and encourages a low-impact landing." This review will explain the Altra Torin 3.0 overall features and performance.
First Impression
The first noticeable feature when wearing the Torin 3.0 is Altra's FootShape™ toe box. Unlike traditional shoes with tapered toe boxes, Altra offers ample room for all those metatarsals to spread out evenly. This design just feels correct in every way.
My toes were able to move freely and plant themselves in a wider and more stable position in the forefoot area. The zero drop was very present and seemed to stretch out the Achilles and calves. This was likely due to my previous trainers having a drop of 10 millimeters that I was used to training daily.
Readers should note that it is recommended if you are new wearing the Altra lineup to transition slowly into them to avoid injury. Allow yourself to gradually rotate the zero drop pair into your running schedule by starting with shorter distances and then working up to longer distance sessions.
Upper
The upper is interesting, and its mesh is tightly constructed while still allowing for great flexibility. Another design feature on the upper includes "dotted" rubber textures spread throughout the upper area.
I'm guessing maybe Altra might have thought these small rubber dots would increase structural support of the upper. The mesh material conforms to the foot very well and almost has a knit feeling that many brands are now offering consumers in today's market.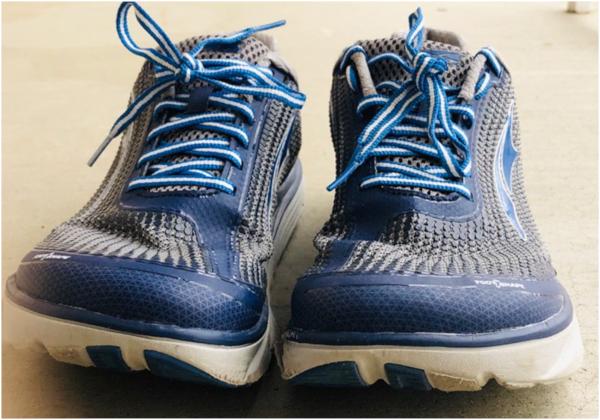 An additional section of the upper includes a thin strip of rubber from the large toe to the first lace eyelet. This strip might have been used to increase the durability of that area where the large toe could wear through the upper material.
My toe seemed to rub slightly inside the shoe as more miles were increased not because of an unnatural form, but because of the strip. I think the mesh material is durable enough without the need of this strip. The breathability was not an issue whatsoever in this shoe since very minimal overlays exist.
Midsole
With a 28 mm stack height, the Torin 3.0 offers plenty of cushion for the long haul without feeling bulky or heavy. That cushion consists of EVA with various Altra-branded technologies such as an A-Bound TopLayer and Inner Flex technology.
This can be described as a waffle-like grid system offering equal shock absorption and increased flexibility. It was nice feeling the low drop and the shoe allowing for more feeling on the ground without a lack of cushioning support.
There's not a tremendous amount of energy return, but I felt the push off in the forefoot was as strong on mile twelve as it was in the first five kilometers.
Outsole
The Torin 3.0 features Altra's Foot Pod technology utilizing foot shaped rubberized tread in areas where the outsole tears down the most. This includes outsole areas of the big toe, lateral midsole, and heal.
Other less wear areas contain exposed foam that surprisingly holds up very well for not having rubber material.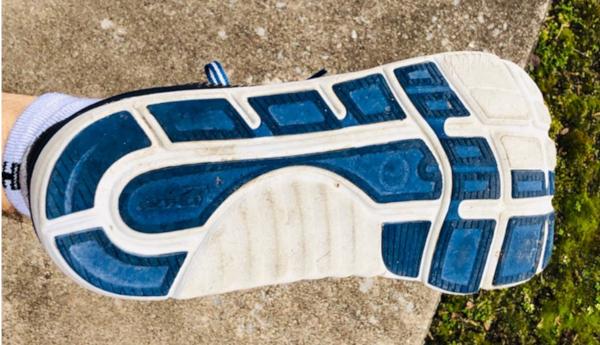 The overall shape of the outsole is that of a natural foot rather than a traditional pattern. This offers a nice wide base from heel to toe and was helpful when transitioning from various surfaces, angles, and elevations.
Another great feature was the tread that had no problem with any rocks getting stuck. Altra seemed to keep its outsole simple yet at the same time very durable.
Overall
The shoe's lightness and flexibility allowed me to pick up the pace when needed all while not feeling beat up the next day after choosing to on a 2-hour long run. Overall, the Altra Torin 3.0 is a versatile shoe that worked well in all terrains including gravel, roads, and dirt.
The only real issue was the lacing system with laces quite long and becoming loose if not double knotted. The eyelets still worked well without hotspots on the foot. With the heel area wider than standard shoes, runners may need to use a "runner's knot" to avoid the heels from slipping out.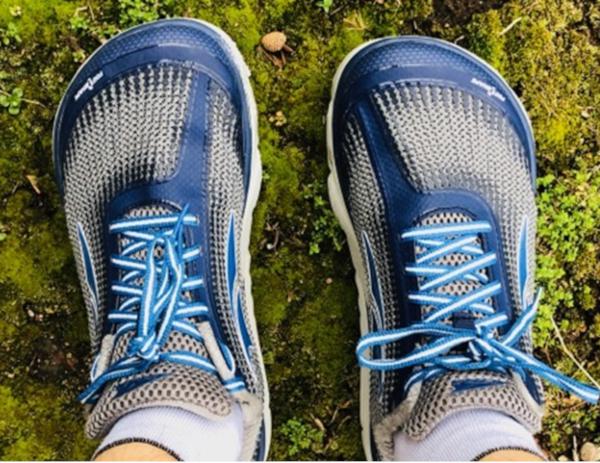 The Altra Torin 3.0 is a lightweight do-it-all running shoe offering the most natural fit and comfort. The zero drop is honestly a calf and lower leg workout so take caution.
However, when used properly, one can see areas of improvement, including a more utilized natural running form, quicker turnover, and less post-run joint pain. I would recommend this for anyone wanting a shoe that can simply do anything, last hundreds of miles.
The shoe really works well in all types of conditions from long distance recovery days to race day competitions in one very unique product. The extreme versatility of the Torin 3.0 is what makes it a true workhorse for any level of runner.
You Make Loving Fun by Fleetwood Mac (Replace "Loving" with "Running")
Sweet wonderful you
You make me happy with the things you do
Oh, can it be so
This feeling follows me wherever I go
I never did believe in miracles
But I've a feeling it's time to try
I never did believe in the ways of magic
But I'm beginning to wonder why
I never did believe in miracles
But I've a feeling it's time to try
I never did believe in the ways of magic
But I'm beginning to wonder why
Don't, don't break the spell
It would be different and you know it will
You, you make loving fun
And I don't have to tell you but you're the only one
You, you make loving fun
It's all I want to do
You, you make loving fun
It's all I want to do
You, you make loving fun
It's all I want to do
You, you make loving fun
It's all I want to do
Apologies if you now can't get that song out of your head but it's the song that came to me every time I went for a run in Altra Torin 3.0! Read on for more on why.
Zero Drop and Foot-Shaped
Torin 3.0, although my first Altra road shoe, wasn't my first encounter with Altra. That was back in Spring of 2015 when I acquired a pair of Superior 1.5, their trail offering with minimal cushioning.
While I was hardly enamored with the shoe (it was a bit too minimal yet heavy) I did note several innovations, including the removable Stone Guard, and Velcro Gait Trap, not to mention zero drop and the distinct foot-shaped toe box, which suggested this was a young company thinking outside the box – or rather, obsessed about the (toe) box.
Now still less than a decade old, the company continues to innovate while sticking to its twin hallmark features of zero drop and foot-shaped toe box.
So, when a chance came up to test and review a pair each of road (Torin 3.0) and trail shoes (Timp) courtesy of OSC Ltd, Altra's UK distributor, it was just too good an opportunity to pass up.
Love the colorway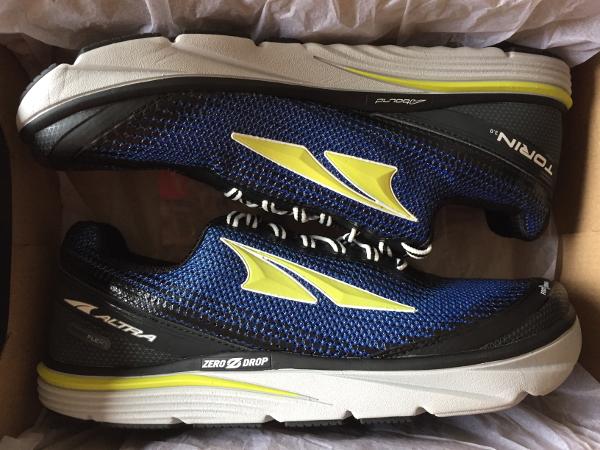 But not necessarily minimal
First off, all Altra shoes, regardless of whether they are minimal, moderate, or maximal cushioned, are zero drop, meaning no height differential between toe and heel – much like your foot au naturel.
The key point to note, particularly for readers inspired by the seminal book 'Born to Run,' is that unlike the huarache sandals were worn by Tarahumara Indians (or Vibram Five Fingers), Altra shoes are not necessarily minimal. Torin 3.0 is in fact rated as high cushion on the Altra scale with a stack height of 28mm, along with a 6mm footbed.
For comparison, Hoka Clifton 5 carries 24mm stack height in the forefoot and 29mm in the rear.
Many runners, myself included, may have had a negative experience while running on zero drop (and, often interchangeably, minimal) footwear.
The tendency is, in the absence of any heel cushioning, to try too hard to both land and take off on the forefoot, with result that all that "tiptoeing" puts excessive demands on the lower leg, leading to calf strains and tears. This all too often brings a premature end to the experimentation with zero drop (and interchangeable, again, with barefoot) running.
With the incorporation of cushioning into zero drop, Altra appears to have hit upon a sort of "sweet spot" where a degree of mid-foot and even heel striking is allowed for, while still enabling the foot to roll through the gait cycle onto the big-toe at take off.
The biggest benefit to the runner, of course, is that due to their zero drop nature (and therefore lack of built-up heel landing area), the gait – almost unbeknownst to the runner – becomes low-impact, with the foot landing underneath the bent knee and the cadence higher, to compensate the absence of over-striding.
Other shoe brands have also made use of this holy grail combination, most notably Hoka, whose models tend to be by and large highly cushioned and while not quite zero drop tend to be at lower drops. The popular Hoka Huaka, for example, came in at 2mm. Even Inov-8 is now entering the fray, with the new Terraultra G 260 being offered at zero drop.
Altra, helpfully, include a comprehensive booklet with all their shoes to help with transitioning to zero drop running. In the case of Torin 3.0, a transition plan is hardly necessary and I was able to enjoy running longer distances in them almost instantly, thanks to ample cushioning.
You can tell from the packaging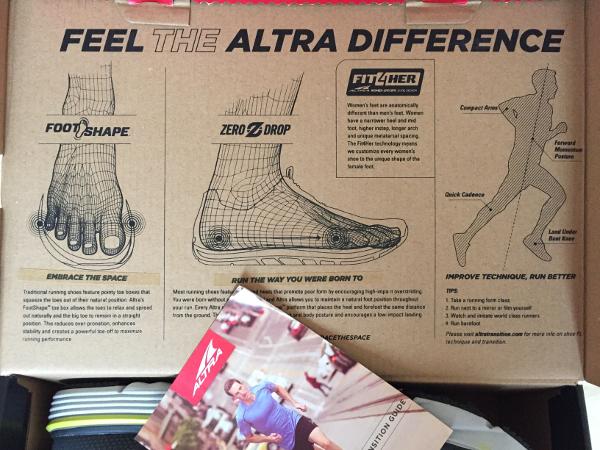 The Foot-Shape Toe Box
Let's be brutally honest here: the shoe is not going to win any prizes for looks.
It may be that our (read: the wider society's) view of what makes a good-looking shoe is firmly and perhaps irrevocably defined by the majority of shoes out there, e.g. conventional looking shoes with narrow foot-bed and pointy toes and that any deviation from that is going to raise eyebrows.
Foot-shaped toe box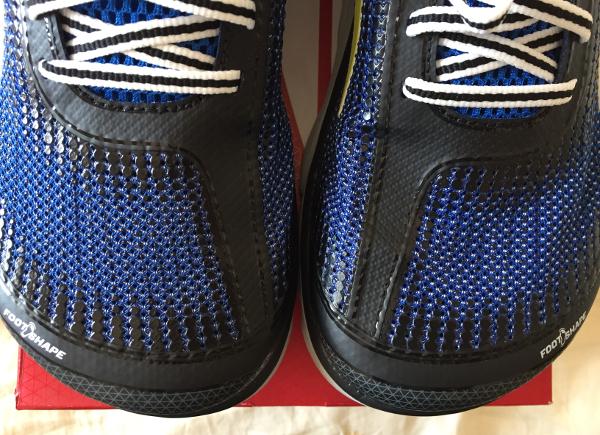 But the irrefutable fact is that the shoes are comfortable, with no scrunching up of the toes into a pointy toe box.
When you think about it, this makes perfect sense since the foot, the marvelous feat of engineering that it is, is meant to perform at its best when given the room for the arch and toes to do their job, as nature intended. And we know that the foot does its job best when toes are given the room to splay, particularly the big toe, which plays a major role in an efficient gait cycle.
It's enough to make you wonder why the Altra concept is not more widely accepted.
Discussion on the merits and otherwise of zero drop and foot-shaped toe-box could go on (and on) and much of it is outside the scope of this review. Let's just say form certainly determines function in this case and raised eyebrows or comments of "duck feet" are a small price to pay for a fun and low-impact running experience.
Quality shoe build
As for the materials and build, Torin 3.0 is quality. The upper has an embossed look which I quite like and keeps the shoe breathable. Altra's website has a much better-sounding term for the upper material: quick dry air mesh with TPU overlays.
Yup – Quick Dry Air Mesh with TPU Overlays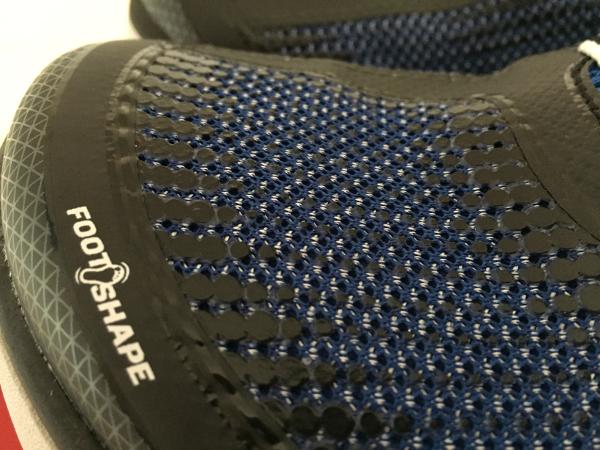 The midsole consists of EVA with Altra's energy return compound called A-Bound top layer. A technical feature called Innerflex (grid-like flex grooves in the midsole to allow your foot to flex where it needs to for more speed and improved performance, per Altra website) is also in there somewhere.
A feature which is discreetly present but possibly one of the most important as far as the run experience itself is concerned is the Footpod technology. Apparently, this "unique outsole and midsole pattern maps the bones and tendons of your foot to let it flex where it naturally wants to." Impressive stuff.
At 238 grams per shoe, Torin 3.0 belies its bulky appearance and is a surprisingly light shoe.
The Fit
With such a roomy foot-shaped toe-box, the fit in the heel is crucial to avoid any feelings of sloppiness.
Altra's guideline is that the shoes should feel loose around the toes and that this is OK since it'll take a few days for your toes to revel in their newfound freedom and spread out naturally. But I've found that as long as the heel feels locked in, a sense of too much room in the forefoot to not be an issue at all.
I found with Torin 3.0 (as I had to with Superior 1.5) that I had to go up ½ size to US11 (EUR45, UK10) in order to give myself enough length. Volume was never going to be an issue.
Once the right fit is found, you'll find yourself wondering about the run experience, since the feeling of Altra on the foot is likely to be unfamiliar to most people.
Good heel fit is critical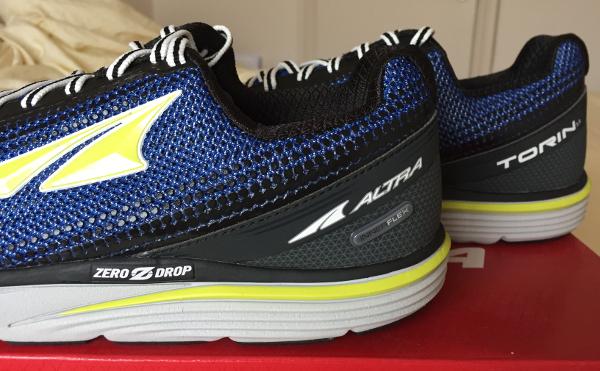 One design feature of Torin 3.0 which I love: I don't know about you but I often have problems with the sliding tongue.
It's always slipping towards the lateral side of the shoe, and quite often require mid-run adjustments. The Torin 3.0 upper pre-empts this potential problem by being permanently fixed on the medial side. Genius.
Other reviewers have commented on the shallower than usual toe box. Not the width, obviously, but the height/volume. I did not find this to be the case at all but I'm aware that I did upsize and that perhaps is the reason I had no issues.
At any rate, the fit is spot on and I knew as soon as I slipped them on that Torin 3.0 and I was going to get along just fine.
The Run Experience
Now, back to that Fleetwood Mac tune. It sounds trite and perhaps not quite believable, but Torin 3.0 really do make running fun. The cushioning strikes just the right balance between soft and responsive.
And in conjunction with zero drop, makes for a more, for lack of a better word, "holistic" running experience. It's as if the body becomes aware that it is out for a more natural, low impact run. It feels as if the cadence has picked up a touch, and the run becomes more of a bouncy one than a plodding one. It's just more "fun."
I have noticed that while running in Torin 3.0, I tend to use more of the outside half of my foot, the side away from the arch than I would in other shoes. At least it feels that way. It is not at all an unpleasant or uncomfortable feeling.
If anything, it feels stronger to land on that half of the foot and to roll through the gait cycle onto somewhere between the big toe and second toe for takeoff. I suspect this may have something to do with the aforementioned Footpod technology and, indeed, the layer of rubber outsole pretty much matches the areas of the foot which tend to be most in contact with the ground while running in Torin 3.0.
This would seem to support one of the many benefits of having a roomy toe-box, namely that it allows the foot to naturally stabilize excess pronation, this being a result of relaxed and spread out toes including crucially the big toe, which plays a major part in stability and powering of the toe-off.
Footpod technology works!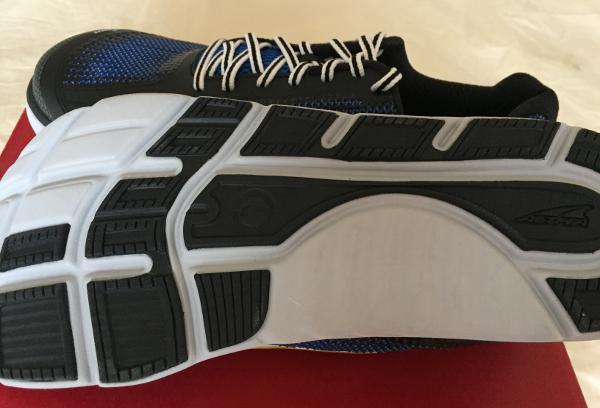 Although I can't prove it empirically until I video the gait from behind and play it back in slow motion (much as you'd see in the gait analysis offered by some of the better running shops, I could swear that my ankles feel straighter and resistant to any rolling inwards, or pronation, as the running experts call it.
I have no doubt that this is a good thing, and perhaps what makes Altra shoes such a favorite amongst natural runners, and not just those with extra-wide "duck" feet, and why so many Altra fans claim Altra have both resolved their injury problems and prevented new ones.
Either way, count me in as a convert. If nothing else, Altra Torin 3.0 makes running fun and for most of us that is good enough and all we can ask of a pair of shoes.
Conclusion
If you're ever going to own just one pair of Altra, Torin 3.0 is a good shot.
It's got enough cushioning to be a daily trainer yet light enough to run a pacey 10k or half marathon in. If on dry, non-technical trails, the exposed midsole and Footpod outsole provide adequate grip as well. I have put over 100 miles on Torin 3.0 over past couple of months and barely any wear is discernible.
My one and only caveat with Torin 3.0 (indeed, with all Altra models) would be in the inconsistent sizing since I've noticed that while I had to size up in both Superior 1.5 and Torin 3.0, the same size in Timp was way too much volume.
As mentioned above, good heel lock is what you'd be looking for and seeking out a brick and mortar stockist might just be the shortcut to going out and having fun!
Good to know
The Altra Torin 3.0 boasts an updated FootPod Outsole with better traction properties and improved flexibility.
The midsole design is designed to deliver a smooth transition through the gait-cycle. It also provides the needed flexibility in order to allow natural movement and surface control.
The Air Mesh used on the Altra Torin 3's upper is updated to allow for healthy circulation of air into the foot-chamber. The porous material accommodates airflow well, thereby maintaining a cool and dry environment.
The Altra Torin 3.0 is a neutral running shoe and fits true to size. It has the standard length. Also, the standard widths of D for men and B for women is applied here. Its semi-curved shape mimics the natural curvature of the human foot.
The Altra Torin 3.0 uses the FootPod Outsole, which is updated to provide more flexibility and traction on the roads.
The environmentally friendly, recycled A-Bound technology delivers an optimal combination of underfoot comfort and resilience to impact shock during the landing phase of the gait cycle.
A two-layered EVA midsole material establishes an underfoot experience that's comfortable and resilient against the potential adverse effects of continued use.
In addition to the EVA midsole, the shoe boasts the 6-mm Contour Footbed for additional protection and cushioning. It follows the natural curves of the underfoot, therefore delivering some comfort to the arch and the spaces between the foot-pad and toes.
Along with maintaining high levels of comfortability, the shoe features the Inner Flex grooves for an easy transitioning of the foot from toe-off to landing. This smart technology improves the flexibility of the shoe, making it possible for the foot to move as naturally as possible.
The Natural Ride System (NRS) design in the Altra Torin 3 with zero-millimeter heel-to-toe drop allows for natural movement of the foot. This is one of the Altra's special features, which makes this brand stand out in the market.
The updated Air Mesh ensures instant cooling and drying of the foot, thereby maintaining a healthy environment for the user throughout the run.
The Strobel Last that's attached to the Torin 3's upper delivers further cushioning. It also accommodates the natural shape of the foot because of its semi-curved and foot-shaped construction.
The lightly padded tongue and collar give a bit of cushioning to the upper section of the foot. They also help in preventing interior wobbling and accidental shoe-removals.
A breathable fabric lining further improves air circulation.
Rankings
How Altra Torin 3.0 ranks compared to all other shoes
Popularity
The current trend of Altra Torin 3.0.