The Air Jordan XXII is a nice follow-up to the Air Jordan XXI. Basketball players are impressed with the performance enhancements that are implemented on the shoe. With its grip, lockdown and support, there's no wonder why this Air Jordan shoe is among the best Air Jordan shoe for basketball.
Pros
Superb for balling

Grippy outsole
Perfect for outdoor plays
Comfortable fit
Excellent lockdown and support
Well-ventilated
Customizable cushioning
Cons
Unnatural interchangeable IPS cushioning

Too

expensive
Who should buy the Air
Jordan

22

This Air Jordan basketball shoe is a good match for you if:
You want a shoe that can withstand rough outdoor courts
You are after a pair that's well-ventilated so your feet can breathe throughout the game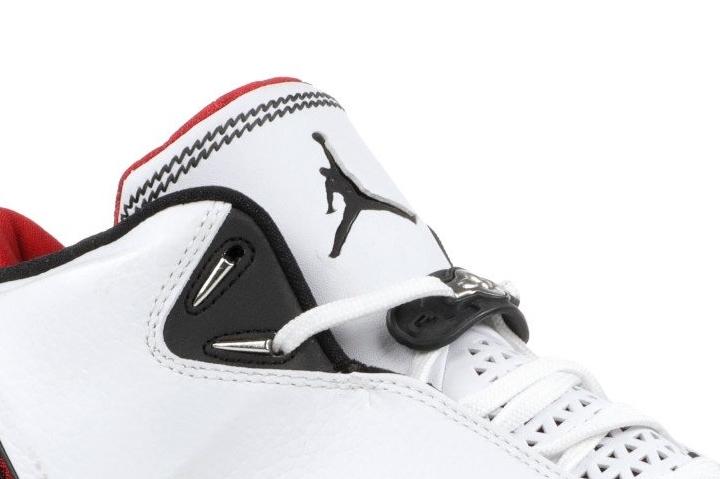 Who should not buy the Air Jordan 22
Overall, the AJ 22 is a solid on-court performer; however, at $175, its price is just too high for some buyers. You might want to check out cheaper basketball shoes such as the Jordan Zoom Separate and the Clyde Court Disrupt.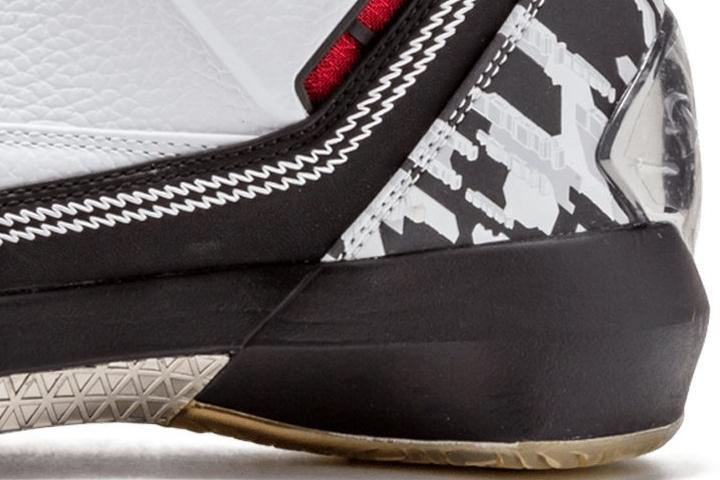 Customizable
cushioning
The Air Jordan 22 has a low-profile Phylon midsole that works with the customizable IPS cushioning technology. Similar to the Air Jordan XXI, Jordan fans are not impressed with the interchangeable IPS cushioning at the heel. Several commented that it's just too targeted and feels unnatural.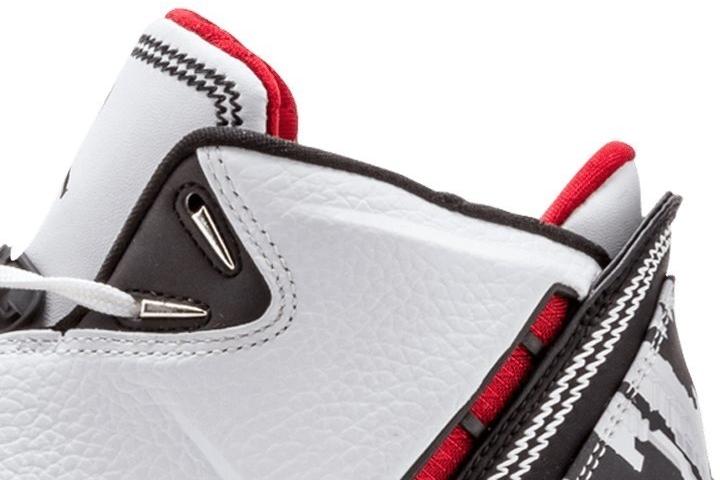 Explaining the interchangeable cushioning pods
The IPS technology of AJ 22 features a visible, color-coded pillar with either double-stacked Zoom Air or Encapsulated Air. Depending on their preference, players can modify the cushioning by interchanging the pods. They can choose between the shock-absorbing Encapsulated Air pillar or the responsive double-stacked Zoom Air pillar.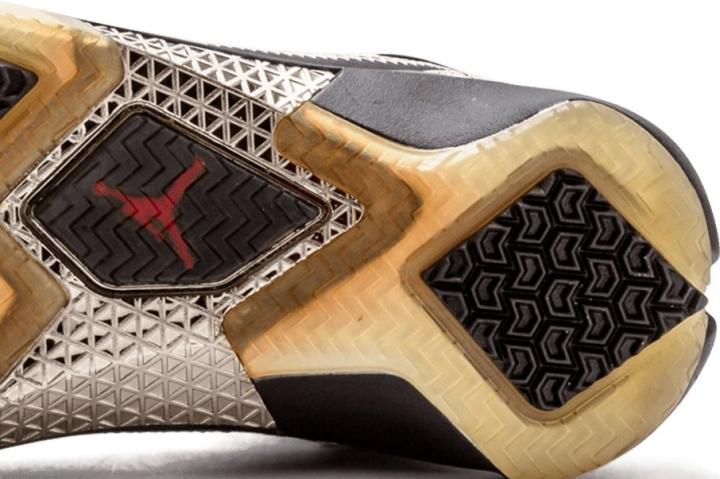 Great grip on indoor and outdoor courts
A good number of basketball players are impressed with the shoe's grip, commenting that it sticks to the floor well and only requires minimal wiping. Several also mentioned that this pair is perfect for outdoor courts as it can withstand rough surfaces.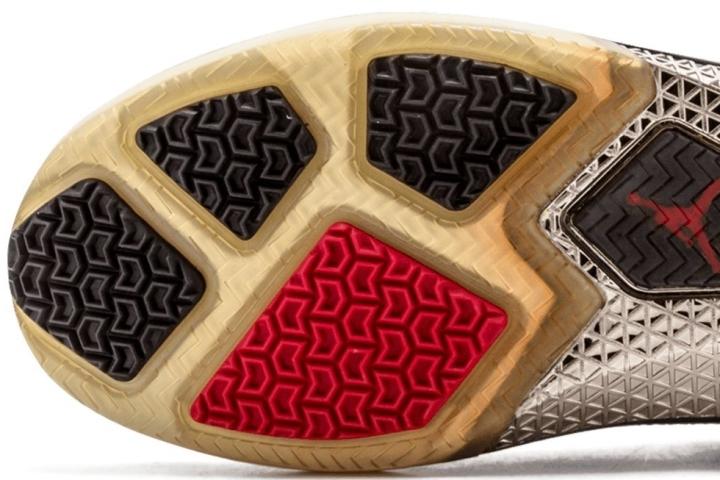 This makes sense since the Air Jordan 22 has a clear rubber outsole with herringbone tread for traction. It also features strategically placed solid rubber pods with a chevron-shaped traction pattern that enhances multidirectional grip.
Comfortable fit
The Air Jordan XX2 provides a comfortable one-to-one fit, according to several players. Hoopers are advised to order their actual size when ordering online.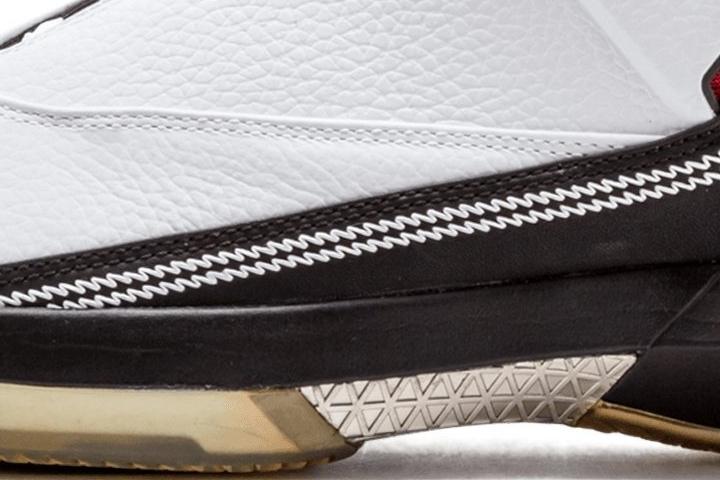 Impressive lockdown system
Several hoopers are pleased that this shoe holds their foot in place, offers extended support, and prevents heel rolls. All this goodness is because of the combined work of the shoe's variable-speed lacing system with titanium-coated eyelets, a durable titanium lace-lock, and a lightweight diamond-shaped heel.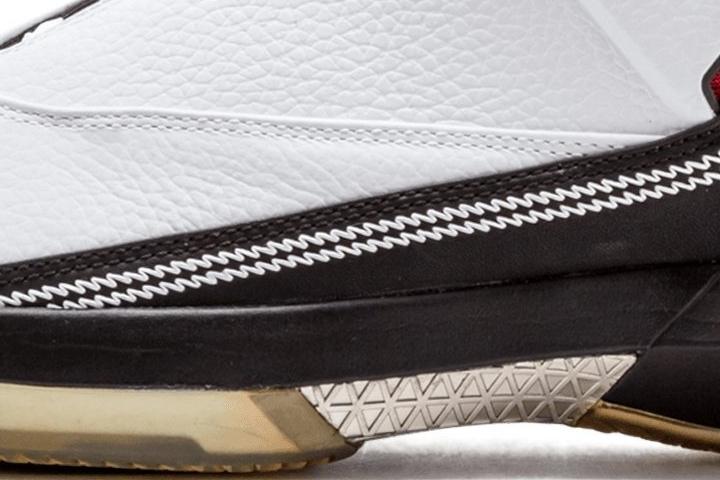 Instead of carbon fiber, this shoe has the first-ever titanium shank plank for arch support and midfoot stability.
Breathability at its finest
When it comes to breathability, hoopers have nothing but praise for Air Jordan 22. With its full-grain leather upper, TPU vents, and breathable tongue, this shoe can effectively withstand heat.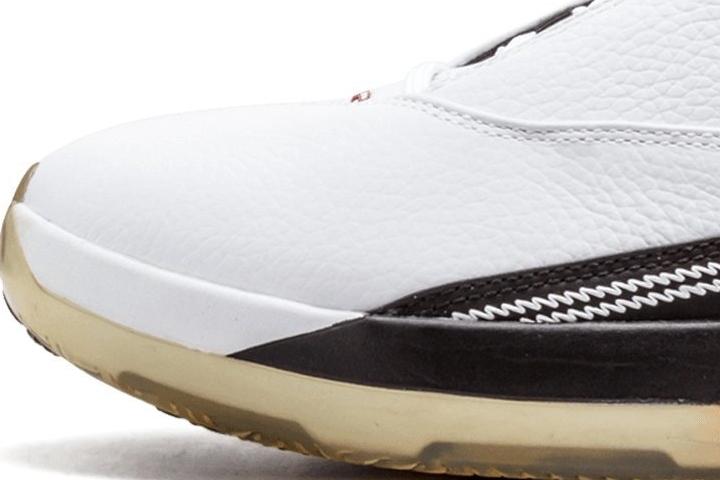 For enhanced breathability and comfort, these basketball shoes also feature a seamless construction with a foam-backed collar and triangular quilting on the tongue.
Style of the Air Jordan 22
Inspired by the F-22 Raptor's maneuverability, the Air Jordan XXII's design incorporates aggressive lines that mimic the fighter jet's flight pattern. A reflective camouflage and radar-inspired stitching complete the shoe's battle-ready look.
Other signature details include a visible Jumpman logo on the tongue and a hidden Jumpman logo on the heel cover that can only be seen at certain angles.
Air Jordan 22: Colorways
The Air Jordan XX2 (high-top) only had four original colorways.
Original Basketball Leather/Game Shoes Edition (Black/Black)
Original Omega (White/Varsity Red – Black)
Original Black/Varsity Red – Metallic Silver
Original White/Varsity Red – Black
A year later, a retro colorway was released as part of the Countdown Pack (CDP).
Air Jordan 22 (XX2 or XXII) Retro – Countdown Package – Black / White