The third evolutionary addition to Kanye West's Yeezy 700 models is the recently released Adidas Yeezy 700 V3. The shoe features a chunky, futuristic silhouette with vintage basketball aesthetics and it delivers a pleasant underfoot experience. Overall, this uniquely-designed Adidas pair earned the commendations of many sneaker fans.
Pros
Beautifully sculpted
Cheaper than the previous version

Appealing hypermodern facade

Light
Breathable upper
Cozy footbed
Glows in the dark
Gorgeous colorways
Cons
Takes time to put on

A bit stiff
Who should buy the Adidas Yeezy 700 V3
The Adidas Yeezy 700 V3 might be for you if:
You are looking for a sneaker light enough to reduce foot fatigue and stress.
A shoe with ample ventilation to keep your feet fresh and cool is what you prefer.
You love wearing shoes with a one-of-a-kind design.
A sneaker that could last a long time is what you are after.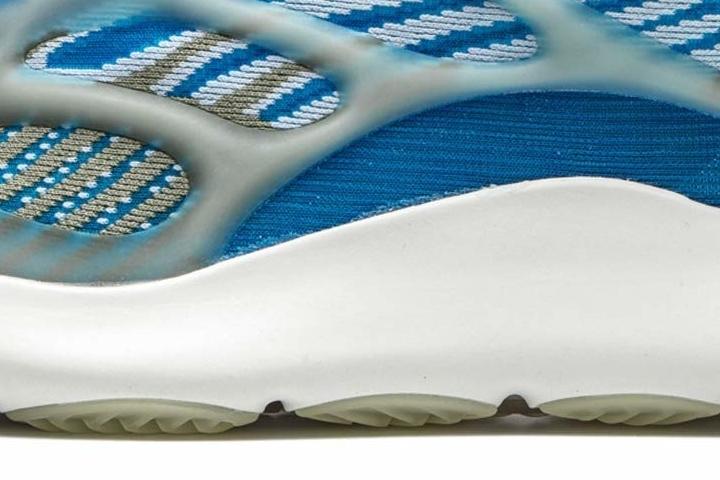 Who should not buy the Adidas Yeezy 700 V3
The Yeezy 700 V3 might not be for folks with a fast-paced lifestyle as it requires some effort to put on. The Adidas 4D Fusio is a solid choice. Also, those who prefer a shoe with enough flexibility might have to look past this Adidas sneaker. They are better off with the Adidas Yeezy 450.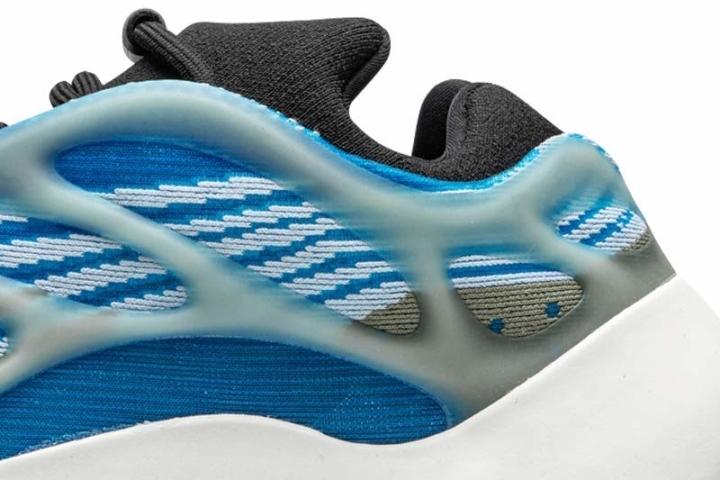 Beautiful and ultramodern aesthetics
Mirroring an alien-like, futuristic vibe, the Yeezy 700 V3 is designed with vintage aesthetics infused with lifestyle detailing. This design is regarded by a handful of reviewers as unique but in an artistic way. Moreover, instead of adding multiple layers of suede and leather as seen in the 700 V1 and V2 iterations, a mixture of mesh and rubber materials is used for the upper. That said, a huge percentage of sneaker fans consider the Adidas Yeezy 700 V3 as one of the most beautifully sculpted shoes on the market.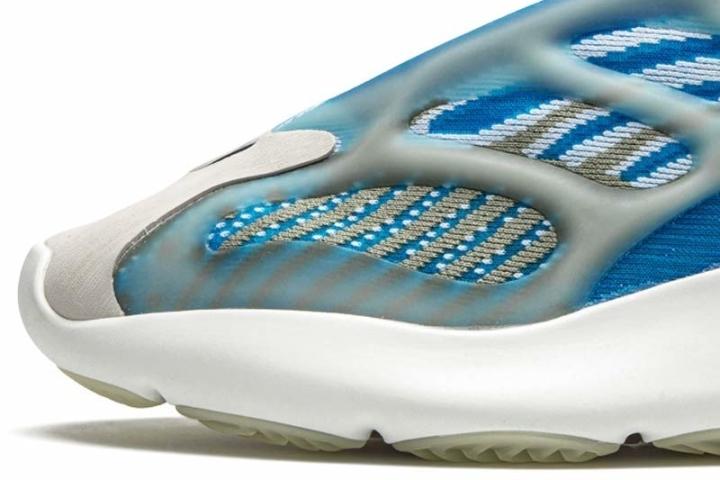 Light in the darkness
Glow in the dark elements are also present on the upper that emit light in the dark. This feature amazes plenty of sneaker fans.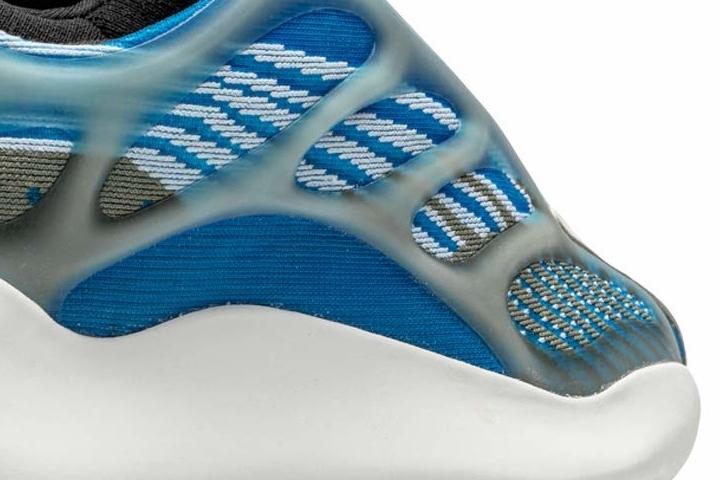 Tough to put on
Some have observed that the shoe's opening is not that stretchy and would take some effort to get into them.
Colorways of the Adidas Yeezy 700 V3
This Yeezy shoe comes in two colorways, the "Azael" and "Alvah", which are inspired by Hebrew names. These color options are very much admired by a horde of buyers. For the "Azael" colorway, the shoe's organically designed upper comes constructed with a white, mesh base and bulky, cream-colored exoskeleton-like cage overlay that glows in the dark. The "Azael" V3s were first unveiled when Kanye West gifted them to DJ Khaled. "Azael" is a Hebrew word that means "made of God".
The "Alvah" colorway has still the same construction as the "Azael" but it features a triple-black look, gray stripes, and a black technical mesh base with cage overlays that still glow in the dark.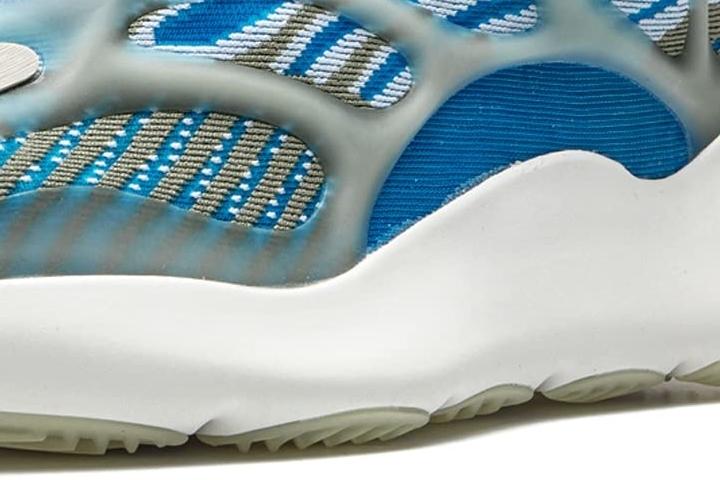 More budget-friendly
Plenty of buyers appreciate that this model is cheaper than the Adidas Yeezy Boost 700 V2 by $100.
Surprisingly lightweight and sturdy
Several wearers find these sneakers to be very lightweight and not as heavy as they look.
Cozy foot cradle
This edition boasts of an all-new PU encapsulated EVA midsole that allows all-day comfort and support. Delivering a supportive feel and bold look is a chunky white bone midsole that is much more than double in size prior to other Yeezy 700 models. The OrthoLite insole provides zonal cushioning in specific areas of the shoe. In fact, according to plenty of testers, these sneakers are comfortable on the feet even without having the Boost midsole. Furthermore, the light blue traction pods secure the blue-accented cushioning while a herringbone rubber outsole underneath provides improved grip and traction.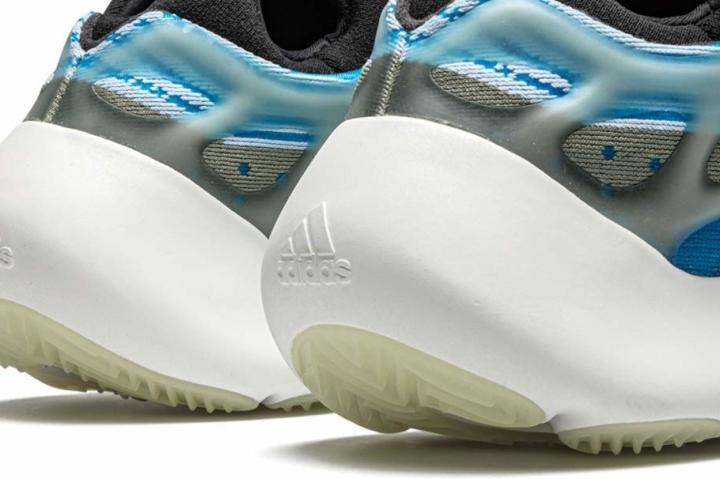 Stay fresh and cool
Given the mesh upper, the Adidas Yeezy 700 V3 offers a healthy foot environment through its adequate breathability.
Quite rigid
A few users complained about the stiffness of this Adidas pair.
Jazz up your Adidas Yeezy 700 V3
With its trendy style, this can be a go-to shoe for street and casual wear. One can pair this with any pair of pants, denim, joggers, jeggings, or even sweat pants that can be topped with plain shirts, oversized tees, tank tops, and flannel pieces. It's actually a stylish shoe that can really be a fashion staple for some.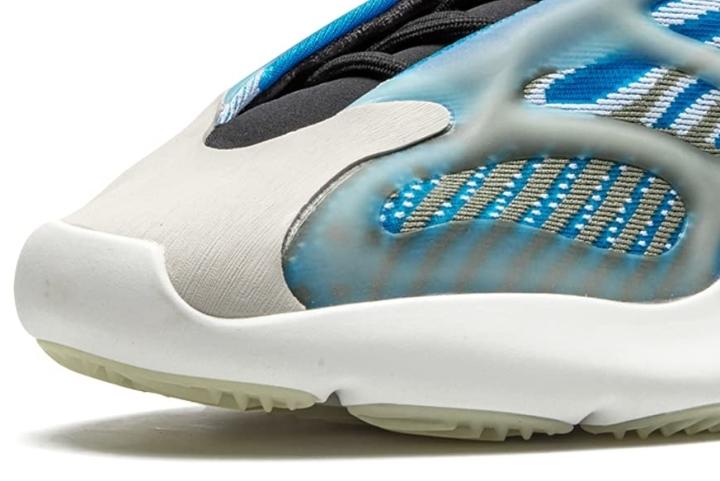 Adidas Yeezy 700 v3 History
Adolf ''Adi" Dassler, son of a cobbler, invented spiked shoes for track and field. Four years later Adi founded the German sports shoe company Dassler Brothers Shoe Factory in 1920—ater known as Adidas. Adidas soared high and the breakthrough came for Adi Dassler when Germany won the Soccer World Cup in 1954, wherein the German team wore boots with screw-in studs made by him.
With rapid developments in sports, Adi Dassler was driven to specialize and optimize his products. He then started using well-known athletes in advertising his products namely Jesse Owens, Muhammad Ali, Max Schmeling, and many others. Adidas has tripled its sales in a year and since then, the company gained the utmost attention globally. Throughout the years, Adidas continuously improves and produces quality footwear and sportswear that are admired and praised for their high demands worldwide.
Among the Adidas releases and collaborations, one has stood out and has been much-anticipated by the sneakerhead population ever since. This collaboration/collection is none other than the Yeezys, which is created by Kanye West. With different shoes released from this collection, the Yeezy 700 models are among the most awaited ones. Towards the end of 2019, Adidas and Yeezy introduced this model to their chunky and bulky lineup of the 700 editions. As a refresher, this model is constructed with new technologies that deliver quality performance and style.