When you feel like being a bit more adventurous and spontaneous on your hikes, you can count on the Terrex Skychaser 2.0 GTX. In this eye-catching sporty hiker from Adidas, enduring plushness and surefootedness await, whether you're hiking for a few hours or the entire day. And where wetness is involved, the premium-priced Skychaser 2.0 GTX keeps your feet dry and fresh as if it has nothing better to do.
Pros
Jaw-dropping comfort
Superb all-condition grip
Watertight
Supportive underfoot
Light
Shock-absorbent
Also fits wide-footed hikers
Mesmerizingly stylish
Cons
Stiff at first
Quite expensive
Could-be-tougher outsole
Who should buy the Adidas Terrex Skychaser 2.0 GTX
The second-generation Terrex Skychaser GTX can pass as a pair of trail runners at first glance. Add it to your shopping cart if:
You usually tackle trails that transition from rocky to muddy.
Hikers that give extra ascent and descent control on soft-soiled inclines are what you need.
You're a huge fan of Adidas' Boost midsole and the impact protection it provides.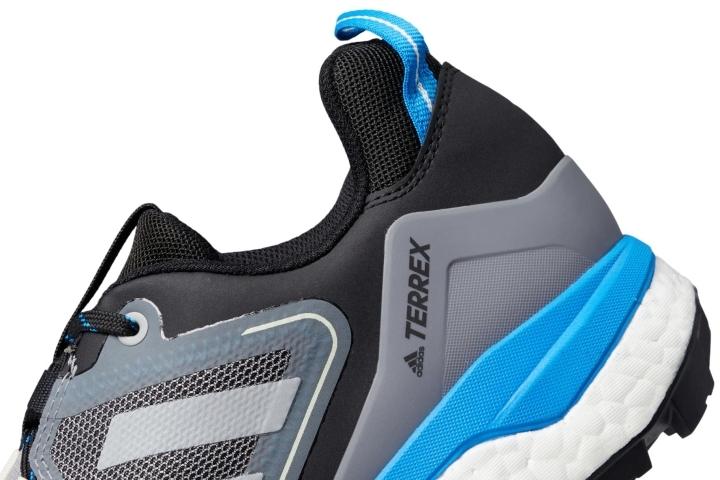 Who should NOT buy it
If you're looking for a more affordable pair with no reported issues concerning stiffness, opt for the Adidas Terrex Eastrail GTX instead. And if you're even the slightest skeptical about the durability of the Terrex Skychaser GTX 2.0's outsole, check out the tank-like KEEN Targhee II.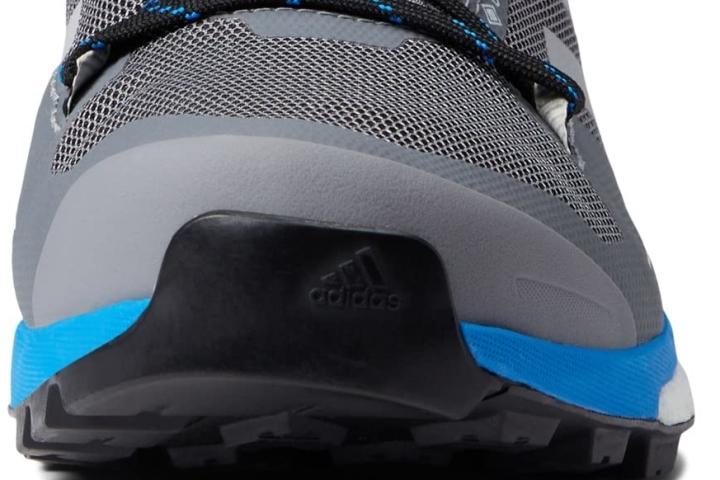 Updates to the Adidas Terrex Skychaser 2.0 GTX
The Terrex Skychaser 2.0 GTX comes with a few improvements over its predecessor. The following are what we mean:
Ghillie lacing system. The Terrex Skychaser 2.0 GTX now comes with a ghillie-style lacing system, replacing the OG version's quick-pull closure. This change translates to giving hikers more freedom which ensures a dialed-in fit. Also, the eyelets have been moved upwards, making them no longer as exposed to abrasive hazards as before.
A deeper heel brake. With it, adventurers reported more bite and braking power on downhill slopes.
Redesigned outsole. Pointier chevron lugs now take space on the Terrex Skychaser 2.0 GTX outsole, providing extra grip on various types of terrain. Also, it has a mini climbing zone at the tip, which proved to be very useful for hikers when toeing on mini boulders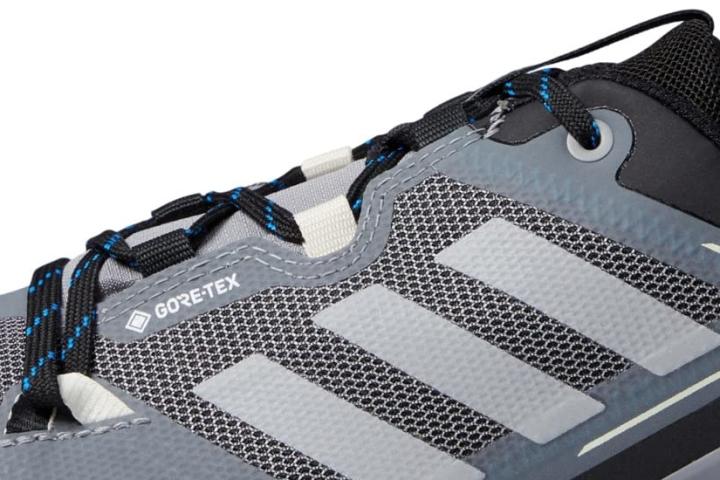 Mind-blowing comfiness in every pair
Despite its initial stiffness, which goes away after a quick break-in period, the Terrex Skychaser 2.0 GTX is a generous giver on the comfort front, say numerous adventurers. Their raves are reflected in these remarks:
"10 times more comfortable than I expected."
"A pleasure to walk in."
"Comfort is next level."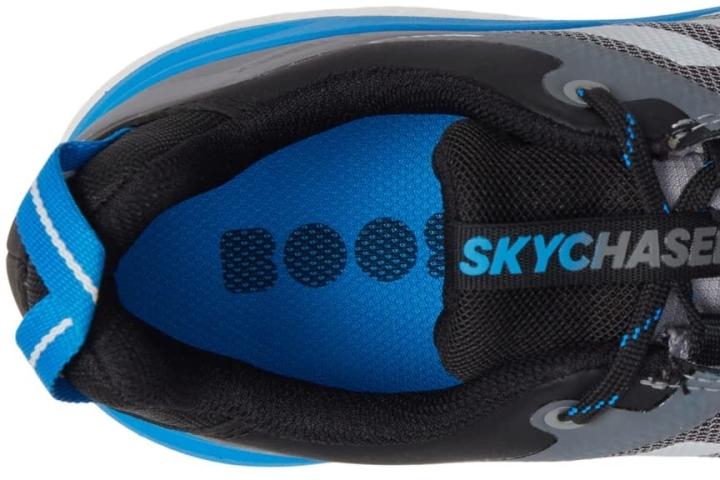 Next-gen tenacity in the Terrex Skychaser 2.0 GTX
If comments like "great grip in all conditions" and "lots of grip especially going downhill" are anything to go by, the featured shoe is considered spectacular in the area of adhesion.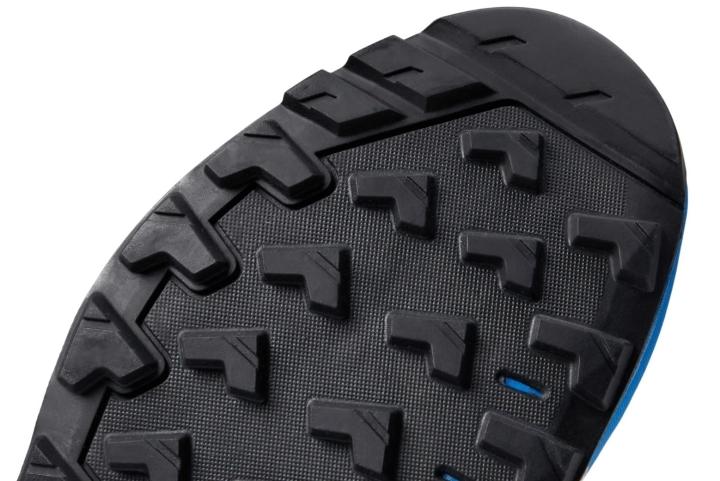 Keep off extremely rugged terrain
It has been reported that the Continental outsole of the Adidas Terrex Skychaser 2.0 GTX is not the toughest. A trail-goer said that both outsoles on his pair developed a hole each after using the shoe for only 50 km.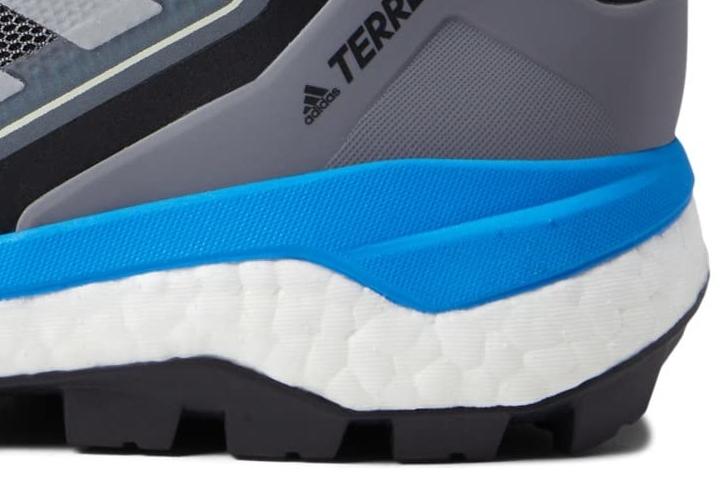 Keeps moisture locked out
Quite a number of trail-goers are impressed with the water protection of the Terrex Skychaser 2.0 GTX. It's "completely waterproof," says one of them. It keeps "feet dry as a bone," says another.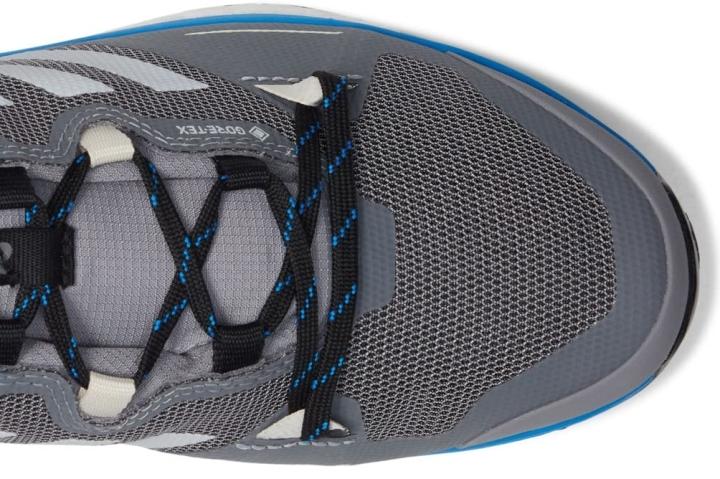 Chases away fatigue
The Terrex Skychaser 2.0 GTX's "arch/heel support is great," says an experienced hiker. Another reviewer, who admits to being a very heavy person, said that they "never felt fatigued" in the shoe. In addition to remarkable underfoot support, the kick's excellent shock absorption contributes to this ache-free experience.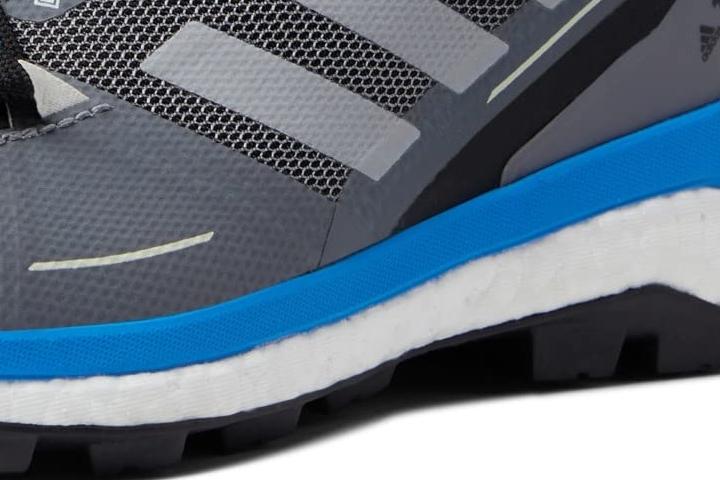 Spacious enough for wide-footed individuals
This hiking shoe from Adidas has an accommodating fit, even for outdoorsy folks with broad feet. Some of them didn't expect the shoe's roominess at all.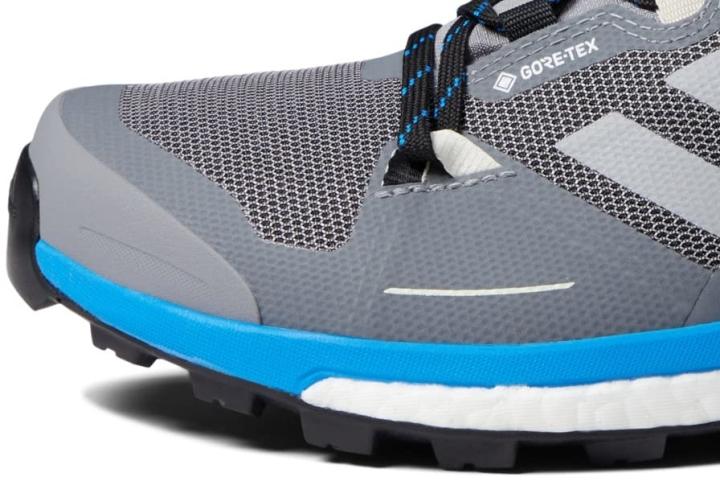 Among the lightest waterproof hiking shoes
Many find the Terrex Skychaser 2.0 GTX surprisingly light. They are not wrong, though, as the featured trail shoe—whose per-piece weight is only 437 g—is 75 g lighter than the average weight of waterproof hiking shoes, which is 512 g.
The super-lovely Terrex Skychaser 2.0 GTX
Looks-wise, the second-gen Terrex Skychaser Gore-Tex is a hit among hikers from both gender camps. Here are their hot takes:
"Love the design."
"Really pleased with the look."
"Very nice looking item."
"Looks fab."
Sky-high asking price
There are those who don't appreciate the costliness of the Terrex Skychaser 2.0 GTX. It's "too expensive for me to take the risk," says one of them. Indeed, its 160-dollar list price is $30 higher than the average ($130).