If you want something fast or crazy light, this is NOT the shoe. After logging some miles in it, our feet definitely agree that the Solar Boost 19 shines at easy/recovery days. It's not incapable of doing tempo runs too, it's just not exceptional. It's comfortable, and despite all its cush, it's a shoe that can definitely take a beating!
Pros
Comfortable for daily miles
Well-cushioned
Highly durable
Supportive
Great for all-day wear
Cons
Heavy
Overpriced
Not for faster runs
Adidas Solar Boost 19 review
Adidas Solar Boost 19 is a tank of a running shoe. It will definitely last you for plenty and plenty of miles and provide the support and comfort you need to get through the bulk of your runs.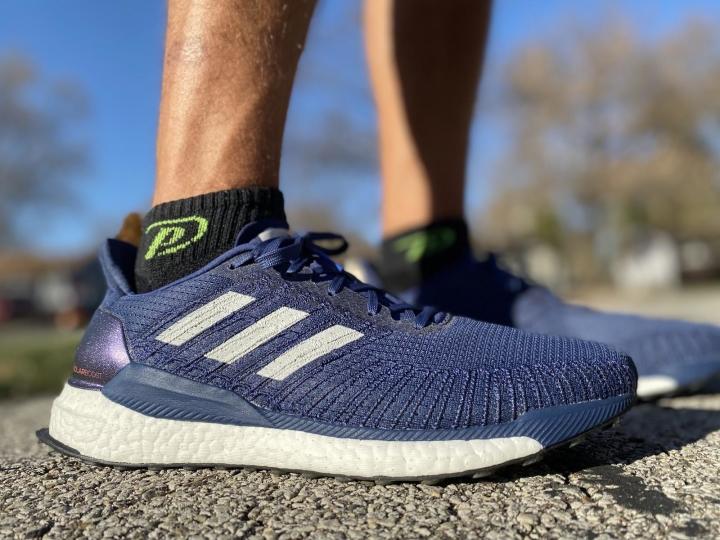 It's definitely not the fastest or lightest thing on the market, so don't expect it to excel at the runs that require those things, but once again that's not what it was made for.
About Adidas Solar Boost series
The Adidas running "Solar" line is inspired by aerospace engineering. It is Adidas' premium cushioned long-distance running shoe with comfort and targeted support in mind.
These shoes are the ones that some of the professional running group "Tinman Elite" runners use as their shoes for most of their mileage, as their go-to daily trainer shoes.
So I decided to give them a try and see what I think of them. After putting them through different types of runs, and after a lot of training, I can say I had a good, but not the best, time running in this.
Ride
For easy/recovery days (7'00-7'45 pace per mile), these shoes performed great. I found that the shoe allows me to glide along my recovery paces while not feeling mushy or too soft, but providing the right amount of comfort.
On my tempo runs (anywhere from 3-4 miles at 5'45-6'15 a mile pace, depending on effort) they felt good but not anything outstanding.
I found the shoe to provide comfort on the tempo, but it is still quite a heavy shoe and I definitely felt it at the tempo paces especially towards the end.
The same goes with my short interval workouts, typically 3-7 minutes at a hard effort anywhere from 5'20-5'30 a mile pace.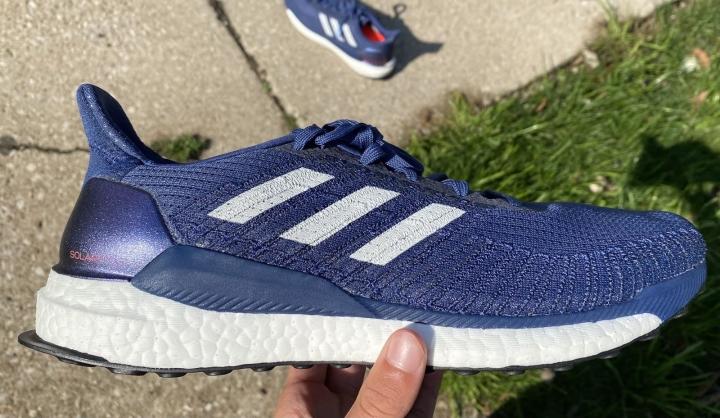 I think the shoe has a good amount of responsiveness, but the cushioning gets almost too soft and sort of mushy on faster and harder efforts.
So overall the shoe did great for the easier/moderate efforts, and on the harder/faster efforts they did fine but definitely aren't made for it.
Also, one thing about the ride is that something with the structure or way the shoe is made, it feels as if it just doesn't suit my feet or gait well, especially my running gait on faster paces.
That being said, they are marketed for support and comfort, and that's exactly what they provided on most of my runs.
Looks
It also has a very simplistic design, with a decent amount of colorways. Overall there's no real complaint with the looks.
Upper & fit
I enjoyed this upper a lot more than I thought I would. For the fit, I went true to size, which was perfect for me.
At first, it looked (and there is) like there were so much material and a lot going on to it. Surprisingly though, the upper kind of went away while running.
The upper of this shoe is an air mesh upper. This material has a multilayered construction which allows it to stretch and retain its structure as the foot goes through the gait cycle.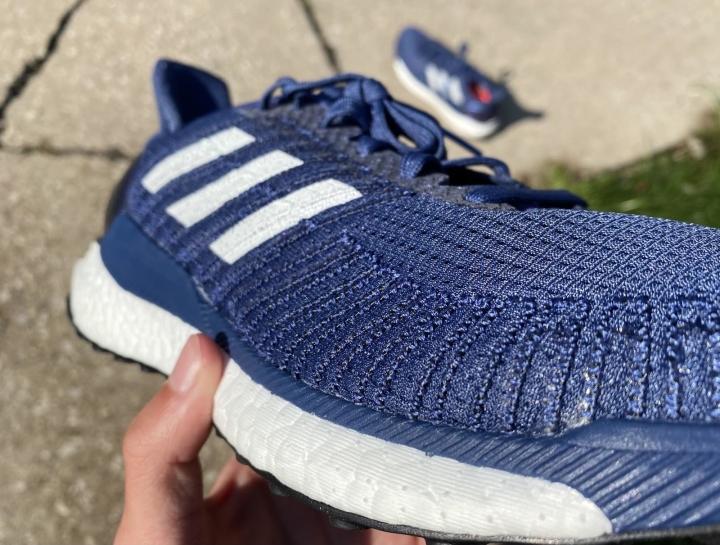 The toe box is very breathable and is where most of the breathability will come from, as the rest of the upper is pretty plush and thick.
In the heel area, there is a Fitcounter heel for an unrestricted fit and is really comfortable. I wasn't sure how well the split heel cup design would hold the heel in place but there was never any heel slipping.
The tongue is very cushioned as well as gusseted, which provides better midfoot lockdown. It also features Tailored Fiber Placement for midfoot support, and could possibly help the durability of the upper as well.
The drawback I have about the upper is that after the first 2 weeks of using the shoe, some of the stitching seems to be tearing. For now, it's only aesthetic but that isn't a good sign for the upper durability.
It is thick for the most part, so on days 70-80 degrees and over it gets hot, that it should be fine, but I would be cautious on getting this shoe for the hot seasons as it is just thick overall.
In colder weather (50 degrees and under), the shoe felt just fine, so it seemed to even out with the cold air and the thick upper. Once again, I would definitely use this shoe in a cooler season rather than a warmer season, like summer, just because of the thick upper.
Also, because the upper material is a little slicker, plus the plush tongue, specifically on tight turns, there is some loosening up in the shoe but it was very little and didn't affect the ride that much.
Overall I was pleased with the upper and for the shoe being made for "targeted support and optimal comfort for everyday long-distance running (as claimed by Adidas)", the upper claimed true to that.
Adidas Boost cushioning
The midsole of this shoe is composed of Boost Foam, which is Adidas signature running foam. It's both durable and responsive. The high boost stack provides great impact protection as well.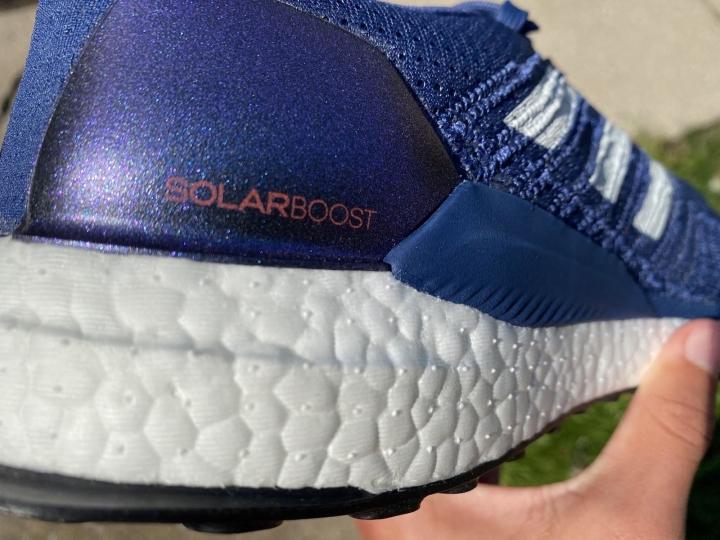 The only drawback is that Boost is on the heavier side of foams, so it does add weight to the shoe, but the responsiveness of it, and the snappiness of the Torsion System in a sense cancels it out, as it didn't feel 11 oz heavy on foot, more of 10.5-10 oz.
The Torsion System (Red piece on outsole) is a thermoplastic piece between the midsole and outsole was designed by Adidas to add some structure to the midsole.
It extends from the midfoot as the base to the outer edges of the medial heel (and up into the base of the medial side do the foam) and the forefoot area, which I believe added a hint of snappiness.
Lastly, Adidas has Solar Propulsion Rails, which are placed on the sides of the midsole. Those rails act as a guide and keep the foot in the midsole. In a way, it almost reminds me of stability rails for stability shoes.
On the first run I could definitely feel the rails on the sides of my foot, but all the runs after that I didn't feel it anymore and I will say my foot did feel-more locked into place because of those rails.
One thing I will note is that the heel flares to the outer edge of the shoe, almost like Nikes Pegasus shoes, but off-center. It seems to give the impression that there is more foam on the medial side of the shoe, almost like a stability shoe.
I haven't found a valid reason on the Adidas website for the reason for this, but I have seen people say it is because that's the foot's natural way of landing. I wouldn't say it negatively affects my form or gait, but it does definitely change it in the slightest way that is still noticeable to me.
Admittedly, at first, it drove me crazy, as I am a runner who focuses a lot on my running form. I got used to it for the most part but the slight change the shoe gives never really went away in terms of feeling.
It could possibly be that the structure of the shoe just simply doesn't match great with my foot shape or running gait, but overall I got used to it and it wasn't too bad. (Foam structure in heel shown in the photo below).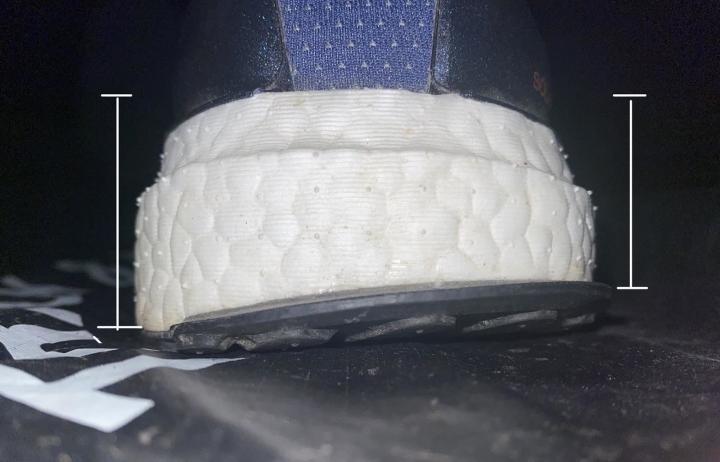 Adidas Solar Boost 19 is a toughie
The outsole is a Stretchweb outsole made of Continental Rubber. The Stretchweb design provides a very high amount of flexibility, while the Continental Rubber provides a very good, almost sticky traction.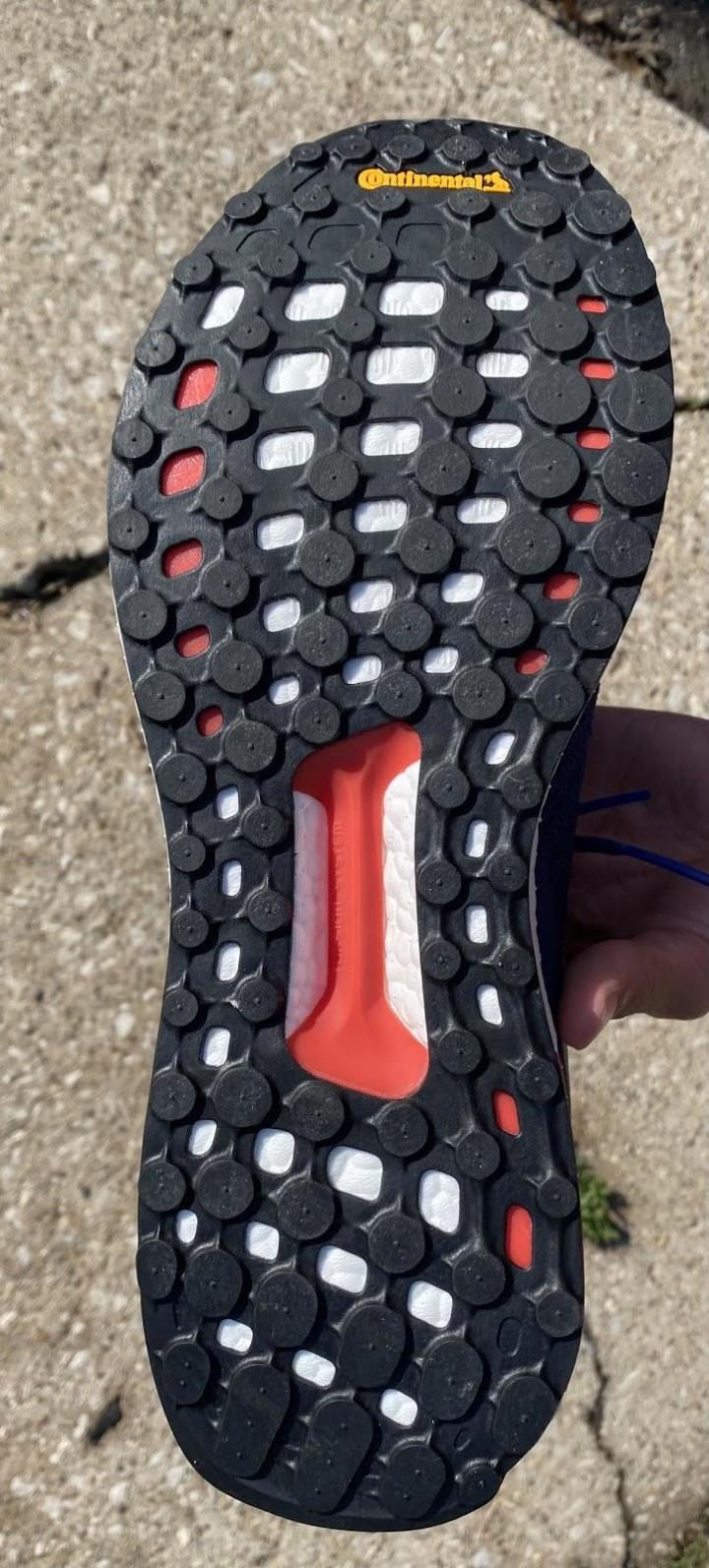 The outsole also performed great on dirt/grass trails, never was concerned about traction going uphill, downhill, etc.
It is also very durable, and I can foresee this outsole lasting at least 450-500 miles, and I would even say the upper end of 700 miles (based on other reviews and my own experience with continental rubber).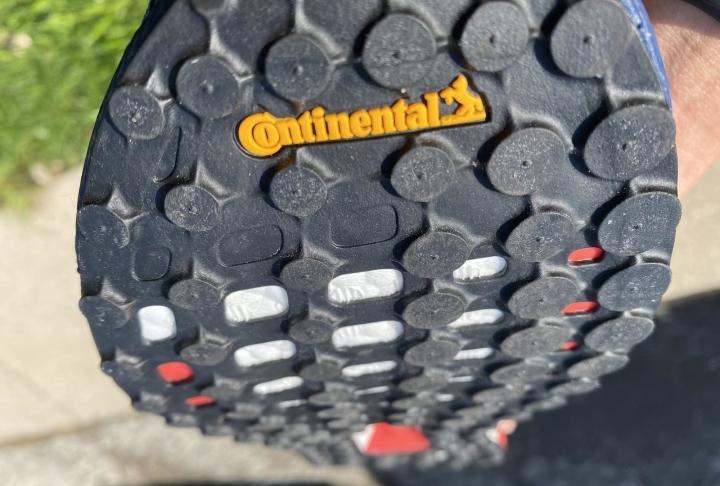 On wet roads, the outsole performed just fine and had great traction even while wet. The outsole is also very stable and has a fairly wide platform for those who enjoy a wider landing.
Price of the Solar Boost 19
I definitely think this shoe is overpriced, as I feel there are so many better options at $160 and even below that. I will say this shoe could probably last longer than most shoes but even then I feel $160 is a lot. I would put this more at $140.