Verdict from 7.5 hours of research from the internet
7 reasons to buy
Runners appreciated the lightweight structure of the Adidas SL20.
The upper construction helps offer a secure ride, according to a lot of reviewers.
Many users commented that the shoe is comfortable to wear.
Some buyers said that it delivers excellent grip on both wet and dry surfaces.
Several purchasers claimed that the Adidas SL20 is responsive.
The shoe is breathable, a couple of commenters claimed.
One reviewer testified that the new midsole is as responsive as the Boost midsole.
3 reasons not to buy
A few wearers noted that the Adidas SL20 is firmer compared to other Adidas running shoes.
The shoelaces are too thick and long, said some testers.
This running shoe is not supportive, several runners observed.
Bottom line
Featuring a lightweight construction, the Adidas SL20 is an ideal running partner for runners of all abilities. It is a neutral running shoe that offers a fast and efficient ride. This running companion is crafted with high-quality materials, aiming to deliver a balance of comfort, flexibility, and durability. It is also perfect for casual walks.
Tip: see the best running shoes.
Our reviews
I first got to test this shoe on a Formula 1 racing track. Yup, you read that right. We got to run around in them on a soon to reopen Formula 1 racing track to see how fast these shoes could go.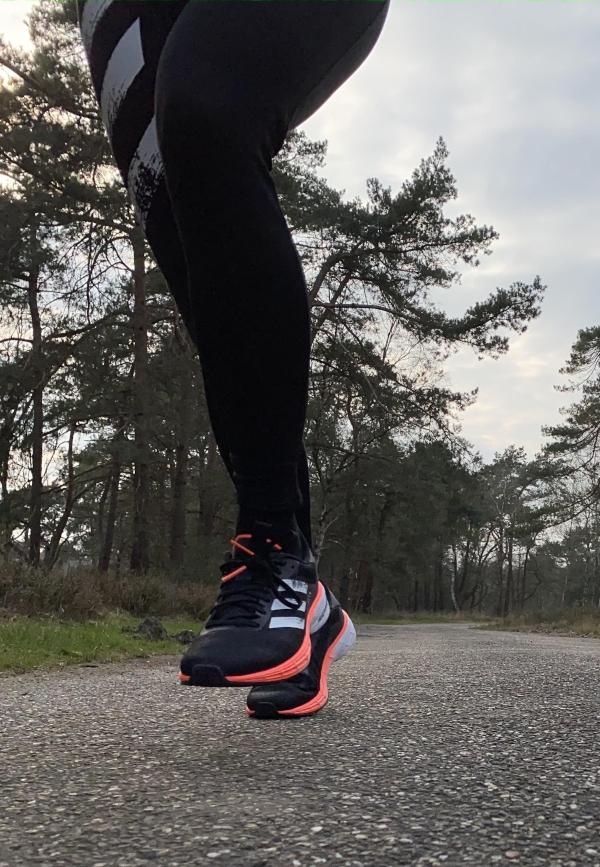 Spoiler: Obviously, not as fast as a Formula 1 car.
There are a lot of running shoes on the market that claim to be fast. Some are, some are not, and some are only suitable for runners that are already fast.
The Adidas SL20 however, claims to be for everyone. No matter what type of runner you are, you can go fast in this shoe, whatever fast means for you.
I found that really interesting because fast shoes these days are often marketed towards a certain type of runner that is already fast, and it's often also linked to a certain type of pace or marathon time.
I'm not a fast runner, and I don't come anywhere near the times that faster runners reach on a marathon. I liked that the marketing behind this shoe didn't only focus on the really fast runners and acknowledged that what is fast is personal.
Let's face it: About 10% of runners are really or pretty fast, but what are the other 90% supposed to do for their speed and tempo workouts?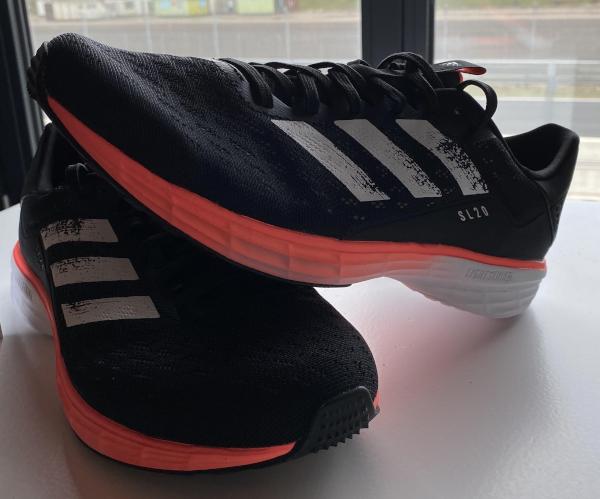 I'm a heel striking (because that's what happens when you run slower), back of the pack kind of runner. Faster shoes, especially those with carbon plates, aren't designed for runners like me. But, the SL20 does not have a carbon plate.
There is also a carbon fibre plate kind of version of the SL20, the Adizero Pro, which comes with the same Lightstrike midsole as the SL20, a new midsole material, but has ultraboost in the heel and obviously a carbon fibre plate in the midsole.
The SL in SL20 stands for super light, and this shoe definitely lives up to its name. It only weighs about 200 grams in the women's model.
It is a neutral running shoe, and it has a 10 mm drop with a 24 mm heel stack and a 14 mm forefoot stack.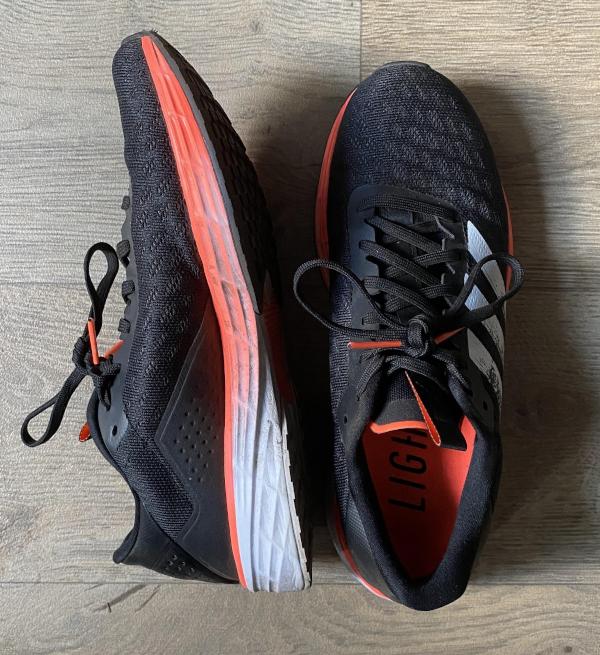 Upper
The detached tongue is pretty thin but still comfortable. I normally don't like a thin tongue since I lace my shoes pretty tight to prevent heel slippage, and that's more comfortable with some padding.
But, in this case, it hasn't bothered me. There is some more padding in the heel. And, since this is more of a shorter distance shoe, the padding is enough.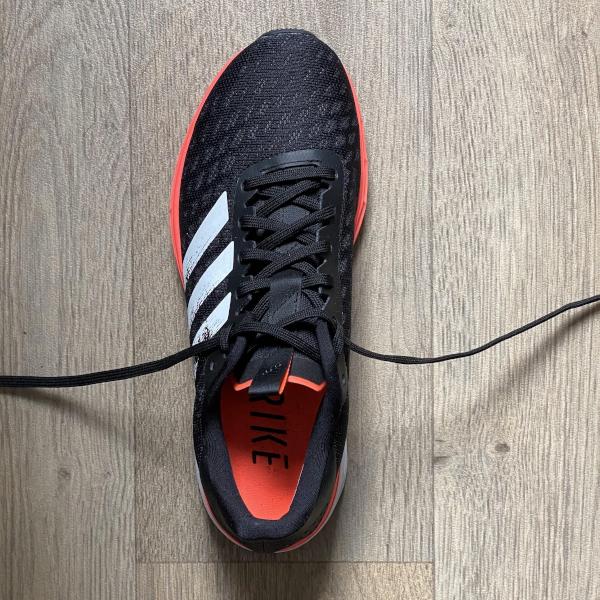 The upper is made out of a thin engineered mesh, which seems to fit the lightweight theme of the shoe. It's snug enough for a good fit, and there are extra eyelets so you can lace the shoes properly.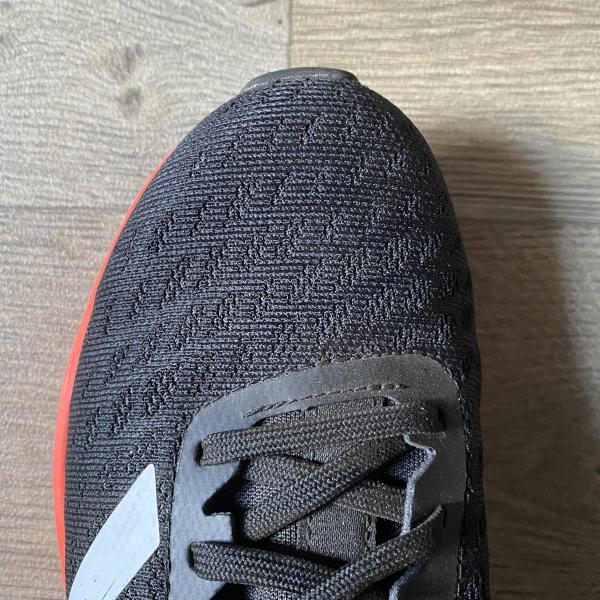 Midsole
As mentioned before, the SL20 has the new Lightstrike midsole. Although it isn't entirely new since it's been used in basketball shoes before, it is new for running shoes.
It is lighter than boost, but also less plush than boost. The interesting thing is, is that the Lightstrike doesn't feel remarkably springy or like it has a huge energy return and yet you do go faster in these shoes.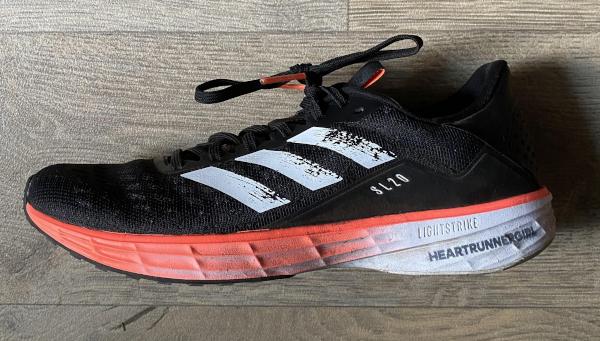 Outsole
The outsole is Continental rubber, which gives you good traction, and there is a y-shaped torsion plate underneath the midfoot to give some added support. The shoe is quite stiff, but that's what helps you go faster.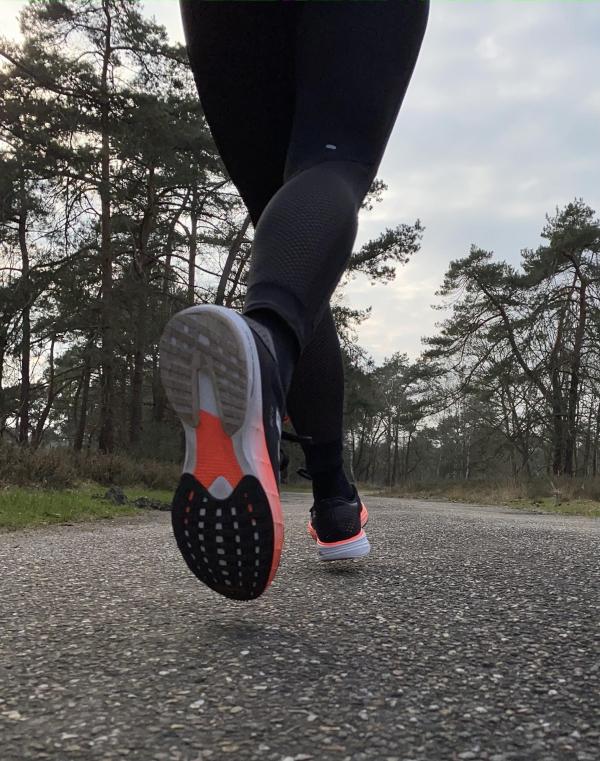 Performance
I always have to get used to these shoes when I've just put them on. For some reason, it isn't that comfortable for the first mile or so. It always feels a bit awkward.
But after that, it's actually quite comfortable—not super plush, but that is to be expected, considering this being a fast and light shoe.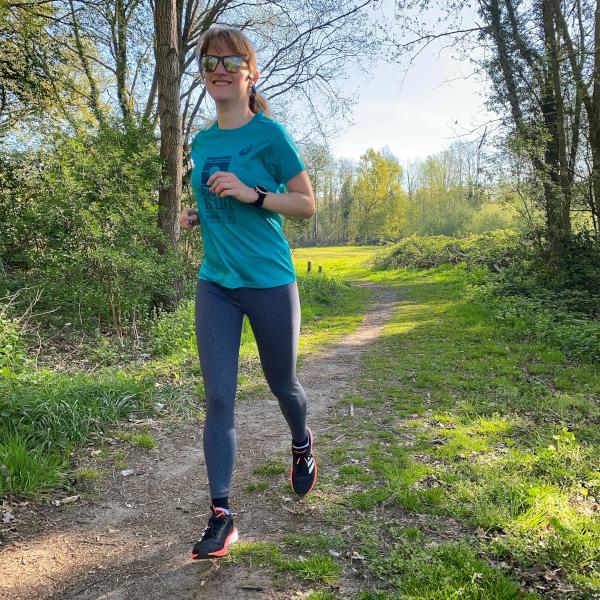 I've done shorter and longer runs in this shoe. I also did some interval and tempo runs in them. I had no trouble reaching the interval paces that my training plan required in these shoes, I easily managed those. It is a good shoe for faster runs.
Conclusion
So, as a slower runner, can you reach a fast pace in these shoes? Yes.
The first time I ran in them on the racing track, I came quite close to my 5K PB time. Not bad considering I was trying to go fast, but I wasn't trying for a PB.
The racing track isn't really meant for runners either. There are some really steep and sharp bends, and there was a lot of wind that day.
Is this shoe better for people who are midfoot or forefoot strikers rather than heel strikers? Probably.
You could likely go even faster in them if you are not a heel striker, but they aren't bad for heel strikers either, which is definitely something for a fast racing shoe.
It does become a bit of an issue when you are trying to go longer distances. The heel to toe transition isn't optimal when you are a heel striker.
When you are trying to go fast for a shorter distance, this isn't too much of an issue. But, when you are going longer, and thus slower, it becomes more noticeable.
I wouldn't go much further than a 10k in these because at that point the heel to toe transition seems to take more energy than the shoe can return to you, and it just costs you energy at that point.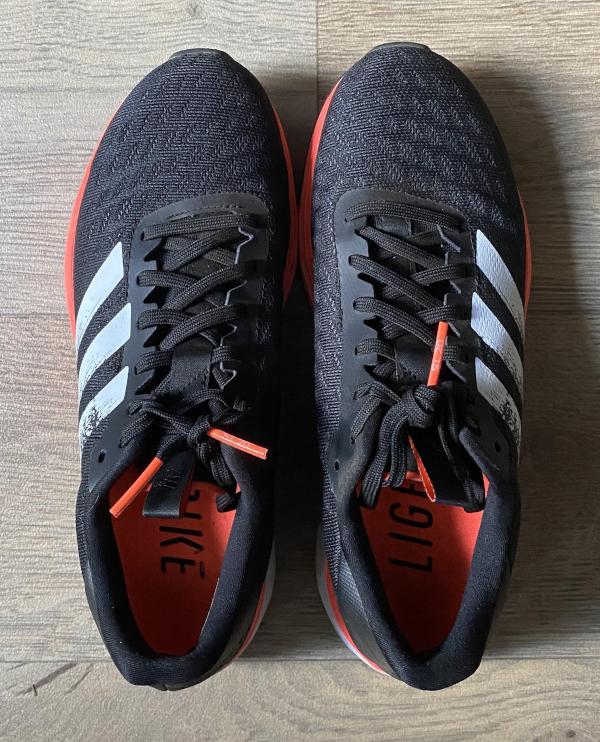 Plus, this shoe isn't super plush, and that becomes more of an issue if you go longer.
It is a good, well-thought-out shoe that comes at a good price. It retails for only $100.
It's a good fast shoe to have in your rotation. It's not a super plush ride, but it does the job for shorter, faster runs, and it is suitable for different types of runners.
It will be interesting to see future Adidas shoes with Lightstrike, and I think the Adizero Boston 9 has a combination of Lightstrike and Boost.
Seven years ago, when Adidas introduced their Boost foam, it was a marvel. There was nothing on the market that was as bouncy and responsive.
Since then, Boost has been overtaken by other technologies that are lighter and even more responsive such as Nike's ZoomX, Reebok's Floatride and Saucony's Pwrrun+ foams.
Adidas fell asleep and didn't innovate for many years, so now they have to play catch up. 2020 is the year of Lightstrike. Lightstrike is the new TPU foam from Adidas designed to compete with the modern super foams of today.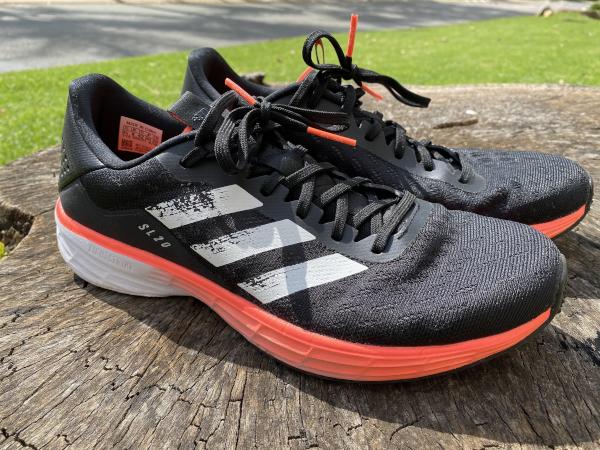 Lightstrike was first used by Adidas in their basketball shoes and has been filtered through to the running sector.
The SL in SL20 stands for super light, and while not much lighter than other tempo running shoes, it is much lighter than Adidas Boost shoes which is a step in the right direction.
The SL20 is a fast, tempo running shoe, so it competes with the Nike Zoom Rival Fly, the New Balance 1400, Skechers Razor 3 and even Adidas' own Boston Boost.
This is confusing because the Boston Boost has got Lightstrike in its midsole combined with Boost. So, which is the superior Adidas shoe and how does the SL20 fit in the Adidas running shoe range?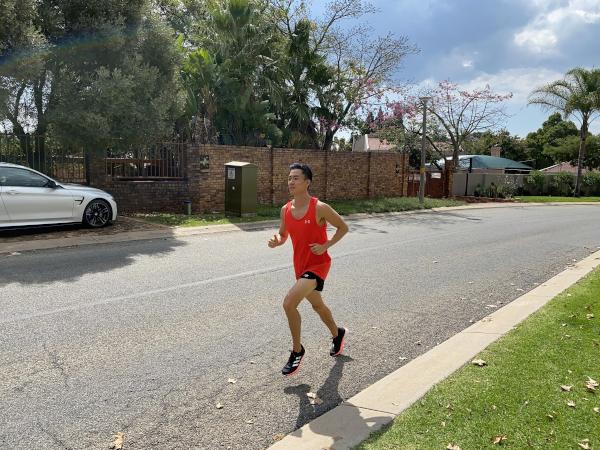 Specifications
| | |
| --- | --- |
| Weight | 230g |
| Price | $120 |
| Drop | 10mm |
| Foot type | Neutral |
| Surface type | Road |
Upper and fit
The SL20's upper is made from a breathable mesh. It has a thin tongue which is not gusseted, but it is attached at the bottom half of the tongue, so it doesn't move around at all.
When putting the shoe on, the tongue feels like it's a centimetre too short but you forget about it during the run. The heel counter is traditional and doesn't flare out like other Adidas shoes such as the Ultraboost and Solar Boost.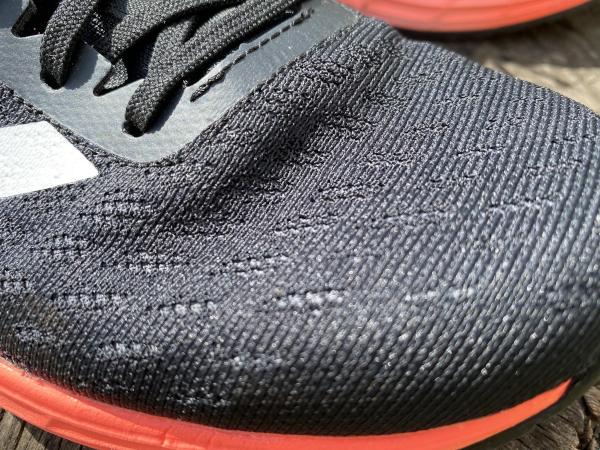 The heel counter is not very secure, so I had to do a lacing heel lock to stop my heel from slipping out during workouts.
The fit of the SL20 is very narrow. It may be the most narrow shoe I've ever tried on. It was tricky getting the lacing right without it feeling uncomfortable.
If I loosened it too much, the crease in the forefoot poked into my foot, so I had to adjust it just right so that it was tight but not unbearably tight. You definitely need to go up a half size.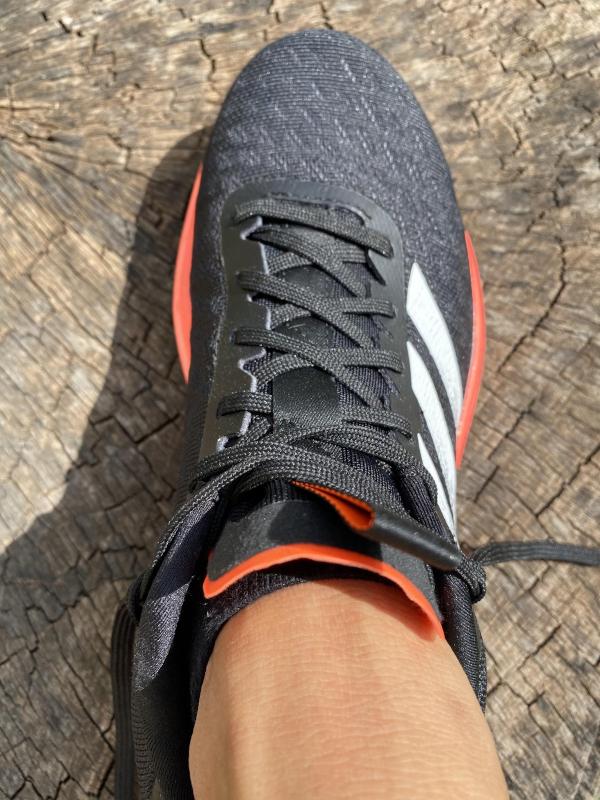 The designers of the SL20 said that they wanted the shoe to look like a laser beam, and I think they did a great job because it's an amazing looking shoe. The colours and the silhouette are just screaming fast.
One thing I have zero tolerance for is manufacturing defects because returning shoes back is a chore. The SL20 has one big problem: the midsole separates from the upper on both sides.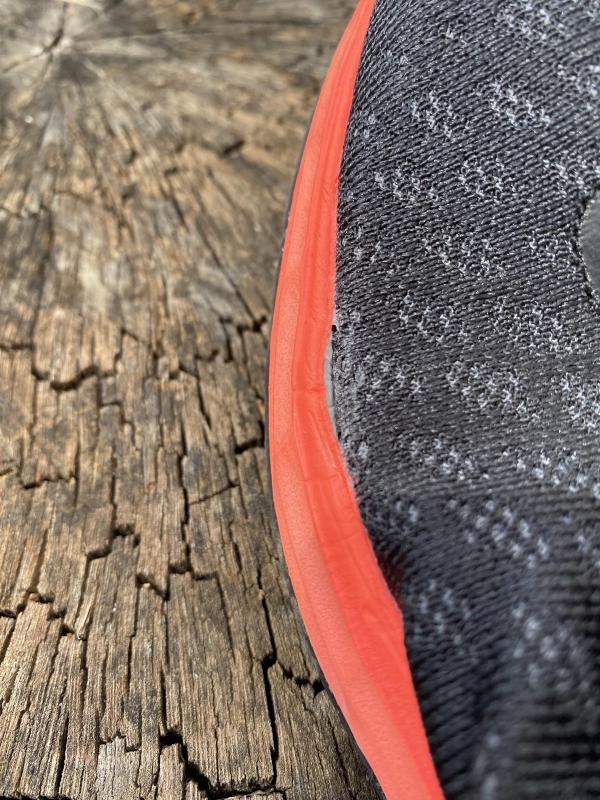 This happened having run less than 100km, which should not happen with a company as big as Adidas to a shoe they have spent millions marketing.
Midsole and ride
Some shoes such as the Adios Boost and the Boston Boost have a combination of Boost foam and Lightstrike foam but the SL20 and its sister shoe, the RC2.0 have a full Lightstrike midsole.
The Lightstrike midsole is firm. It feels like a traditional EVA midsole but with some slight rebound. It's a snappy midsole and suited for tempo runs under 10km. Anything longer and the firm midsole is too harsh on the feet.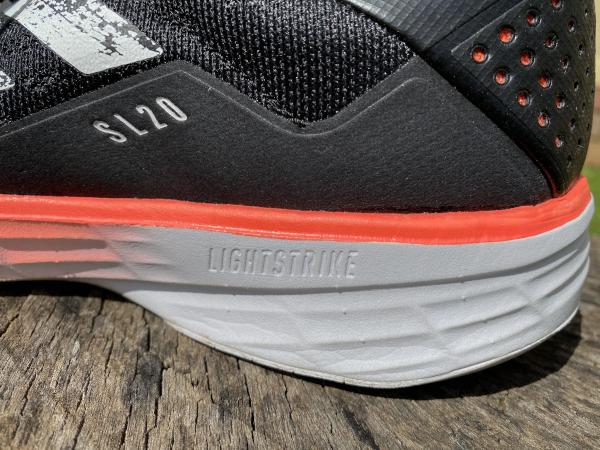 I went for tempo runs, long runs and daily runs in the SL20 and the shoe felt best for those 5km speed workouts which last less than 30 minutes.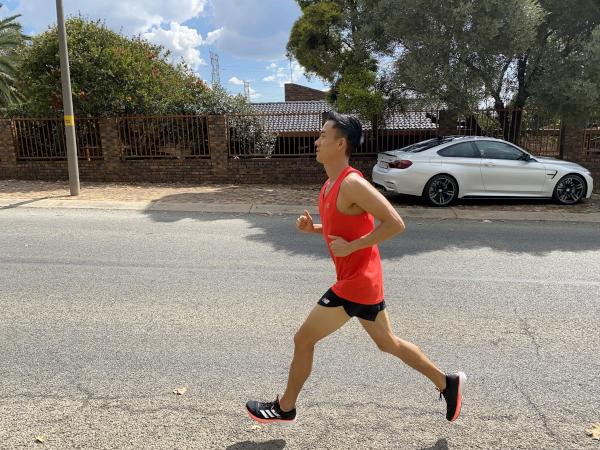 Boost was revolutionary, but Lightstrike just doesn't have that sparkle or wow factor. For a technology that has just come out, it feels like an old foam from 6 years ago in the pre-Boost era.
Outsole and durability
The forefoot is made from durable Continental rubber which grips well and has a soft underfoot feel. The rearfoot is made from Adiwear, which is softer and not as durable as the forefoot. The midfoot around the Torsion shank is exposed.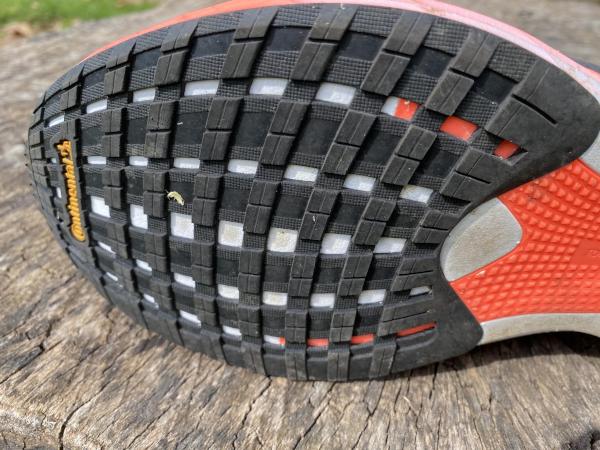 The Torsion shank provides midfoot stability and helps the forefoot snap back into its original position when it flexes.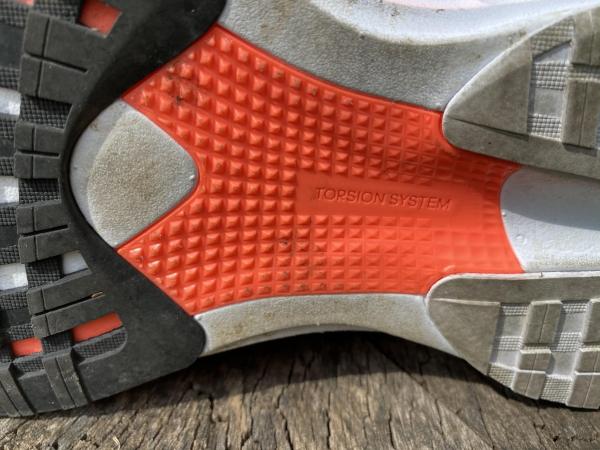 The Continental rubber in the forefoot is showing no signs of wear. Still, the outsole durability is let down by the Adiwear rubber in the rearfoot which is wearing down extremely fast.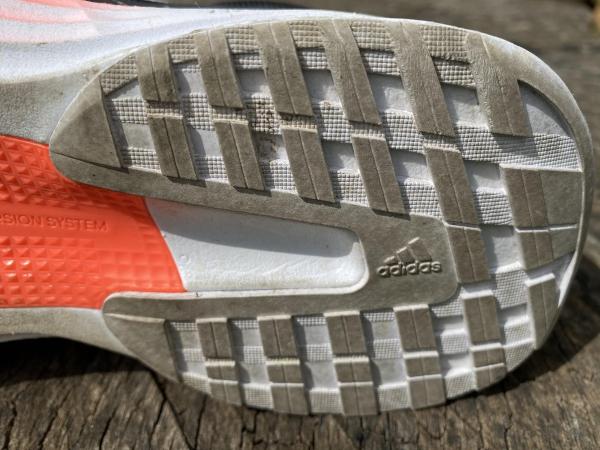 The midsole is made from TPU so it shouldn't lose much cushioning over the lifespan of the shoe.
Stability
The midsole is firm, so the SL20 is a stable shoe. It is also low to the ground, so you feel planted when running in them. There is no lean bias.
The torsion shank helps to keep the shoe rigid through the midfoot and provides structure.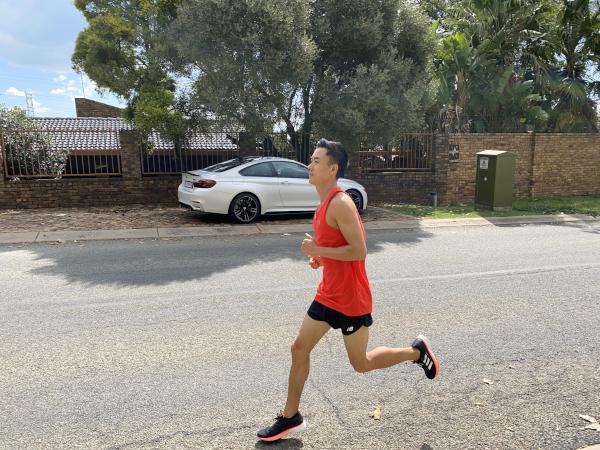 Flexibility
The SL20 has a snappy forefoot, which flexes up in the front of the shoe.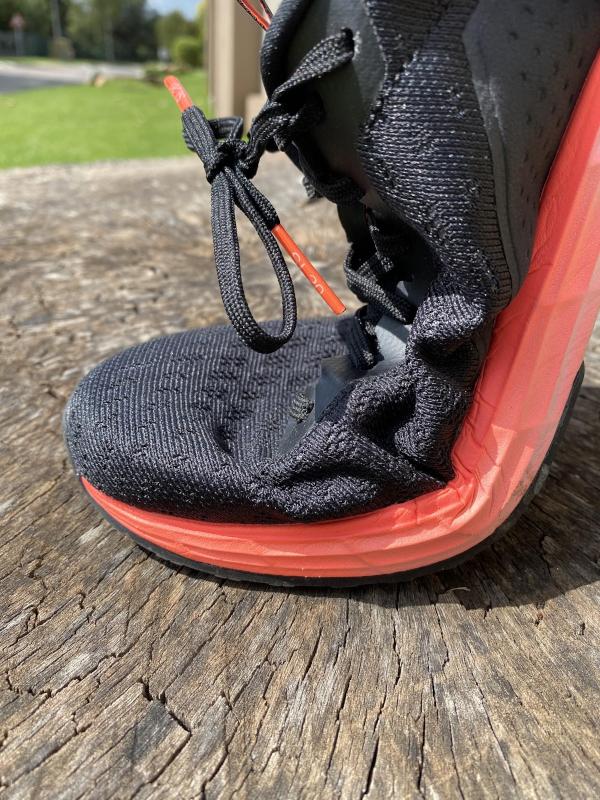 Insole
The insole is flat and doesn't add much cushioning. It has the wording "Lightstrike" on it just in case you forget that the midsole is made from it. It has a soft fabric material glued on top of it that gathers sock material after a while.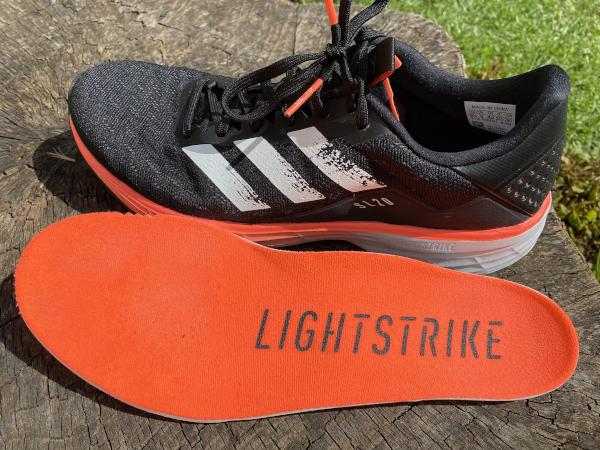 Pros
Light and responsive midsole
Well-priced
Continental rubber forefoot is extremely durable
Cons
Manufacturing faults
Lightstrike has no bounce
Very narrow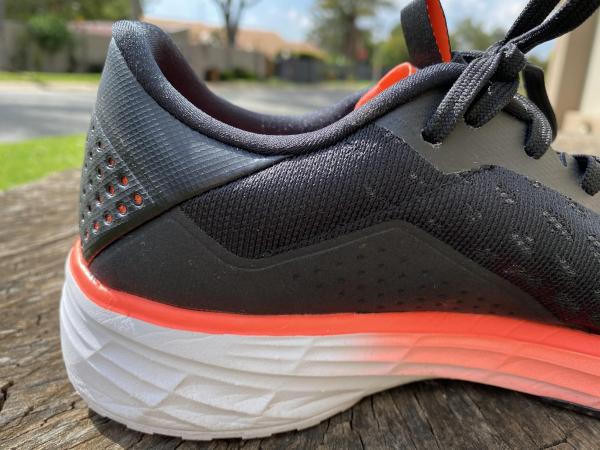 Comparisons
Adidas SL20 vs Nike Zoom Rival Fly 2
The Nike shoe has a better, more accommodating upper. The Adidas midsole is thicker and has more protection for longer runs.
Both shoes are great value for money, but the Rival Fly 2 is more comfortable and has a more robust build. I choose the Zoom Rival Fly 2.
Adidas SL20 vs Skechers Razor 3
The Skechers shoe has a better upper and a softer midsole. The Razor 3 is better for long runs, but the SL20 is better for short runs.
The Adidas shoe is cheaper than the Skechers, but I'd still choose the Razor 3 for the bouncy, smoother ride.
Adidas SL20 vs Adidas Boston Boost 9
The Boston has a more accommodating, better upper and has a softer midsole due to the Boost. The Boston has a more durable outsole due to having more Continental rubber.
The Boston beats the SL20 in every department and is the far superior shoe.
Conclusion
Lightstrike was supposed to be Adidas' next big thing, but it falls short. It feels stiff and too firm to be a super foam that competes with the ZoomX and Floatride foams of the world.
The SL20 is a competent tempo running shoe for distances less than 10km, but it suffers from a very narrow fitting upper and manufacturing defects where the upper separates from the midsole.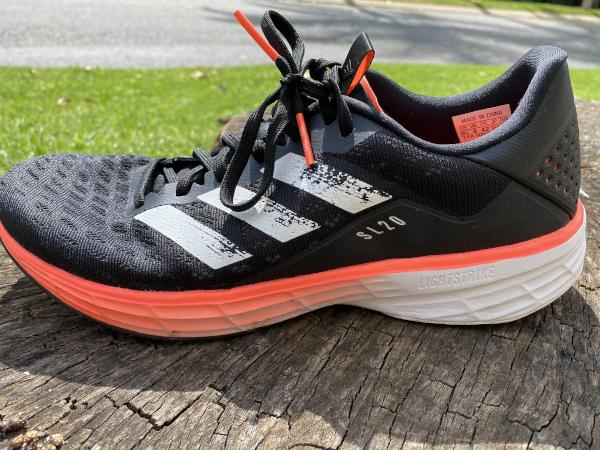 So, where does the SL20 fit into the Adidas running shoe lineup? It doesn't. There isn't a single reason to choose the SL20 over the Boston Boost. Yes, the SL20 is firmer and faster, but then the Adios Boost is the better choice.
The SL20 is not a shoe worth getting excited about and not a shoe that I look forward to running in with so many better options out there to choose from in the tempo running shoe category.
Adidas will have to keep on searching for their new Boost.
This is my first pair of Adidas shoes since the mid-'90s when the Black Sambas were part of my daily wardrobe.
But after hearing almost universal praise for the SL20, I took advantage of a 2020 summer sale on Adidas.com and decided to try the SL20 'summer ready' edition for ~$50 (as of mid-August 2020, they can be picked up regularly for ~$72).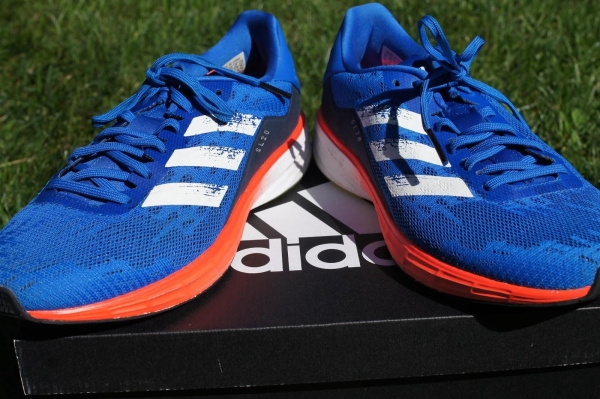 I'm happy to report that this shoe does it all, and at that price point, cannot be beaten.
The best thing about the SL20 from Adidas is the weight: these shoes are incredibly light. My Men's size 9.5 weighs only 8 ounces. The heel-to-toe drop is 10mm. I also found the sizing to be true-to-size.
Upper
Adidas advertises this shoe as the 'summer ready' version of the SL20 and has included ventilation areas in the upper which are supposed to be even more breathable on those hot summer days.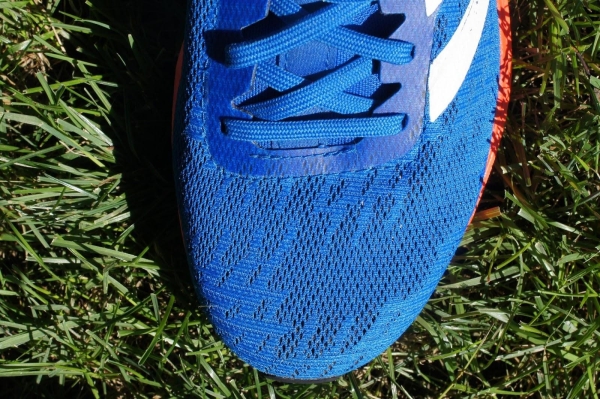 I did not find them to be MORE breathable than your standard mesh upper but I found them to be suitably breathable. In other words, the mesh upper did its job admirably.
You will not have comfort issues with the SL20.
Midsole
The midsole is made of Adidas Lightstrike cushioning, which felt a bit more rigid than I am used to, opened up nicely after a few dozen miles.
It doesn't have the spring that you will find in the midsole of some higher-priced shoes but that is to be expected at this price point.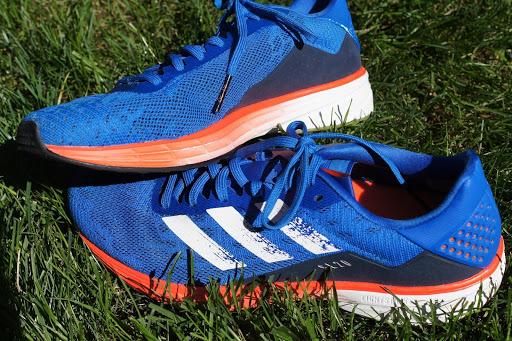 Outsole
The outsole is made of (primarily) rubber provided by Continental (yes, the tire company) so you know it's going to provide great traction and long-lasting durability.
In addition to your standard tarmac, I've taken this shoe on the gravel trails of Acadia National Park in Maine and used it during a (virtual) half-marathon in the pouring rain; neither was a problem for the SL20.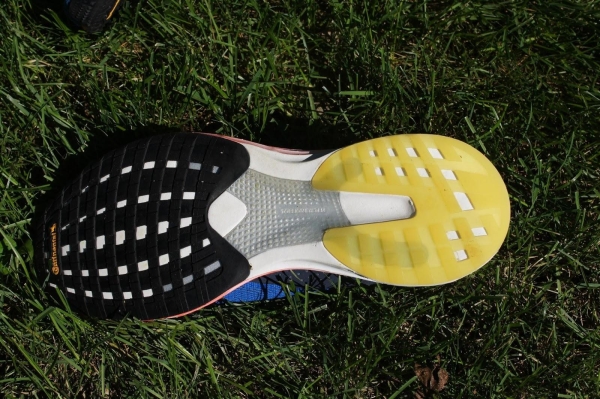 I was concerned that the mesh would be an issue in the rain because of how thin it is, but it performed admirably and while it didn't keep my feet completely dry, it kept my feet dry enough to complete the distance. I expect to be able to use the SL20 on some cold winter runs in the future.
Fit
I found the lockdown on the SL20 to be adequate. The tongue and the lacing are fairly standard of the 'no frills' variety.
I found the laces to be solid, but just barely long enough to tie a double knot when securing the foot with a runner's knot (which I found necessary on the SL20 to ensure there was no heal slippage).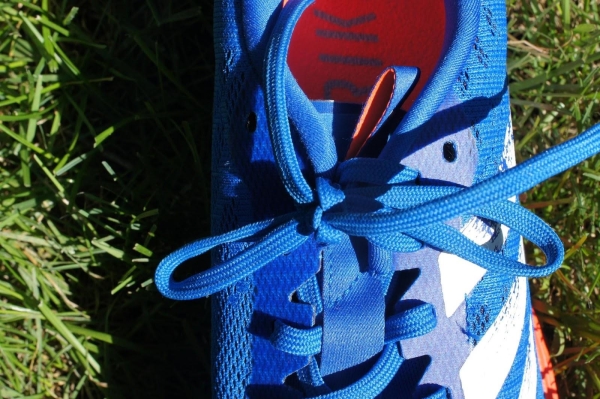 Performance
I have not run longer than the aforementioned virtual half-marathon, and I'm not sure I would in the SL20.
The SL20 is certainly light enough to race in but there is no carbon plate to speak of and while that doesn't mean you can't go fast in the SL20 (you absolutely can!), a carbon plate would help.
Adidas has recently introduced two shoes —the Adizero Pro and the Adizero Adios Pro— both of which have carbon plates, but are priced considerably higher at $180-$200.
Nor does the SL20 have Adidas' Boost midsole cushioning technology but, again, at this price point, you cannot expect the same technology you would find on shoes that cost 3-4x what the SL20 costs.
Conclusion
My favorite thing about the SL20 is its light bulk. It doesn't weigh much and you feel that as you run and when you feel light on your feet, you will undoubtedly go faster.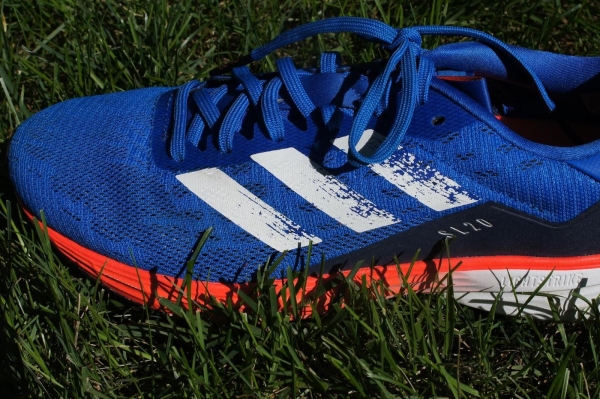 As a result, I look forward to using this shoe for easy days, intervals, light trails/gravel, and longer distances, up to and including a half-marathon.
And, of course, due to the fantastic outsole, no surface and/or weather condition is out of the question for the SL20!
The Adidas SL20 is a lightweight running shoe that is suitable for racing and faster-paced runs. It is one of the first road running shoes from Adidas that feature the brand-new Lightstrike cushioning, which offers enhanced speed.
Compared to the traditional Boost technology, the Lightstrike cushioning material is lighter. This element is responsible for providing a bouncy and comfortable ride. The Continental™ Rubber outsole is also used in the shoe to offer a firm grip even when the road is wet.
In the upper of this Adidas running shoe is an engineered mesh material that gives a breathable wrap. The upper is designed to deliver a snug fit and keep the foot locked in place while running or doing strenuous activities.
The standard sizing measurements were used during the creation of the Adidas SL20. Consumers can get a pair of this running shoe using their usual sizing preferences. However, it is important to try on the shoe first before making a purchase decision to ensure a comfortable in-shoe experience.
It is worth noting that several factors affect the fit of this running companion. This includes the mesh upper and padded tongue that gives a secure and snug in-shoe feel. Another element is the lace-up closure that allows the user to easily adjust the tightness and looseness around the shoe.
The outsole of this cheap running shoe utilizes a combination of two types of rubber compounds called the Stretchweb and Continental™ outsoles. These materials are working together to provide reliable protection and traction.
The Stretchweb outsole shields the midsole unit from the abrasive elements. This material also adapts to the way the runner's foot hit the ground to deliver flexibility while keeping the outsole lightweight.
The Continental™ Rubber is positioned in the forefoot section for an excellent grip in both wet and dry conditions. Aside from excellent traction, this outsole material also offers exceptional durability for long-term use.
For a responsive and comfortable ride, the Lightstrike cushioning is incorporated into the Adidas SL20. This midsole material is made from a lightweight compound that offers an efficient and bouncy running experience. The cushioned midsole also gives added stability throughout the running session.
A thermoplastic unit called the Torsion System is also integrated into the midfoot section. This component bridges the heel and the forefoot section for stability, assisting the rearfoot and forefoot to move independently. It adapts to various surfaces without straining the foot. The Torsion System also helps preserve the structural integrity of the midsole foam.
Providing a snug and secured fit is the engineered mesh top. The mesh is a lightweight and breathable fabric that allows for continuous ventilation, keeping the foot dry and cool for an extended period. This element also offers flexibility and protection against the elements.
The traditional lacing system is used in the Adidas SL20 to provide ample support. The shoelaces also give a customized fit for a pleasant wearing experience.
A cushioned collar and moderately padded tongue are infused in the upper to supply added support. The collar provides comfort around the ankle and keeps the foot in place while in motion. The tongue helps deliver a snugger fit and protects the top of the foot from getting pinched by the shoelaces.
Adidas SL20 compared to the Adidas Solar Drive
Just like the Adidas SL20, the Adidas Solar Drive is also a road running shoe that is designed for running on paved surfaces. These shoes work best for runners and athletes with neutral gaits.
The Adidas Solar Drive incorporates the Stretchweb outsole for durability and traction. The Stretchweb outsole also protects the Boost midsole, which offers long-lasting comfort. The Adidas SL20, on the other hand, utilizes a combination of the Stretchweb and Continental™ outsoles for enhanced durability. Instead of the traditional Boost midsole, the Adidas SL20 incorporates the new Lightstrike cushioning for a lighter and more efficient running experience.
The mesh fabric is integrated into these running shoes to provide a form-fitting and irritant-free coverage. This cloth-like material delivers breathability and flexibility for a comfortable in-shoe feel.
Size and fit
True to size
based on 41 user votes
Size comments
True-to-size for the most part. -
Seth James DeMoor
How SL20 compares
Corescore: 53-57
1 shoes (0.11% of shoes)
Corescore: 58-61
2 shoes (0.21% of shoes)
Corescore: 62-66
7 shoes (0.75% of shoes)
Corescore: 67-70
12 shoes (1% of shoes)
Corescore: 71-75
53 shoes (6% of shoes)
Corescore: 76-79
73 shoes (8% of shoes)
Corescore: 80-84
156 shoes (17% of shoes)
Corescore: 85-88
225 shoes (24% of shoes)
Corescore: 89-93
333 shoes (36% of shoes)
Corescore: 94-98
69 shoes (7% of shoes)
Price: £40 - £70
113 shoes (12% of shoes)
Price: £70 - £100
268 shoes (29% of shoes)
Price: £100 - £130
271 shoes (29% of shoes)
Price: £130 - £160
168 shoes (18% of shoes)
Price: £160 - £190
61 shoes (7% of shoes)
Price: £190 - £220
37 shoes (4% of shoes)
Price: £220 - £250
9 shoes (0.97% of shoes)
Price: £250 - £280
1 shoes (0.11% of shoes)
Price: £280 - £310
2 shoes (0.21% of shoes)
Price: £310 - £340
1 shoes (0.11% of shoes)
Weight: 100g - 135g
6 shoes (0.77% of shoes)
Weight: 136g - 171g
24 shoes (3% of shoes)
Weight: 172g - 207g
47 shoes (6% of shoes)
Weight: 208g - 243g
136 shoes (17% of shoes)
Weight: 244g - 279g
213 shoes (27% of shoes)
Weight: 280g - 315g
234 shoes (30% of shoes)
Weight: 316g - 351g
84 shoes (11% of shoes)
Weight: 352g - 387g
25 shoes (3% of shoes)
Weight: 388g - 423g
6 shoes (0.77% of shoes)
Weight: 424g - 460g
3 shoes (0.39% of shoes)