Our reviews
I have to admit I was very skeptical about buying another pair of Adidas shoes, especially after I purchased the Solar Boost.
My review of Solar Boost was fairly bad, but I wrote that the only good thing about the shoe was the fact that they seem high quality. Well, I will give you an update. I had to return them because the sole broke after only 50 miles.
Since in every bad thing there is something good, the store I bought them took them back with no problems, and I was free to buy another pair of shoes. But, this time I would be more careful.
After looking at all that was available and comparing that with my specific needs, my choice fell again on Adidas shoes, but this time PureBoost RBL.
With my fingers crossed, I opened the box and started the inspection. The design was great, and they felt good and sturdy. They were heavy but not too heavy.
Meanwhile, the rubber that protects boost foam was thick. And, to top everything, they were medium-high and water repellent.
Since my bad experience with previous Adidas shoes, I decided to test these for three months before handing in any review. And now, here is my verdict: these shoes are awesome.
Design
The design is flawless, clean, simple and effective. There is nothing to add or subtract. Adidas managed to make it look old school and futuristic at the same time.
They look great with shorts or with a good pair of jeans, and you can wear them almost anywhere. It is one of the most beautiful pair of shoes I have ever had, and the colours are great also.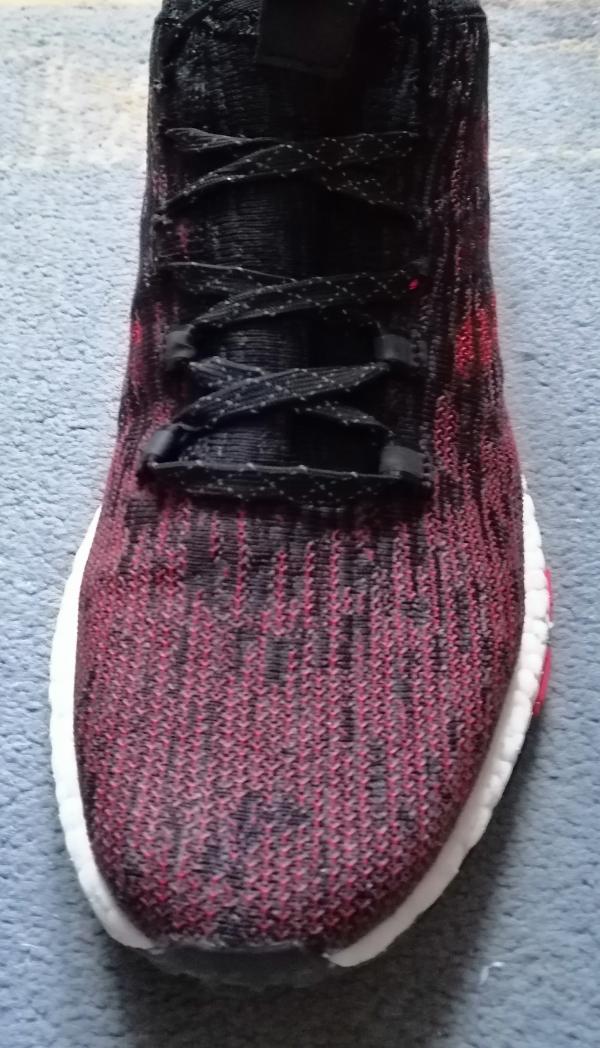 Upper
What can I say, knit upper is the way to go for running/walking shoes. In my opinion, you can not go wrong with knit upper. It hugs your feet like a sock, but it does not cause pressure.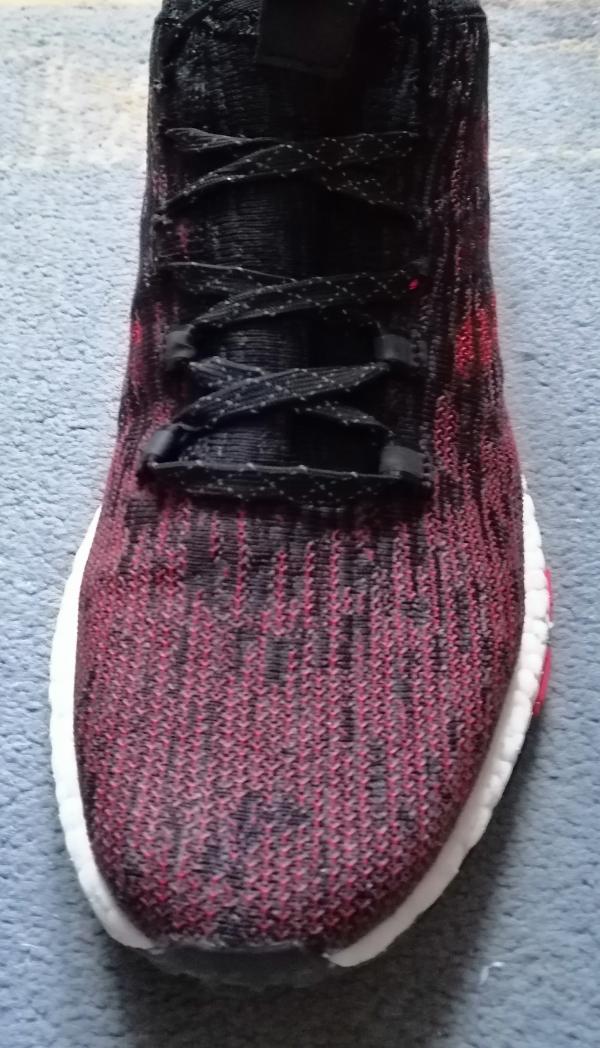 Plus, this shoe is a winter/fall model, so the upper is treated with wax, and it is water-resistant.
The other cool thing with these shoes is the fact the is medium-high, and they nicely hug and protect your ankles. They are easy to slip into. Also, even though they are constructed for colder weather, they do not make your feet overheat.
Sole
The sole is light enough but also protective enough. The nice bouncy feel is provided by boost technology, which is still good and does the job.
What impressed me with this model is the rubber that protects the boost foam. They finally made it right—thick and high quality.
The sole is not too heavy and gives both protection and feel of the road.
Fit, geometry, and price
When it comes to fit, I like my running shoes to give me sock-like feel, that is to be snug but not too tight. These shoes do just that by using knit technology.
There is only one small issue: the heel cup is not very soft or padded. This makes this shoe the type you need to break in first.
I will not lie; they caused me few blisters, but since I had similarly designed Adidas shoes in the early '90s, I knew they would be okay once broken.
The shoes have 8 mm heel to toe drop, and, in my opinion, that is optimal. I actually feel better in 8mm drop than 10mm, but that might not be the case for everyone.
The price was quite high and rightfully when taking into account everything you get. But, I guess they are not selling well, and there are some big discounts, so all is well in the price area.
Conclusion
These shoes are best used for road running in winter and fall but also can be used throughout the entire year. They have 8 mm drop and are wide and stable. The upper protects feet from light rain.
Their beautiful design allows them to be worn during everyday activities. Their only flaw is the heel area that takes some time to break in. I would not use them as racing shoes but more as an everyday, all-around shoe.
Pros
High quality
Excellent design and geometry
Boost sole
Knit upper
One-piece design
Waterproof
Cons
Heel cup that does not lock the foot down entirely
Updates to Adidas Pureboost RBL
Adidas introduces the Pureboost RBL, which stands for "rebel," as it aims to go against the conventional by providing exceptional comfort, maximum energy return, and reliable cushioning that results in stable movements throughout. Designed for neutral runners, the Pureboost RBL delivers an adaptive fit and a close-to-ground feel that is ideal for city running.
The shoe's knit upper and cleatie construction offers a flexible fit, which is further emphasized by a sock-like configuration. The water-resistant quality of the Pureboost RBL is a feature that would appeal to many runners.
The bouncy and responsive platform provided by the boost™ midsole enables a ride that is energized and well-tuned. It is assisted by an outsole with a Stretchweb design for an even distribution of impact and dependable traction.
Size and fit
The Adidas Pureboost RBL is constructed from a standard running shoe design; wearers could expect a decent fit in their usual size preference. With a silhouette that follows an anatomical foot shape, the shoe will easily accommodate runners with moderate foot volumes. The Pureboost RBL is available in medium width for both the men's and women's versions.
Outsole
The Stretchweb outsole configuration has been a trusted material throughout many Adidas running shoes like the popular Adidas Ultra Boost. In the Pureboost RBL, this unique rubber compound continues to provide the flexible yet sturdy grip, which efficiently works on both wet and dry surfaces.
The compound with which Stretchweb is made from also works by lowering the pressure from the strike and helps provide a sensation of running on soft ground.
Midsole
With boost™, the midsole is able to provide the runner with a springy step for a consistent and smooth run. The cushioning formed by thermoplastic polyurethane (TPU) pellets is lightweight, durable, and stable, allowing for easy, energized strides. Aside from these, boost™ is also efficient in absorbing shock, thus permitting a problem-free ride.
Upper
The knit upper of the Adidas Pureboost RBL is the similar material used in most running shoes from the Pureboost line. It gives a comfortable, cloth-like feel that prevents irritation. The knit material also comes complete with specially-tailored areas for an adaptable fit. Breathability is likewise ensured as the open-pore pattern enables sufficient air circulation.
The upper also features an ankle collar that is made from garter. This design mimics the sensation of wearing a sock: comfortable yet secure. The wrap provided by this collar also prevents debris from entering the shoe.
The most significant feature of the Pureboost RBL is the water-resistant coating of the upper. Such a quality allows for problem-free runs on shallow water sources and other wet surfaces.
Reflective details could also be found around the shoe, which help the runner be seen in low-light conditions. This permits more opportunities for running.
Compare popularity
Interactive
Compare the popularity of another shoe to Adidas Pureboost RBL: