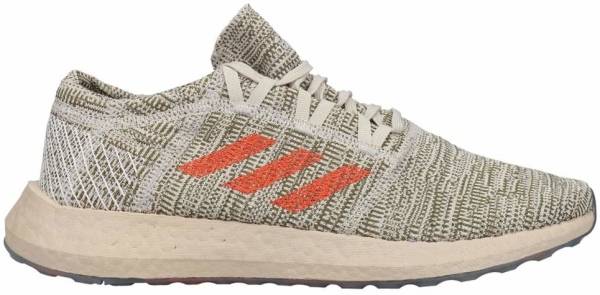 The general response for the Pure Boost Go LTD was positive. People really liked this Adidas running shoe. They were primarily appreciative of its accommodating upper, non-restrictive weight, springy yet flexible midsole and cool-looking façade. But while the fit profile was met with praise, some testers felt that the in-shoe hug was tighter than their usual fare. The Adidas Pure Boost Go LTD is a product for neutral pronators and those who like adventuring across the urban landscape.
---
Verdict from 1 expert and 100+ user reviews
5 reasons to buy
Those who have tried the Adidas Pure Boost Go LTD were happy with the attractive designs, stating that the colorways and the overall aesthetics looked appealing.
Consumers liked the lightweight nature of this road running shoe; they claimed that it didn't limit their capacity to move.
Testers welcomed the width profile of this product; they noted that the in-shoe coverage didn't feel restrictive or too snug.
Purchasers stated that the Pure Boost Go LTD was versatile enough to handle many types of activities, including gym exercising and walking.
The fabric of the upper unit securely wrapped around the foot, according to some runners.
2 reasons not to buy
Some users of the Pure Boost Go LTD say it is not suited for any runner who's looking for extra arch support.

Several wearers say the shoelaces create a bit of uncomfortable pressure on the top of the foot because of the thin tongue.
Bottom line
The general response for the Pure Boost Go LTD was positive. People really liked this
Adidas running shoe
. They were primarily appreciative of its accommodating upper, non-restrictive weight, springy yet flexible midsole and cool-looking façade. But while the fit profile was met with praise, some testers felt that the in-shoe hug was tighter than their usual fare. The Adidas Pure Boost Go LTD is a product for neutral pronators and those who like adventuring across the urban landscape.
Best price from 32 shops
We earn affiliate commissions at no extra cost to you when you buy through us.
80% say it's true to size.




Our reviews
The aesthetics are eyecatching and worthy of casual wear, especially that two-tone outsole, which is best inflicted on your foes at pace whilst flashing past.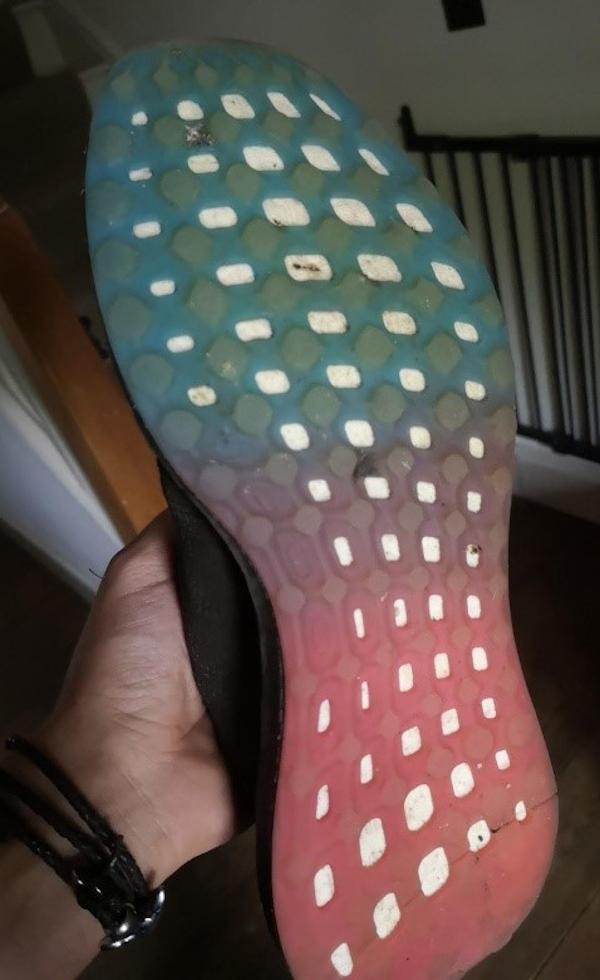 My variation (sky blue and black weave, black detailing) is understated but not too dark to be confused with non-sporting footwear.
I actually can take or leave the aesthetics of most runners in favour of function, but there is a modern edge to this with the injection of colour.
However, I am not a fan of the exposed flash of red stitching, which has an unqualified, random and unfinished feel to me.
The texture of the weave implies more of a gore-tex outdoor pursuiter than a sleek urban cosmopolitan, which is perhaps in-keeping with many of its design features geared towards nature and freedom.
This is fine with me as a runner but perhaps lacking the neon ravey punch of the extensive colour palettes of other comparable weaves.
I am a fan of the subtle Adidas branding, which neither leaves you guessing, nor rams itself down your throat as an ever-present bi-pedal billboard.
Comfort
Flat, wide lacing flows smoothly between eyelets and provides a really comfortable fit with no bunching. This seems to be aided by the minimal upper, which doesn't impose structure on your foot, allowing for a glove-like feel.
Pressure points are avoided by looping of eyelets, as well as a neat fold in the upper which protects against pinching and soreness whilst maintaining the lightweight, amorphous feel.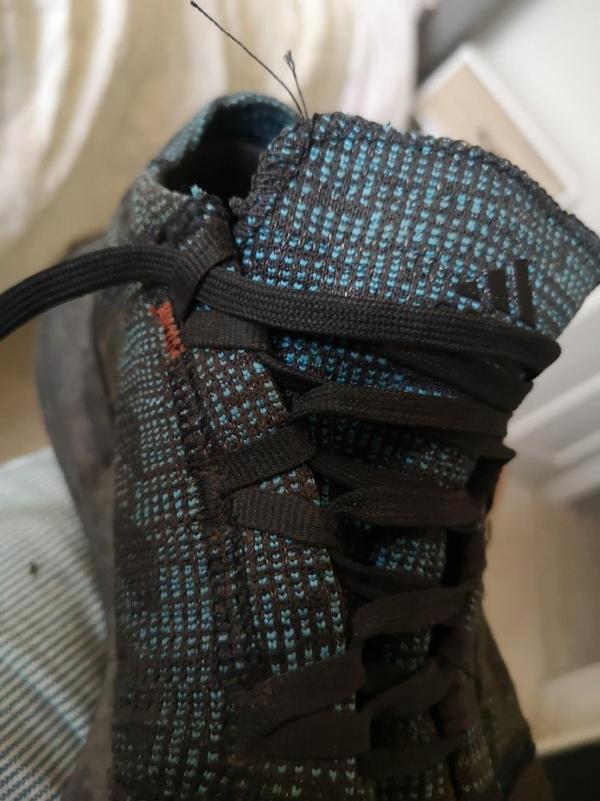 This said, the minimal upper does mean that overtightening can create soreness, but the glove-like feel means you can be assured of stability without doing so.
The small amount of padding that there is, situated around the inside of the heel collar, fits neatly and again without imposition, around the natural contours of your achilles and ankle.
The smooth suede-like material also feels natural even when a trainer sock slips down and directly contacts the foot. It provides stability, which is essential in such a loose and free upper.
This is not a flyknit and lacks the elasticity of many woven shoes. However, the rugged weave and lack of softness doesn't seem to affect the shoes ability to provide glove-like closeness but also freedom of movement.
There is enough play to prevent blistering and soreness. It feels more durable. In that regard, having put over 150 miles into my pair, I see no signs that the upper will be the eventual point of failure.
Structure and support
A major success of this shoe is its ability to confer stability and protection to an otherwise flimsy upper, whilst keeping it true to its brief of natural unimposing foot feel with unrestricted movement and keeping weight down.
This is achieved by printed latticing to the heel counter and inside of the foot, in place of a conventional trail shoe rock protector. These reinforced areas are sufficiently sparse to allow for some movement.
Regardless, I feel it provides the perfect amount to assure and stabilise faster paces whilst staying lightweight and minimal.
This is a neutral, unsupported shoe suitable for those without an overpronating gait. I feel this shoe encourages the natural strengthening of the running drivetrain and supporting structures.
However, some may feel a little exposed compared to their existing, more robust shoe choices. That said, I would fully endorse this as a better way to evolve your running resilience.
This isn't such a weakness in the shoe, more a potential issue due to slight imbalances of the runner. This is nonetheless something to consider when selecting and transitioning, despite its overall comfort in all contexts I have tried.
Ground feel
The PureBoost foam provides a great deal of cushioning without ever feeling inefficient or spongy. Like its contemporaries with other leading brands, it is engineered for recoil as well as protection.
With most high drop or cushioned shoes (8mm drop here), the feeling of closeness to the ground is reduced somewhat, so as ever watch out for your form and any impacts or pains referred up your kinetic chain that this lack of feel may bring.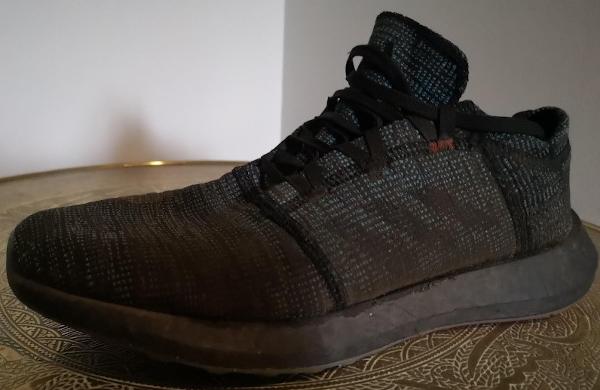 This said, a wide toe box allows the proprioceptors in the sole of your foot to fire, and normal ergonomic spreading of your feet to take place on impact. This goes some way to bringing the shoe back to a nice natural feel, as well as adding stability.
From personal experience, this allows for good pace maintenance over many miles, with no sign of blisters or hotspots. But, I'd advise sticking to hard flat surfaces as all that cushioning may leave you less responsive to unexpected changes underfoot.
The outsole feels grippy in most instances, although as with many of the Adidas Boost lineage, can struggle somewhat in the wet. A soft, flexible midsole is adequate for responsively shaping to rough hard ground or rocks.
However, the support and low levels of grip (well, no lugs anyway) would make this an unsuitable choice (read urban kerbs and roots, rather than trails and boulders). For the record, I haven't yet slipped so won't be docking many marks.
Value
I was fortunate to pick up a pair at a factory outlet, so my experience doesn't really apply. I would say that its initial RRP (up towards £100) may have been a little steep for a slightly unconventional second, perhaps training shoe.
But now that a year or more have gone by since its release, it should be available at an incredibly worthwhile lower pricepoint.
This all said, nothing about its design or construction feels cheap (depending on your feelings on exposed machine stitching—aesthetic point really).
Feeling innovative, highly runner focussed and attentive, and so worth a slightly premium price point. I have felt value at every turn with no annoyances, and having put 150+ miles in thus far, no signs of undue wear or weakness.
Overall
The Adidas Pureboost Go LTD is somewhat of a split personality, providing earthly natural movement and glove-like feel up top however with a highly engineered, high cushion midsole underneath.
This makes for an unbalanced feeling in-hand, but this isn't the case when worn and during running.
The subtle support of the rubberised printed hased sections provides enough structure and assurance to push on, elevating this from a more minimal, natural shoe to one that can also perform reliably at pace and over longer distances.
I'd recommend for those seeking natural foot feel and movement, if not for a minimal purist in terms of road feel and drop.
It is versatile as an everyday shoe, perhaps as a second pair to provide variation and time away from pressure points and enforced style of other footwear.
It feels like a shoe that would be ideal for injury prevention and recovery due to its unimposing upper but generous cushioning, gently encouraging adaptive stability rather than locking it in with gadgetry and padding.
What is for sure is this shoe gives you back ownership of the joys of movement and has a sense of unrefined freedom and energy that at times the asphalt takes away.
The Adidas Pureboost Go LTD could be just the breath of freedom your feet and running need, but not shy on speed or stability either—although watch that transition if used to more supportive and robust running shoes.
Updates to Adidas Pureboost Go LTD
The Adidas Pure Boost Go LTD is a product that's meant for the urban landscape. The façade of this running shoe is made of knitted fabric, and it's reinforced by multi-tiered stitching and extremely-thin printed overlays. The thin tongue and lightly padded collar hold the foot in place and prevent it from wobbling inside the interior chamber.
Cushioning is the responsibility of the full-length boost™ midsole, a reactive and flexible compound that's crafted to enable the natural movement capacity of the foot. A rubber layer covers the foam, protecting it from the abrasive nature of the surfaces. The grid-like design of this external pad further encourages foot flexibility.
The LTD distinction highlights the limited color schemes available for this model, making it different from the original Pure Boost Go model.
Size and fit
The Adidas Pure Boost Go LTD was designed using the standard measurements. Runners are expected to utilize their general sizing expectations when it comes to purchasing a pair.
Widthwise, the available option is D – Medium for men. This running shoe was made with men's foot dimensions in mind. It is worth mentioning that some consumers felt some tightness; they recommended trying on a pair first or go up half-a-size to free up some space inside the shoe.
Outsole
The outsole unit of the Adidas Pure Boost Go LTD is made of flexible rubber. The purpose of this layer is to protect the midsole from the abrasive nature of the surfaces. It is also a source of traction because it has a sticky characteristic and a set of nodes which inherently provide surface control.
Flexibility is given by the grid-like configuration of the rubber pad. The spaces between each traction node are avenues for foot flexibility. The natural bending of the foot is encouraged because of such non-limiting outsole design.
Midsole
The midsole unit of this neutral running shoe is made up of boost™, a technology derived from the amalgamation of thermoplastic polyurethane (TPU) pellets. The purpose of this feature is to attenuate impact shock and provide energy to the toe-off phase of the gait cycle. It also makes sure to remain light and reactive to the wearer's movements.
An insole is placed right above the main cushioning unit. This add-on is tasked with providing a layer of softness that rests against the skin of the underfoot. It can be removed or replaced with a different one if the wearer chooses to do so.
Upper
The upper unit of the Adidas Pure Boost Go LTD is made of knitted fabric. The job of this material is to wrap the foot securely without making it feel like it's trapped or constricted. Environmental air passes through the tiny breathing holes on its façade, ensuring a well-ventilated running experience.
Some stitching reinforces the sides and the heel of this running shoe. These highlights bolster the structural integrity of the façade while also helping the lacing system when it comes to securing the foot in place.
A traditional lacing system is used for this product. Flat laces loop through fabric-eyelets. Such a design aims to adjust the tightness or looseness of the coverage without resulting in an unwieldy fit.
Thin synthetic prints adorn the heel, the sides, and the forefoot. These add-ons help in preventing in-shoe wobbling and accidental shoe removals. They also provide a bit of flair to the silhouette.
The inner sleeve is made of soft textile. The job of this lining is to hug the foot in a non-irritating embrace. It doesn't hinder breathability because it also has several pores through which air passes.
Rankings
How Adidas Pureboost Go LTD ranks compared to all other shoes
Popularity
The current trend of Adidas Pureboost Go LTD.