Many of those who own the Pharrell Williams Hu Holi NMD MC made it their go-to shoe for its remarkable comfort. The fashion-forward design and colorways of this Pharrell sneaker also delight most wearers. While there might be a handful of drawbacks to this Adidas pair, the number of its upsides far outweigh the bad.
Pros
Comfortable upper
Outstanding colorways
Amazing quality
Unique design
Head-turner
Sock-like fit and light
Worth every single penny
Mix and match champ
Easy to slip on and off
Who should buy the Adidas
Pharrell Williams Hu Holi NMD MC
The Hu Holi NMD MC utilizes knit uppers that keep the wearer's feet snug inside. Meanwhile, its round laces attached to TPU lace cages also provide added security. This Adidas Pharrell Williams sneaker is a solid choice if:
You love shoes with rare and extraordinary designs.
You prefer footwear with so much style that draws the attention of the crowd.
You are looking for a pair of sneakers that goes well with almost all outfits.
Style of the Adidas
Pharrell Williams Hu Holi NMD MC
Pharrell has mostly kept his clothing simple and let his kicks speak for themselves. Take his uncomplicated styling to heart, and match Adidas' PW Hu Holi NMD MC sneakers with casual outfits like shorts and jeans. Pastel tops will work with the chalk coral and pink glow colorways, while the core black (black and purple) color scheme will match well with dark shades.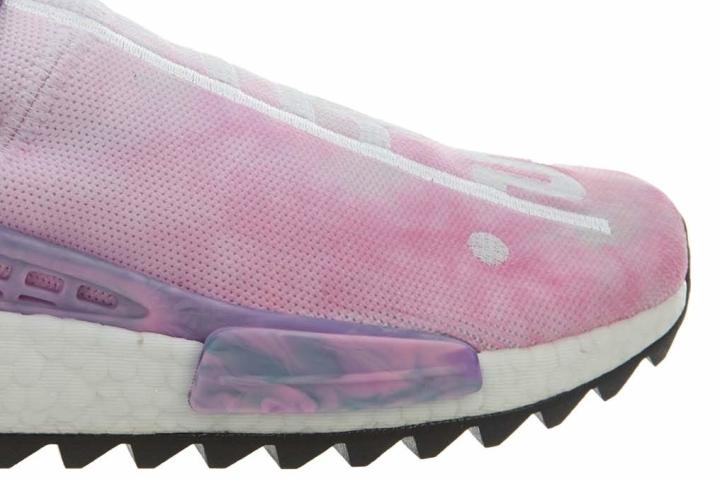 Notable features
Any shoe with the Pharrell Williams stamp is noteworthy because you can be sure that every tiny detail has been pored over and checked which gives you only the very best in quality. From the carefully chosen fabrics, knit in this case, to the perfect blending of colors and the beautiful 3M laces, everything is top-notch.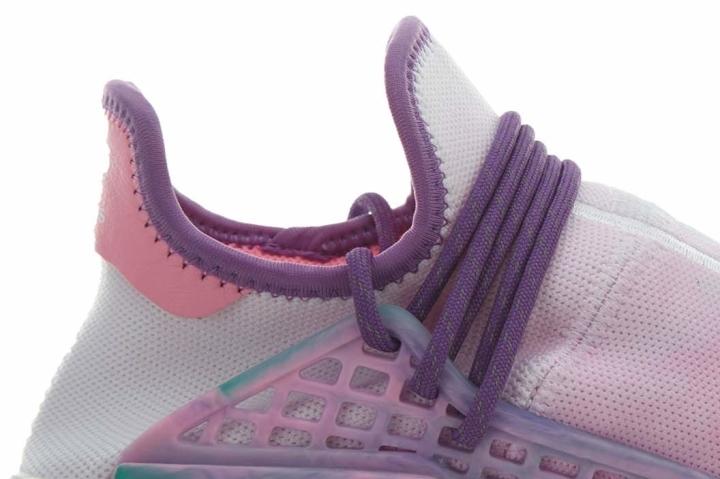 Boost cushioning assures the user that not only do the kicks look stunning, but they're also incredibly comfortable too. The Boost midsoles return as much energy as you give out so you can go on non-stop urban adventures.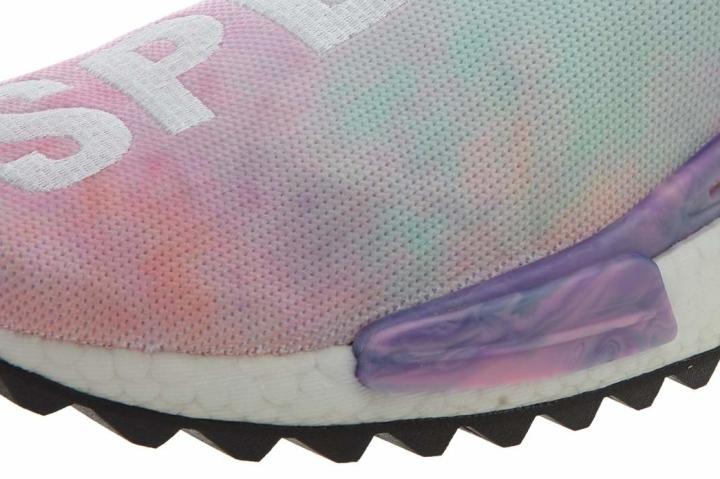 Notable features
In 2018, Pharrell decided to honor the Holi Indian festival—or the Festival of Colors—by launching the Holi Blank Canvas Collection (or Holi BC) in the 23rd of February. This collection featured all-white Stan Smith, Tennis Hu, and NMD Hu shoes as well as a knitted top, also in white. The white color signifies the uniform of each devotee at the start of the festival.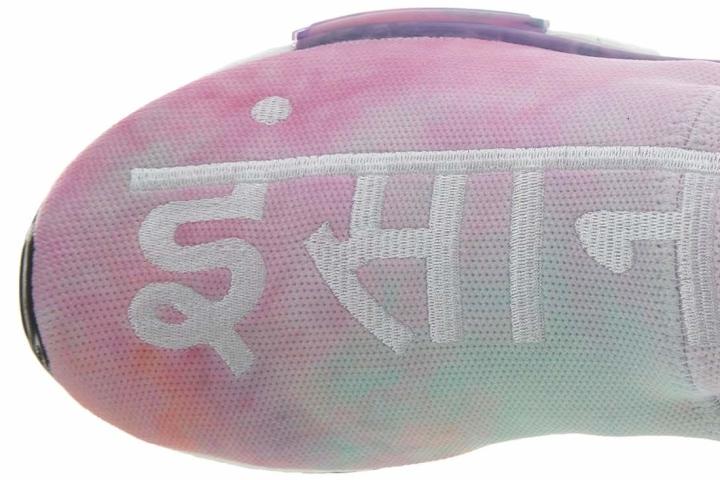 The Holi Festival is held in celebration of spring's arrival, the triumph of good over evil, and as an enactment of a game that the god Krishna and his consort Radha played with milkmaids. The Hindus celebrate this by splattering each other with powdered paint.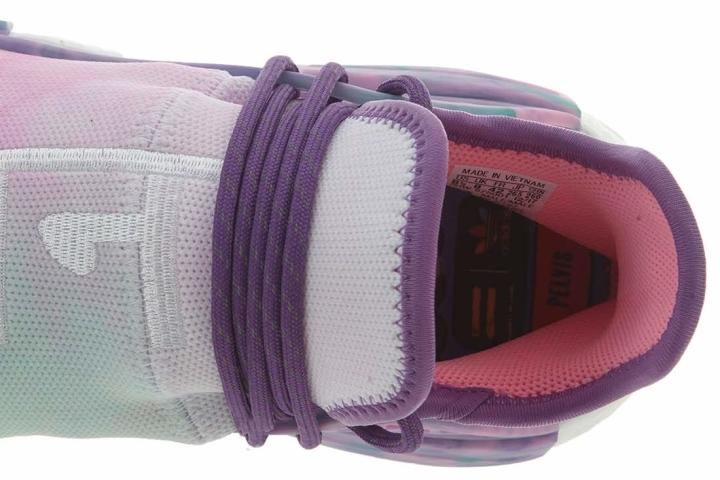 In the 16th day of March of the same year, Pharrell completed his Holi Festival collection by coming out with the Festival/Holi MC (Multi-colored) Pack. The shoes in this collection are supposed to signify the aftermath of the festival after everyone has been drenched with brilliantly-colored powder dyes.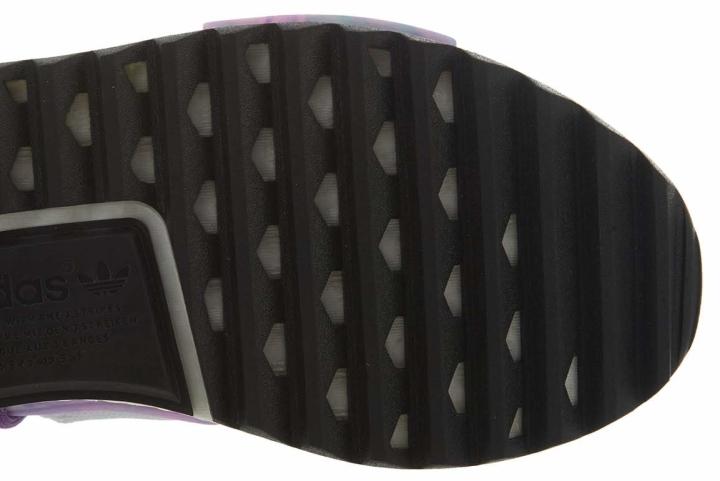 These kicks carry that typical NMD swag but improved with Pharrell's creative mark. Two colorways look drenched in powder dye, while one carries a solid black hue. 3M laces in the trademark Hu lace cage system provide a subtle flash under low light conditions. Trail soles complete the casual look.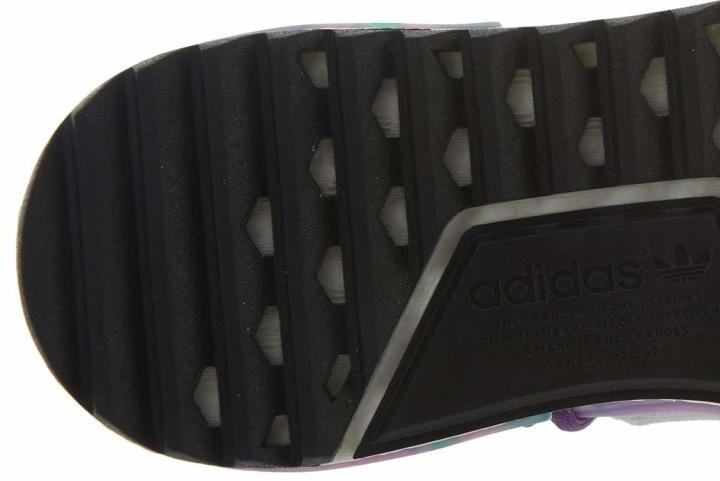 Additional info
Adidas Pharrell Williams Hu Holi NMD MC sneakers feature breathable knit uppers and molded EVA midsole stability blocks.