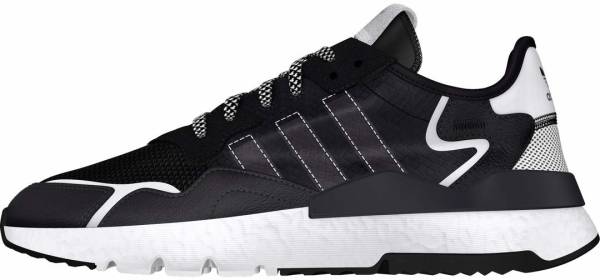 An interesting addition to the Boost-cushioned kicks of the Three Stripes brand is the Adidas Nite Jogger. The vintage lifestyle running shoe decked in suede and 3M reflective overlays make an instant connection with wearers looking for visually appealing shoes especially at night. It is a welcome addition to several people's sneaker rotations as their nightly commute becomes even more appealing with the Nite Jogger's styling.
---
Verdict from 100+ user reviews
7 reasons to buy
An overwhelming majority of reviewers say that the Adidas Nite Jogger sneaker is one of the best silhouettes from Adidas.
Numerous comments describe the sneaker as a "fresh," "modern," and "exciting stylish silhouette."
Several wearers note these retro-styled Originals sneakers feel comfortable the moment they wear them until they take them off.
The well-placed 3M reflective detailing pops out quite remarkably to many customers liking.
A significant number praise the responsive Boost cushioning midsole that makes running comfy in every stride.
Some customers find its price reasonable for a Boost cushioned vintage-inspired kick.
3 reasons not to buy
Some people think the shoe is a bit tight.
Quite a few reviewers say it could use more reflective materials in the design.
One reviewer says the exposed tongue design could have been better if it is not styled like a deconstructed one.
Bottom line
An interesting addition to the
Boost-cushioned kicks
of the
Three Stripes brand
is the Adidas Nite Jogger. The vintage lifestyle running shoe decked in suede and 3M reflective overlays make an instant connection with wearers looking for visually appealing shoes especially at night. It is a welcome addition to several people's sneaker rotations as their nightly commute becomes even more appealing with the Nite Jogger's styling.
Best price from 30 shops
We earn affiliate commissions at no extra cost to you when you buy through us.
73% say it's true to size.







Size and fit
The unisex Adidas Nite Jogger comes in women's and men's sizes. Each low-top shoe comes with a padded exposed tongue, an Ortholite removable insole, and secured by flat shoelaces with reflective detailing. These features ensure wearers a lockdown fit as well as a comfortable in-shoe feel.
Adidas Nite Jogger Style
With so many creative minds that are usually active at night, wearing a highly stunning sneaker for some night-time walks and jogs makes perfect sense. The Adidas Nite Jogger shoes are highly fashionable kicks matching effortlessly with most streetwear and are aimed for the night-time creatives wanting a comfortable kick with the right amount of visual pop.
The first colorway to come out of this Adidas Originals retro-styled jogger shoe when it was released in January 2019 is the core black/carbon/active blue colorway. The first version of the shoe looks sleek with its all-black ripstop and mesh upper with detailing of orange suede and 3M reflective accents. The original colorway is quite easy to style with some darker toned clothing like jackets, hoodies, and shirts for tops and denim jeans, joggers, track pants, and shorts.
With the success of the 2019 release of the silhouette, the Nite Jogger by Adidas was also rolled out in other colorways like core black/carbon/cloud white and cloud white/crystal white/core options. For most of its wearers, the versatility of its colorways is a major factor for purchasing these retro-styled sneakers.
While the Adidas Nite Jogger shoes are released in unisex sizes. Men and women have come to love the silhouette that is perfect for any streetwear like hoodies, skirts, skinny jeans, and sexy tanks. With the rise in popularity of the athleisure trend in the past years, men and women have embraced wearing athletic shoes and apparel even after doing fitness and gym training.
Wearing the Nite Jogger sneakers by Adidas Originals seem to be the best example of this trend where lifestyle running sneakers have slowly been embraced as a style staple by many fashionistas.
Meanwhile, some people wear these kicks while commuting to their night shifts or as a casual shoe for bar hopping and clubbing. The reflective details give the needed aesthetic boost to the design with the right amount of lighting needed to illuminate it. With the rise of street-style fashion and hypebeast casual wear, the Nite Jogger is a definite choice for daily beaters or for your sneaker rotation.
Notable Features
Equipped with 3M reflective details and accents in the shoelaces and upper overlays, the Adidas Nite Jogger offers high visuals and detailing for those looking for updated classic kicks that are quite easy to pair with different kinds of streetwear.
The lifestyle running sneaker has the responsive and comfy Boost cushioning midsole that is further enhanced by the Ortholite insole.
Adidas Nite Jogger History
The Three Stripes brand has been at the forefront of shoemaking since it was established on August 18, 1949, by its founder Adolph "Adi" Dassler. The shoe company started in the Bavarian town of Herzogenaurach where it still operates its headquarters. Adidas first released soccer and running shoes in its earlier years before it also dropped other models for various sports.
The German company also began reviving shoe models with updated looks, styling, and materials through Adidas Originals. Among the most famous silhouettes in its more than 70 years of existence like the Adidas Stan Smith and the shell-toed Superstar were among the most successful reissues which further boosted the company's revenues from lifestyle sneakers.
Made for running at night
The original Adidas Nite Jogger shoes came out in 1979 as a trainer just around the time when the brand has been establishing its name as an athletic shoe manufacturer. At the time of the OG Nite Jogger's release, the rise of casual sneakers has been steadily growing that the German brand decided to capitalize on coming up with designs that would appeal to the subculture.
The Nite Jogger trainer was designed to deliver enhanced shoe visibility to runners who do their runs and train at night. Adidas designers also specifically made the sneakers for those who do their casual jogs at night. The OG Nite Jogger featured premium leather and suede uppers with studded gum sole as a nod to its running heritage.
The Nite Jogger was re-released for a limited time in 2015 with colorway options of orange, white, and blue. The design featured 3M tip detailing and the original colorways that take us back to the late 1970s. Probably at this time, you won't be buying the Adidas Nite Jogger to run a marathon or some community runs but having them back on the Adidas' shelves has proven the longevity of the design and its importance among night owls who churn in hours of work especially at night.
Nite Jogger updated
In early 2019, the Three Stripes brand reworked the '70s running sneaker with new reflective detailing and cushioning technology that are more in line with the demands of the times. The shoe now features 3M reflective material to give improved night-time visibility by placing them in the back heel overlay and in the flat shoelaces. Modern ripstop mesh and suede overlays were also used for enhanced support and breathability in the 2019 edition. The re-issued Adidas Originals sneaker was also equipped with the brand's most comfortable and responsive Boost cushioning material to ensure energy return and less fatigue for wearers all day.
Coming out as a modern streetwear kick, the Nite Jogger sneaker by Adidas is perfect for those who do nightly commute or those who do casual walks or strolls at night. The reflective detailing with a bit of light would immediately light up and flash for added visibility. Created for the creative people who usually go out to create their stuff at night, the comfortable shoe comes packed with modern cushioning upgrades as well as reflective detailing which glows well when exposed to light. Ample reflective material was placed on the laces and the Three Stripes branding in the medial and lateral sides while a more vibrant fluorescent heel counter provides a more striking reflective pop.
The Adidas Nite Jogger shoes feature Boost technology in the midsole and an Ortholite removable insole to ensure all night and day comfort and responsive cushioning. The Nite Jogger shoes by Adidas Originals also feature ripstop nylon and mesh material in the upper for maximum breathability and lightweight feel. It is further accented by contrasting Suede overlays and 3M reflective details at the laces and back heel. The sneaker design is also trendy with its exposed tongue that keeps up with the deconstructed look of most streetwear today.
Nice to know
Ripstop upper is styled with suede and reflective overlays.
The exposed tongue gives off a deconstructed and modern look.
3M reflective hits at the back heel and laces are present for night visibility.
The rubber outsole at the bottom has a distinct pattern and color blocking.
Rankings
How Adidas Nite Jogger ranks compared to all other shoes
Popularity
The current trend of Adidas Nite Jogger.