Our reviews
Think of a classic soccer cleat and you'll immediately be transported to the Adidas Copa Mundial. Plain, simple leather boots in black were all the rage for most of football history right up until approximately 20 years ago.
While leather still has its place in the hearts of the regular boot connoisseur, manufacturers started phasing them out about 20 years ago while moving towards synthetic and knitted uppers which were lighter and more resistant to water. It was also more expensive to import, treat and export leather goods as opposed to synthetic and knitted materials.
Not long after, brands also pushed leather boots down its list of priorities. Unfashionable defenders endorsed them while the flashy knitted and synthetic boots were reserved for superstars like Ronaldo and Neymar. This, despite leather boots' reputation for an accommodating fit, elegant and padded touch and all-round comfort as opposed to synthetics' more rigid feel.
Adidas' U-Turn on Leather
During Adidas' rebranding of their football line up a few years ago, they took the brave step of eradicating their leather line altogether.
Someone in Adidas must have realized their mistake to gift Nike carte blanche to rule the leather boot market with their Nike Tiempo Legend 7 and made a ham-fisted attempt to develop a leather boot again with the Copa 17.1 and 18.1. However, they were mediocre productions as compared to their other flagship lines.
By the tail end of 2018, Adidas made a serious return to the leather segment. They launched the Copa 19.1.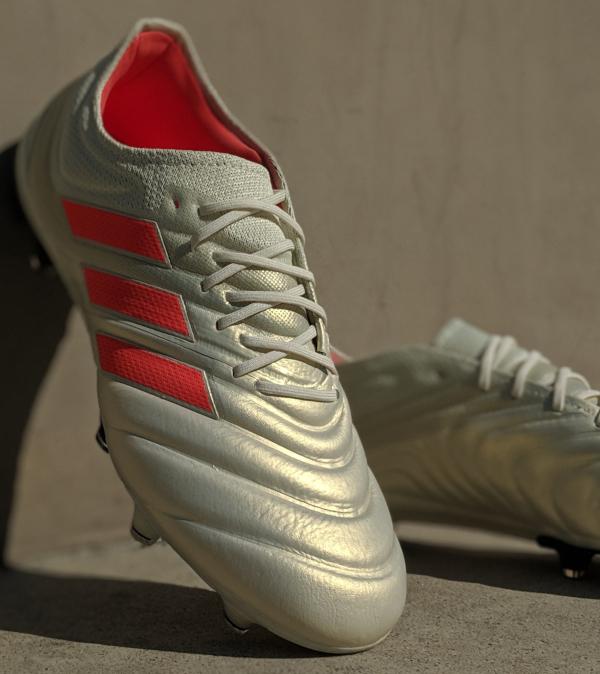 The Spirit of the Copa
Adidas took inspiration from their classic Copa Mundial but sought to modernize it for today's needs.
Their mission: To produce a comfortable premium leather boot of yesteryear but merge it with the fit, tech, and looks of 2019.
Leather boots are usually made from several pieces of leather stitched together. This meant that they had to use harder leather to withstand the stitching process. Stitching also led to more holes in the upper, leaving it susceptible to water seepage (and long-term damage) in wet weather conditions.
It's hard to look away from the ribbed design on the Copa 19.1 – hilariously panned by some bloggers as a parody of a Michelin tire mascot. But look closely and you'll notice the lack of stitching on the leather upper. Adidas' treatment of the leather led to a more durable but also softer material to keep the leather as a one-piece upper.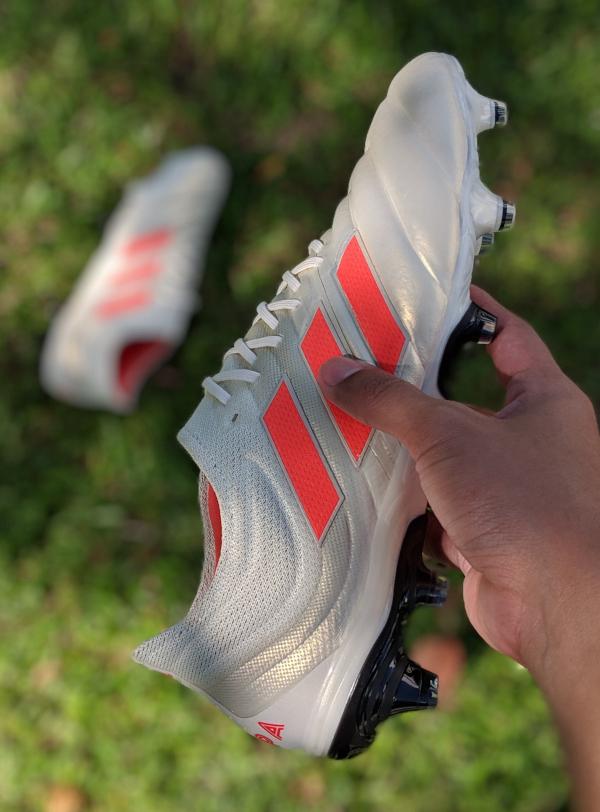 Save for the tongue, the boot is a seamless piece that starts with the softest, most pillowy leather in the forefoot and midfoot. It transitions subtly to a knitted material as you move up the midfoot towards the laces and towards the heel area.
I've never seen such treatment and attention to detail on a football boot before. If you're a boot nerd like me, please take that extra bit of time to appreciate the minor but glorious details as the leather transitions to the knitted material.
Growing pains with the Copa 19.1
Once I was done gawking at its craftsmanship, I had mixed feelings about how it felt on feet. The lockdown was superb in the heel and I had a comfortable amount of wiggle room in the toe box.
My feet felt like it was cocooned in clouds – that was how soft and plush the upper felt. However, things were not going as well in the midfoot.
The Copa 19.1 had a unique "burrito tongue" construction which aims to secure your feet in the boot. But just like the Nike Tiempo Legend 7, this wrapped my feet too tightly.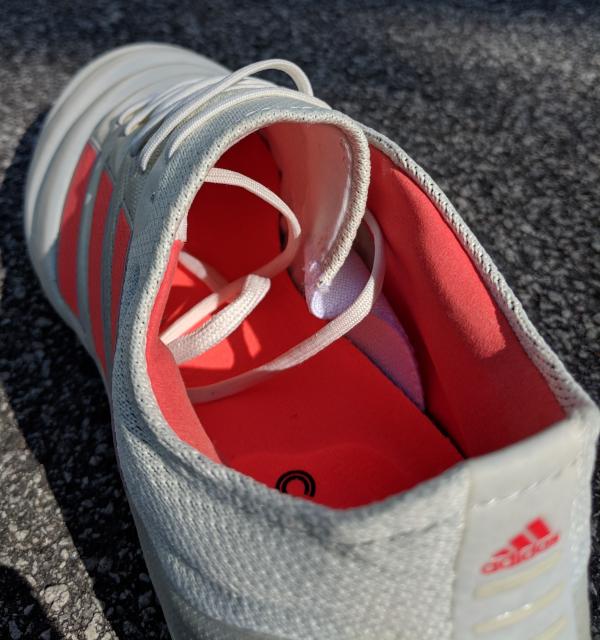 A great lockdown in the heel, a suffocating midfoot and pure bliss for the toes. It was odd.
My first play test in the Copa 19.1 was a disaster. My feet couldn't breathe with that burrito tongue wrapped around my midfoot. I was riddled with cramps on my feet and I was unable to play more than 15 minutes in them. During my self-imposed break, I loosened the laces. It improved the situation but it did not eradicate the problem entirely.
Second time's a charm
I gave the boots another go 3 days later and it was a marked improvement. The burrito tongue must have stretched after the first wear. I could finally experience the boot's qualities and it performed like a dream.
The secure lockdown was still evident in the heel and midfoot areas while the toebox remained very comfortable for my feet. There were no cramps this time around.
Don't be fooled by the upper. It may look too thick and pillowy but it stretches out nicely when you put it on. This allowed for an elegant and padded touch while still offering a closer feel of the ball than you may think.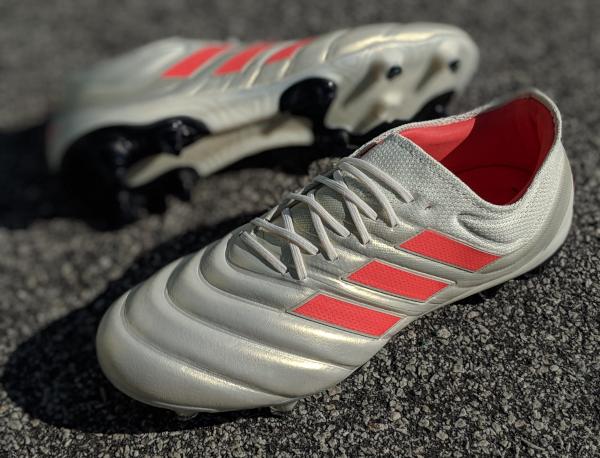 Passing and receiving the ball was a delight as the ball is nicely cushioned by the Copa 19.1 with every touch. Love shooting through your laces? The upper takes away the sting after you connect hard with the ball.
The comfort also extends to the heel area of the insole and the lateral and medial side of the boots which house plush cushions to make every stride and change in direction feel like a stroll among the clouds.
If you like the sensation of a leather boot, the Copa 19.1 serves up all the best traits a leather boot should provide.
Is it odd that a boot can swing so greatly from awful to awesome after a single game? I think so but perhaps you need some patience to break in to them over a couple of sessions.
I would recommend not starting out in them immediately. Start a game with a comfortable pair before switching into them for the last 20 minutes after your feet have warmed up.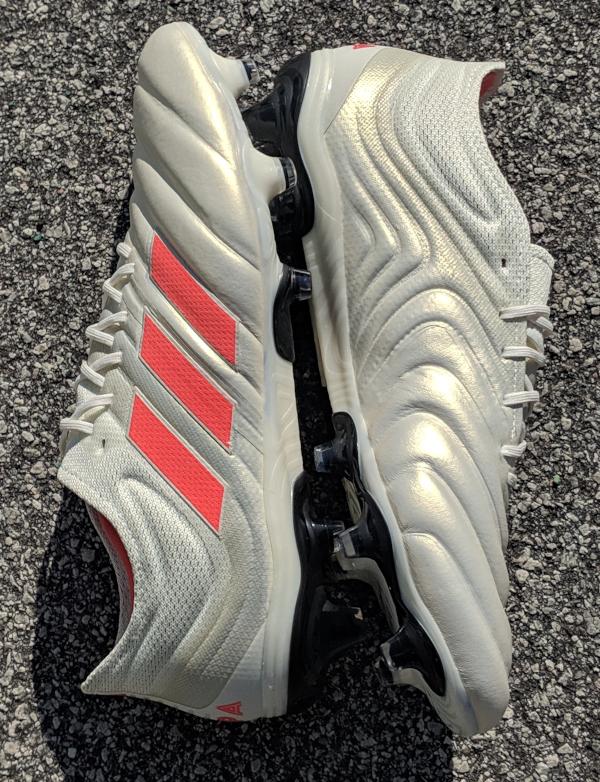 Adidas is serious about leather
It's quite refreshing for a company to put back more emphasis on a leather boot after years of being pushed out of obscurity. It's not just nostalgia too. Adidas has put in a massive amount of effort in making this the best leather boot it can be.
The Copa 19.1 is not just a worthy addition to the Adidas lineup but a great return to the leather boot category. Adidas has only enriched the "Copa" reputation and I hope this is a renaissance for leather boots in the industry.
Features of the Adidas Copa 19.1 Firm Ground
Often compared to the classic Mundial series, the Adidas Copa 19.1 Firm Ground is also a prominent prototype of heritage and class. Not only that, this soccer cleat boasts of its revolutionary features that make a balance of vintage and modern.
For one, its premium K-leather upper brings in a unique vibe with its silky and wave-like patterns that provides a soft yet protective touch when touching the ball. The vamp area is integrated with the X-ray framework that pinpoints accurate shots.
Coated in the upper is the Fusionskin material which is described as a leather treatment that is mainly built to lessen water uptake. It functions similarly with the brand's Non-stop Grip (NSG) often seen on the Adidas X series.
The low top collar of the upper is made of a textile fabric that brings a structured fit and feel for the lower leg. Due to its tongueless constructions, players can expect a seamless, sock-like feel internally.
To bring firm ground traction, the Exoframe plate is installed on its base. Circular and triangular studs are arranged strategically to produce a supportive soleplate. The TPU pod inlays on the footbed assures of adequate cushioning on the foot's pressure points.
Size and fit
This soccer cleat is available in sizes 6.5 to 12.5 for men. Its comfortable fit is enhanced by the internal foam pads and the central lace-up that lock the ankle and midfoot in place. It fits true to size.
Outsole
The outsole features of the Copa 19.1 Firm Ground is no different from its more expensive counterpart, the Copa 19+ FG. Both have been installed with the Exoframe plate that is meant to support the foot for that explosive traction on firm ground pitches.
The soleplate is composed of rotational studs that are triangular and circular in shape. Four studs are placed on the heel area while seven studs are arranged on the forefoot.
Upper
The upper of the Adidas Copa 19.1 exudes touch elements that are unique to the soccer shoe world. Its quilted vamp and one of a kind pattern on the sides are not just there for aesthetic value but also to amplify comfort and ball control.
The heritage value of this soccer cleat is seen its K-leather upper that is engineered with a silky texture. It also offers a soft comfort touch that aids in ball control.
The textile used on the low top collar offers a stretchy sensation to allow more ankle and lower leg movement. The collar is seamlessly attached to the midfoot and vamp to produce a one-piece construction, without the standard shoe tongue. With this upper design, players can expect a sock-like sensation with custom fitting through the central lacing system.
Additional Info
Professionals like Jodi Alba of Barcelona and Toni Kroo of Real Madrid have worn the Adidas Copa 19.1 Firm Ground.
These Adidas soccer cleats have Ortholite sockliners for underfoot cushioning.
Compare popularity
Interactive
Compare the popularity of another shoe to Adidas Copa 19.1 Firm Ground:
Adidas Copa 19.1 Firm Ground video reviews