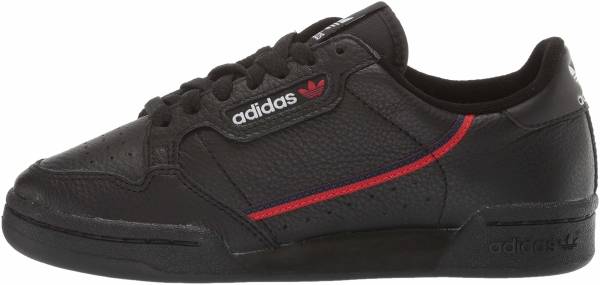 Adidas sneakers are known for taking inspiration from heritage styles, and this is the case with the Continental 80. The shoe's retro look is its primary appeal, with many praising its style and nostalgic factor. With its sleek 1980s vibe, this sneaker is also said to be comfortable and well-made. Overall, at its budget-friendly cost, this model is a valuable addition to one's closet for everyday wear.
---
Verdict from 100+ user reviews
9 reasons to buy
The majority of testers admire the Adidas Continental 80's unique style.
It's budget-friendly, with many buyers commenting that it's an excellent shoe for the price point.
More than a handful of reviewers think that the Adidas Continental 80 is a perfect shoe for the summer season.
It's a comfortable sneaker, a lot of commenters reveal.
According to quite a few buyers, the Adidas Continental 80 is very well-made.
Some testers have discovered that the sneaker is great for everyday wear, especially for such activities as walking around or going out.
The Adidas Continental 80 goes with everything, some commenters praise.
According to a few users, this sneaker from the Adidas Originals series is an excellent remake of a classic.
A couple of buyers attest that the shoe looks even better in person.
3 reasons not to buy
The Adidas Continental 80 has a narrow fit, several testers have detected.
More than a handful of reviewers wish that the sneaker has a bit more arch support.
These shoes get dirty quickly, a couple of wearers have complained.
Bottom line
Adidas sneakers
are known for taking inspiration from heritage styles, and this is the case with the Continental 80. The shoe's retro look is its primary appeal, with many praising its style and nostalgic factor. With its sleek 1980s vibe, this sneaker is also said to be comfortable and well-made. Overall, at its budget-friendly cost, this model is a valuable addition to one's closet for everyday wear.
Best price from 30 shops
We earn affiliate commissions at no extra cost to you when you buy through us.
75% say it's true to size.







Size and fit
The Adidas Continental 80 is found in men's and women's sizes. It has a leather upper that offers the wearer a stable fit, while also delivering a durable structure that's meant to last. Meanwhile, the sneaker has a low-cut design that allows generous ankle movement and does not hinder it. Lastly, its lace-up system lets the tester adjust the fit according to preference.
Adidas Continental 80 Style
Featuring a distinct 1980s tennis-inspired look, the low-top Adidas Continental 80 makes for an exciting sneaker to mix and match with. It has a simple approach yet it's infused with unique details that make it stand out. It also has an unfussy style that makes it highly versatile for pairing with different outfits.
This shoe balances the past with just a touch of the modern perspective, ensuring that the wearer will have a pair of kicks that will fit with just about any casual activity. One such adaptable variation is the Adidas Continental 80 in black. It's suitable for hanging out, walking the streets or even for traveling or at the workplace. It has the right amount of grace and sporty accents to pull off almost any laidback get-up.
Casual street style
For any casual day, the Continental 80 from Adidas could be worn with a pair of jeans, especially in light wash denim. A basic t-shirt will complete the neat and eye-catching throwback appearance. Pants and shorts will also be good for matching the sneaker's straightforward flair. A sweatshirt, hoodie, or pullover will go well with the footwear's timeless appeal.
The model was initially reintroduced in three new colorways: the Adidas Continental 80 black shoes, white/scarlet/navy, and white/off-white/scarlet. It was also recently redone in a grey/yellow combination. At present, there are many color options available for this shoe. They all have a monochrome approach on the upper, which results in a smooth and classic vibe that's ideal for the spring or summer.
Retro looks for any occasion
Due to its versatile court shoe appeal, the Adidas Continental 80 on feet can be worn with almost anything. Bomber and denim jackets will complete any vintage-inspired outfit together with these sneakers. They also have an athletic flair, so activewear such as track pants, moisture-wicking t-shirts, and sweatshirts will pair well with these shoes.
Some of this sneaker's colorways also have a distinctly retro appearance. Such color options include the Adidas Continental 80 off white, the vibrant semi-frozen yellow/scarlet/collegiate navy, the maroon/scarlet/hi-res aqua, and the clear pink/scarlet/collegiate navy. These particular selections will look well with retro outfits, especially when paired with crew socks and jackets.
Notable Features
Inspired by '80s tennis shoes, the Adidas Continental 80 sneaker features many vintage details. Its style is so timeless that it can still have a contemporary appeal despite its retro roots. Classic Adidas branding details give the sneaker a sophisticated finish, giving its sporty flair an elegant touch.
The upper is made up of premium, full-grain leather, lending the sneaker with retro charm. It's also a super-soft material that promises a luxurious and ultra-comfortable feel. In addition, the collar and tongue are lightly padded to keep the ankle comfortable with each movement.
Vintage detailing
Near the laces, one can find a logo window, which encloses the Adidas name and Trefoil logo, adding to the model's retro appearance. Soft French terry material makes up the sneaker's lining, which will no doubt recall to mind the styles of 1980s kicks. The famous Trefoil logo is also found on the tongue and heel tab for additional heritage branding.
The upper sits atop a lightweight EVA midsole that ensures everyday comfort. This sneaker's monochrome approach instantly makes it an everyday essential. One eye-catching detail is the two-toned stripe found on the sides, which offers a pop of color amidst the shoe's different colorways, such as in the Adidas Continental 80 white shoes.
With these details and features, it's apparent that the model has a timeless aura that will attract retro-loving shoe lovers. All in all, it's a simple and practical sneaker that features a vintage appeal to fit anybody's personal style.
Adidas Continental 80 History
Adidas can trace its roots back to 1924 when the brothers Rudolf and Adolf Dassler founded the Dassler Brothers Shoe Factory. The company operated out of the laundry room of the brothers' mother in the town of Herzogenaurach in the Bavarian region of Southeast Germany. At the time, the electricity was so unstable that they sometimes had to power machines through a stationary bike.
Adolf, nicknamed Adi, helped in the invention of spiked running footwear for different sports events. He used rubber and canvas in his creations instead of the heavy metal spikes that were the norm at the time. He was known for traveling far and wide to meet athletes and hear about their thoughts and needs.
Initial success for the company came when Adi was able to persuade American athlete Jesse Owens to wear their kicks during the 1936 Summer Olympics in Berlin. When Owens went on to win four gold medals, Dassler became a renowned name. It was to be the beginning of a lucrative business for the brothers.
From Dassler Brothers Shoe Factory to Adidas
Despite the booming business, the partnership between the brothers wasn't meant to last. From the beginning, they already differed in opinion on a lot of things, both personal and when it came to their work. After the Second World War, they had a final falling out.
Afterward, Rudolf left the company and settled on the other side of town, where he established his own company, initially called Ruda. He would later change it to Puma, another successful sports brand and a destined longtime rival of Adidas. Meanwhile, Adi stayed on and renamed the company, turning it into Adidas after a combination of his first and last names.
Today, Adidas has over 50,000 employees around the world, and its yearly revenue is in billions of dollars. Plenty of famous personalities have endorsed and personally preferred the brand's range of footwear and apparel. This is because Adidas has a reputation for high quality, performance, and comfort all in one.
Despite its years of being passed from one owner to another, it was Adi Dassler who molded the brand into what it is today. His innovative influence can still be seen in the company's releases, both past and present. Due to its distinguished history, Adidas makes sure that it does not forget its origins, especially when it comes to releasing new products.
Adidas Originals
One of the things which the brand did to honor its heritage is to establish the Adidas Originals line. It's a sub-brand that focuses on apparel, footwear, accessories and other products that are inspired by Adidas heritage designs. This particular series is a result of the explosion of the casual culture of the 1980s, which helped to revive such sports shoes as the Adidas Gazelle and the Adidas Samba.
The line famously bears the iconic Trefoil logo, which has been exclusively used on heritage products since 1997. Meanwhile, the equally iconic diagonal Three Stripes logo is used on the brand's performance products. In 2001, the first Adidas Originals store opened in Berlin, with an additional one established in Tokyo later on.
Today, Adidas remains as one of the most influential sports brands in the world, its name, and logos used by many top athletes and teams. Adidas Originals transcends through the brand's past and present, encompassing its casual and sportswear sections. Emphasis is placed on the brand's history and timeless styles, providing fans and sneaker lovers with a piece of Adidas history.
With so many items on offer, there are designs available for every individual's style. One of the line's recent releases is a reboot of the old-school favorite, the Continental, now reintroduced as the Adidas Originals Continental 80. It has become a contemporary classic for the brand, transformed into a casual staple.
Adidas Continental 80
The Adidas 80 Continental was initially released in the 1980s, which explains the name. It was released as part of the Adidas Originals' Yung series, which aims to offer sneakers for the new millennium. This particular model has mainly gained attention because of its similarity to the Yeezy Powerphase, which took inspiration from the original model.
Nostalgic Adidas fans are sure to love this release, as it's a complete replica of the 1980s shoe. There are plenty of colorway options to choose from, all with a monochrome look. Sneaker lovers will particularly take note of the unique red and navy stripe running along the shoe's sides, a vintage detail that will not go unnoticed.
When it comes to the price, the Continental 80 sneaker from Adidas offers a budget-friendly price tag with all the function and style one would need for an everyday vintage appeal. Unlike its predecessor, this model is aimed more for casual daily use than for court performance. However, it retains the high-performing features that ensure comfort for the wearer in addition to the stylish factor.
Nice to know
This model has a split rubber cup sole along with an EVA insert, giving comfort and flexibility.
Perforations along the rounded toe and near the midsole offer ventilation, making this ideal sneaker for the summer season.
The sneaker offers comfort and cushioning for performance with its OrthoLite insole.
Rankings
How Adidas Continental 80 ranks compared to all other shoes
Popularity
The current trend of Adidas Continental 80.