Our reviews
Move over Nike, Adidas and other shoe brands, meet "361 Degrees USA", a subsidiary of China's second-leading footwear. Don't be surprised if you've never seen or heard of 361 Degrees International Limited (361°) because neither did I.
Notoriety takes time from California to the Midwest which explains why 361° is absent from many running store shelves. Be sure to check their store locator in your area. Be aware, if inconvenient then online shopping is the only way to go.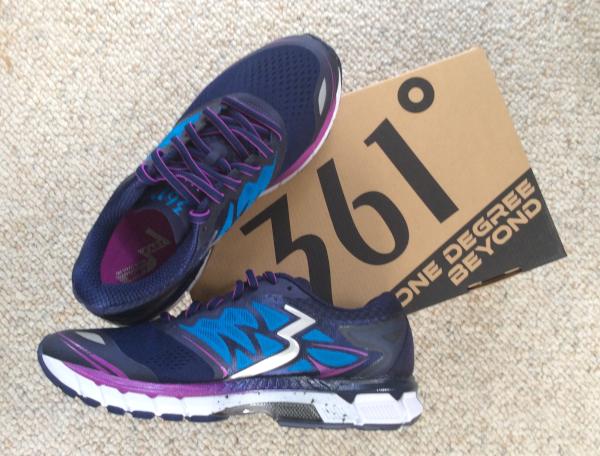 Sound risky, buying a new brand of running shoe sight unseen? Not to mention gambling with $149.95. Therefore, familiarize yourself with 361°'s claim to fame:
Fitz-Rite
Ethylene-vinyl acetate (EVA) foam
Qu!kfoams (Quick Dynamic Propulsion System)
Qu!k Flex
Specifications
Men's
Women's
Remarks
Color
Ocean Blue/Black
Peacoat/Crush

I wasn't keen on navy blue, but they actually match a lot of outfits. After a few compliments, I like them even more!

For men's, a sunny day ocean blue shoes look really sharp. If you're a distance runner who buys two pairs simultaneously, having one color choice won't be ideal.

Weight
11.2 ounces
8.9 ounces
Strata's average weight for a training shoe and similar to Saucony Hurricane or Asics Kayano. I found Strata 2 felt a bit lighter so always ran a few extra miles.
Heel-to-toe drop
8 mm
8 mm
Strata 2 has the same drop as Brooks Levitate and many other brands, but you'll feel a distinct difference. Right away I felt a comfortable more natural running stride.
Arch Support
If you require arch support to sustain high mileage runs, then you won't be disappointed. Strata 2 is similar to Mizuno's Wave Rider with well founded, adequate arch support ideal for pronators like me.
You see well-manufactured plastic supports on the outsole extending up into the arch area. These aids a runners foot from rolling and really make a huge difference. It almost eliminates the need for special orthotics.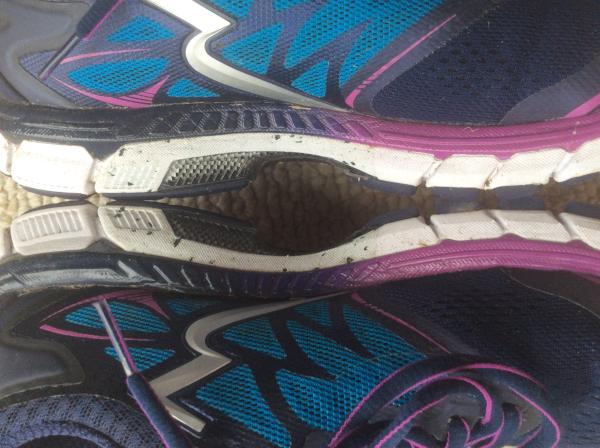 Strata 2 has what 361° calls a "Fitz-Rite" overlay and it is found throughout the midfoot. Runners will definitely notice how secure their foot feels throughout their entire runs.
After 200+ miles, the midfoot support area does not feel broken down and materials show very little stress. These shoes are very durable which make them a great trainer. I feel runners will get their money's worth out of Strata 2 because they are one of the best stability shoes I've ever owned.
Heel Counter
Runners must gain confidence in their shoes and 361° delivers. I noticed right away the back is well cushioned and comfortable when running.
The heel counter is durable and solid for motion control which holds both heels in place. I love how my heels don't slide and feel secure the entire time.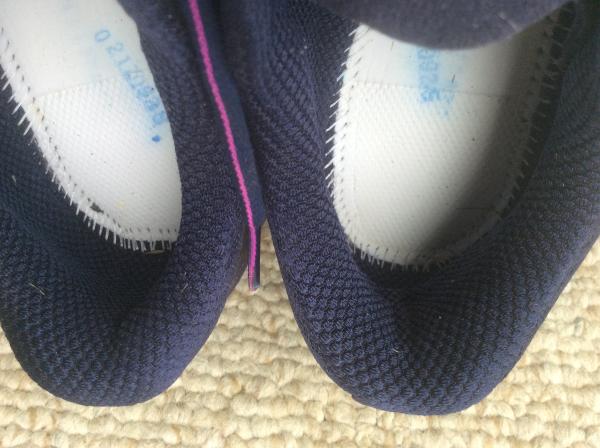 I would recommend Strata 2 for runners who suffer from Achilles Tendonitis. It is awesome how after many long runs the entire heel counter still won't bend. Strata 2 has a potential for longevity beyond the normal 300-400 miles.
One weakness did occur after 250 miles in one shoe. The heel material shifted and gave way causing a noticeable difference.
You cannot see it in this picture but I feel it every time I put them on. Regardless, these Strata 2 still have many comfortable miles to go.
Upper
My favorite part of the Strata is the reflective overlay on top of each toe box. This simple feature shows stylish ingenuity on a well made, comfortable toe box. It's like 361's signature endorsement!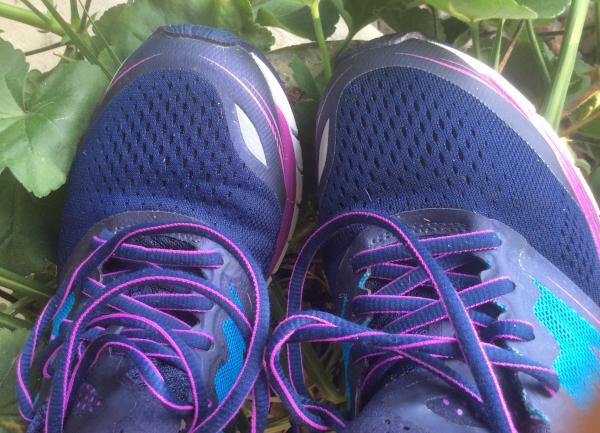 Upper materials are soft and flexible with smooth rubber overlays. The toe box is roomy yet my feet don't slide from all the summer sweating. The mesh is well ventilated and the rubber toe tips remain in good shape.
The toe box has no holes, rips, or tears whatsoever which is impressive considering the beating I put them through. The only visible signs of wear are upper creases from flexible bending during all those long runs.
Midsole & Cushioning
The most impressive part of Strata 2 is the midsole because it is built with stability and cushioning in mind. When 361°'s became my go-to distance shoe, I was pleasantly surprised.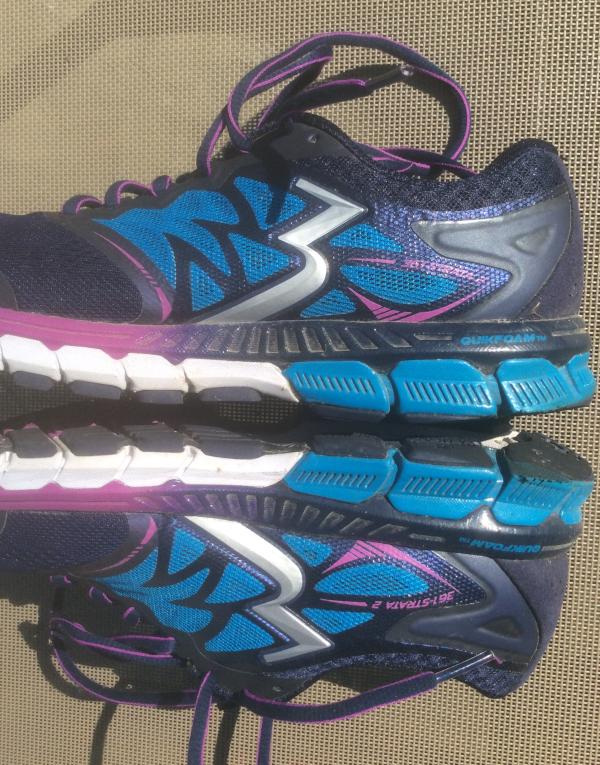 I'll be the first to admit my running form deteriorates quickly, especially during long runs. Strata 2 enhances performance by discouraging pronation. Kudos to the newly engineered foams and flex materials.
My second run had me hooked on the responsive return from the road. When I rotate Brooks Ghost 10 or Newton Distance 7, I've concluded Strata 2 is solid and if I have a poor performance, it is not because of my 361.
Outsole
Strata's outsole is unique due to "Flex Grooves" in the forefoot. These are not as prominent as the Newton Brands patented lugs, so, fortunately, I felt no muscle strain.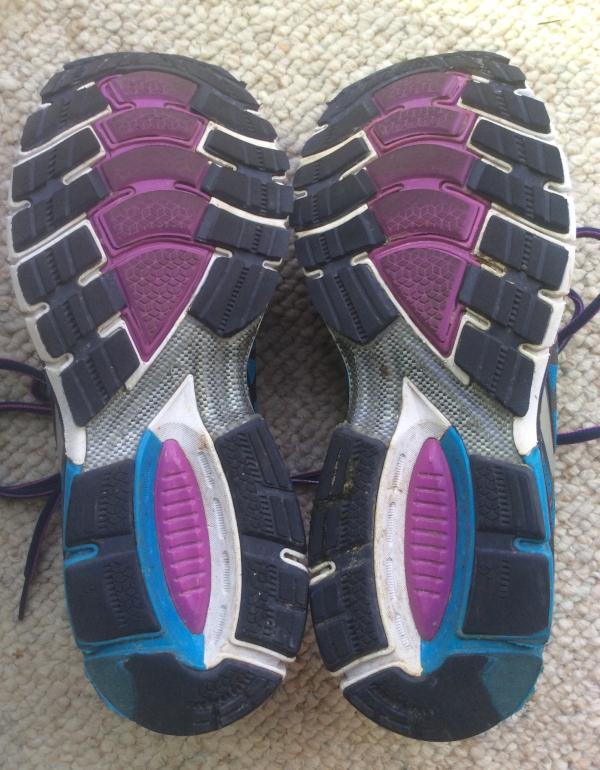 In fact, I found no need to transition into these new shoes because they felt comfortable from day one.
When running, I knew something was unique because I felt a smoother turnover and wanted to run longer. However, after 300+ miles you can see the flex grooves are starting to wear down and the responsiveness is shutting down as well.
Insole
361° has designed an insole made from unique "quikfoam" materials. When combined with their Ethylene Vinyl Acetate (EVA) foam, it creates their Quick Dynamic Propulsion System (QPD System). After 300 miles, I felt the asphalt underneath so I switched out orthotics and into these original insoles.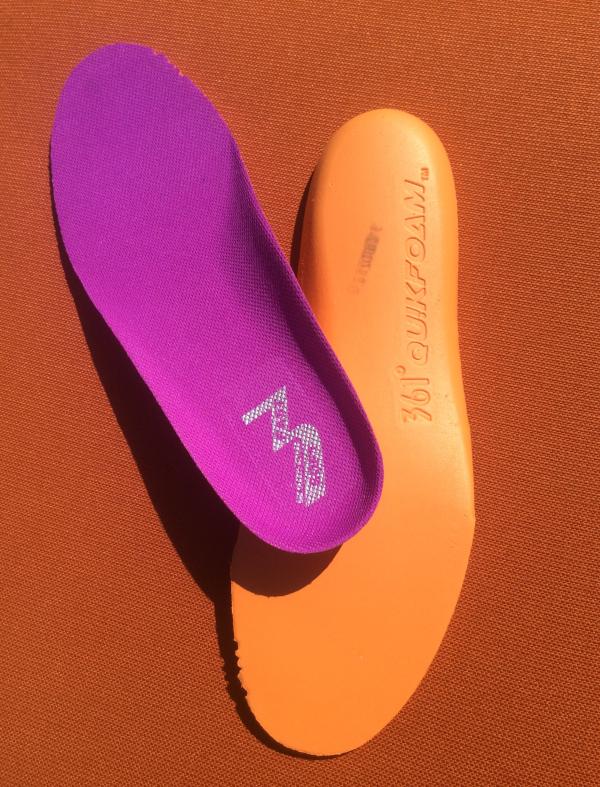 While the insole quality is not Dr. School's or Powerstep, they are an improvement over other flimsy insoles. Finally, a company willing to go the extra mile (no pun intended) and put some money into insole design.
Truthfully, I have enjoyed the ride 361° has delivered. Most impressive is how I feel less jarring to my knees and back when running. This is why I choose Strata 2 for The Boy Scout Half Marathon in Bowling Green, Ohio, 9/01/18.
They even helped me score 2nd place in my age group on one hot summer day. Soon I'll be retiring my Strata 2 due to summers wear and tear. From the photo below you can see I still heel strike, but not quite as prominent.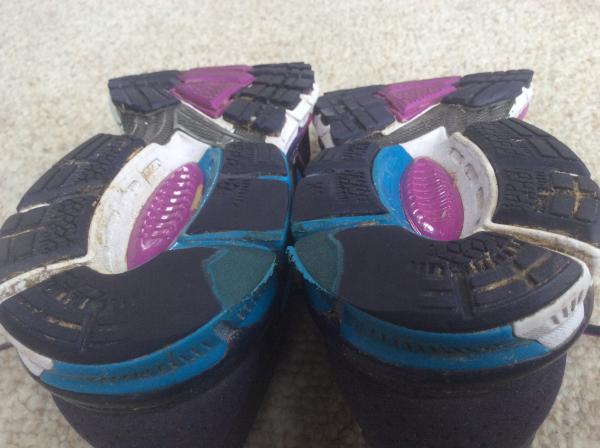 One of these days I hope to find a shoe to withstand my running form. Nonetheless, I'd say 361° has done a pretty great job!
Laces
Strata 2 shoelaces are extra long and I prefer them this way for double knotting. The best part of 361°'s laces is how wide, strong, and stretchy they are.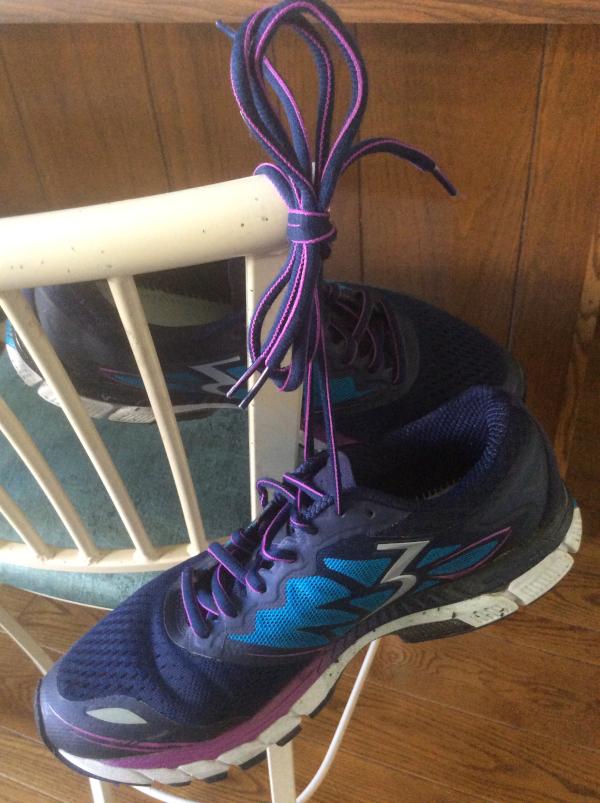 Out of all the laces out there, these are my favorite. In fact, if they match other shoes I'm considering swapping them out.
Tongue
361° has designed a very wide, long, and self-sustaining shoe tongue. Runners do not have to take time laying out because it is built in with quality materials and sewn with tight stitching.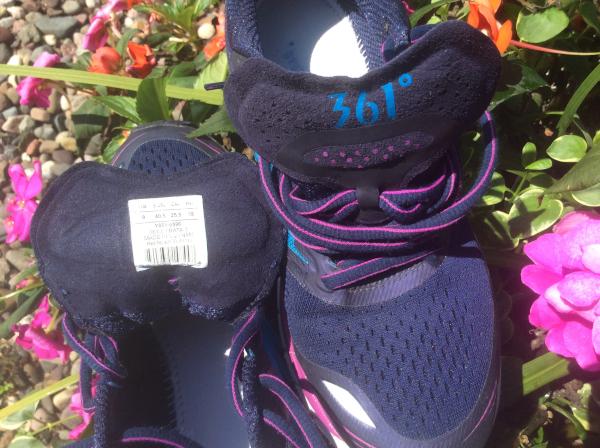 While the tongue is not overly padded, it is extra longer and wider than other shoe brands. It is extremely easy to grasp and pull into place.
The width lays nicely across the forefoot with no discomfort whatsoever. When running the tongue conforms so nice you don't even know it's there.
Performance
At first, the motto "One Degree Beyond", may not look or feel believable. However, as miles rack up so is their performance.
Truthfully, I'm a hard sell with distance running shoes. If any discomfort arises after 10 miles, they go to the wayside for shorter runs, but not with Strata 2.
My foot stays in place, but most important was no injuries after many long runs. To me that's impressive for Strata 2 to deliver support, cushioning and overall stability for daily training.
Conclusion
If 361 Degrees USA has not debuted in your hometown and buying an unfamiliar brand of running shoes online sounds absurd, rest assured with 361°, you have "60-day Qu!kfoam guarantee".
Otherwise, you have to wait as 361 Degrees International Limited gains momentum across the United States. So keep an eye out in running stores where you can try on and compare to other brands.
My prediction is Nike and Adidas are moving over on the shelves because 361° is squeezing in. Happy Running!
The 361o Strata 2 has the classic training shoe look and feel. This is the first shoe that has been comparable to the Asics Nimbus.
Every time I put them on, I wonder why they are so different from their sister, the 361o Spinject. Upon close examination, I find that they are several degrees beyond siblings and competitors. From the first mile to the 250th, I have felt no change in performance or comfort.
I consider this a hybrid road shoe that gives enough traction on the trail to provide confidence in most conditions. Yet, it is quiet good on the pavement.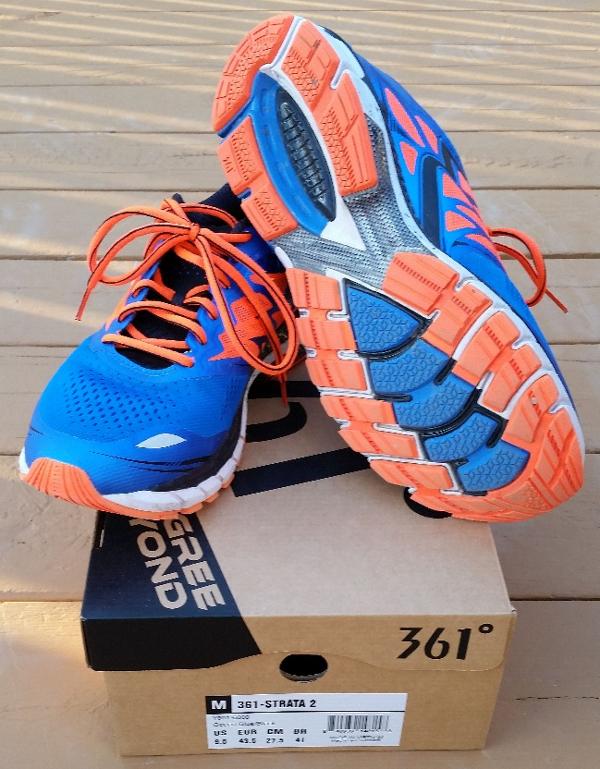 The Company
361o USA is one of the newest shoe companies in the US, launching at the end of 2014. Internationally, the company has only been in existence since 2007.
Extensive testing at a lab in California, a new foam was branded QU!KFOAM for its responsive properties and amazing ability to maintain consistent cushioning and comfort. Additionally, it provides better shock dispersion and flexibility. Their tagline is – One Degree Beyond.
The upper
The Strata's upper is a seamlessly molded mesh and has a soft, almost foam-like texture. The open mesh allows you to feel the wind on your foot which is great on warm days, but on cold days you may need to wear thicker socks.
The forefoot is spacious but does not offer any extra abrasion resistance for my great toe, even though at first glance it looks like an extra layer. It is obviously for looks only since it is too far to the side. The Ocean Blue/Black/Orange is not the best color scheme in my opinion.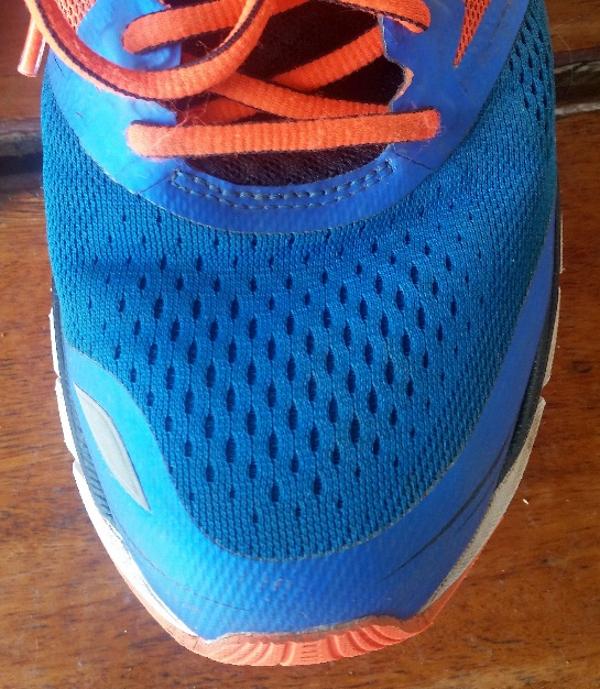 Unlike the Spinject, the Strata's highly touted feature of a "pressure free tongue designed to provide comfort and avoid irritation" was notable. It is comfortable and protrudes beyond the last laces.
The inside
Inside this shoe is a thicker than normal sockliner. The same QU!KFOAM sockliner as the Spinject provides good forefoot protection and a snug heel cup. The inside of the upper is seamless, therefore no seam irritation spots for your foot.
The midsole
Their patented QU!KFOAM fills the midsole of the Strata. The neutral ride and cushioning provided by the patented layered material gives cushion and responsiveness to your foot-strike whether on the roads or trails.
QU!KFOAM claims to maintain the same high level of energy return and long-lasting comfort throughout the life of the shoe. Time will tell, but after 355 miles I have measured less than 1mm of compression on the medial side of the rear foam.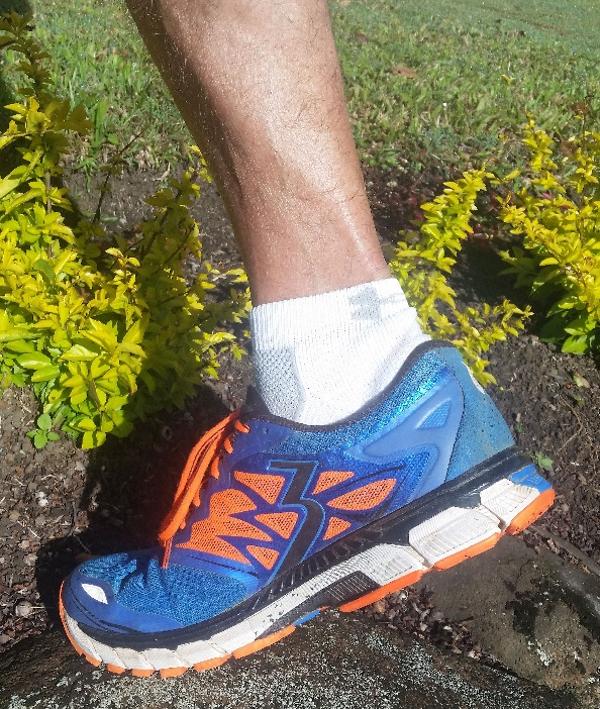 Internally 361o has implemented an extremely strong, lightweight carbon fiber. Their QU!K Spine plate acts to stabilize your foot during mid-stance before preparing for forward propulsion.
The spine also maintains the integrity of the midsole to delay breakdown by dispersing the force throughout the entire QU!KFOAM midsole yet remains flexible. The 8mm drop from rear to front is just right.
The outsole
The sectioned outsole give extra wear protection in the toe push off, the forefoot and the heel. The orange overlay is a harder rubber material and the blue overlay under the forefoot is a bit softer.
At present all the overlaid rubber is intact, unlike other shoes of similar design. The Fitz-Rite arch support not only gives a high level of support to the arch, but its hard plastic composition also protects on impact with stones and twigs on the trail.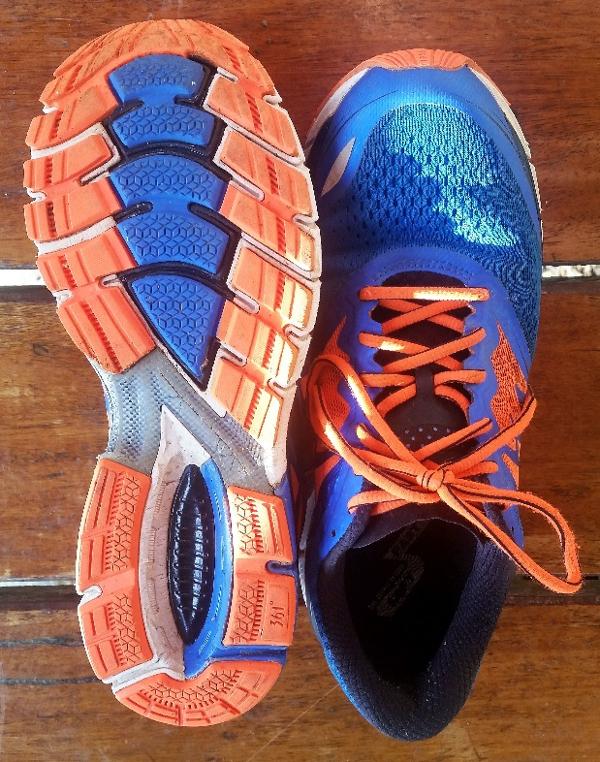 Positives
The 361o Strata has a great feel. Its cushioned midsole gives a soft but responsive ride over all surfaces. The outsole is great on the roads and offers enough traction for trail running.
And so far the wear points show little change in original shape. As a long-time Asics customer, I find it refreshing to see another brand that competes well with a time-tested veteran shoe.
Negatives
The only negative for me is the color. Next time I would get the Strata 2 in Peacoat/Storm.
Concluding thoughts
The initial feel of this shoe is incredible and it continues to impress me as the miles grow. It has a softer feel than some shoes, but just right as my old legs need a bit more impact protection. Even though the retail price is $150, it is worth the price for a comfortable protective shoe that can take both the road and trails well.
The overall performance is excellent, materials very durable, and the feel is great. Compiling value, comfort, durability, and performance on both road and trail, it goes one degree beyond the others.
The 361 Degrees Strata 2 is aimed at being your everyday go-to shoe, especially for long days.
These aren't going to be the fastest shoes you've ever worn, but they might wind up among your favorites anyway.
Specs
Advertised Weight: 11.2 oz (size not specified)
Measured Weight: 11.1 oz (Men's 9.5)
Drop: 8 mm
Tagline: "Moderate stability shoe designed to provide protective comfort and support mile after mile."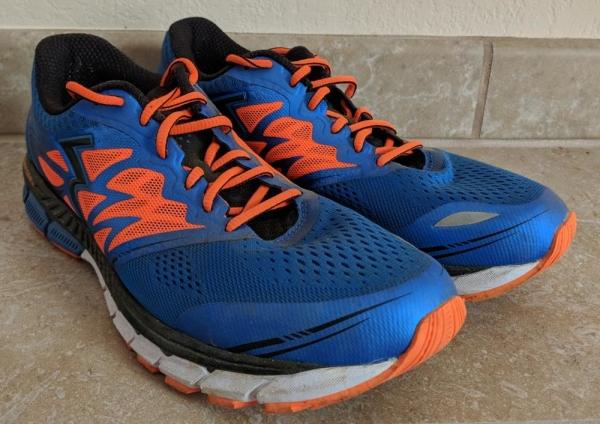 Pros
Great fit
Well-cushioned
Appropriate amount of stability
Cons
Fit
Sizing is dead-on, and the fit is just as good! Not one part of the shoe feels sloppy, nor too tight.
The heel is sturdy enough without being a claw, the midfoot holds your feet in place, and the forefoot lets you do your thing. The Strata 2 has a very "typical" fit, and that's a good thing.
Upper
I'm a fan of the breathable mesh found on the Strata 2.
The midfoot has perhaps a little too much overlay going on, but that's probably part of the stability of the shoe - without it, the shoe would feel different. Perhaps that's simply a sacrifice we have to make.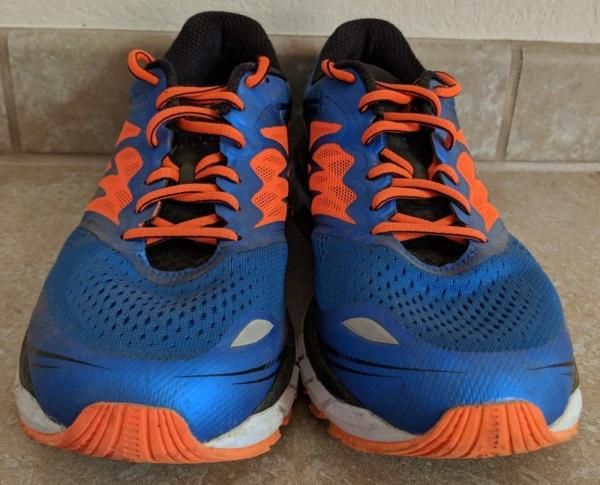 Even with the overlays, the Strata 2 gives you a little flexibility.
Not that it's entirely necessary, considering how well the shoe fits, but it's nice to have a shoe that moves with you.
Tread
The Strata 2 is a road-first shoe, and the tread pattern reflects that. That said, the tread has enough going on to easily take on a well-groomed trail, and can handle something more rugged if necessary.
You'll occasionally have to take it easy on technical descents, but that's the case for everything except for the most hard core trail runners. If your normal training runs involve some trails in the park, you're good.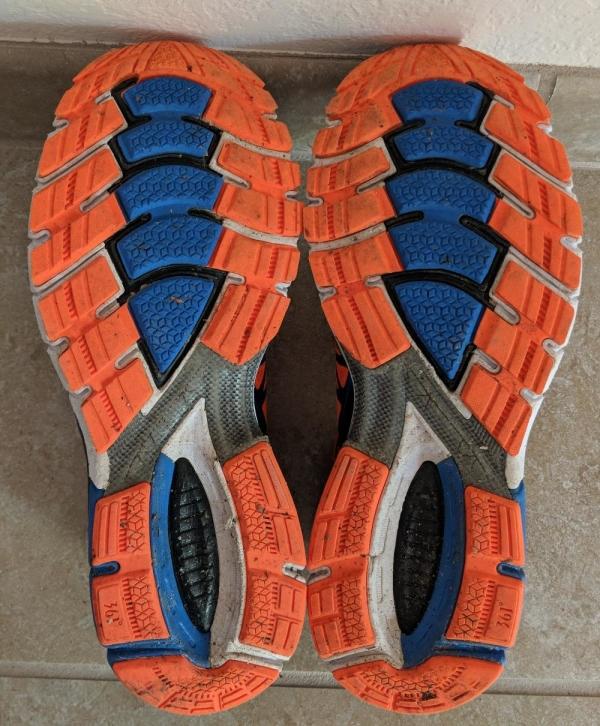 Cushion
Like everyone else, 361 claims their proprietary cushioning found in the Strata 2 is superior to the industry standard. I haven't noticed anything in particular about the cushioning...and that's a good thing. Ground impact is something you'd like to be able to ignore, if possible.
If you felt like it, you could go ahead and stomp your way down the road with terrible form and it still wouldn't bother you that much. Paired with decent form, these feel awesome.
Considering what type of shoe this is, I wouldn't say there's too much cushioning, but some might. If you want a more responsive, nimble shoe, this isn't it. But the cushioning isn't terribly overdone, so this is still a shoe for runners, not joggers only.
Ride
361 describes the Strata 2 as moderate stability, and I agree. It's not a neutral shoe, but the stability isn't overbearing. It's there to nudge you in the right direction but still lets you run the way you want.
It's more like a coach instead of a boss, or like a cool uncle instead of a helicopter parent. The result is a semi-flexible ride that feels just right, no matter your running style. Aside from getting tired, the last 10 minutes of a run feel as good as the first 10 minutes.
Design/Looks
Some people don't like the blue/orange color combo. I do.
But this time...it's a little off. There's probably a little too much orange, and adding black to the mix didn't make it look better. But there are worse shoe designs.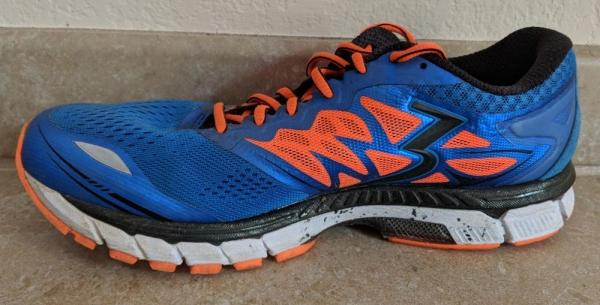 Part of the outsole is white, which isn't ideal, but at least it's not the part that comes in contact with the ground.
I'm a big fan of reflective accents since my job forces me to run in the evenings. Half the year, that means after dark, and visibility is important. The reflective spots could be larger, but kudos for putting them on both the front and rear.
The laces are oddly long.
Overall
The Strata 2 is an ideal high-mileage trainer. I find the balance of above-average cushion and below-average (but still there) stability to be perfect for my needs.
The shoe is a little heavy, which is expected for a shoe of this type, but the Strata 2 is above-average in weight even for its category. I don't mind a trainer that's a little heavy since heavy shoes make you stronger.
Also, bonus points for this thing coming in slightly under its advertised weight. If you're thinking you could use a cushion/stability shoe that's neither a tank nor a pillow, look at these.
Updates to 361 Degrees Strata 2
Designed for overpronators, the 361 Degrees Strata 2 aims to give the runner sufficient comfort, protection, and support, even during the longest of distances. The shoe is designed for runners who need the additional arch support for a more stable stride.
It has an engineered mesh upper that includes an open-toe design. This layout permits a stable ventilation, while also providing the toes with ample room and the heel with padded comfort. The Strata 2 introduces a pressure-free tongue that supplies additional support and protection against skin irritation.
The QU!KFOAM midsole is still present in the second version of the Strata, but now, its cushioning capabilities are supplemented by the QU!KFOAM crash pad.
The outsole of this 361 Degrees running shoe is made of firm rubber, which promises traction and durability even while running on the roughest roads. A set of flex grooves called the Qu!k Flex delivers a natural and balanced toe-off.
Size and fit
The 361 Degrees Strata 2 is built following the standard running shoe length. The shoe is available in a wide variety of sizes, which intends to fit wearers according to their usual preference. The Strata 2 is meant to provide a snug fit from the forefoot to the heel; however, it is also available in larger widths to accommodate high foot volumes. The men's version comes in D – Medium and 2E – Wide, while the women's version has B – Medium and D – Wide.
Outsole
The solid rubber used in the outsole of the Strata 2 ensures durability and protection. Its robust quality allows the runner to log more miles without hassle, as it effortlessly grips to various surfaces.
At the forefoot is a collection of forward-leaning flex grooves, which are named Qu!k Flex. The Qu!k Flex is engineered to give the foot a natural and steady gait cycle. It also optimizes ground contact so that acceleration is improved.
Midsole
The midsole is primarily built using the brand's Quick Dynamic Performance (QDP) System, which consists of three buffering layers that equip the shoe with cushioning, responsiveness, and protection.
The first layer of the QDP is the QU!KFOAM midsole, which is a dense rubber compound that offers exceptional responsiveness, especially during toe-off. This material has a thick-looking structure that produces a sufficient amount of bounce.
In the middle is the QDP-L!TE, which runs across the entire length of the shoe. QDP-L!TE promotes maximum ground feel while also giving plenty of energy return for a springy stride.
On top of the QDP-L!TE is a layer of ethylene-vinyl acetate (EVA) foam that gives the shoe its pronation-correcting ability. The EVA foam is vertically integrated within the QU!KFOAM in order to provide the required steadiness, so that the runner could maintain a stable ride.
A QU!KFOAM crash pad assists the sole unit by guiding the foot throughout the gait cycle. With this feature, the rate of pronation is slowed down, and a smoother and more natural transition is encouraged.
Upper
A breathable mesh upper certifies that the Strata 2 is comfortable and well-ventilated. The two ends of the mesh are lined with a foam unit that gives the wearer additional comfort.
The toe box of the Strata 2 has an open-mesh design, which keeps the foot from feeling cramped or tightly packed inside the shoe.
The overlay system of the shoe is called the Fitz-Rite, an external unit at the midfoot area that holds the foot in place. It is designed like a web to enable a secure wrapping of the midfoot and prevent it from moving unnecessarily while running.
A pressure-free tongue amps up the comfort level of the Strata 2. It allows the runner a protective fit without causing irritation and without restricting natural mobility.
Compare popularity
Interactive
No popularity data available for this shoe at the moment.
361 Degrees Strata 2 video reviews