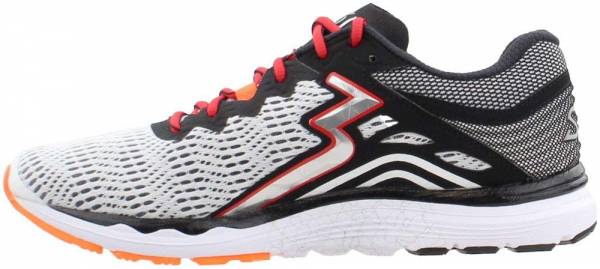 Dubbed as a mild stability runner, the 361 Degrees Sensation 3 sports an optimal blend of stiffness and softness necessary for a stability model. Complementing this makeup is the carbon fiber plate, adding midfoot support to prevent overpronation. If you want a road running platform that holds minimal bulk while loaded with support and traction, the Sensation 3 can do the work.
---
Verdict from 8 experts and 100+ user reviews
5 reasons to buy
Comfort: The upper of the Sensation 3 provides an irritation-free wrap and the foam feels sufficiently plush, reported several users.
Stability: According to some athletes, the road shoe provides enough support for surefooted steps.
Traction: Even on wet surfaces, the shoe has good grip, stated multiple runners.
Bounce: The ride of this stability shoe is snappy, commended various reviewers.
Weight: It is very light, praised a number of wearers.
2 reasons not to buy
Durability: Some buyers have shared that after a couple of runs, they have already seen significant wear on the outsole.
Fit: The shoe is quite tight, shared a couple of athletes.
Bottom line
Dubbed as a mild stability runner, the 361 Degrees Sensation 3 sports an optimal blend of stiffness and softness necessary for a stability model. Complementing this makeup is the carbon fiber plate, adding midfoot support to prevent overpronation. If you want a road running platform that holds minimal bulk while loaded with support and traction, the Sensation 3 can do the work.
Best price from 30 shops
We earn affiliate commissions at no extra cost to you when you buy through us.
85% say it's true to size.

Our reviews
I haven't tried 361 before, so I wasn't sure what to expect. I read a couple of reviews that sounded promising. The company labeled the sensation as a "mild stability workhorse."
I can get behind that description. I am a heavy runner, and I enjoy something stable on my feet, so this shoe sounded like a good fit for me.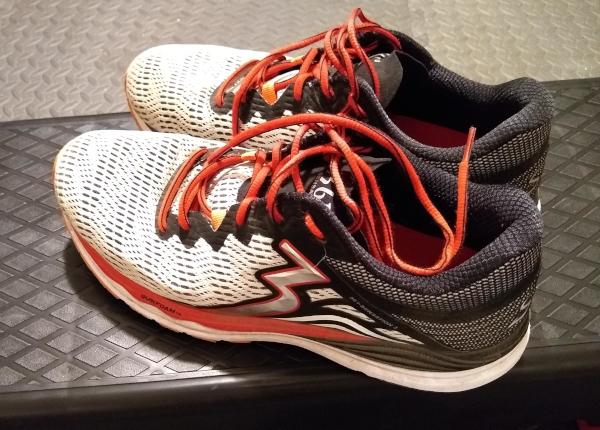 I pulled these shoes out of the box, and my first thought was, "that's not what a foot looks like." At least that's not what my foot looks like. Had I been at the shoe store, I would have returned them then and there.
Fortunately, I wasn't at the shoe store. I had to give these shoes a fair try, and after some of the initial shock, these shoes really paid off.
They are stable, the mesh upper is light and breathable, and the grip never lets me down. I will be running in these shoes for some time.
Stability
The stability mechanisms in these shoes include a QU!K Spine (I'm just spelling it how they spell it people!) carbon fiber plate, Fitz-rite internal webbing, and dual-density EVA foam, going along with a rigid heel counter and full-length QU!KFOAM for cushioning.
That's a lot of stuff! As a heavy runner, I tend to want/need more support during my runs.
My initial response to running in these shoes was that they were very rigid. The carbon plate seems to really stiffen this shoe at first, to the point that you almost feel like you're running on planks.
It took a couple of miles to break them in, but once I did, the stability provided by the plate became quite comfortable for me. The medial post does not lead to an aggressive correction, and the arch is set to a very comfortable height.
The overall feel of the shoe is very stable. The rigid heel counter and tight locking webbing do a lot to secure your foot in place as well. These shoes feel like they are designed to go the distance with you.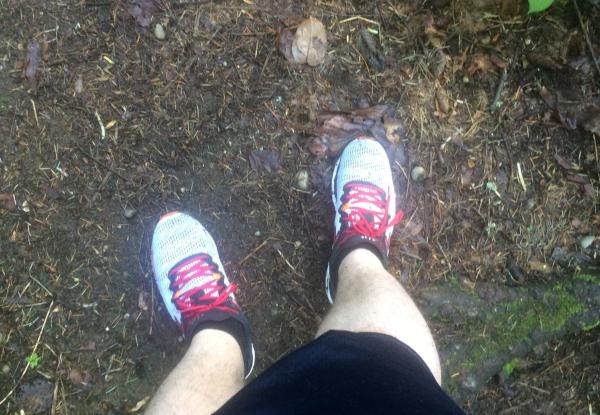 With all the stability mechanisms and rigid plating, you might think this shoe would feel very heavy on your foot. This was not the case for me. The shoe weighs in at about 10.1 oz, and it rides quite light.
I was also happy about the amount of energy return I felt from these shoes, which I think was aided and abetted by the carbon fiber plate. I also think that the full ground contact outsole helps with the quick transition of the shoe.
Now the tradeoff for stability and energy return is a sacrifice in cushioning. I got into these shoes right after test driving the Brooks Glycerin, and let me tell you there was some shock.
I went from one of the softest, most pillowy rides to what felt like running on planks. It took some getting used to for me. I'm a die-hard Brooks Adrenaline fan, and I'm used to the Biomogo foam.
The foam in these shoes is nowhere near as soft. The QU!KFOAM did provide some cushion and was most pronounced in the heel strike.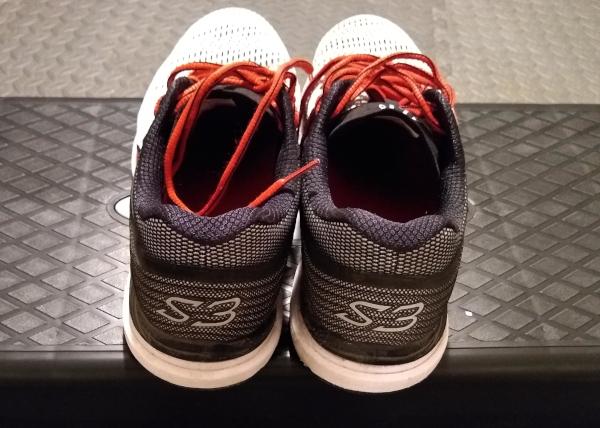 The shoe isn't really what I would call responsive, so I don't think adding just a bit more foam would have killed them. Nor would adding a better insole, as these ones are just the run of the mill.
That being said, there is always an energy tradeoff when adding more cushioning, so you'll just have to determine what you prefer.
Outsole
The outsole feels durable and grips well. I tried these shoes in rock, wet, dry, snow, and gravel, and I didn't have much issue with slippage.
Actually, I'll note that these shoes really felt good on rocky trails because the rigid mechanisms smoothed out a lot of imperfections in the road for me. I don't notice aggressive wear on the outsole.
One thing that I appreciate is that the shoe seems to be wearing down quite uniformly, and I get the feeling that these shoes could last 350+ miles for me.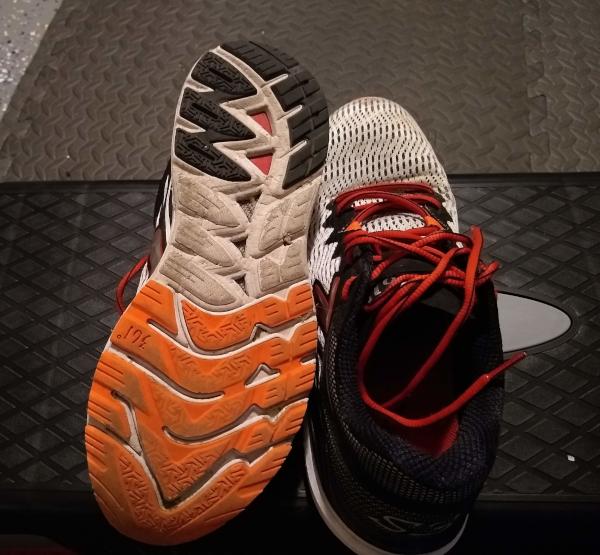 The elephant in the room here is the fit. The sensation was made to grip your foot tightly and hold you in place, so if you want forefoot splay, you are out of luck.
There just isn't a lot of room in these shoes, which was sad to me because I even got a wide variant. If you're used to wearing 4E's, this might be a shoe to pass up.
I will also mention that these shoes were really not the kind I wanted to wear around the house or to work. They were just too stiff and tight to be comfortable for normal wear.
The stiffness felt very corrective and supportive during running, but it felt constricting during any other situation.
Upper
The pressure-free tongue took a lot of getting used to as well. While it says pressure-free, when I get into a lace lock, I feel a lot more pressure right under the top lace than I would on a normal tongue.
However, as soon as I start running, that sensation goes away, and the fit improves dramatically. I think that is a recurring theme with this shoe. When you put it on initially, it feels uncomfortable, but once you start running, you appreciate all of its features.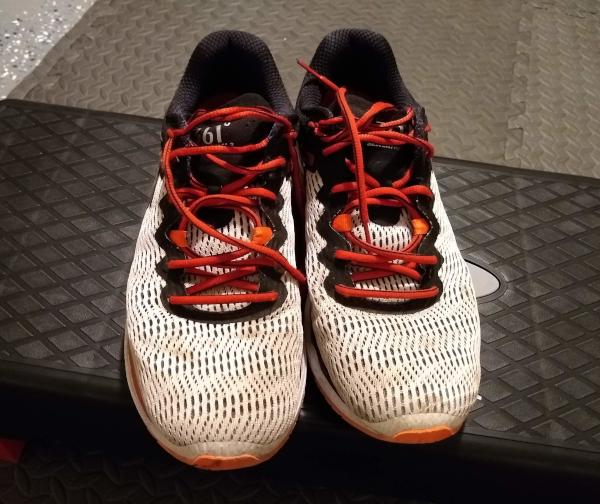 The mesh upper is seamless and works well at ventilating the foot during running. I will say that the shoes I bought picked up mud and dirt quickly and looked quite dirty after only a few runs.
That doesn't really bother me because I will only wear these shoes on runs anyway. The style is visually appealing, in my opinion. I really like the reflective touches, and the 3 is quite unique looking. I might have preferred a different color scale, but the red/orange/black/white works fine.
Closing thoughts
These shoes are not marshmallow fluff. They are sturdy, stable, down to business shoes.
If you are serious about racking up miles in training for a long race or are just a fan of cross country runs, these shoes will probably fit you just right. But if you're looking for more luxury, look elsewhere.
I would like to see the sizing on these shoes adjusted, perhaps adding a 4E option would be beneficial. I'd also like just a tad more cushioning.
All things said I would be utilizing these shoes in my rotation, and give them solid marks as a true workhorse of a shoe.
My very first thought when I opened up my new 361-Sensation 3 shoes:
"Wow, this is a really great-looking shoe!"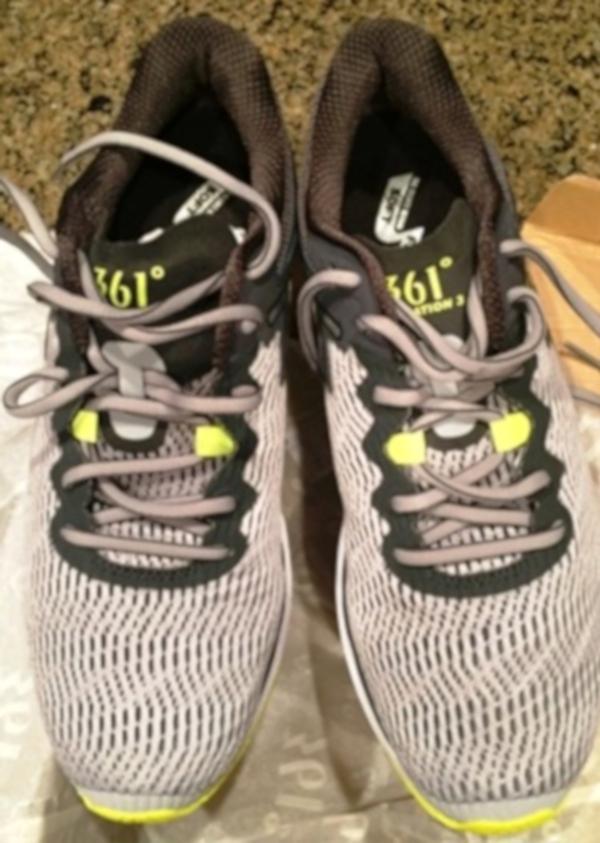 "Hmm...I wonder how it will perform?"
The 361 Degrees-Sensation 3 did not disappoint!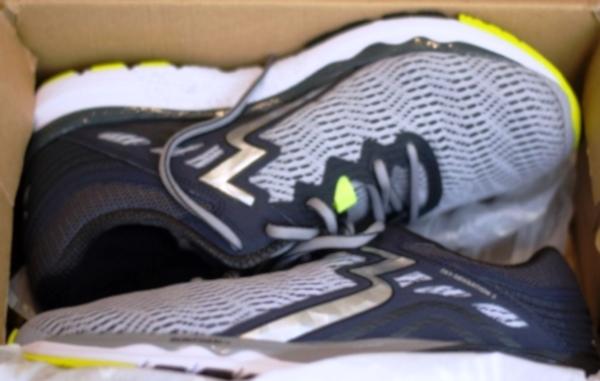 Weight
Even though the 361 Sensation 3 is listed at 9.8 oz. for men (8.4 oz. for women), I was surprised at how light the Sensation 3 feels on my feet. The mesh upper in the forefoot feels light and airy.
The shoe feels like an extension of my foot and has not felt bulky or heavy even in the rain. The Sensation 3 has a 9mm drop and feels very comfortable running or walking.
Construction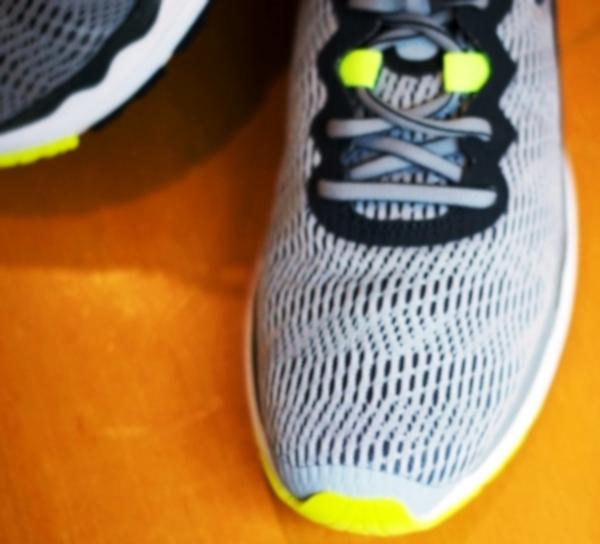 Insole and midsole
The 361 builds the Sensation 3 on a "QDP System" (Quick, Dynamic and Performance). It is a three-tiered system incorporating a QU!KFOAM insole, QU!KFOAM midsole, and a stable EVA which provides an overall stable and supportive platform.
It also adds to the flexibility, long-lasting cushioning, and helps dampen shock on impact for both shorter speed work and longer runs. The Sensation 3 impressed me as over the 100 miles in the shoe, the QU!KFOAM has not lost its spring or cushion!
QU!KFOAM is a great blend which provides very comfortable cushioning but does not sacrifice on responsiveness or flexibility.
It also provides an excellent protective base which has not suffered due to extremes in the weather for the 100 miles I have put on the shoe. The base (once cleaned off) still looks the same as when I took it out of the box.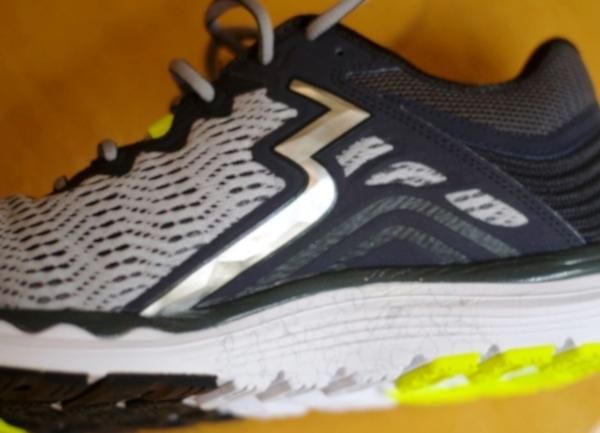 I found the shoe always provides full contact with the ground supported by the QU!K Spine carbon fiber plate adding confidence and stability to the midfoot.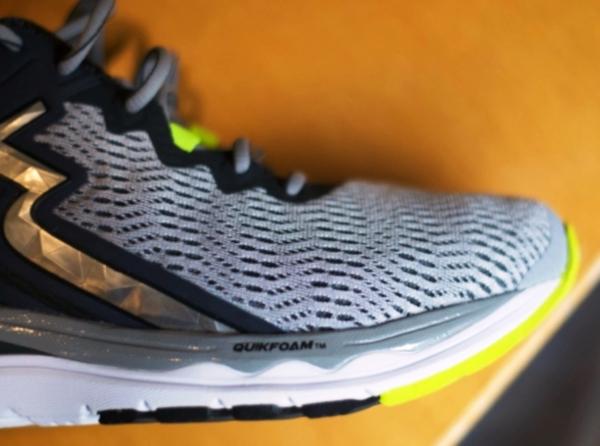 The toe box is considered narrow, however, the flexible and very comfortable mesh upper provided good space for my wide feet. It also provided me plenty of room for a balanced contact, foot strike and toe-off.
I found the shoe to provide a solid base for quick acceleration as well as comfort and cushion for longer runs. The 361 Degrees lists a "W" model for both men and women and I would like to try the W myself as the regular fits nicely for my wide feet.
The outsole rubber was firm but flexible and I found the Sensation 3 to have great traction on the road, in the rain, on packed trails or in regular trails.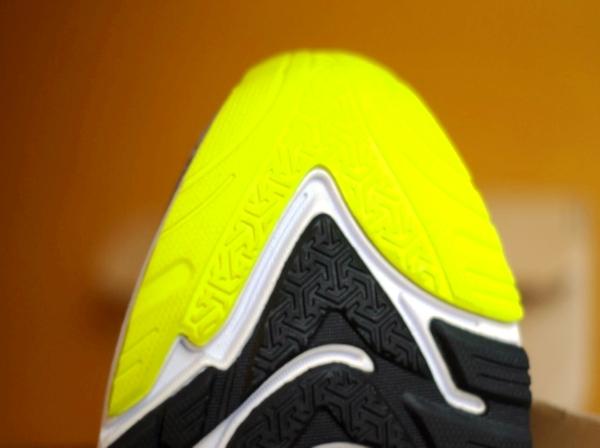 Cushion and comfort
Fitz-Rite: As this is my first 361 Degree shoe, I quickly came to appreciate the Interactive FIT System which combines soft internal webbing, a lightweight and molded counter and the Pressure Free Tongue which keeps my foot secure, my heel nicely in place, and a really well-cushioned ride.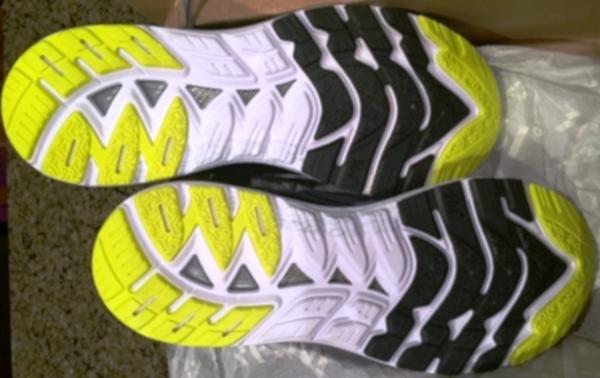 Upper
The mesh upper helps the shoe breathe and adds to the comfort of the shoe in both cold and warm weather. I ran in freezing temperatures and humid warm temperatures and the mesh kept my foot warm and cozy in freezing cold temperatures and well-ventilated in the hot/humid temperatures.
Perspiration evaporates quickly and keeps the foot cool and dry for shorter or longer runs on both road and trail.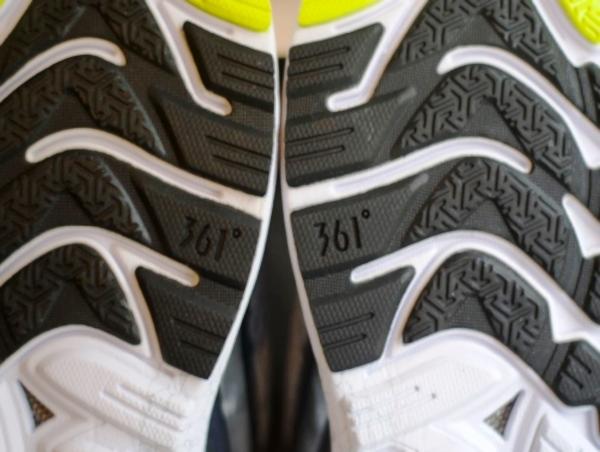 The Pressure Free Tongue provides great comfort and I was able to run both with and without socks and the shoe was very comfortable. It was actually quite soft all around my foot.
The lacing system is normal and the Pressure Free Tongue helps the laces and the foot stay well in place.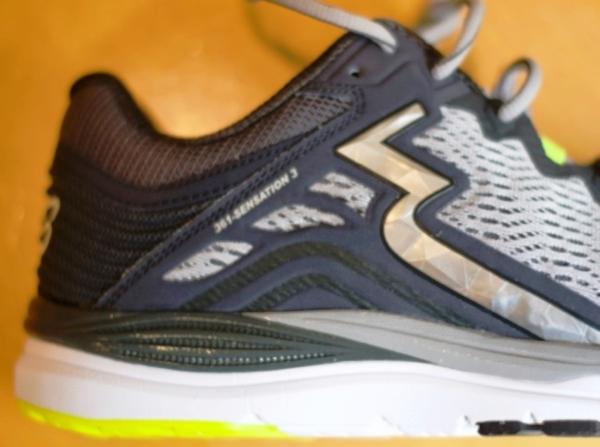 The mesh forefoot upper can attract dirt and dust and soils more easily, but I found it is a shoe that cleans up easily with a little work and soap.
Use
The 361 Degrees Sensation 3 worked great for me on both road and trail and I have found it a solid shoe for both longer endurance distances as well as shorter tempo and speed challenges.
I also wore it walking through zoos, carnivals, and shopping. It worked great as a walking shoe as well.
Price
The 361 Degrees Sensation 3 is priced at $120-130 dollars. It is priced competitively with the Brooks Ravenna, Saucony Guide, and Mizuno Wave Inspire.
I prefer the comfort and stability of this shoe and find it a much better investment for a solid, stable, and good-looking workhorse!
Pronation
Support is stability. Runners with low arches may enjoy this shoe more, however, my high arches felt very comfortable in these great-looking shoes.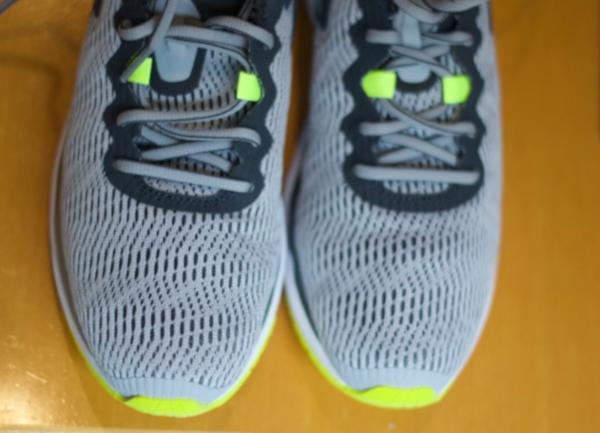 Pros
Great comfort
Great looks
Great performance
Feels lightweight, but solid
Competitive pricing
No-slip or slide from the rubber sole
Cons
Upper mesh soils easily
Limited colorways
Heel-heavy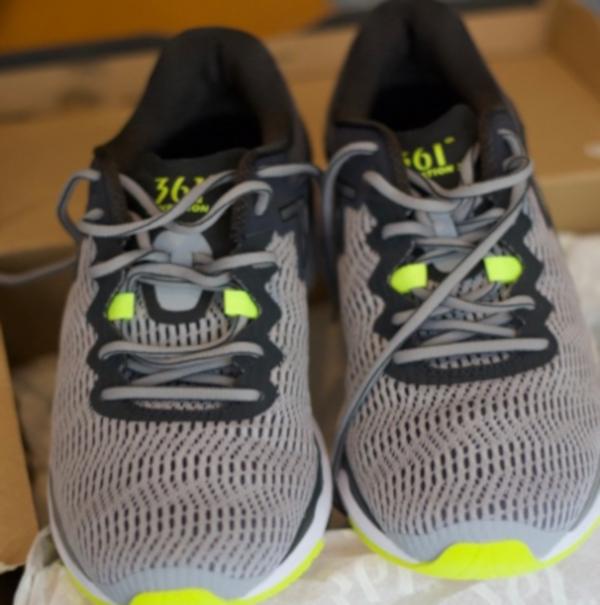 What do I think? This shoe is a fantastic weapon in my running arsenal. Works great for both shorter speed work, but also a very reliable friend/companion for long distance and endurance.
It is a great-looking shoe and can be worn and appreciated as a comfortable shoe for kicking around! I will even wear it around the house for comfort! I have enjoyed this shoe so much, I am looking to purchase a second pair (partial to the lime green) or try another of 361 Degrees shoes!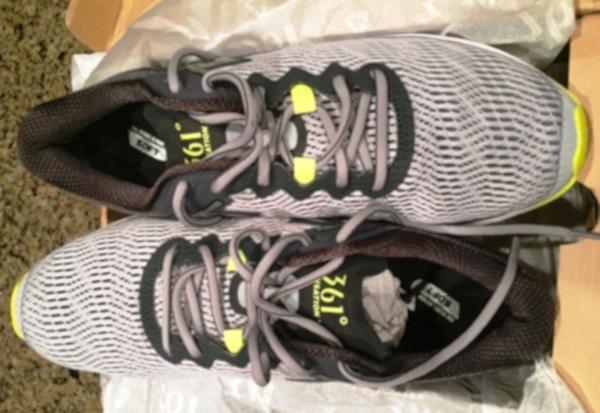 Updates to 361 Degrees Sensation 3
The 361 Degrees Sensation 3 is a road running shoe that is intended for those who need added stability and support during their running activities. It features a QUIK Spine carbon fiber midfoot shank that aims to add rigidity and support.
The shoe utilizes the QUIK Flex 4foot engineering. The purpose of this technology is to deliver a more responsive unit. It is essential in helping to create a springy heel-to-toe transition.
Holding the foot in a secure manner is the work of the Fitz-Rite internal midfoot webbing. It ensures to provide the runner with a more comfortable ride.
The Pressure Free Tongue is integrated into the 361 Degrees Sensation 3. The material is added to the platform to reduce irritation. It also aims to provide added comfort to the foot.
Size and fit
361 Degrees Sensation 3 gives a snugger fit to those who need additional support when running. Because of its toe box design, medium-footed runners will appreciate the comfortable fit it provides. The footwear uses the standard shoe length. Sizes vary from 6-14 for the males and 5 to 12 for the females. The available widths are medium for both men's and women's version.
Outsole
The QUIK Flex 4Foot engineering is integrated into the 361 Degrees Sensation 3. It has anatomically-placed flex grooves that are described as a responsive unit. This technology aims to create a more natural, bouncier and balanced heel-to-toe transition.
Lightweight traction is offered by the Blown rubber forefoot. This component of the shoe provides durability as well.
Lying in the heel area is the High Abrasion Rubber. It is strategically patterned to supply the right amount of traction and shock dispersion. It also delivers added durability.
Midsole
Added flexibility is encouraged by the QUIKFOAM midsole. With the utilization of this full-length material, it provides the winning combination of cushioning and responsiveness as well. As a result, additional comfort is experienced by the runner.
The Medial post is used in the 361 Degrees Sensation 3. This dual-density material is essential in the reduction of excessive pronation.
Featured in this 361 Degrees shoe is the QUIK Spine Carbon fiber plate. During midstance, this material is significant in acting as a stabilizing force as the foot prepares for propulsion.
Upper
With the utilization of the Air mesh upper, ventilated comfort is encouraged. As a result, a more breathable coverage is experienced by the runner.
The Fitz-Rite midfoot is utilized in the 361 Degrees Sensation 3. To promote lockdown, soft internal webbing is used to swath the foot. This component of the shoe securely holds the foot to the platform to ensure a more comfortable and hassle-free running experience.
Another important feature of the shoe is the seamless open toe box. Natural toe splay is encouraged by this material. This feature also reduces the risk of any discomfort during the running session.
A Pressure Free Tongue is an added feature of the shoe. It is primarily designed to lessen the risk of irritation. The tongue unit is focused on alleviating pressure on the laces. It is essential in diminishing the possibility of blisters and rubbing of the foot.
Rankings
How 361 Degrees Sensation 3 ranks compared to all other shoes
Popularity
The current trend of 361 Degrees Sensation 3.