Topo Athletic Trailventure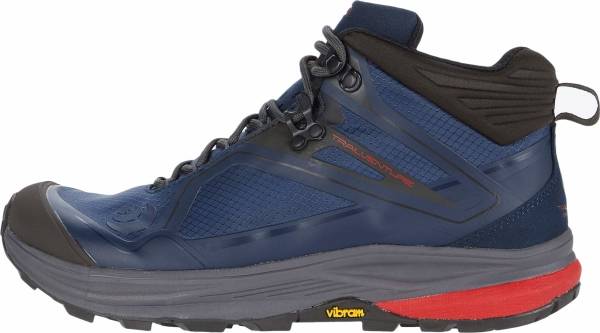 A cross between a rugged hiker and a lightweight trail runner - the Topo Athletic Trailventure hiking boots have gotten the approval of avid hikers and outdoorsy folks who want something comfortable, well-cushioned, and most of all - durable. It gets five-star reviews for its lightweight construction, supportive midsole and upper, and grippy Vibram outsole. Plus, it's a wide hiking boot which is a huge advantage for those with extra-wide feet or those who simply want a roomy fit to wiggle and move their toes.
---
Verdict from 7 experts and 100+ user reviews
6 reasons to buy
Out of a small number of the Topo Athletic Trailventure reviews, the majority consider it a very comfortable hiking boot.
A couple of users give it high marks for being incredibly supportive.
This lightweight trail boot delivers an excellent grip in all sorts of terrain, according to an in-depth review.
Several people love the roomy toe box that keeps their toes relaxed and moving freely.
The agile, well-cushioned midsole makes it great for hiking, fastpacking, and trail running, notes another reviewer.
It's a very durable boot, according to another verified buyer.
1 reason not to buy
The stiff upper makes sharp creases in the boot as you stride through, according to a few wearers.
Bottom line
A cross between a rugged hiker and a
lightweight trail runner
- the Topo Athletic Trailventure hiking boots have gotten the approval of avid hikers and outdoorsy folks who want something comfortable, well-cushioned, and most of all - durable. It gets five-star reviews for its lightweight construction, supportive midsole and upper, and grippy Vibram outsole. Plus, it's a
wide hiking boot
which is a huge advantage for those with extra-wide feet or those who simply want a roomy fit to wiggle and move their toes.
Best price from 50 shops
We earn affiliate commissions at no extra cost to you when you buy through us.
89% say it's true to size.


Our reviews
I recently tested the Topo Athletic Trailventure hiking boots over a month on the glorious trail systems of the mountains that rise above the Shenandoah Valley of Virginia. I don't think a better testing ground could be had than the rocky technical terrain and endless climbs and descents these trails afford.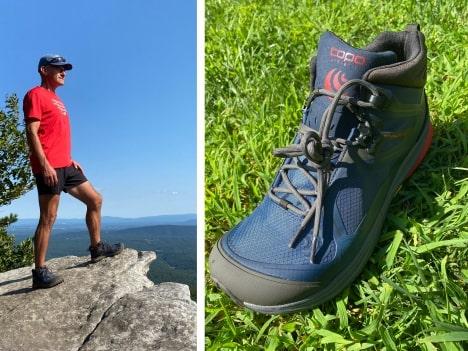 The Topo boots felt more like high-top running shoes yet provided the ankle support and comfort of much heavier trekking boots.
From the Appalachian Trail to the Massanutten and Tuscarora trails, I hiked and fast-packed over many varying terrain types in comfort. The bottom line is these boots are the most comfortable hiking boots I've ever had; more comfortable than some of the high-end German boots I've used in the Alps.
Comfort
From the top view looking down, it's easy to spot the shape of the boot and see that it follows the shape of a typical human foot. It's snug around the midfoot but opens to a roomy toe box that has plenty of width to prevent the toes being squeezed together, particularly on the steep descents which tend to push the toes into the front of the boot.
The heel fits snugly and is cupped without the tendency of blistering by being too narrow. It's the perfect balance of snug and roomy. The same principle is found in the toe box which despite being super roomy still feels like the feet aren't loosely moving around inside which could cause blistering.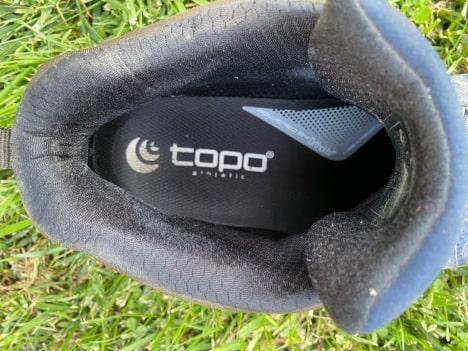 The ankle padding and padded tongue provide a super snug level of support that you can modulate by adjusting the lace tension. For easy trails, it's nice to have more freedom and maybe extra cooling, yet on really rocky, root-filled uneven trails, it's possible to tighten the lacing and ratchet up the ankle support.
Vibram! What a great shock-absorbing material. The soles of these boots with their Vibram material provide a firm yet cushioned feel. It all adds up and if you are doing 10, 20, or more miles in these, all the shocks add up, so reducing it means a lot at the end of a long hike. It keeps you fresher for the next hike.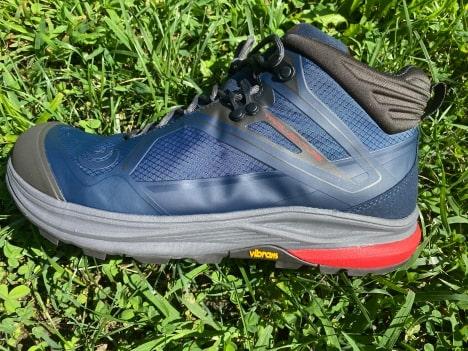 Protection
As a trail ultra runner, I know that one of the most painful things is stubbing toes against rocks or roots. The rubber toe cap protector takes care of that inevitability. I did the usual toe stubbing on my hikes and found it was like wearing safety boots. Still not fun, but not painful at all.
Technical trails often feature slanted rocks and a variety of features that can rub against the side of the feet. These boots have a high rubber bumper that surrounds the whole foot, followed by touch-to-rip material higher than the sole protection. I found that after 40 miles of testing this type of abrasion not only didn't affect my feet, but the boots were not damaged or worn on the sides at all.
Hiking/running on some of the pointy, jagged rocks of the Appalachian, Massanutten, and Tuscarora trails in Virginia, I was quite happy to have the protection of the rock plate underfoot. I never felt these jagged trails putting undue pressure on any points underfoot.
Durability
After 40 miles of intense trails that contained a lot of rock scrambling, there was only minimal wear of the treads. The rubber compound seems to be the right balance of softness for grip and firmness for durability. No degradation of the rubber was noted.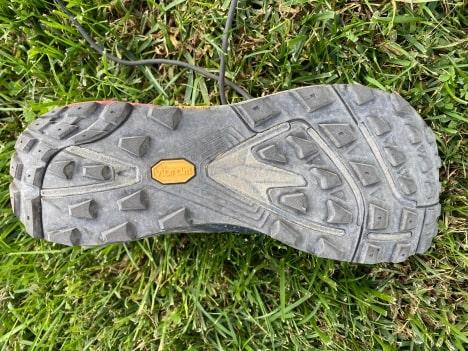 The uppers and sides of the boots became more shaped to my feet and wrinkled at the bending points. However, there was zero separation, tearing, delaminating, etc of the materials. Also, there was no degradation in the padding surrounding the ankles. The insoles stayed in place and didn't curl or otherwise move around inside the boot.
Lacing system
The lacing system couldn't be simpler because it remains laced up, except for the top two lacing eyes. It's quick and easy to simply wrap the laces around these and tie up.
If I had to critique the lacing, I would say that the round lace material has a tendency to untie from time to time. My recommendation that would make this boot perfect would be a toggle lacing system. Those never come untied and are even simpler to tighten or loosen than regular laces.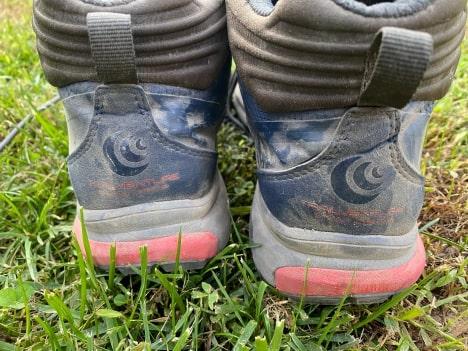 Fast-packing
Let me just say that the 13-ounce weight of these boots was unexpected as they are much lighter! Compared to trail running shoes I have that weigh about 11 ounces, you get a lot more protection and comfort at the cost of only 2 ounces.
Of course, this meant that I needed to try them for a trail run. For my run test, I chose a route that features a vertical climb/descent of 2047 feet (624 metres) over its 6.84 miles (11 kilometres). It is an out and back to a prominence called Big Schloss near Mill Mountain on the border between Virginia and West Virginia. It is a true ankle-busting run with most of the trail having either loose rock or embedded jagged rock and roots. There really are no flat or easy spots on this trail so the test would be good.
The end result was that I found these boots to run as well as trail running shoes, except a lot more ankle support. I could run through these rock gardens and the occasional misstep that placed my foot on an awkwardly angled rock didn't result in a massive bodyweight shift to avoid twisting my ankle. Instead, I felt like with the support I could land with my foot horizontal and there was no twisting action. Epic ankle support for super technical trails is what I got.
Overall my lower leg tendons and muscles were fresher. I would not run in these for less technical trails or in a race, but they totally changed my perspective. I would fast pack in these all day.
Pros
Lightweight
Great traction on many types of terrain
True to size fit
Good protection from rock plate and rubber toe bumper
Great comfort
Comfort and massive toe room
Excellent fit
Durable
Price is good value
Cons
Could use a toggle lacing option rather than laces.
Summary
The Topo Trailventure boot is versatile because it can help beginning hikers through to seasoned ultra runners stay comfortable and safe on the trails. The price point represents good value compared to other hiking boots and the light weight and comfortable fit make it an excellent choice for long hikes on difficult terrain.
While 40 miles of tough hiking is an excellent test, I look forward to hundreds of more miles in these excellent boots. The durability so far is exceeding expectations and the comfort is awesome.
Topo is one of my favorite brands of shoes in the "natural running" camp. Topo makes light shoes with minimal drops (normally between 3 and 5 mm) that are blazingly fast on the road and on trails.
When I first heard about the Topo Trailventure I was instantly stoked! Could Topo create a hiking boot that performs as well on a hike as their running shoes perform on a trail? Stay tuned to find out!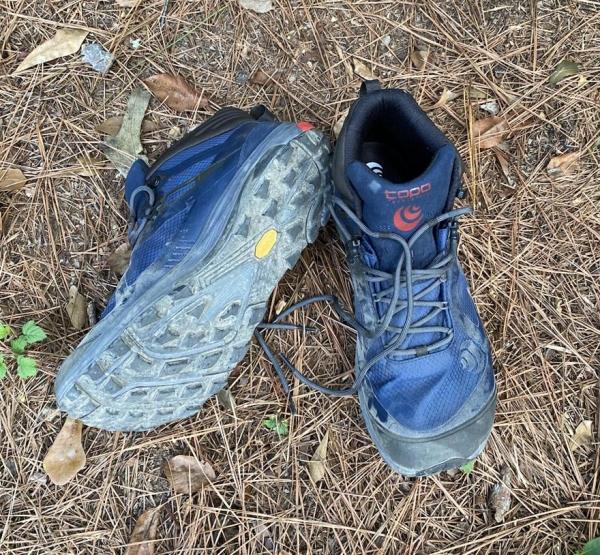 Upper
The upper is extremely well-constructed. There aren't very many stitched seams, but the ones that are present showed no signs of damage even after testing.
The classic Topo overlays protect your shoes from damage while the large toe box that Topo is well-known for allows your toes to spread naturally as you hike.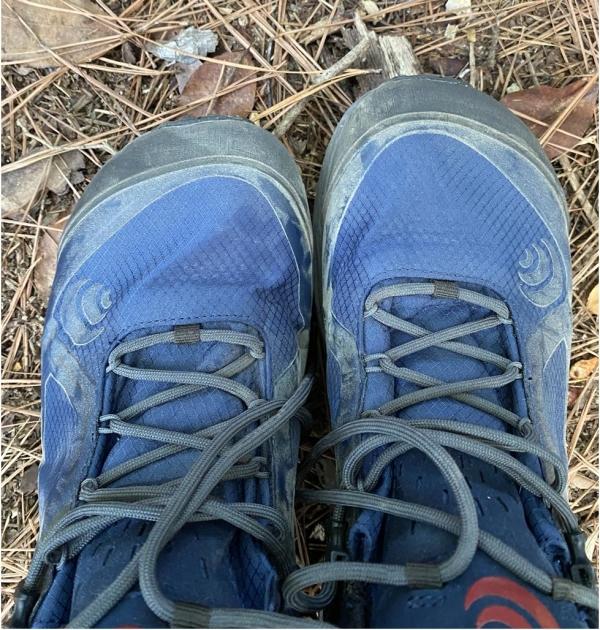 A great bonus feature is a lace-lock system that is both intuitive and effective. These boots have an integrated tongue that does an excellent job of keeping debris out.
Finally, the foam collar is super comfy and did a great job of preventing hot spots on my Achilles tendon. If I was being nitpicky (and I am), the one downside is that the above-mentioned overlays buckled inward a bit, especially on climbs.
They did not cause any hotspots during my testing, but I can see how they may cause hotspots on longer hikes.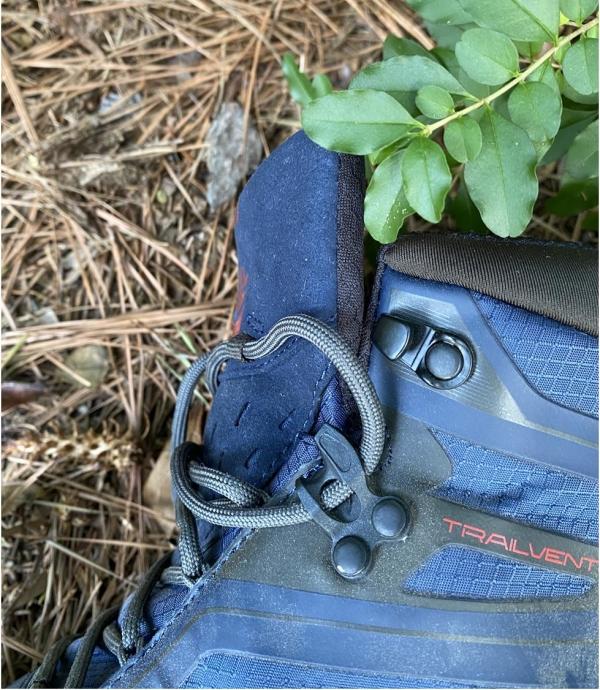 Midsole
Of course, the first thing that I need to mention is the heel-to-toe drop. One of the things that I absolutely love about Topo shoes is the minimal drop.
The heel-to-toe drop on these boots is right at the sweet spot for me at 5 mm. The hiking boots have a rock plate that does a spectacular job of protecting your feet from sharp rocks. I did not get a single stone bruise even when I used these boots on extremely rugged terrain.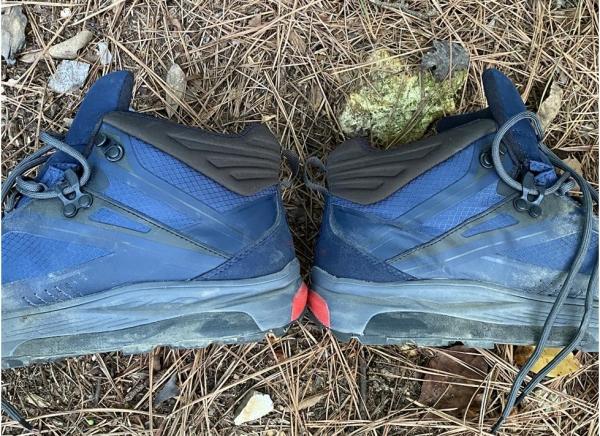 The Trailventures have a great amount of cushioning that keeps your feet happy while hiking. The last thing to note is that they did not get stinky at all during the testing period.
If you're like me, that is a huge bonus! I honestly do not have a single negative thing to say about the midsoles!
Outsole
If you are a fan of Topos, it will come as no surprise that these shoes utilize a rugged Vibram outsole. And, in the spirit of a Vibram outsole, these shoes feel just about indestructible.
After 20 miles of doing everything that I could think of trying to damage these shoes (including jumping up and down on sharp rocks and dragging my feet across them), I saw no visible damage.
These shoes have nice-sized lugs that have a great amount of traction on wet surfaces. In the spirit of being nitpicky again, I would say that these boots are a bit stiffer than I would have hoped.
Based on the information provided by Topo, I envisioned a hiking boot that was far more flexible than your average boot. What I experienced, on the other hand, was a boot that was equally stiff to most other hiking boots that I have owned.
Even with that, I still loved the durable outsole and was pleased with this portion of the shoe.
Design
The blue and red design is attractive and modern. The wide toe box does not look overdone or off-putting.
I think that they would look equally good with a pair of jeans and a flannel shirt as they do on the trails.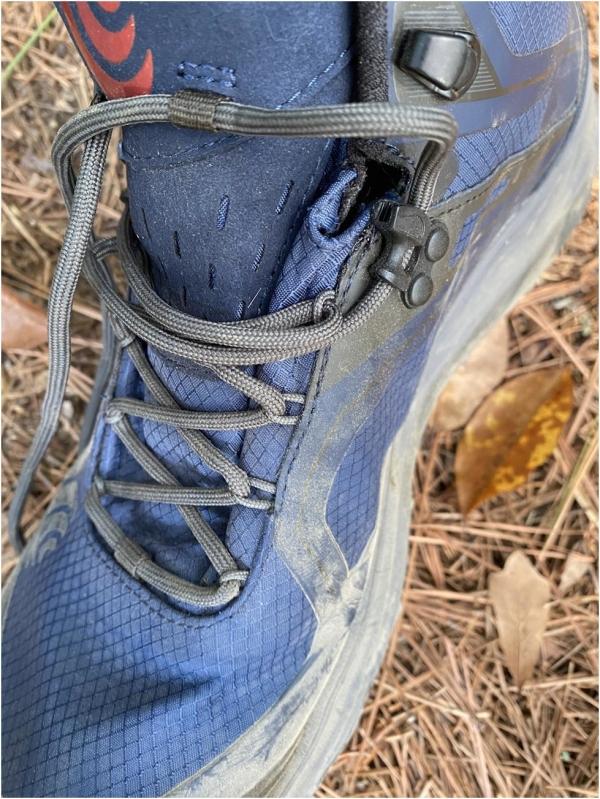 They look like a modern take on the classic hiking boot concept. From a design perspective, these boots are very well done!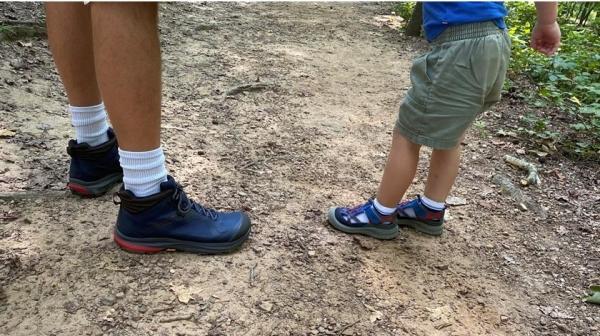 Breathability
They breathe about as well as you would expect any hiking boot to breathe—poorly. This was a huge disappointment for me.
As with the lack of flexibility, I went into this test expecting a bit more from the shoes. My testing was performed during a very hot and humid week and my feet definitely felt it!
This was the only aspect of comfort (and in a way, the entire boot) that was truly a disappointment for me.
Durability
Bulletproof. These boots are crazy tough. I went into the test trying to damage them and was unsuccessful.
I was trying to break these shoes in the field even as of a week prior to writing this review. I have not been able to do anything aside from getting them a little dirty.
I feel confident that you could take these boots on some very rugged hikes without concern of damage.
Performance
Topo boasts that these are hiking boots that you can run in—and they're right!
These boots are SO LIGHT! They weigh less than some of my trail running shoes. This makes it easy to hike without your legs and feet tiring.
Leaping and climbing over obstructions in the trail is no problem in the Trailventures! Do you need to climb over a fallen tree? In my case, I went on a hike with my family.
I carried a 40-pound toddler with a loaded rucksack on my back for 3 miles with no significant discomfort in my feet (aside from the poor breathability mentioned above). These shoes are rockstars on the trails!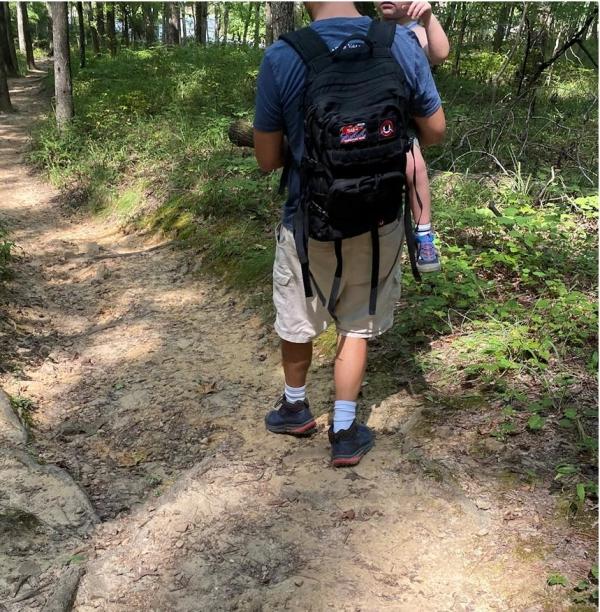 Final thoughts
I was extremely excited about getting to test drive the Trailventures and I was certainly not disappointed. They're as tough as they are light.
I was able to walk on sharp rocks without pain, wander around on wet rocks without slipping, and carry my son without fear of falling.
While the poor flexibility and breathability were a bit of a disappointment to me, this should not detract anyone from purchasing these fantastic hiking boots.
I would highly recommend these to anyone who is a fan of more minimal shoes but needs the protection of a hiking boot. Go get a pair!
The Topo Athletic Trailventure promises great benefits for hikers and trail speed-walkers who enjoy the trails and uneven terrain.
If you are an avid hiker looking for a comfortable mountain boot, this is it. If you're a trail speed- walker, this boot is it again. If you're a trail runner and you're wondering what makes this kick-ass boot perfect for the trails, then the hint is—Vibram.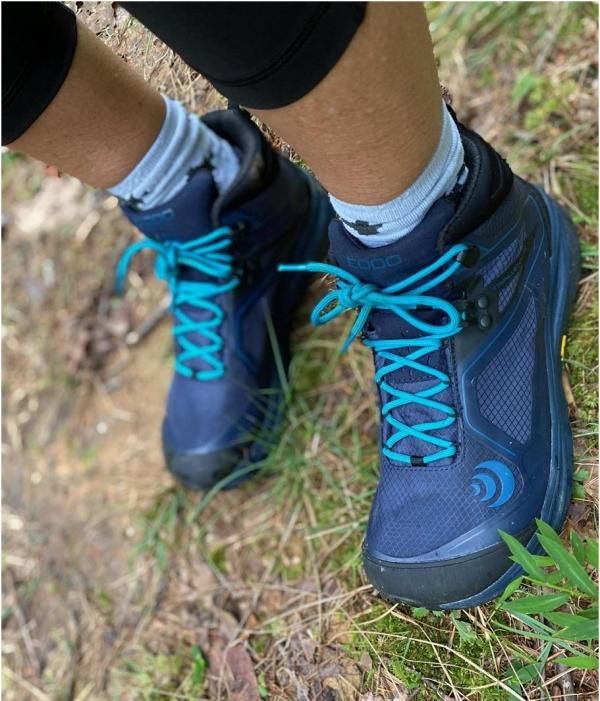 Introduction
It's a COVID world right now where hiking and trail running has become the stress relief for seasoned and new hikers and a great way to connect with nature.
The trails are where this Topo Trailventure boot shines. Is this the comfortable boot you have been waiting for? Can you hike trails faster and with less stress on your body? Yes and yes.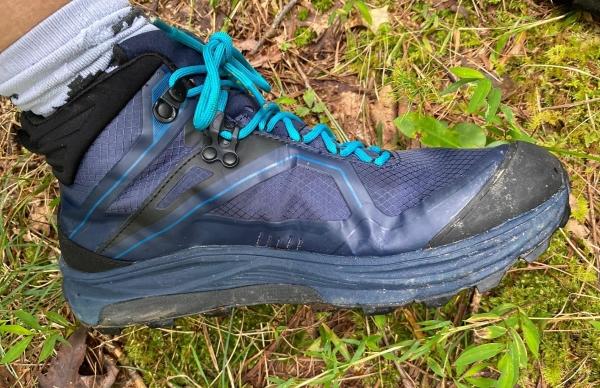 I went to the Lake James Trails today and was excited to try out my new boots. They are extremely comfortable with great cushion. I hiked and speed-walked the trails and even did a quick trot to test out the grip and runnability of the boots.
As a platform for hiking and speed-hiking, the Trailventure from Topo Athletic performed fantastically. Would I wear these boots for a several mile trail run? Probably not. Because of the great cushion and high-top design, the boot is a bit too bulky for a full-on trail run.
Specifics
Sizing: It runs about ½ size big. I used my usual running shoe sizing and it does feel roomy—probably not an issue if you are wearing thick hiking socks.
Heel-to-toe drop: 5 mm; feels just about right for a hiking boot.
Outsole
The Vibram XS Trek outsole is the star of the shoe and provides great traction and durability on the trails. The rear foot rock plate offers protection from sharp rocks and uneven ground.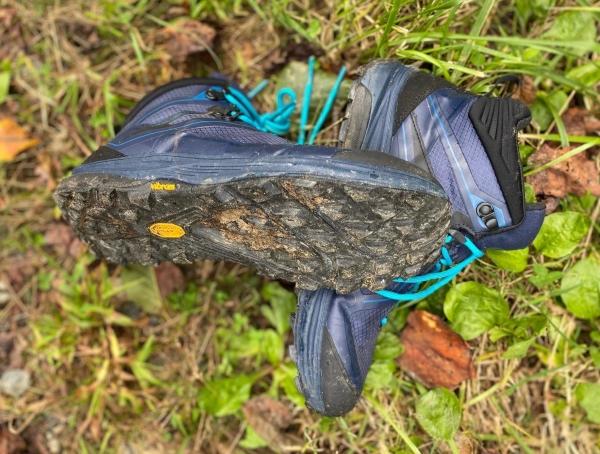 Midsole
The three-piece EVA midsole is super-cushioned.
Ankle stability. This was my biggest fear with constant ankle injuries—A++ as there was no pain in my ankle or rubbing on the longest of walks. I attribute this comfort to the lace-locking system on the top which offers you the ability to adjust the tension.

Look
This is probably the most important part for me for an outside boot. These shoes are functional as well as nice-looking and hold their color even when wet after several uses.
Waterproof
And, talk about wet, these boots kept my feet dry through all the creek crossings on the trails. I even did a quick test drenching my feet and they held up extremely well. No change of socks on this hike!
Weight
The boot is 10.6 ounces which is super lightweight for a hiking boot.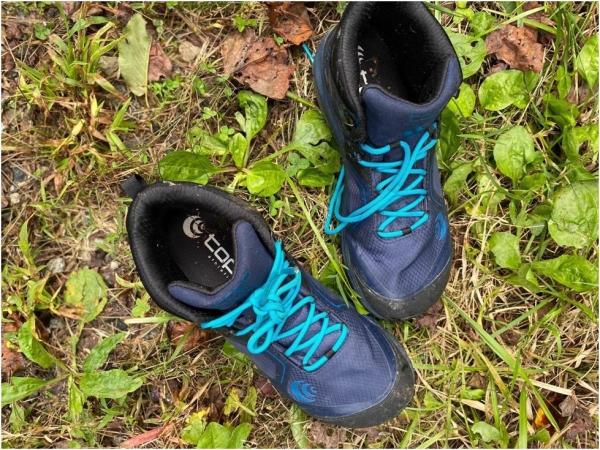 I am still not sold on trading my trail running shoes for a trail running boot but for those who prefer boot. This is a great pick!
Topo Athletic Trailventure notable features
-This mid-top trail boot comes with the aggressive Vibram XS Trek EVO outsole that delivers multi-surface traction. It is also equipped with a 3-piece EVA midsole for a cushioned, dynamic underfoot experience, a rear foot rock plate and hard rubber toe cap for additional protection in rugged terrain, and a rip-stop mesh upper that is light, durable, and breathable.
-It also features medial drainage ports for quick water release when waddling through streams, rivers, and deep puddles.
Size and fit
The Topo Athletic Trailventure is a mid-top hiker with a roomy toe box, which makes it a great choice for wide-footed individuals. It has an over-the-ankle molded foam collar that provides ample cushioning and support around the ankle without restricting movement too much. Meanwhile, the stretchy rip-stop upper hugs the foot snugly, creating a glove-like feel.
Furthermore, this boot uses a unique lacing system featuring two lacing tensions that provide a secure and customized fit through the midfoot.
Outsole
Designed for varying terrains, the Trailventure hiking boot by Topo Athletic is equipped with the XS Trek EVO outsole. This Vibram sole is very aggressive, having a lug depth of 6mm. It has a tread design very similar to that of the MegaGrip but slightly softer and bouncier. The wide spaces in between the lugs also help with easy dispersal of mud. Additionally, there are flex grooves upfront so the wearer is able to move comfortably.
Midsole
This trail boot comes with a 3-piece EVA midsole for a cushioned underfoot support. Unlike other hiking boots, the Athletic Trailventure uses EVA of three different densities. The softest foam is placed at the lateral heel for cushioning when landing, the firmest at the medial heel for a supportive stride, and the rest of the midsole uses a foam with the density between the other two. Embedded in the midsole is an ESS stability plate located towards the rear for additional support.
Furthermore, this boot comes with a 5mm Ortholite footbed for additional cushioning and arch support.
Upper
Known for its durability and resistance to abrasion, the ripstop upper of the Trailventure creates a protective environment for the foot. It doesn't have a waterproof membrane so it stays breathable especially in very hot days. Additionally, it comes with medial drainage ports for the easy release of water in case the wearer has to walk through deep puddles of water.
Rankings
How Topo Athletic Trailventure ranks compared to all other shoes
Popularity
The current trend of Topo Athletic Trailventure.