Our reviews
The Terraventure 2 is one of Topo Athletic's trio of more 'traditional' trail shoes. Traditional in the sense that they have protective, thicker midsoles, lugged outsoles, and a rugged upper.
However, Topo Athletic continues to buck the trend and produce truly anatomically shaped shoes with lower drops and wide toe boxes.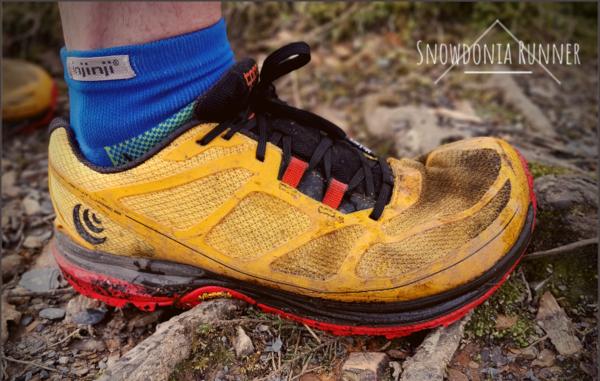 I've discussed this at length in my reviews of the Fli-Lyte 2 and the Magnifly 2, so I'll spare you my proselytizing. Suffice to say, I'm already a convert to their road shoes.
In general, Topo Athletic are of the "less is more" philosophy and as such address the important things like fit, comfort, and performance without resorting to gimmicky technology.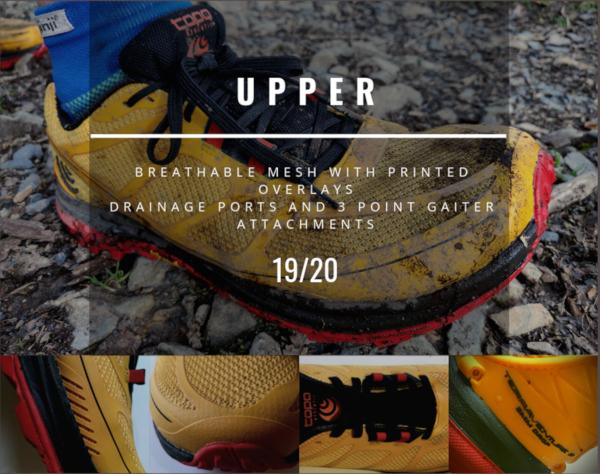 Out of the box, the golden yellow and bright red colorway is striking. The Terraventure 2 looks like a shoe Dr. Floyd from 2001: A Space Odyssey might wear if he was visiting Mars, a strong look. They do also come in a couple of more restrained colorways, but where's the fun in that?
The upper is made of a tough yet stretchy mesh with printed polyurethane overlays. It's not waterproof, but if this a deal breaker the Topo Athletic range also includes the Hydroventure, a very similar but waterproof shoe.
The upper is quick drying with drainage ports towards the toe should you plunge through a stream and this works well. The mesh upper is breathable and comfortable over longer and warmer runs.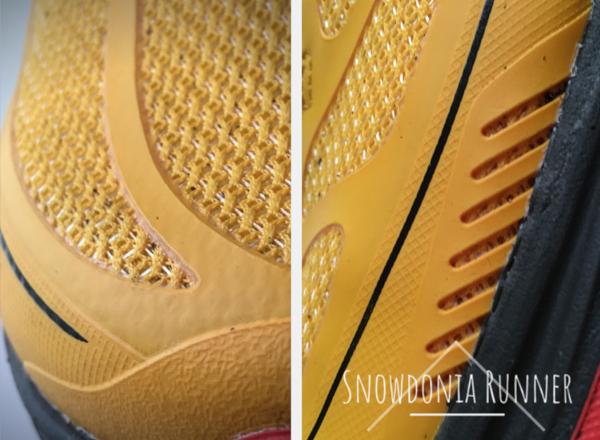 The laces are oval, hard wearing, and arranged in a gully system. The lacing lies comfortably across the top of the foot. My only grumble is that two of the lacing eyelets are made of a hard red colored webbing.
Although they didn't dig into my foot, I was worried they might, nevertheless, I couldn't quite fathom their function other than cosmetic. So this irked me more than it should have done.
The tongue is padded and comfortable with a simple lace loop. There is no slippage. The tongue/inner is gusseted, which efficiently prevents dust and debris entering the shoe.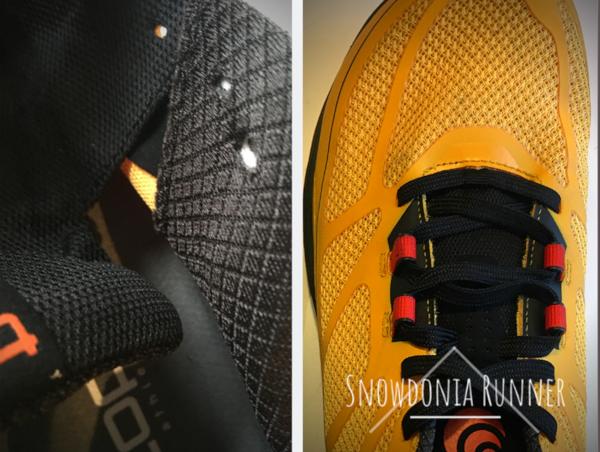 The Terraventure 2 has a well-cushioned heel cuff that gently grips and supports the Achilles. The heel counter is relatively firm and has additional support externally.
It's here you can find two small external slots where the gaiter system locks in, also fastening to the front lacing row.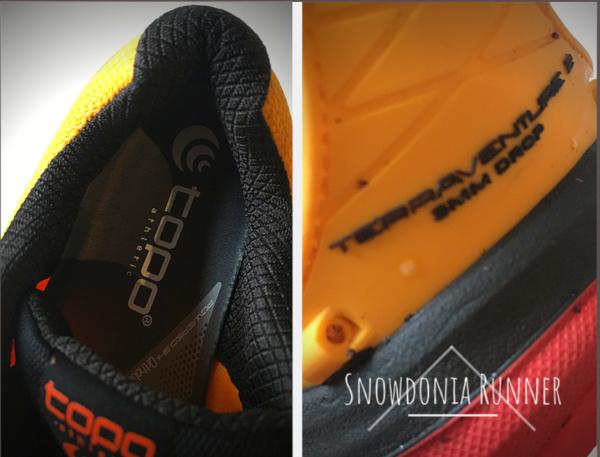 It's reasonably difficult to fit the gaiter hooks into these slots before a run, but a real struggle to attach them with cold hands mid-way through. If you think you might need the gaiters then my advice is to put them on before you leave home.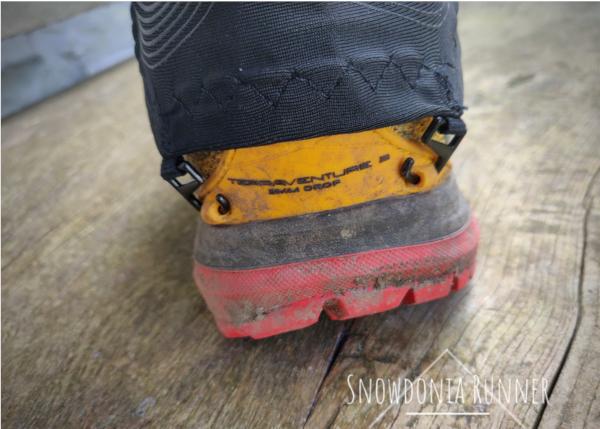 The gaiters themselves are very lightweight and breathable and if you run on dusty or loose surfaces, they may be worth a look. In rainy Wales, they do little to keep out water, so I quickly dispensed with them.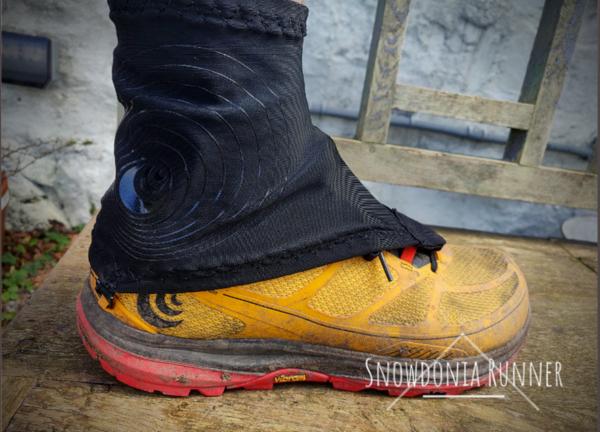 Like all Topo Athletic shoes, the Terraventure 2 is built on an anatomical last. Consequently, you have a shoe that is shaped to fit a foot, rather than forcing your foot to fit a shoe.
If this seems a no brainer, it is. The toe box has plenty of width and height which allows your toes to splay out and provides a stable push off.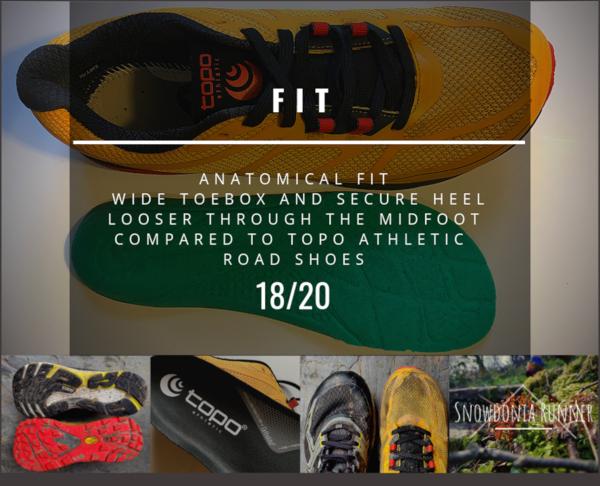 If you haven't already worn a shoe with a more natural shape, then I'd strongly recommend you try. It is particularly comfortable in a trail shoe or for running longer distances.
If you wanted to look at other brands, then Altra has a similar fit or the Nike Wildhorse 4 is another great trail shoe with a wider toe box. Compared to other Topo Athletic shoes I've worn, the Terraventure is looser through the midfoot.
You can see from the image below whereas the Ultra-fly 2 flares out from the mid-foot to the metatarsals. The Terraventure runs slightly wider or straighter through to the toe.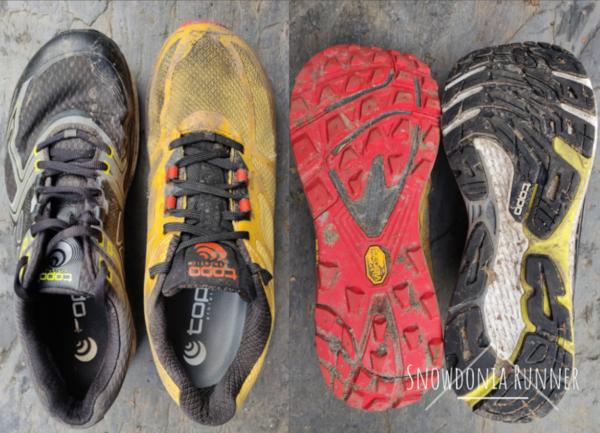 This extra width brings certain advantages. For longer distances, it will accommodate some foot swelling and allow thicker socks.
However, I found the additional width made the shoe less conforming to the foot, and for the first couple of runs. I experienced some heel slippage and rubbing around the Achilles insertion.
I was able to remedy this by using a runners lock configuration and tightening up the midfoot with the lacing. This is uncharacteristic for a Topo Athletic shoe as the well-padded Achilles dip, and firm-ish heel counter do tend to prevent rubbing. Otherwise, Terraventure 2 is a very comfortable shoe.
If you generally go a half size up in running shoes, you shouldn't need to in the Terraventure 2 which fits true to size with adequate space in front of the toes.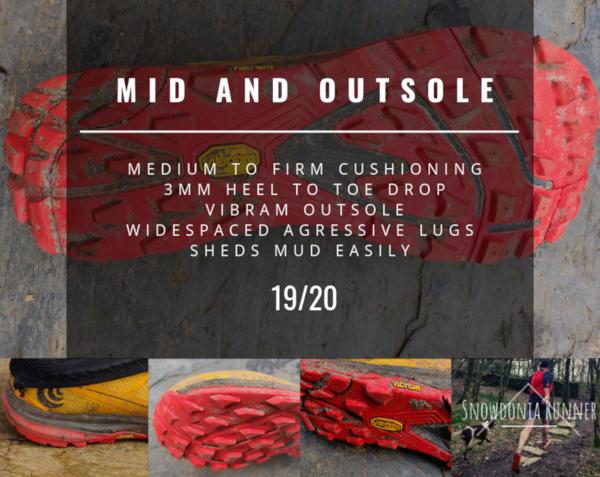 The Terraventure midsole is a dual density EVA with a softer layer closer to the foot and firmer next to the outsole. This is a tried and tested arrangement, common to a number of Topo Athletic shoes I've run in and provides a good balance of cushioning and spring.
As in all the Topo Athletic range, the Terraventure has a low offset, in this case, 3mm. If you haven't run in lower drop shoes before this is a good introduction; I prefer a lower offset in a trail shoe as it promotes natural loading onto the mid to forefoot and a more stable footstrike.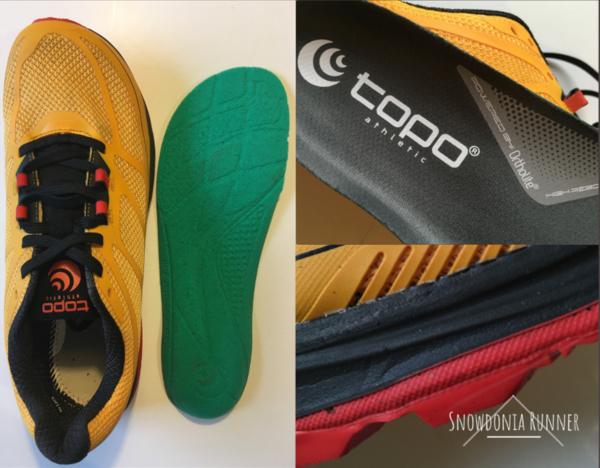 The insole is a thicker than usual 5mm Ortholite foam footbed which adds a little extra cushioning and seems to be resistant to packing down, so far.
When wet however the insole does tend to get a little water-logged but drying is aided by the drainage ports in the upper. The insole is antimicrobial so it might help your shoes smell fresher for longer.
The outsole is a grippy Vibram rubber with aggressive, widely spaced, deep lugs curving up the toe and heel. This spacing not only aids grip, which I'll discuss later but importantly, helps the shoe shed mud and debris.
The pictures above were taken after a run through mixed conditions including some very muddy paths.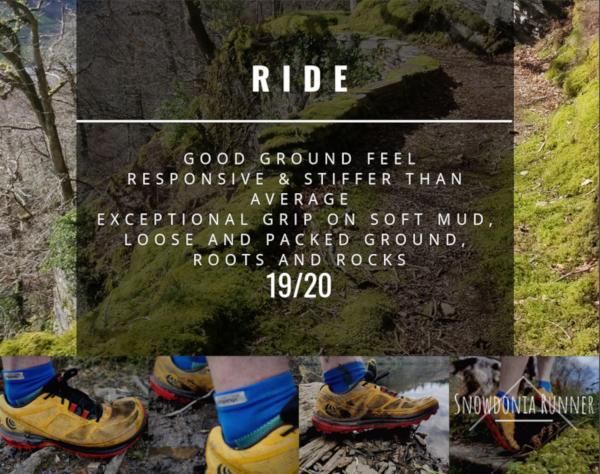 The Terraventure 2 is impressively stiff and responsive for a well-cushioned shoe. This additional stiffness marries well with a lower offset promoting a faster transition and toe spring. In part, this is achieved by the dual density EVA outsole but also the rock plate.
On my initial couple of test runs on flatter, shorter paths the shoe felt somewhat ponderous. However, once I got out on longer more varied trails, the Terraventure 2 really showed it's pedigree.
Weighing in at 325g for a UK size 9 it is hardly a lightweight, but the Terraventure 2 feels surprisingly agile, particularly on faster descents and moving over the technical ground, outperforming lighter shoes. This is agility is due to the excellent ground feel and the slightly lower stack compared to similar shoes in its class.
The rock plate is segmented with built-in grooves and this maintains flexibility, meanwhile the wide toe box allows the toes to splay out, providing a stable and balanced landing and take off. It is a dependable yet fun shoe to run in.
I felt confident in the Terraventure 2 at all times, it has superb traction and is an accomplished performer on soft mud, loose gravelly paths, roots, and well-packed trails. The only issue I experienced with was on wet and mossy rocks.
I've yet to run in a shoe that copes well with this challenging surface and the Terraventure, although providing average grip, was prone to slip at times. Short spells on the tarmac are not problematic, good news if your route includes a few stretches of road.
It's also worth noting that the Terraventure 2 has the makings of an excellent hiking shoe. As a neutral runner, I'm not specifically seeking out support features in a trail shoe.
However, there is adequate arch support, and the broad-based outsole along with overlays in the upper provide additional control. The heel and Achilles cuff is on the lower side, which I prefer as it avoids rubbing on the malleoli when the foot rolls on different surfaces.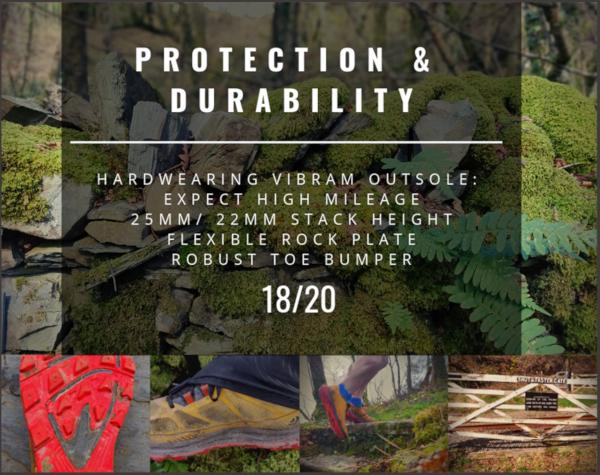 The Terraventure 2 is a protective shoe and promises good durability. As always in a trail shoe, there are a number of compromises to consider, and Topo Athletic addresses these well.
The stack height is 25mm and 22mm at heel and toe respectively, somewhat modest these days compared to similar shoes such as the Altra Timp or the Hoka One One Speedgoat.
Nonetheless, the Terraventure still feels sufficiently cushioned with additional protection provided by the rock plate in the midsole. The tradeoff is that while the grooves in the ESS rock plate maintain forefoot flexibility and ground feel, it is perhaps less protective as some might prefer.
For me, however, this was a happy medium and more than adequate: I ran two back-to-back 20km over some very stony paths without any problems.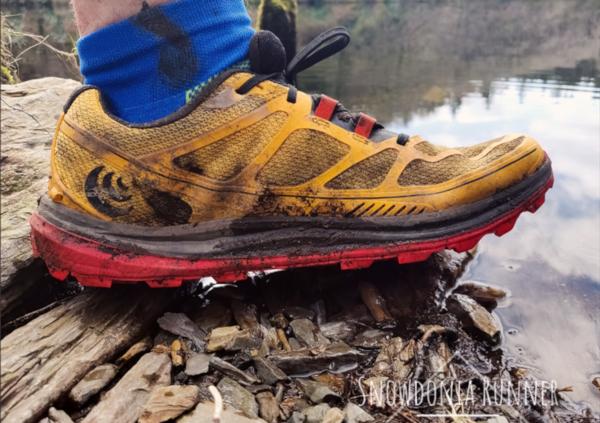 The toe is well protected both by a rand (the part of the outsole which wraps up and over the front of the shoe) and additional overlays on the mesh. The wide toe box helps prevent bruised nails and toes by providing adequate space laterally and vertically.
The Vibram outsole seems bombproof. After over 70km, there is little to no visible wear. I've had nothing but good experiences with Vibram. I recently retired a pair of hiking boots after nearly 18 years with a pair of Vibram soles.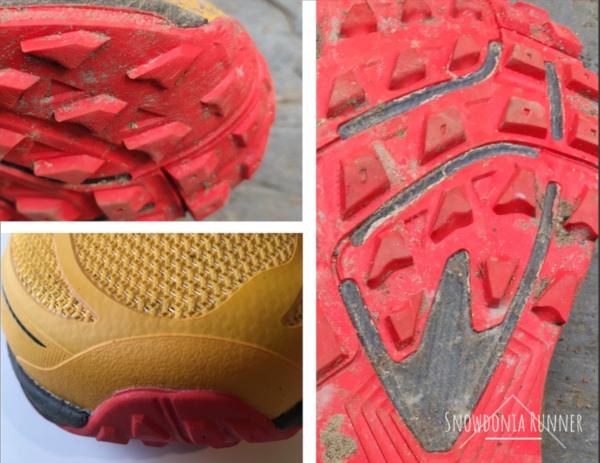 Topo Athletic's trail range provides a number of alternatives to the Terraventure 2. The fit and outsoles are fairly similar between the Hydroventure 2 and the Ultraventure.
You can weigh up your needs and choose appropriately: the Hydroventure 2 is waterproof with the same 3mm offset and rock plate and is (surprisingly) lighter.
The Ultraventure has more cushioning, greater stack height, and 5mm offset but no rock plate. It feels appropriate to mention the Runventure at this point: this is a light, more minimal feeling shoe with a stiff, responsive, zero drop platform, and the bonus of a rock plate.
It's super comfortable and well worth your consideration if you're looking for an agile shoe for shorter trail runs.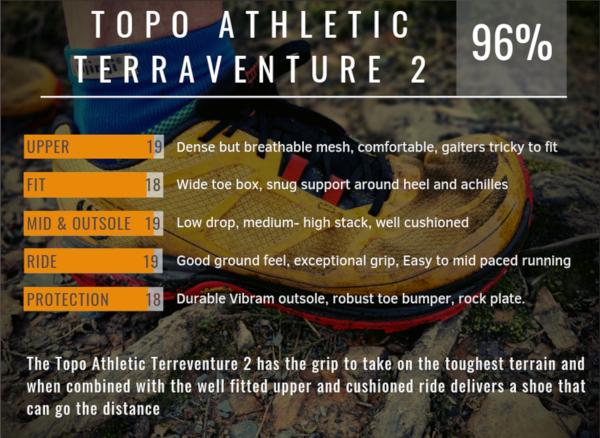 The Topo Athletic Terraventure 2 is a protective trail shoe with excellent grip capable of handling nearly all terrains and distances with aplomb.
Minor niggles aside, the only changes I would like to see is a better fit through the midfoot in keeping with the Topo Athletic road shoes and a drop in weight, which seems entirely feasible given its similarity to the Hydroventure.
If you are looking for a dependable, do-it-all trail shoe that is capable of going longer distances, then the Topo Athletic Terraventure 2 will delight most runners.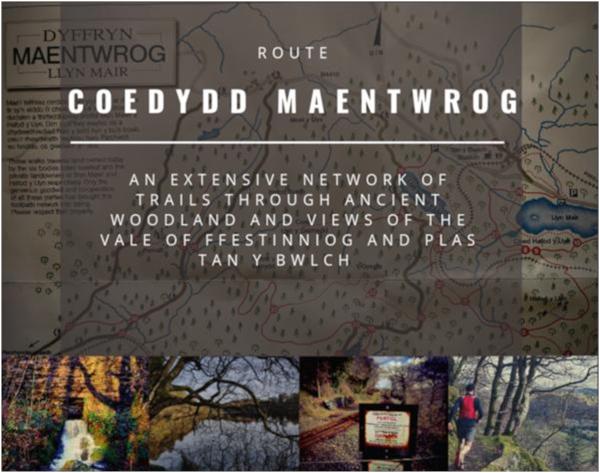 I ran 70 km + on mixed trails mainly around Coedydd Maentwrog which lies within the lands of Plas Tan Y Bwlch, the former family home of W.E Oakley, who profited greatly from the local slate industry in Victorian times.
These well-marked trails wind through ancient oak and ash forests and command excellent views of the Vale of Ffestiniog and steam railways.
The two mirror flat lakes were constructed by Oakley as a gift for his wife (and rather more prosaically provided the first hydroelectric power in the UK). If you're a fan of intricate dry stone walling and grandiose romantic gestures (and who doesn't love that classic combo), this is an underappreciated gem of a run.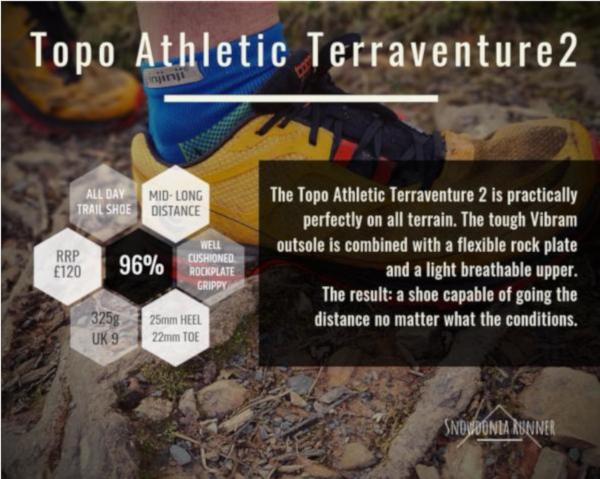 TLDR: Topo Athletic Terraventure 2 is a lightweight shoe with a grippy outsole and low drop make these goldilocks trail shoes feel just right.
Fit
Topo shoots right down the middle with these shoes. The heel and midfoot are narrow and very snug. It is walking a thin line between the support and stability that I want in a trail shoe.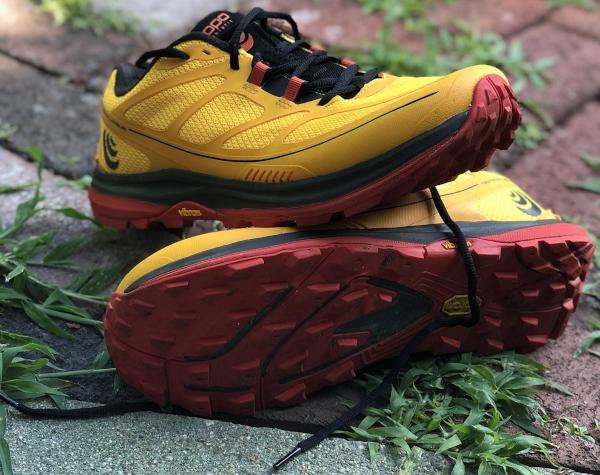 It is a bit of tight in the mid-foot. Meanwhile, the roomy and wide toe box gives my toes plenty of room to play and operate.
Support
The relatively low drop (3mm) is a nice way to ease into lower drop shoes if that sort of thing strikes you as important. I typically run in more standard drop shoes.
After a few runs in these guys, I did notice some slight soreness in my Achilles and foot, as people often warn you they will.
Performance
These are the type of shoes that you barely notice—in a good way. They don't have a ton of bells and whistles other than their decently-grippy Vibram outsole and their 3mm drop.
Looks
These are not going to win you many fashion points. The yellow colorway is the most interesting option—the olive and red options are pretty frumpy. I like the red Vibram outsole though.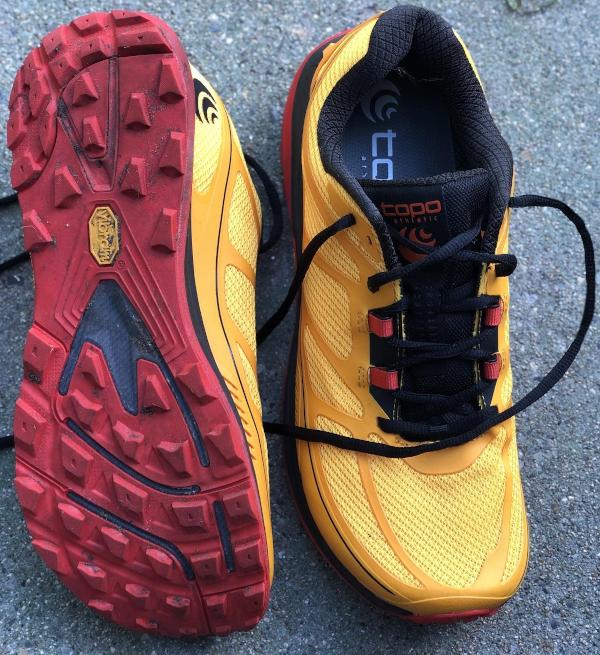 Moreover, the slim profile and wide toe box make these shoes pretty distinctive.
Test Run
Distance:6 Miles | Terrain: Easy Trails
Location: Cape Cod | Season: Summer | Conditions: 84F and Sunny
Warm-Up
I park in a small dirt turnoff on some conservation land in mid-Cape Cod. It's a beautiful day.
The trail starts right here, looping around a saltwater pond and continuing along a series of estuaries running back to the ocean.
First Impressions
These shoes are nice on the loose dirt terrain. Although, it is not noticeably as grippy as the Arc'teryx Norvan LDs despite having the same brand name (Vibram) rubber on the soles.
The wide toe box is awesome. I really enjoy having the extra space, and it makes the run feel more leisurely.
The heel is also quite supportive and snug. Even on sharp turns, I get no slippage in these shoes.
The middle of my foot feels snug in these though, which I notice at first. But by mid-run, I've completely forgotten about it.
Hitting the pavement
The trail ended into a paved bike trail, which I follow for a mile. These Topos make a smooth transition to the blacktop. The lugs are noticeable but not unpleasant underfoot.
However, I spot a rough single track trail before my planned turnoff and jump at the chance to get back on the dirt.
Downhill, Uphill
This tail section is overgrown, narrow, and follows some rolling hills along a stretch of power lines. The Terraventures do well in both, with good traction and the same snug support that I noted earlier.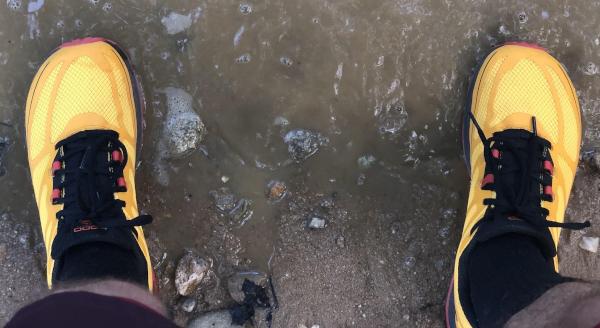 It rained last night, so I do splash through a puddle or two. Being a hot day, I barely notice the moisture from the puddles. Within minutes, my shoes are completely dry.
Conclusion
I'm impressed how dialed in these shoes feel despite being from a relative newcomer to the market. I also respect that Topo Athletic kept these shoes minimal, without hype or marketing gimmicks.
It created a trail shoe that checks a lot of boxes. If you want a quality grip on your outsoles, but the ability to still run on the road, these shoes are great.
If you want a roomy toebox, but still want a snug support along the rest of your foot, these will do the job.
If you're curious about getting into lower drop shoes but don't want to go all-in on zero drop, these shoes are perfect.
Clearly, they offer a strong value proposition for moderate trail runners. I think people will be pleased if they give the Topo Terraventure 2 a chance.
Updates to Topo Athletic Terraventure 2
The 2nd iteration of the Topo Athletic Terraventure is an addition to the international roster of trail running shoes. This product features a façade that is resistant to abrasion, with multilayered mesh and printed overlays bolstering the durability. An anatomical forefoot design allows the toes to relax when taking each step and when standing idly.
The midsole unit of the Terraventure 2 is made up of a full-length ethylene vinyl acetate (EVA) foam to provide complete support to the foot-pad. A 5-millimeter insole is placed on top of the EVA to add a bit more volume and softness to the experience. The outsole unit features an aggressive external layer with evenly-spaced gripping lugs for the sloughing off of mud.
Size and fit
The Topo Athletic Terraventure 2 features a standard running shoe length. Runners are welcome to get a pair using their usual sizing expectations. When it comes to width, the available options are D – Medium for men and B – Medium for women. The foot-shaped curve of this product mimics the inherent curvature of the human foot.
Outsole
Vibram® Megagrip is the material that's used for the outsole unit of the Topo Athletic Terraventure 2. This rubber layer covers the entire platform liberally, protecting it from the rough surface-configuration of the outdoor paths. This outsole material is as durable and grippy as the Salomon Speedcross 5.
Multidirectional gripping lugs pockmark the external pad. These protrusions are meant to clamp onto the uneven terrains, steadying the foot and maintaining control of the movements.
Midsole
Injection-molded ethylene vinyl acetate (IMEVA) is used for the midsole unit of the Topo Athletic Terraventure 2. This full-length cushioning feature protects against impact shock while also permitting an energized toe-off. Moreover, it has a dual-density construction, which means that it's extra sturdy and less prone to sagging.
An ESS Rock Plate is layered between the midsole and the outsole. This flexible sheet is tasked with protecting the foam platform and the underfoot from sharp objects and tricky surfaces.
A 5-millimeter Ortholite® insole offers extra comfort to the foot-pad. Its cushioned structure is partnered with anti-moisture and antimicrobial capacities to maintain a healthy and clean in-shoe environment.
Upper
Two layers of a scratch-resistant mesh are used for the upper unit of the Topo Athletic Terraventure 2, which makes it similar to its immediate predecessor, the original Terraventure model. This material, though sturdy, is still breathable and flexible as it has breathing pores and a form-accommodating design.
Printed overlays bolster the structural integrity of the façade. These thin layers also help in securing the foot and keeping it in place, thus averting in-shoe wobbling.
An anatomical toe-box allows the toes to spread naturally during the run, thereby ensuring balance and movement control.
The padded tongue and collar of the Topo Athletic Terraventure 2 lock the foot in place, cushioning the ankles, heel, and instep in the process. These parts of the upper are also tasked with preventing the foot from slipping off the interior chamber unintentionally.
Gaiter attachments permit runners to put separately sold gaiters onto their shoes. Gaiters are like protective shields that stave off trail debris and mild water infiltration.
Compare popularity
Interactive
Compare the popularity of another shoe to Topo Athletic Terraventure 2:
Topo Athletic Terraventure 2 video reviews