The Topo Athletic Runventure 3 has been well-received by its testers. This product is welcomed because it has a lightweight build, a smooth and appealing look, and a performance-ready purpose. The low points only involve the irritating upper and the too-thin midsole. Fans of trail offerings from Topo Athletic can enjoy this update to one of their enduring rosters.
Pros
Lightweight
Allows all-day use
Reliable traction
Wide toe box
Ideal for natural toe-splay
Sleek yet uncluttered design
Versatile
Cons
Upper unit crinkles
Low-stack-height midsole
Who should buy the Topo Athletic Runventure 3
The Topo Athletic Runventure 3 is a lightweight-build trail running shoe best suited for:
casual shoe enthusiasts and trail adventurers who love a good-looking train shoe that delivers a decent performance
off-road adventurers and trail runners who are into long distance trail races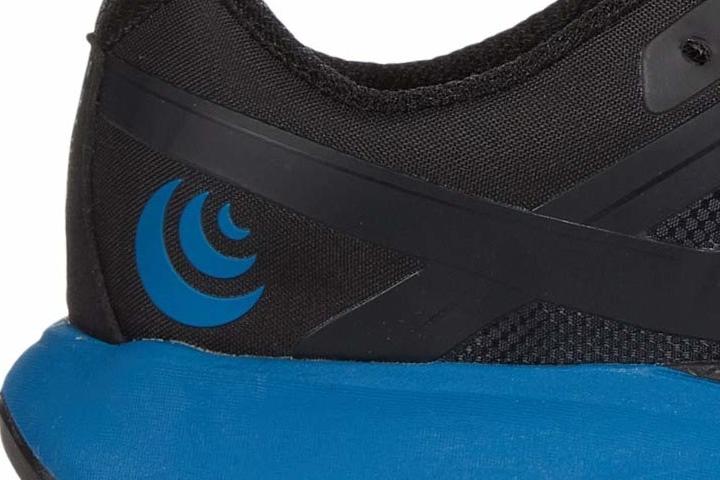 Light and versatile
The Topo Athletic Runventure 3 is a light, quick all-purpose trail shoe, which is always welcome, but poor choice in materials and design make this a no-go. The fit is where the problems begin...
Athletic Runventure 3 comes with a wide toe box
Topo Athletic's shoes have two trademarks: zero drop and a shape that makes clown shoes look reasonable.
Their marketing would have you believe that this is closer to a natural shape but I've yet to meet anyone whose feet are shaped like badminton racquets.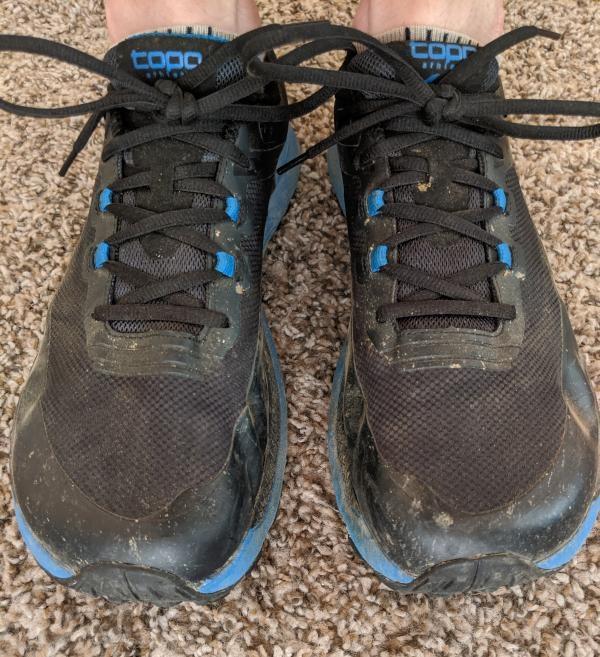 This toe box is so wide you can't touch any part of the shoe with your toes if you tried.
Cinching down the laces tighter is a downside
Some people may enjoy this, but the downside is you have to cinch down the laces tighter than desirable. If you don't, your feet are going to slide everywhere within the shoe.
On the plus side, the arches are supportive enough. And, 80% of the time, I feel like they're not, and I don't even have high arches.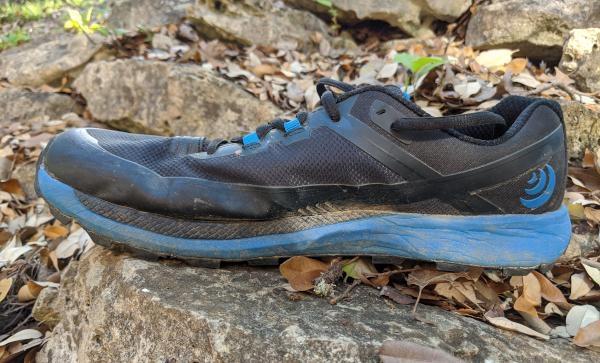 I suspect the shoes were two different sizes
On the first few runs, something strange was noticeable: one of the shoes fit significantly tighter than the other.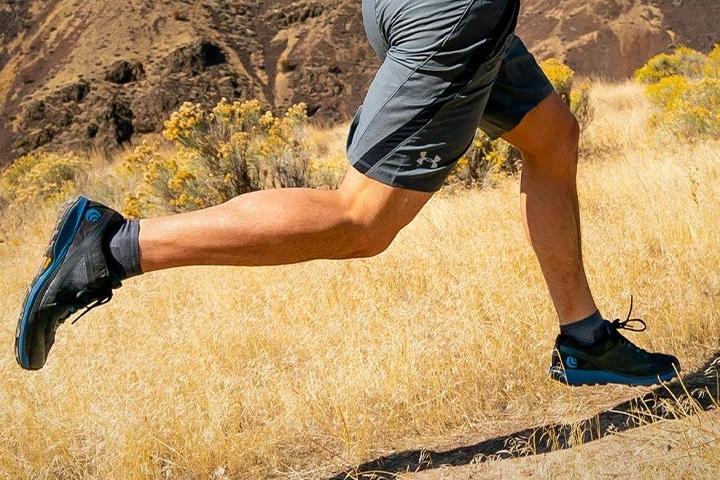 I figured one must be laced up tighter than the other, so I fiddled with the laces off and on throughout the run. And the next run too. And the next. Eventually, I began to suspect the shoes were two different sizes.
Looser shoe measured 0.25 oz heavier
The labels indicated they were the same, but on the scale, the looser shoe measured 0.25 oz heavier. I've never seen a discrepancy that large.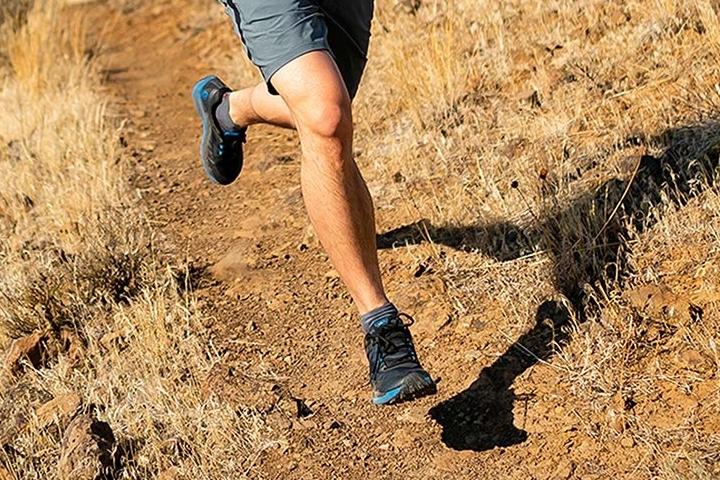 Clearly, one shoe was indeed larger than the other. It's possible I simply got a bad batch, but it's also possible that Topo's error tolerance isn't optimal.
Least breathable running shoe
And now for an even bigger problem… The Runventure 3 is, without a doubt, the least breathable running shoe I've ever worn. Rather than a knit or mesh-like material, the shoe opted for a material that's comparable to a waterproof jacket.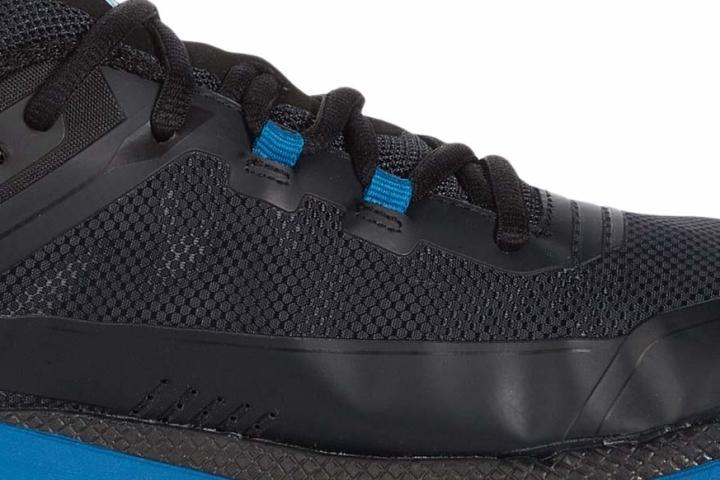 Are the shoes waterproof? No. Are they water-resistant? There's no mention of that on their website. It's hard to understand what the idea was, but the result isn't good.
Not for warm, humid conditions
If you live in a warm, humid area, you won't want to wear these shoes for at least half the year. Whether it's a downpour, a stream crossing, or simply a lot of sweat, all shoes get wet eventually.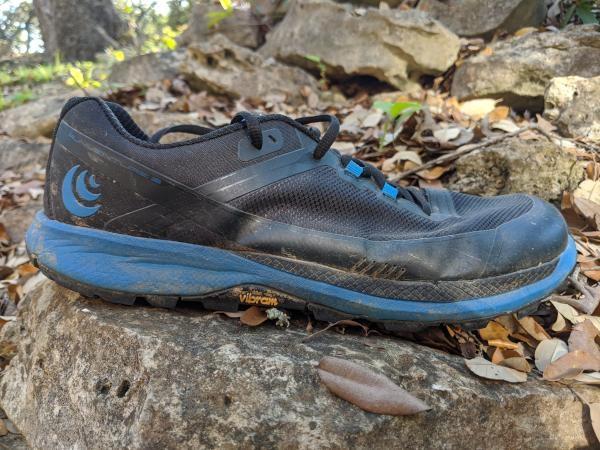 Trying to keep water out is a futile effort; it's better to have shoes that breathe and dry quickly. The Runventure 3 takes days to dry out, even when left outside in warm weather.
Enough protection on the toes
The upper material isn't flexible either; normally, that's a problem mostly reserved for the outsole. Running in these feels like trying to fold a piece of laminated cardstock.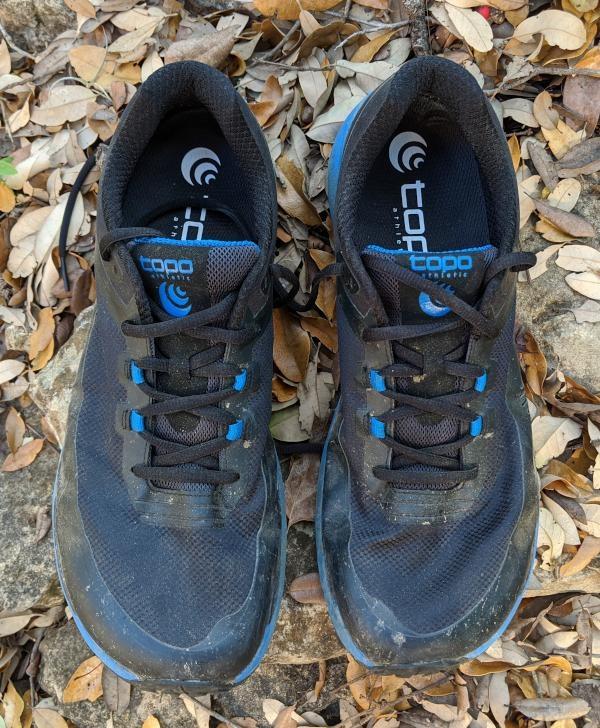 Aside from the material, the design of the upper is good overall. You're able to use the laces to get a good fit at any point in the midfoot, and they didn't overdo it with the overlays. There's just enough protection on the toes without weighing the shoe down.
Tough, grippy outsole
Fortunately, there are some good things to talk about. The Runventure 3 features a Vibram outsole, somewhat surprising for a shoe in its weight class.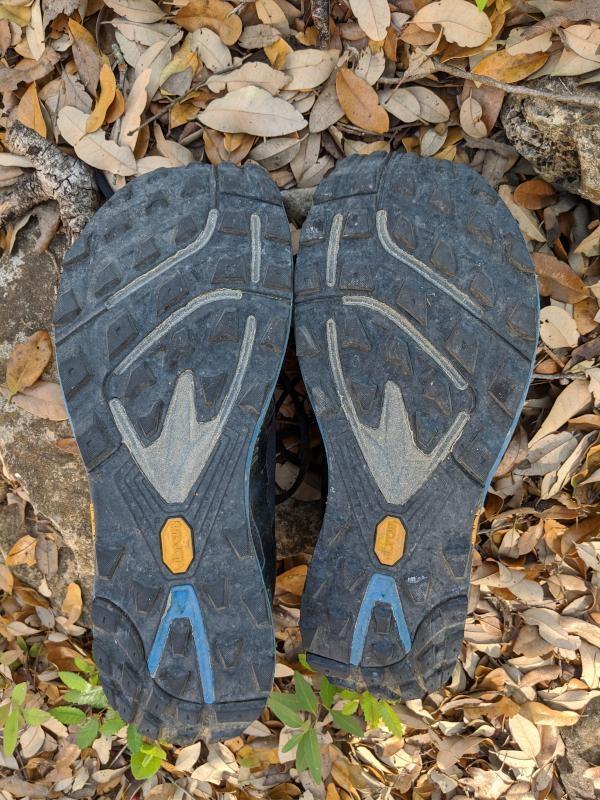 With the famously tough, durable outsole, the Runventure 3 works well on any off-road surface, including dirt, gravel, wood chips, and rocky terrain. I haven't had a chance to test them in sloppy mud yet, but there's no reason to doubt they wouldn't handle that as well.
Delivers a flexible ride
Probably the most surprising thing about the Runventure 3 is the quality of the ride. Once you get used to the strange shape, these shoes run well on all surfaces, including pavement.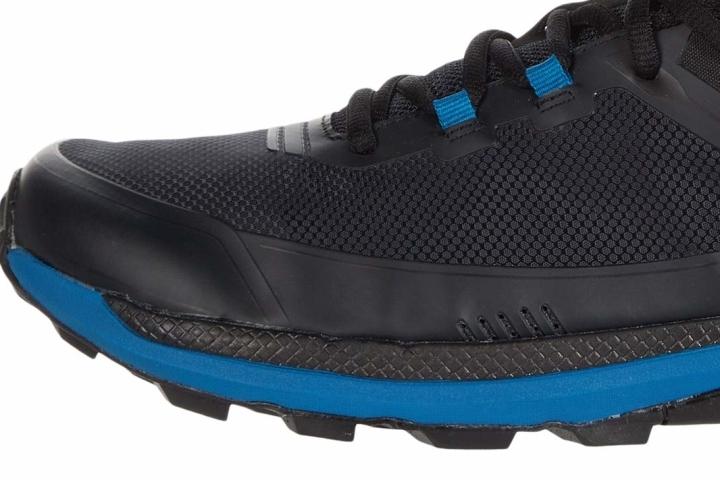 Somehow, despite the tough Vibram outsole, the Runventure 3 remains flexible and doesn't feel like tank tread on paved surfaces.
Offers little protection on technical terrain
That flexible outsole has its drawbacks. While the Runventure 3 has a rock plate, it offers little protection.
You'll notice almost any technical terrain, even more than you would in some highly cushioned road shoes.
Not lots of cushioning
The Runventure 3 doesn't have a lot of cushioning, but it usually feels like it does. Even on long runs, you don't feel the ground beneath you too much, and your feet stay comfortable.
It's only on technical terrain that you notice the lack of cushioning, not so much because the ground feels too hard, but rather because a rock can make itself felt through the thin midsole, despite the presence of a rock plate and a Vibram outsole.
These looks great!
In the looks department, overall, a big thumbs up. These shoes look great! Trail shoes usually look better than road shoes, not only because they don't look like a disco floor threw up on them, but they also don't commit the cardinal sin: white outsoles.
The Runventure 3 comes in only two color choices, and while they might not look exciting, that works in its favor. A black shoe with blue trim looks much better than a shoe with five different colors on it.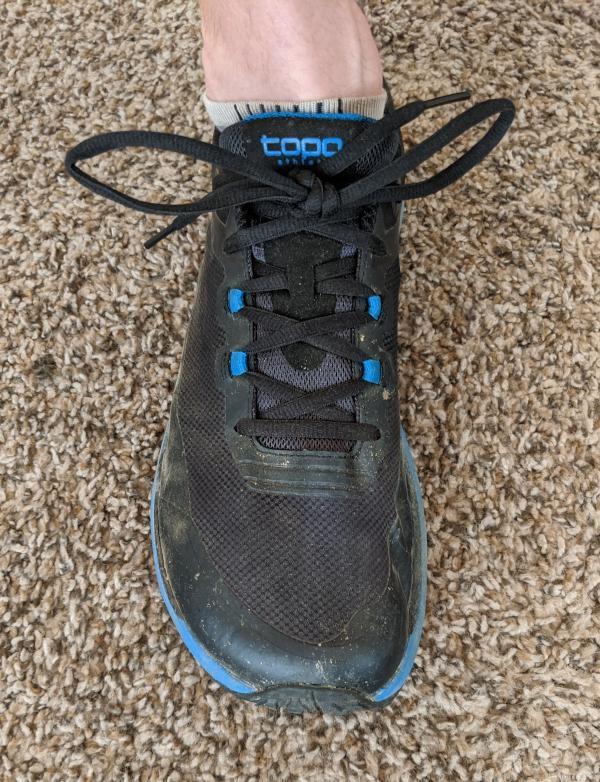 Lacks reflectivity
My biggest gripe about the visual design is the lack of reflectivity. One could argue that's not important for a trail shoe since you're unlikely to be caught in the headlights of a car while trail running.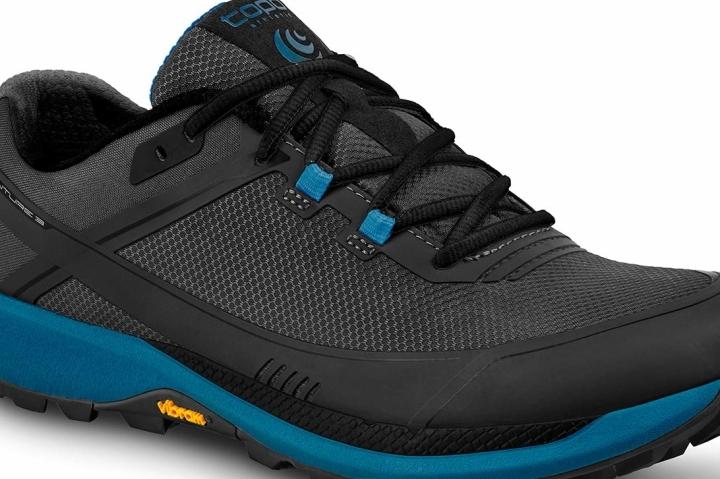 But, let's put it another way: What's the disadvantage to including reflective accents?
Topo Athletic Runventure 3 needs some improvements
This review won't convince Topo to use a normal-sized toe box, but goodness, dial it back a little bit. Look into manufacturing defects and make sure both shoes always come out the same size.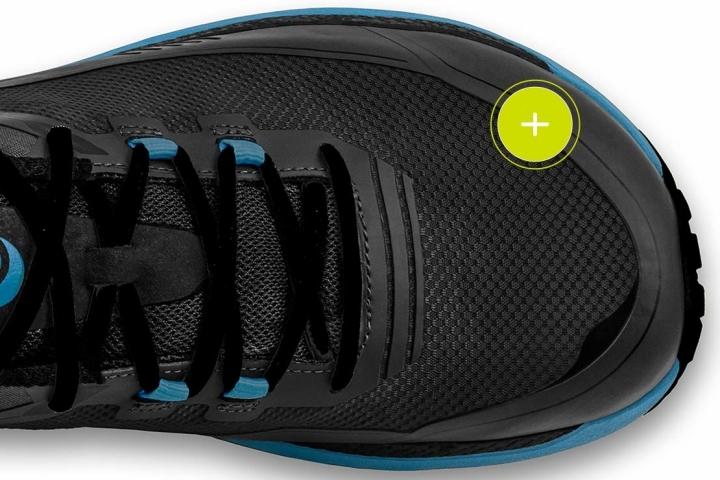 Use a more typical, mesh-like material for the upper. If possible, address rock protection issues, but without sacrificing the current level of flexibility, cushion, and lightweight.