It is an expensive shoe. If you are interested in a maximally-cushioned but minimally-inspired running shoe, I do highly recommend giving these a try or at least trying on a pair. I would say that they are definitely worth the money if this style of running works for you.
Pros
Very comfortable
Superb cushioning
Wide toebox
Solid lockdown
Breathable
Durable
Responsive insole
Stable
Cons
Need more traction
Fairly expensive
Topo Athletic Phantom review
I'm a fitness enthusiast and active parent in my mid-40s. I am a runner (both road and trail) as well as a hiker, walker, and weight-lifter.
My running category is neutral. I received the Topo Phantom as part of the RunRepeat testing program. Up until I received the shoes, I had never used the Topo brand.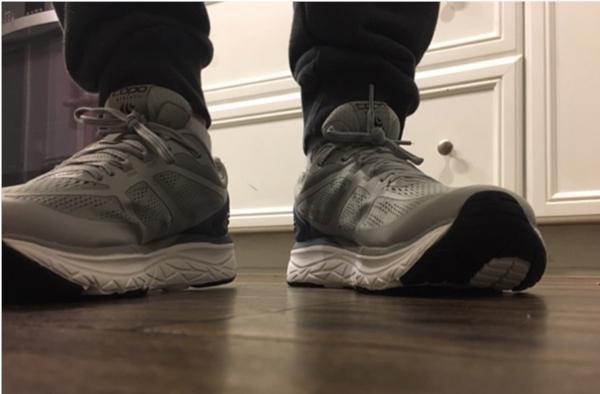 I received the shoes on June 3, 2019, and since then have run or walked in them 3-5 times a week for distances of about 3-5 miles per session for a total of roughly 50 miles at the time of writing this review.
I typically run every other day to give my body a chance to recover and walk on the alternate days. I live in an area with mixed terrain, so I have used the Topo Phantom for running on both road surfaces and rocky trails. I have also used them for running on a gym treadmill.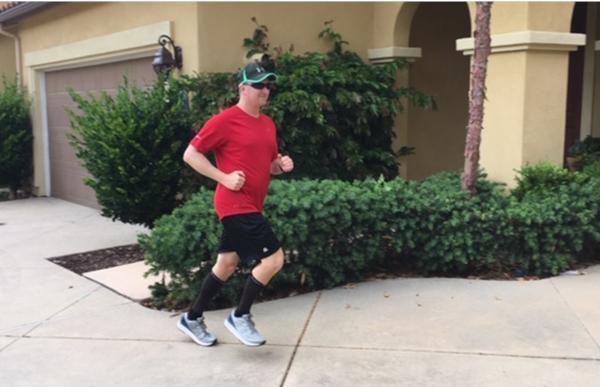 Here is one of my favorite trails for running, with my favorite running buddy! He is really fast.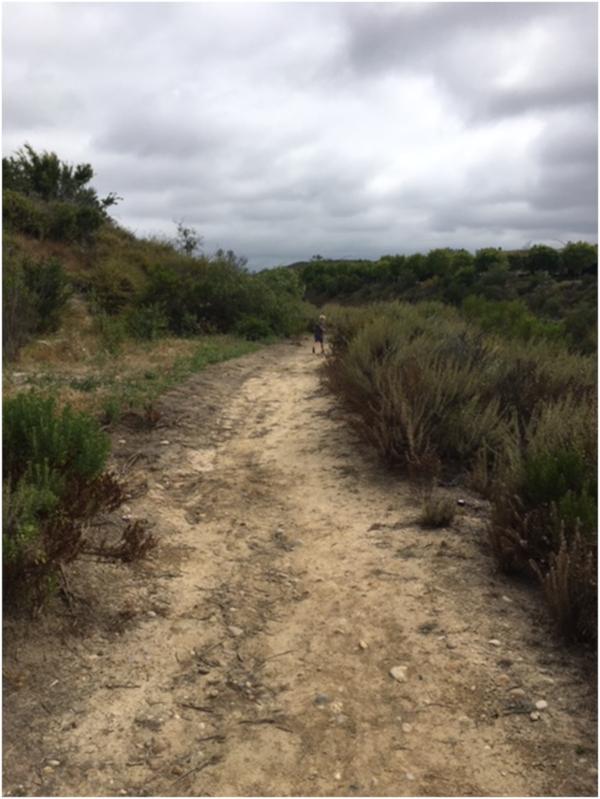 Overall, my impression of the Topo Phantom was solidly positive. Although the fit and feel of the shoes took a short amount of time to adjust to, I found that the more natural running experience and extra cushioning which the shoes provided did work well for me.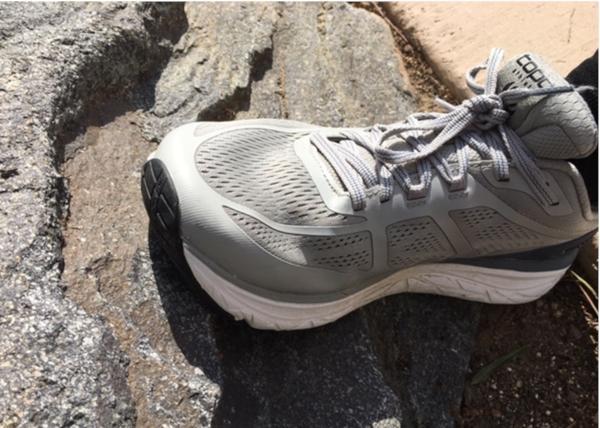 Minimal heel-to-toe drop
The Topo Phantom is an ultra-cushioned running shoe with a 5-millimeter heel-to-toe drop. The shoes are designed to promote a "natural" running gait by minimizing the decline from heel to toe.
Traditional running shoes typically have a slant from heel to toe of about 10-12 millimeters, which is designed to propel the runner forwards. These shoes reduce the slant in hopes of providing a closer-to-barefoot feel.
However, the Topos are still a very cushioned shoe. The upper sits upon a whopping 30 millimeters of cushion at the heel, about 25 millimeters at the toebox.
Here are the Topos compared with the type of shoe I typically use (this is the Brooks Launch). You can see how much higher the heel sits in proportion to the toe area in the Brooks shoe when compared with the Topos.

Wide toe box
The Topo Phantom is also designed with an extra wide toe box to facilitate toe splay during the run, in order to stabilize the foot. This again is a means to provide less restriction to the foot's natural running motion.
The midfoot, in contrast, is very snug to provide solid support. Below, you can see how much wider the toebox on the Topo model is when compared with the more traditional Brooks Launch.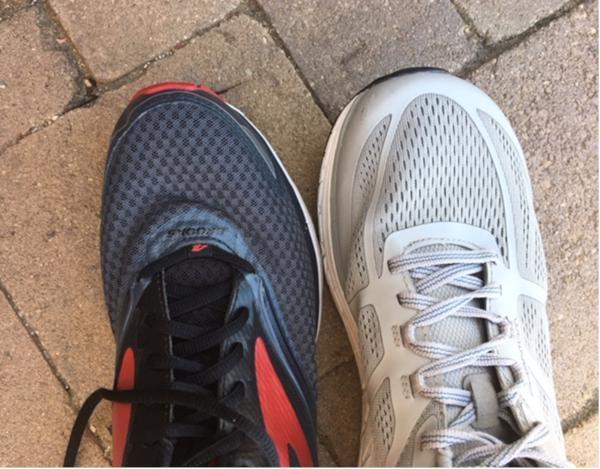 These shoes look very much like other "natural" runners including models from the Hoka One-One brand and some from Altra.
I will admit that when I first saw Hoka shoes years ago, I imagined them to be another fitness trend not unlike the ill-fated Skechers Shape-Ups from the earlier 2000s. However, I have come to appreciate the design as I have spoken with other runners who really have found them to provide a great running experience.
One more design point to note, these shoes have minimal branding designs on them. I tend to find a lot of running shoes (Nikes, for example) to be a bit "over-branded" and have always preferred the more subtle designs that advertise a bit less.
I appreciate that Topo seems to have put more energy into designing a good shoe than on visual gimmicks or loud logos. This makes the shoes more appealing to me.
Fits perfectly!
My feet are pretty average in width, so I typically wear a size 9.5D in running and cross-training shoes. I found the Topo Phantom to fit me perfectly in a 9.5D.
The forefoot design of this shoe is wide, as described above, to facilitate natural toe splay. This worked very well for me since the toe area is where my feet are widest. I find some types of running shoes to be too constricting around the toe area, but not these.
The midfoot of the Topo Phantom is designed to provide a snug fit. This, combined with a very rigid heel cup, locks the heel in place to prevent unwanted foot motion in the shoe.
My initial impression was that the midfoot area was overly tight for my thicker feet. I couldn't wear the shoes with my usual Superfeet inserts for that reason. But once I tried a thinner ¾-size arch support and gave the shoes time to stretch out a bit over several runs, I found that the midfoot fit was actually just right for me.
Breathable upper
The upper of this shoe is made from a perforated, highly breathable, and stretchy synthetic material that is very lightweight. The toe area is surrounded by a slightly harder material that can protect from light debris on the road.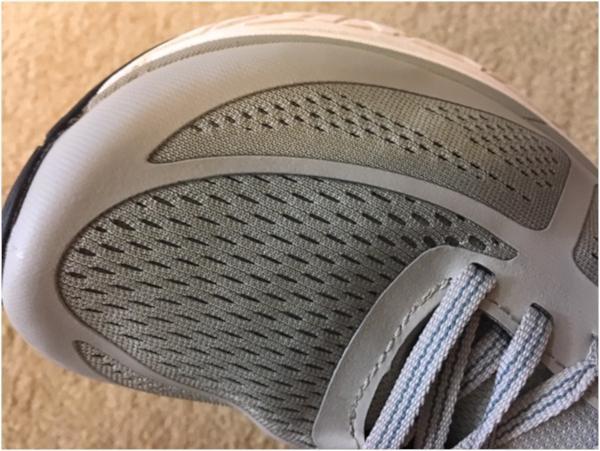 There are some fairly minimal overlays to provide some midfoot support. The uppers seemed a little thin to me when I first saw them, giving me concerns about durability.
So far, though, the shoes have held up to a lot of use in varied terrain without any issue. The softness of the uppers also prevented any chafing or "hot spots" from occurring.
Stable, rigid heel
The heel cup design really stands out as one of the best features on the Topo Phantom. The heel area of the shoe is made from a very rigid plastic that wraps around the rearfoot to hold it in place.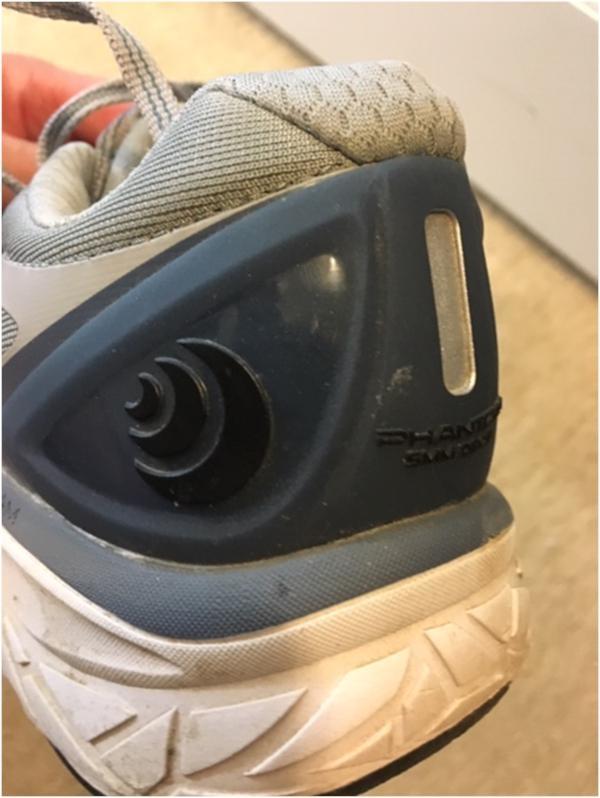 This is combined with a pillowy and very comfortable padded collar area that cradles the Achilles. I found that this design really enhanced my stability when running.
My feet felt secure and locked in place, preventing any kind of blistering even after running in excess of five miles.
Midsole of the
Topo Athletic Phantom
The Topo Phantom is an ultra-cushioned shoe, so the midsole on this model is no joke. Topo's 30 millimeters of cushioning system, called Zipfoam, protect the heel from the force of pounding against the road.
The shoe drops down to 25 millimeters of the Zipfoam at the toe. According to Topo's website, Zipfoam is designed to compress less than other foams on comparable models.
Theoretically this means greater rebound and durability. The inside lasting on the midsole is curved to resemble the foot's natural shape.
The level of cushioning on this shoe initially felt strange to me. It seemed odd at first to feel less connected with the surface of the road. However, I came to find that the extra cushioning really did help me avoid some of the injuries I have experienced from running.
The joints in my feet and legs felt less irritated than usual, even after some longer runs. As a middle-aged runner, having more cushioning seemed to be exactly what I needed to keep going.
I also did find that the Zipfoam did not compress all that much even after a lot of running. I think it's a great cushioning system and it does appear to be quite durable.
I will say that I still prefer the higher heel-to-toe drop of more traditional running shoes due to being a heavy heel striker. However, the level of cushioning in these shoes made the lower drop workable for me, whereas I would never run in a truly minimalistic (i.e., minimal cushioning) model.
Insole
The Topo Phantom comes with a contoured, spongy Ortholitestock insole that is easily removable. The insole is very soft and responsive.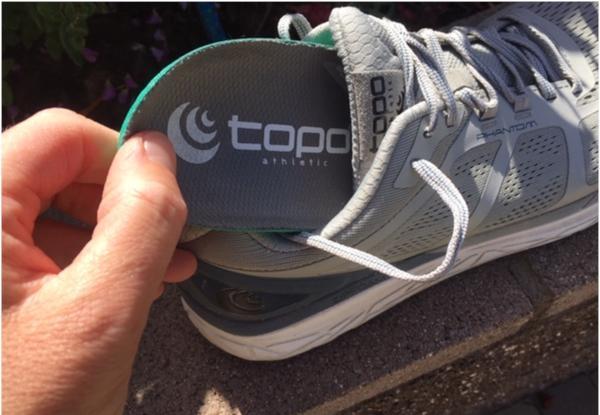 Given the unusual shape of the shoe, I wasn't able to use my usual Superfeet inserts in place of the stock ones. Instead, I decided to insert a product called the Samurai Ninja underneath the stock Ortholite insoles.
The Samurai brand is a manufacturer of over-the-counter arch supports designed to be used in a wide variety of shoes. The Ninja is a ¾ insert made from a hard, durable plastic that does an excellent job providing foot support without changing the fit of the shoe.
With the Ninja in my shoes, my chronic plantar fasciitis was basically eliminated, and I was able to run comfortably. Here is what the Samurai Ninja inserts look like. For those experiencing flat feet or collapsed arches, I highly recommend them.

Outsole of the Phantom
The Topo Phantom has a wide base, with some hard rubber in key areas for durability. There is a lot of exposed midsole area too.
Although the shoe is not at all lugged, it performed reasonably well on a number of trails which run through my neighborhood. I do wish that the Topo Phantom had a bit more traction, but since it's not a trail shoe, this isn't a necessary feature.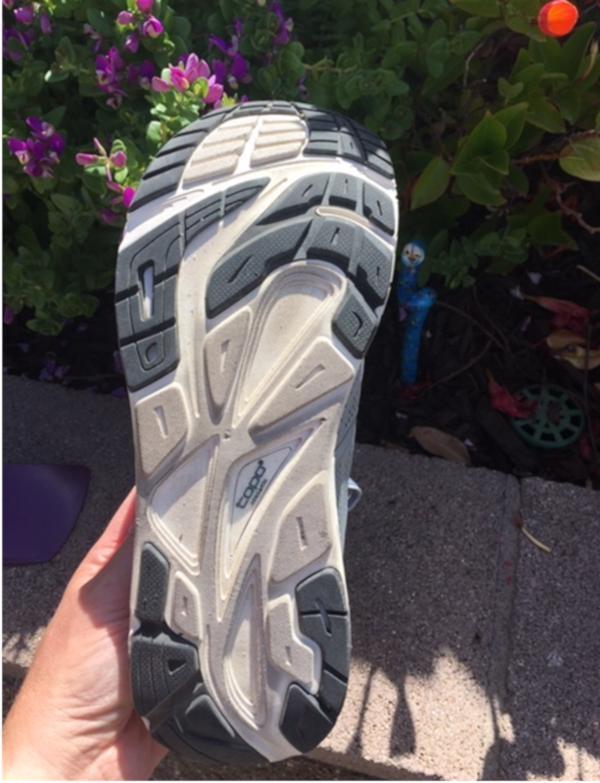 The bottom line
I was overall very impressed with the design and features of the Topo Phantom. The extra cushioning that these shoes provided ended up helping me run farther than usual and with less injury.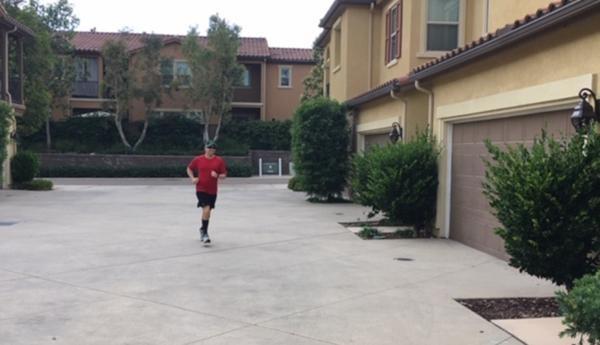 I really appreciated the wide toe box and was able to tolerate the relatively low heel-to-toe drop. While the "natural" running concept may be a bit of a gimmick, I did find that it felt pretty good on both long and short runs.
The shoes were snug and provided just the right amount of support I needed with a rigid heel cup and snug midfoot lockdown. The Phantoms also seemed quite durable after many miles of running on roads and some trails, showing less wear than I had expected. However, the design of the Topo Phantom may not appeal to everyone.