Verdict from 10 experts and 100+ user reviews
7 reasons to buy
The Topo Athletic Magnifly 2 was great for daily runs, wrote a reviewer.
The shoe excelled on long distances, said a wearer.
Some runners mentioned that the toe box was roomy.
One tester liked how the upper had an incredibly soft and natural feel.
The midsole of the Magnifly 2 was firm and delivered a snappy and responsive ride, according to a purchaser.
The shoe did not require a break-in period, a few users claimed.
A customer remarked that the midsole was exceptionally responsive to fast-paced running.
1 reason not to buy
The outsole started showing signs of wear after only less than 50 miles, stated a runner.
Bottom line
The Topo Athletic Magnifly 2 was a success with most of its users, as evident in the positive remarks geared towards the shoe's performance, construction, and fit. The durability seemed to be an issue, but there was no other criticism aside from it. In summary, the Magnifly 2 was a fruitful update, and consumers have said it was an enjoyable shoe to wear.
Tip: see the best running shoes.
Our reviews
Part of Topo-Athletic's quartet of road shoes, the Magnifly-2 is their purest road runner and suited to those wanting to experience zero-drop, natural running over faster-paced runs.
It's no secret that I'm already a fan of Topo Athletic's ethos of producing simple shoes with an emphasis on comfort and fit. Topo Athletic achieve this using a common sense formula which applies to each shoe they produce:
A roomy toe box + low drop + lightweight = a natural running experience.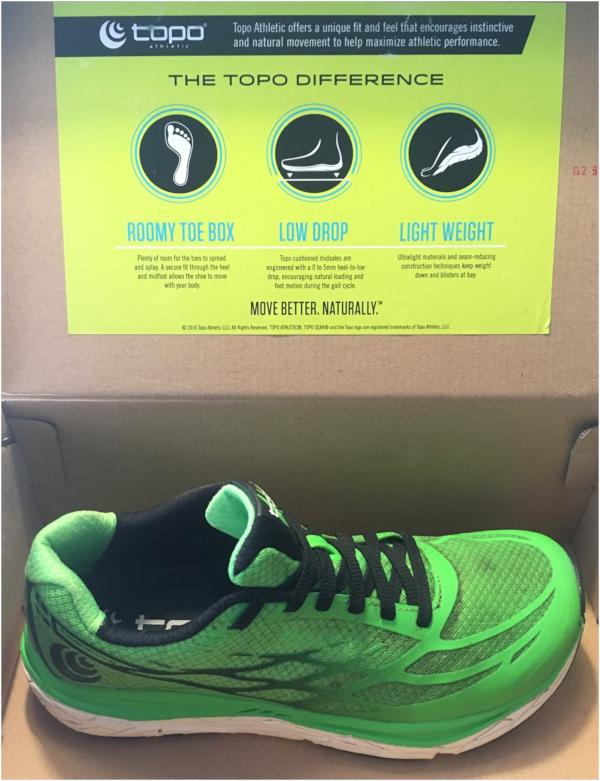 By now you may be thinking, we've all read 'Born To Run.' Haven't we moved on from this already?
True enough, the running shoe market is as fickle as any, fashions come and go. Instead of hemlines, it's heel drops (the difference between the thickness of the sole at the back and the front) that have been steadily decreasing in recent times.
Likewise, minimalism was so last season, and maximal cushioning is the new black. However, don't mistake a zero drop for minimalism. Sure, many minimalist shoes aiming to replicate a barefoot experience have a zero drop, but not all zero drop shoes are minimal.
Take the Altra Olympus for example, it has a vertiginous 33 mm stack height but zero-drop... tres chic. Similarly, you don't need to be barefoot to run naturally, and Topo Athletic shoes aim to prove this.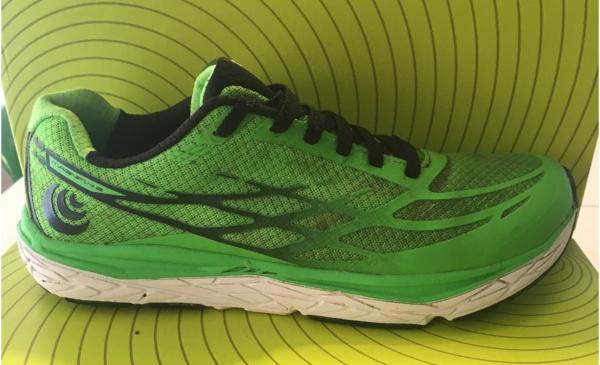 "Natural running" has many definitions. But essentially advocates believe that humans evolved to run in an upright posture, using quick, light steps with the feet landing on the forefoot directly beneath the hips.
Proponents suggest that this leads to greater efficiency, less injuries and consequently, you're more likely to keep running and, just as importantly, enjoy it.
Zero drop shoes encourage mid to forefoot strike and natural lordosis of the spine. Meanwhile, detractors argue that 21st-century humans are so accustomed to heel striking that faddish attempts to establish a new running style risk injury.
What's more, any time spent transitioning to natural running would be better spent out on the road in traditional shoes that protect the heel. So, should you be wearing the Magnifly 2 this season or are they simply the emperor's new shoes?
Upper
At first glance, the Magnifly (left) looks remarkably similar to its sibling the Fli-Lyte 2 (right).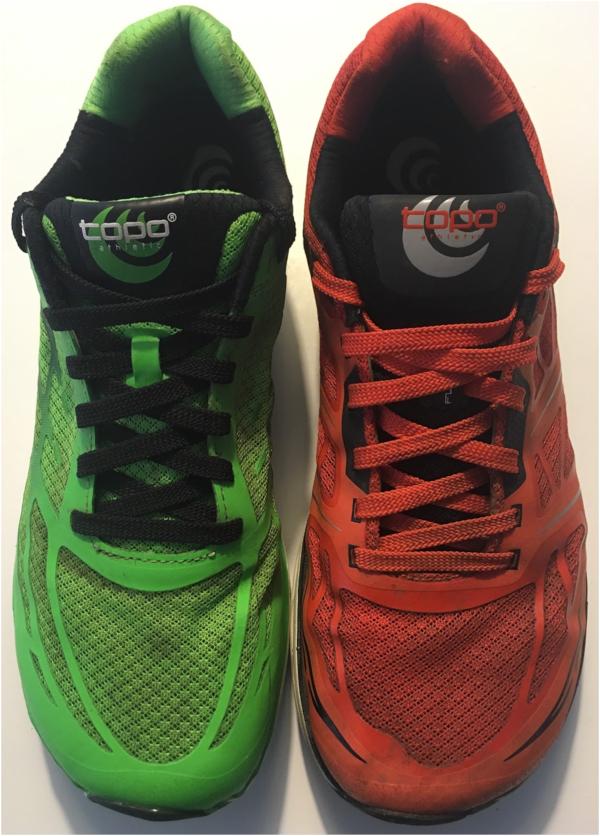 The upper has a mesh construction with some simple overlays providing additional support. There's some thicker 'rubberised' material reinforcing the toe bumper.
The eye stays, and eyelets are positioned, so the flat laces lie comfortably across the top of the foot. The internal heel counter is firm with plush padding around the heel cuff; additional cushioning around the Achilles holds the heel firmly.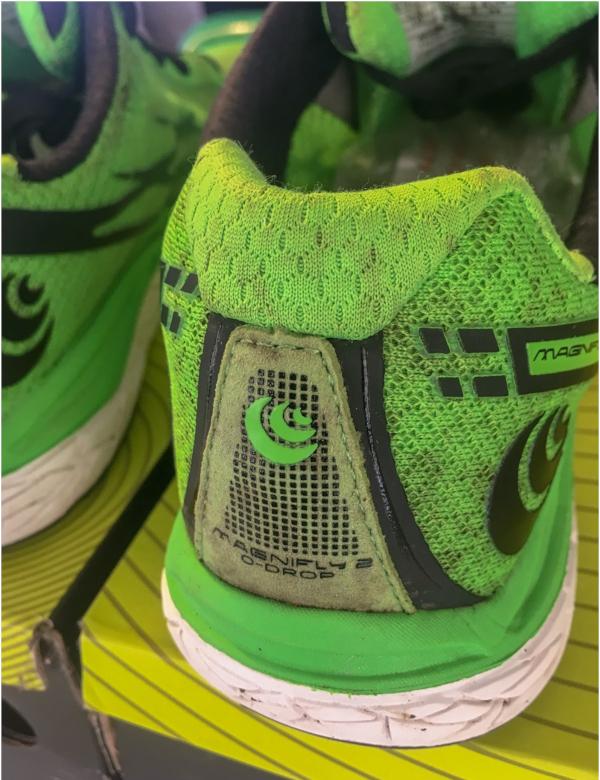 The well-padded tongue has a simple but effective lace loop, this along with the positioning of the eye-stays means no slippage.
Topo Athletic's styling can be hit and miss, this colorway is described on their site as bright green. Subtle it isn't, picture the nuclear waste in the Simpsons title sequence, and you're part way to how bright these are.
This is bad news if, like me, you repurpose your shoes for casual or work wear, thankfully it does come in a couple of more sedate colorways, namely black and slate.
Fit
One of the many things I like about Topo Athletic's fit is that it's pretty much consistent across the range. With other brands, you can't rely on this, just because one shoe works for you, another may not.
The emphasis is on comfort, so predictably the Magnifly 2 feel great as you slip them on. The wide, deep and roomy toe box allows your toes to splay out so say goodbye to cramped feet and numb extremities.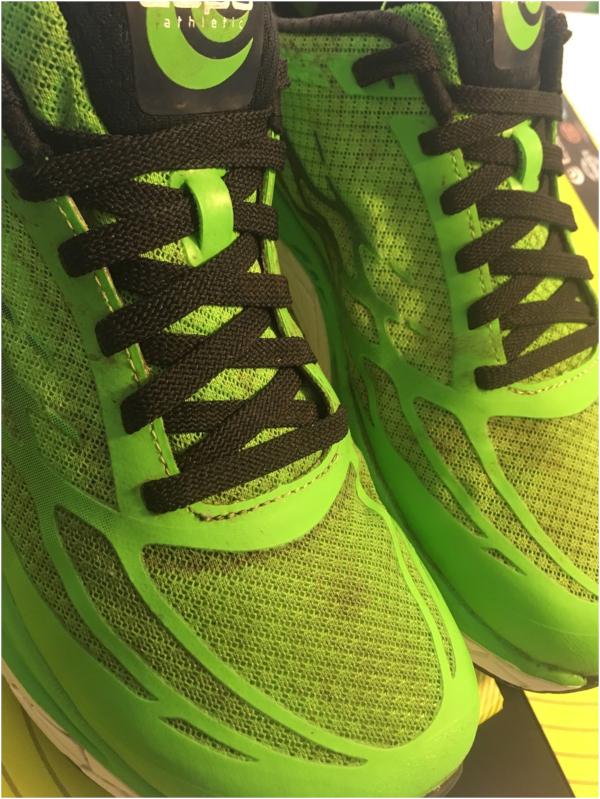 This extra room doesn't come at the expense of a sloppy fit. Instead, the heel is snugly gripped especially at the Achilles and the midfoot locked down. They fit true to size, and despite looking somewhat bulky, they feel light on the foot (my UK size 9 weighs 293g).
Midsole & outsole
Although ostensibly like the Fli-Lyte 2, closer inspection of the midsole reveals two different hardnesses of EVA, the softer of the two lying closer to the foot.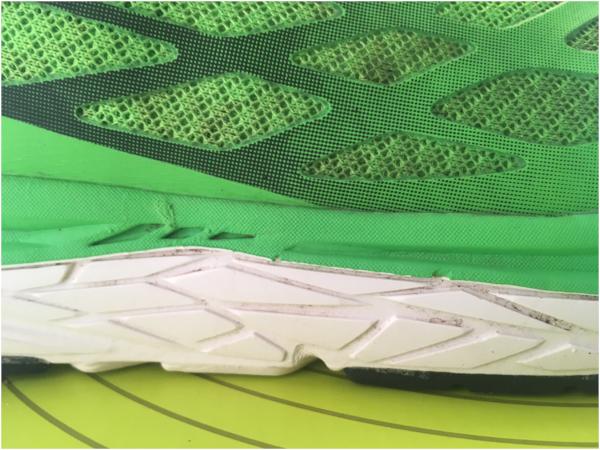 Although Topo Athletic list the Magnifly 2 as having more cushion than the Fli-Lyte 2 (2mm in stack height to be precise), on the foot the Fli-Lyte 2 feels softer and more forgiving.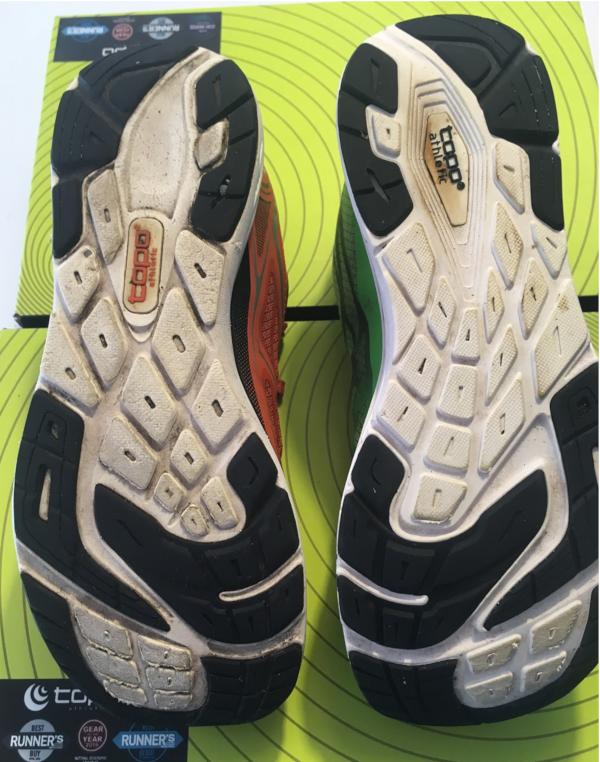 (Fli-Lyte 2 left after 250km, Magnifly 2 right after 80km)
Outsole rubber is kept to a minimum and strategically placed around the areas of greatest ground contact. Presumably, this is the same compound found on the Fli-Lyte 2.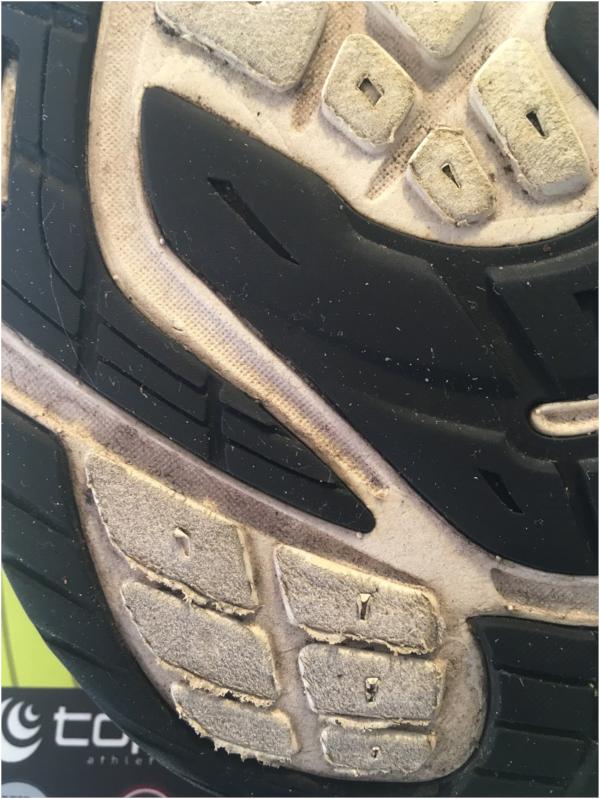 My Fli-Lyte 2 which have about 250km in them (see image above), there is a fair amount of wear to the rubber around the area of the metatarsal-phalangeal joint area.
This is the area onto which the lower drop shoe encourages foot striking. There's a lot of exposed midsole here, and you can see some early wear to the Magnifly after 50 miles.
As might be expected, there's no wear at all at the heel because I'm not heel striking. I do wonder if it might make more sense to reposition some outsole to the mid and fore-foot from the heel especially in a shoe designed for natural running?
Ride
Despite the cosmetic similarities to its siblings, the Magnifly is quite different to run in. It's firmer underfoot but not unforgiving with a gel-like cushioning.
Unlike other brands, there aren't any fancy pants plastic shanks or strips. Nevertheless, the Magnifly is snappy with plenty of stiffness as you up the pace. The longest I've run in them is 3 hours, and by that time my feet were feeling the pressure.
For longer runs, I'd definitely be reaching for the Fli-Lyte or Ultra-fly for the softer cushioning or support respectively, but for faster tempo runs or shorter distances, the Magnifly is an accomplished performer.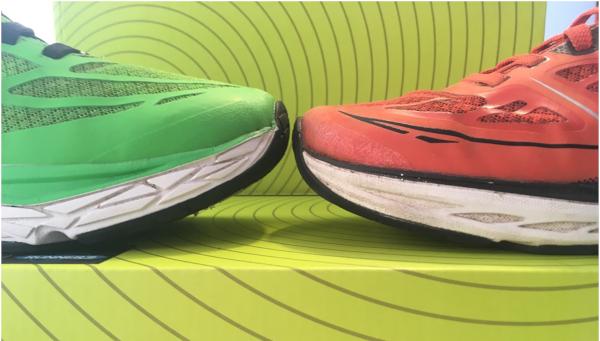 The toe has a slightly pronounced rocker which, along with the lower drop, promotes a midfoot landing and makes for a quick transition. Once acclimatized, you come to realize that you have adopted some of the attributes of the natural running style mentioned above, a quicker cadence amongst them.
To mimic this, you can try one of two things: firstly try running on the spot, once you fall into a rhythm lean forward a little as if gently being pulled by a thread attached to your chest until your momentum moves you forward. Pay attention to the first few steps you take then try and replicate these as you run.
Alternatively, run up a steep hill: you'll adopt a straighter posture, your spine arched back, whilst taking shorter steps landing on your forefoot. Unlike other low drop brands, Topo Athletic aren't too preachy about how you run; it's more about your body finding its own natural posture.
Those new to lower drop shoes often complain of calf and Achilles pain as they start to use muscle groups differently. Although the Magnifly is a zero drop shoe, it doesn't feel too extreme.
Interestingly, I experienced more heel pain running in the Nike Terra Kiger 4 which has a 4mm offset. I think this is because the Magnifly has a firmer midsole whereas the Terra Kiger compresses more as you land. Nonetheless, if you haven't run in zero drop shoes before, it's best not to head out too far on your first run.
Conclusions
The Magnifly 2 does not disappoint, like a pair of well-loved Birkenstocks they are comfortable and not just the preserve of old hippies. The firm ride of the Magnifly 2 makes for an enjoyable run and particularly impresses over middle distances.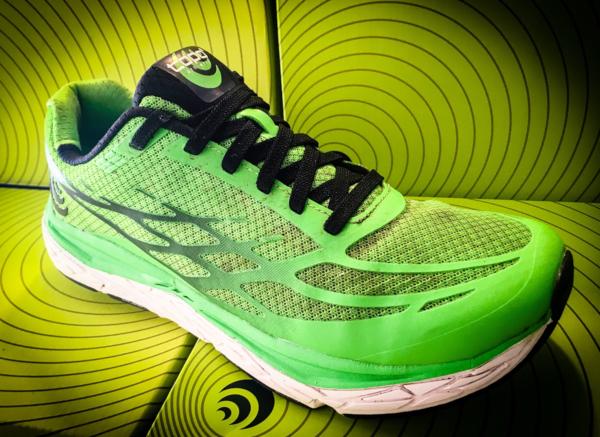 Did I feel that I was running more naturally... possibly? Did I enjoy running in them... definitely! Should you buy a pair of Topo Athletic Magnifly 2s...maybe.
If you are new to lower drop shoes, you might initially try the Fli-Lyte 2 which has a modest 3mm offset. For those ready to take the plunge, the Magnify 2 is a natural choice.
The Magnifly 2 is a zero drop shoe with a wide toe box. Being that I have a narrow foot, I was a little concerned that I would feel as if my foot was sliding around in the front but it never did.
The shoes felt very snug (never tight) all around but especially in the heel which is well designed to cup and hold the heel firmly in place. There is just enough cushioning and firmness all around to allow for good response with a smooth transition and good flexibility.
Though it may take a little getting used to, the zero drop allows these shoes to be daily trainers in any situation whether for running, weight lifting, HIIT training, or stretching exercises.
Reviewing from the ground up…
The Topo Athletic Magnifly 2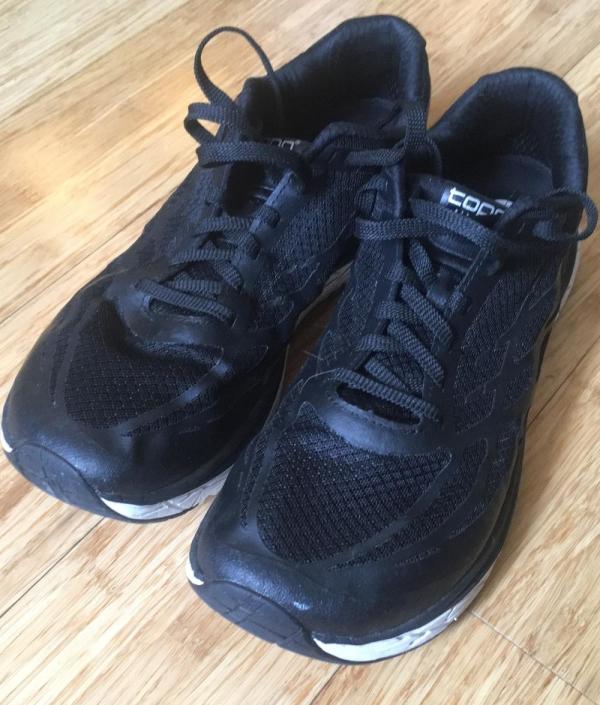 Tread & Midsole – 2 times the support!
The tread on the Magnifly 2 consists of two different types of EVA foam– a soft (the white) and a hard (the black).
The soft section absorbs the shock while the hard section creates a responsive feel and protects from things such as rocks and gravel from really making your foot feel like it is getting beat to death.
The outsole consists of two different types of EVA foam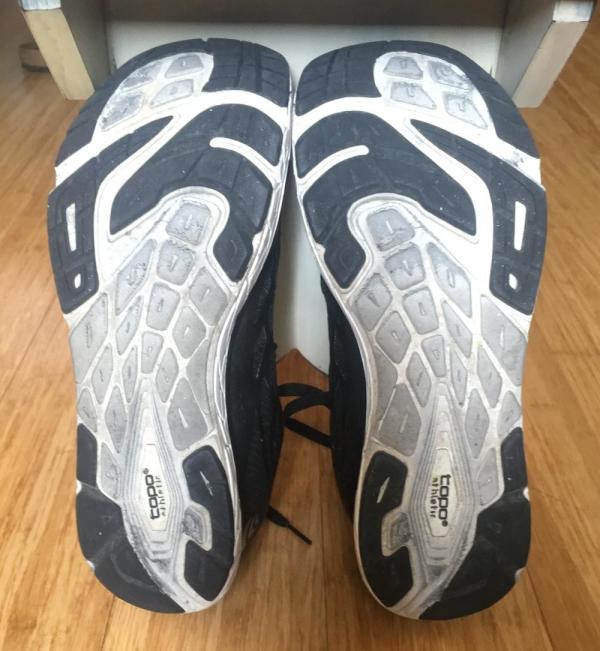 Essentially, the midsole is the same setup as the tread in a support manner. The white section seems to extend from the bottom of the foot to part to sections of the tread.
This design is very effective and creates an excellent feel for speed work or for logging regular miles. It did not matter if I was running in the rain, on pavement or brick, or on gravel because the grip was there with every step.
The midsole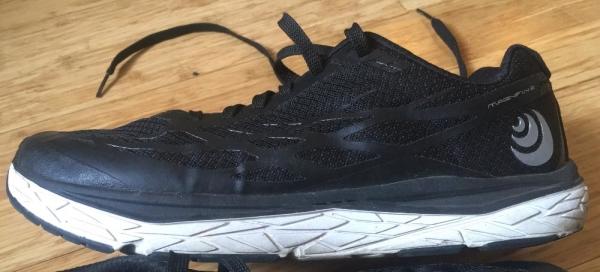 Normally I would not combine these two sections but Topo Athletic combined them into what honestly feels like an interwoven all-around support structure. I won't say that they felt fast in the way some shoes do (Brooks Launch) because the feeling of running at a fast tempo felt almost the same as my normal pace – which is to say they both felt very normal and adaptive to my personal stride and style.
The hard section does extend to the front of the toe and the angle it was placed at lends itself to a quick pace – this was a purposeful design that Topo refers to as the toe rocker. While walking in these shoes to help break them in, I noticed the front of my foot wanted to naturally roll forward, so that design must actually work.
Lastly on the topic of the tread and support, after almost 80 miles logged, the wear is fairly minimal. The soft white shows signs of my somewhat harsh landing/takeoff but the firm section kept the overall tread wear to a minimum.
Minimal wear after 80 miles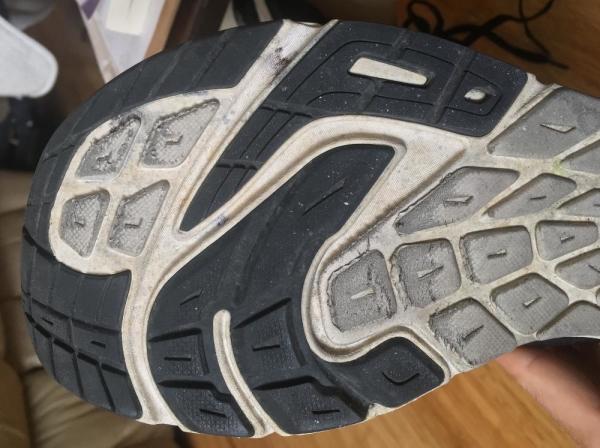 You can see in the pictures how the two sections wear differently.
I cannot say how the cushioning felt after 10+ miles because I never went further than 10, but up to at least that number, they feel the same as the last mile as at the first.
Toe Box, Tongue, and Laces
The toe box… this will take a moment. I often wear Birkenstock sandals (you don't have to be a hippie to do so – I checked) and if you do too, then you'll understand what it means to have a wide toe box.
I like their design because it allows the front of the foot to do what it does naturally when I walk without shoes which is for the toes to spread wide a bit and provide greater stability and support.
The Magnifly 2's wide toe box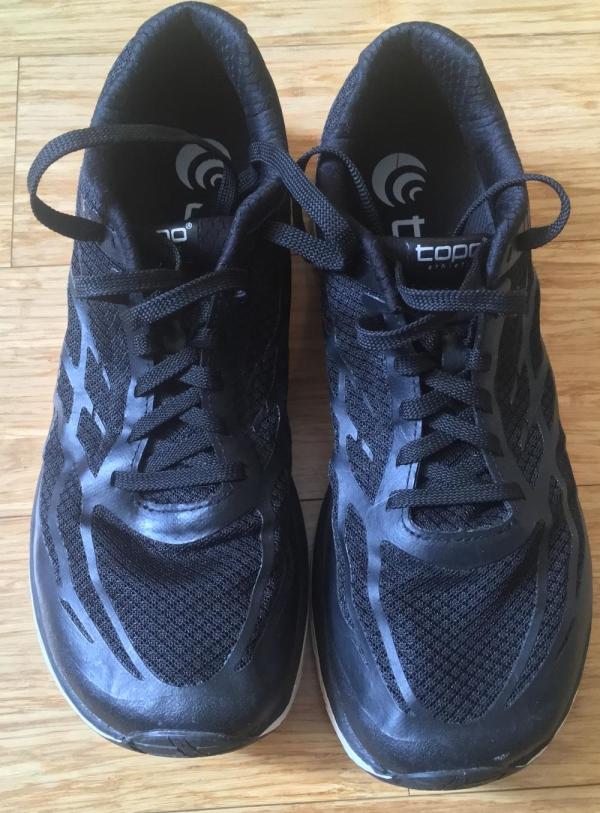 More modern shoes often narrow at the toe box which is nice and pretty for the shoe but goes against how our feet were developed. Just like my Birkenstocks, my Topo shoes have a big wide toe box.
At first and for a long while, I did not even notice much difference other than a nice spacious feeling. However, when I finally broke out my favorite running shoes – the Brooks Launch 4, I suddenly felt as if my foot was somewhat restricted at the front.
The other advantage of the wide toe box is that I can use these for my weight training, and HIIT workout shoes because they provide greater and more natural support. The same goes for the zero drop but more on that later.
The Magnfily's tongue is not a big thick pillow of a tongue nor is it the thin piece of fabric that annoyingly slides everywhere (*cough* 361 Meraki *cough*). The size of it keeps it in place without being overbearing in appearance. Okay, done with that.
The Magnifly's tongue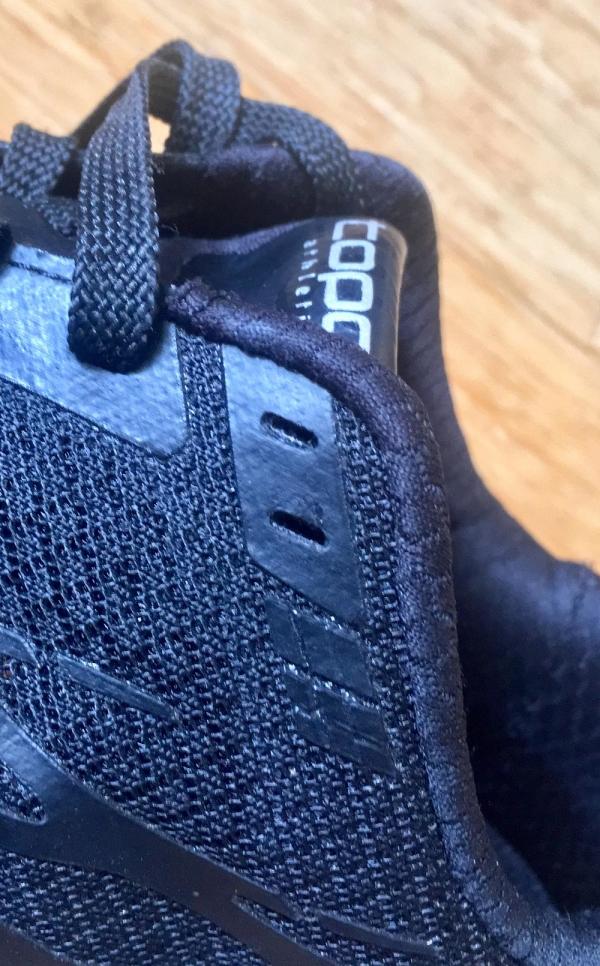 The laces. I. Hate. These. Laces.
It is not because they are flat – that actually works VERY well to keep them from feeling as if they are biting into my foot. And two holes near the tongue work amazingly well to lock the heel into place if they are both used (see the picture).
Nope, it is because these laces somehow defy all odds and untie themselves EVERY SINGLE TIME I run unless I use a double knot. Oh, what's wrong with that you ask? Only that this spring/summer has seen more rain than I can remember in a long time and wet double knotted laces are a major pain in the glutes to get undone. Do yourself a favor and go get some of those bumpy lock laces for these shoes or something similar.
Btw, that double hole thing does work efficiently for locking the heel into place. Quick spoiler, don't do this for the trail Topo shoes because it creates a gap in the side when you run that every pebble and small twig will find and they will get in your shoe / beneath your foot. That problem did not exist for the Magnifly 2.
Inner Sole, Heel, and Upper Mesh
The heel, as mentioned in the intro, was well designed in such a way that I never felt as if my heels were sliding up or forward.
With just enough cushioning to keep a good hold, my Achilles area never began to rub raw or have any blisters.
Well designed heel area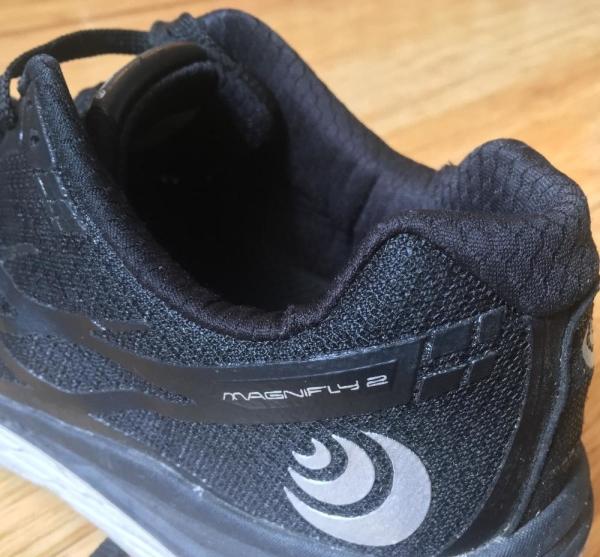 For the mesh, I gave these shoes my patent pending breathability test. This is where I place them on my hands and swing my arms around like a goofy human windmill to see if I feel any air.
They did GREAT! I felt the air on my hands as well as on my feet when I ran. For a person that has hot feet when I run, these shoes were brilliant.
Breathable mesh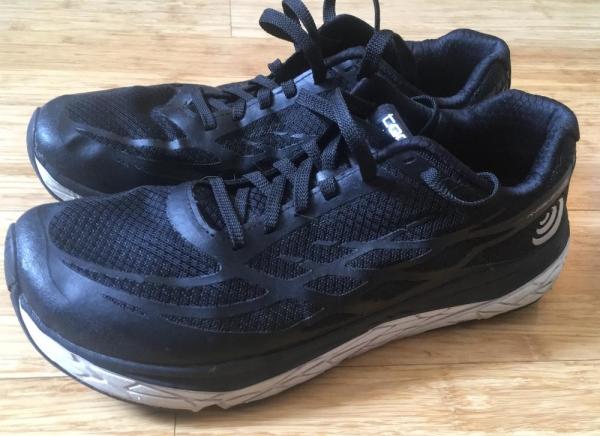 The inner sole is not something I usually bother to mention; however, I noticed something different about these when I pulled them out to let them dry after a rainy run. The top inner section is jagged.
While I have not contacted Topo to ask why, my gut tells me it is to lock them in place and keep them from slipping, well, mission accomplished.
The jagged insole
The inner soles are just soft enough to provide a little extra cushion, not slick in any way, have breathable holes, and also never seem to move despite whatever type of training I was using the shoes for.
You can also see that my feet did use the room provided in the toe box even though I never personally appreciated this until I put on another brand of shoes and then felt restricted.
Zero Drop
This is a new section for me as I have never bothered to write more than a sentence or two about drop height and that was kept in the tread or sole section. But, the main point of Magnifly 2 shoes is that they have a zero drop – which means the heel and the toe are the same distance from the ground.
Though it is not usually noticed, most shoes have at least a 10-12mm drop where the heel is that much higher than the toe. This difference allows a person to heel strike without hurting themselves.
The point of a zero drop is to create a running experience more akin to the body's natural way of moving. Go for a run in the grass without any shoes and you will quickly be running on your toes or at least mid-foot striking (or be in a lot of pain).
With the Topo Magnifly 2 shoes, you won't hurt yourself if you heel strike a little but the foot will feel more natural striking at least in the mid-foot area. I have developed a more mid-foot strike over the years but these shoes really brought me the rest of the way and in doing so my cadence has gone from around 160 steps per minute to 168 steps per minute without any other change on my part.
All of this now feels very natural to me and even when I go back to my Brooks, I land more mid-foot and keep the higher cadence. I now also feel like I am standing at a slight angle with my Brooks but that is no real bother to me.
Finally, the zero drop the other fact that makes these a great option for weight and/or for HIIT training. With weights, some people go to the extreme of wearing no shoes so the body is more balanced, stable, and moves naturally – especially with things like dead lifts and squats. Since there is 0 drop in the shoe, there is 0 worry about being unnaturally balanced while moving in any way.
Overall
As with any zero drop shoe, the Topo Athletic Magnifly 2 will take some getting used to due to the zero drop and the wider toe box. However, now that I am used to them, they have taken the lead as my favorite pair of running shoes.
When I begin my mileage increase in a few weeks to be more prepared for longer races, I plan to do so in these shoes – albeit with new laces. In the world of zero drop and wide toe box, Topo is going up against Altra shoes which have a bigger name and bigger following – but also a bigger price tag.
Topos starts off new in the low $100s (maybe $110) but it doesn't appear that any sacrifice was made in reliability or comfort. That makes these shoes one heck of a bargain.
Get a pair and I'm guessing you will not be disappointed in any way. Unless you just prefer to heel strike… then maybe don't bother.
As soon as I got home with my new pair of Magnifly2, I wore them immediately. I could not wait to try running in a pair of road shoes from TOPO.
My reaction was not as I expected. Used as I am to run with Runventure 2, the 'trail' version of the ST2, I found myself vertiginously raised from the ground. After a short time, however, I learned to appreciate the 25 mm of the stack height, especially during long rides.
After 180 km, I struggle to choose another different shoe for my outdoor training. I even used them for a 35 km cross-country run.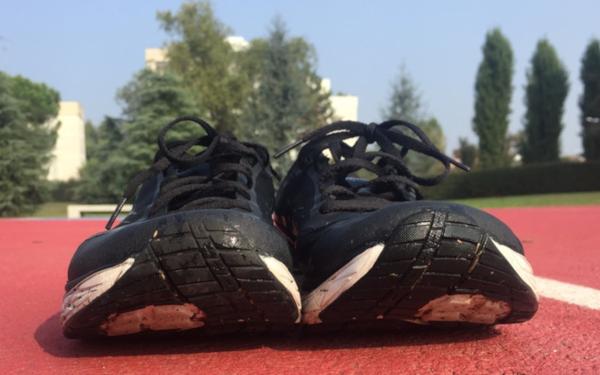 Sole and Cushioning
The heel-to-toe drop of the Magnifly2 is 0 mm, as stated by the zero-drop on the rear. The shoe is not overly structured. It is less flexible than other models I used to have.
I ran lots of kilometers in Nike Free Run, but the part of the sole below the tip seems to slightly "copy" the ground so that you can feel its roughness. his is a feeling that I like.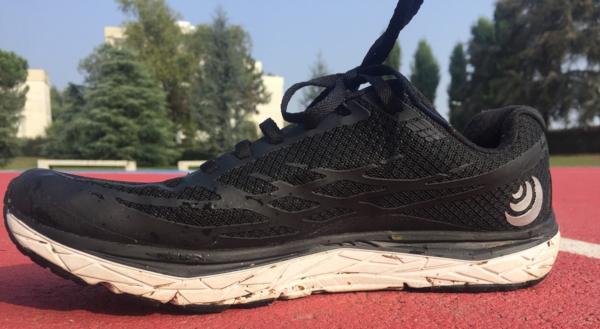 Those who run forefoot will find the toe rocker good to offer reactivity and propulsion to the gait. On the other hand, those who lightly heel-strike will find the right aid in the double EVA sole to cushion the repetitive impact on the road without suffering the consequences on muscles and joints.
Otherwise, the sole of the Magnifly will naturally deliver you to a midfoot strike, and it won't feel that weird.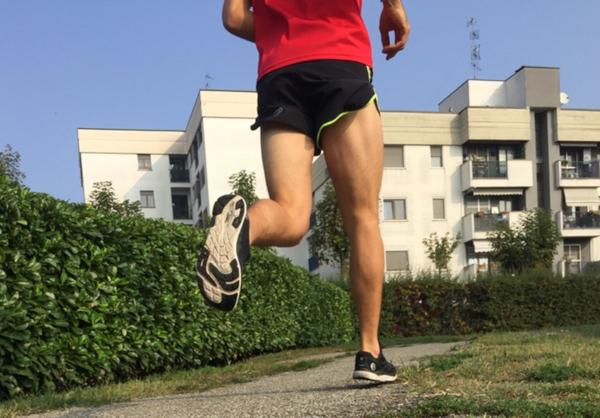 Upper and Mesh Materials
The upper is light and breathable. The foot does not sweat and does not overheat.
I appreciated the choice and the combination of the materials. I've never experienced anything that bothered me or caused blisters even though sometimes I used them without socks (not so hygienic though).
Also, the trademark wide toe box of Topo athletic is a comfortable housing of the foot without constraints. The shell on the heel is barely mentioned, always in the name of the "philosophy" of leaving the foot free to move naturally. However, this does not mean a lack of stability in support or rubbing on your Achilles tendon.
Good grip on dry asphalt, but I have not had the chance to test them in the wet.
Lacing
The laces are flat and flat are also the holes of the button holes, which prevents them from twisting. Unfortunately, this system does not prevent the laces from loosening too easily.
This is very annoying as it forces you to a double knot if you don't want to have to pause the Garmin at least a couple of times per workout. I like the extra shoelace hole near the tongue because I love to use it when I tie my lace up. In this way, my heel is firmly locked in place, and the foot doesn't slip towards the toe (no more blisters for me).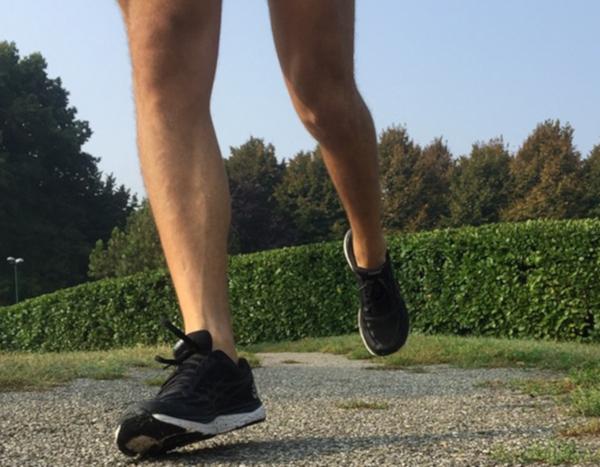 Conclusions
In the beginning, I was a little susceptible because I was expecting a much more minimalist and natural shoe. The flexibility and the stack height are not the ones I would expect from a natural running shoe.
I am convinced that these shoes are truly versatile and suitable (after180 km) for those who want to face a transition to the natural style without giving up the right cushioning, but also those who run fast and look for a reliable shoe will not have to worry about what they're wearing with their feet into these Topo.
Good to know
The Topo Magnifly gets a surprising facelift in its latest release, as it now features a lower stack height and a zero drop. Although now a heavier shoe compared to its predecessor, it also has more cushioning, which neutral pronators will find useful.
The upper retains its lightweight mesh material, but now with a more streamlined appearance. It offers a "second skin" fit and sensation for the runner. Likewise, the toe box is the same spacious structure to allow a natural and comfortable toe splay.
Though now updated in stack height, the Magnifly 2 still has a multi-density midsole that presents two levels of cushioning, with each one catering to the foot and the ground, respectively. Meanwhile, the outsole has the signature pattern that almost all the brand's road shoes display.
The Topo Athletic Magnifly 2 has a standard running shoe length, but it has a roomy toe box that will grant a comfortable fit even for runners with a high foot volume. It is available in the medium width for both the men's and women's versions.
A classic sticky rubber forms the outsole of the Magnifly 2. It provides sufficient traction, while also supplying the shoe its durable quality. The sticky rubber is as durable and reliable as the outer sole of the Cascadia 13. The forefoot follows the midsole's rockered structure to help create propulsion during the gait cycle.
The midsole of the Magnifly 2 has a high stack height, which results in a generous amount of underfoot cushioning. It uses a dual-density foam – a soft layer under the foot and a firm one on the ground – to permit a responsive and plush ride.
The forefoot area has a rockered structure to promote an easy toe-off, therefore making transitions quicker and smoother. This feature also encourages the runner to go for longer miles.
An ultra-light mesh comprises the upper of the Topo Athletic Magnifly 2. This material allows the foot to breathe with its seamless finish, as well as enable natural movement with its minimal weight. It has a printed, streamlined pattern that produces a snug midfoot lockdown, resulting in an anatomical fit.
A set of strategically-placed overlays are present to wrap the foot in a comfortable yet secure way. These overlays are concentrated on the midfoot and heel area, giving the toes and forefoot plenty of room for movement.
There is a padded tongue that delivers adequate protection from outside elements. It also effectively prevents the shoelaces from rubbing against the foot.
The extra-wide toe box equips the shoe with additional space to promote a natural toe splay and increased mobility.
Rankings
How Topo Athletic Magnifly 2 ranks compared to all other shoes
Popularity
The current trend of Topo Athletic Magnifly 2.