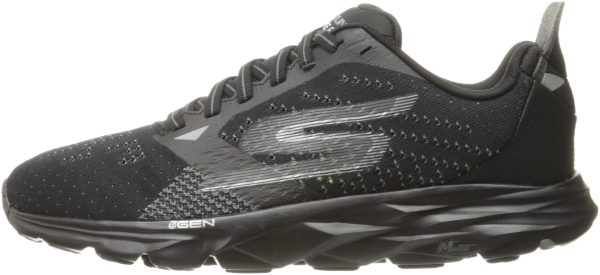 The Skechers GOrun Ride 6 offers responsive cushioning that results in an untiring run. It is a lightweight shoe with a breathable upper, a feature that maintains a cool and dry environment for the foot. The firm grip of the outsole enables runners to perform well on the roads. Although a little expensive, its overall features and a nice color scheme make it worth its price.
---
Verdict from 5 experts and 100+ user reviews
8 reasons to buy
The majority of runners had an untiring run due to the excellent underfoot experience given by the Skechers GOrun Ride 6.
Many consumers found the cushioning of the shoe amazingly soft.
The shoe is worth its price due to its overall great performance, said most users.
A number of runners were satisfied with the breathable upper of the shoe since it kept their feet cool and dry.
Many users appreciated its light weight by mentioning that it was like walking on the air.
Most runners liked the firm grip it provided on various surfaces.
Many testers expressed that the shoe offered a snug fit.
A handful of buyers praised the color schemes and appearance of this shoe.
2 reasons not to buy
A few buyers were disappointed with the narrow fit of the GOrun Ride 6.
Some customers complained about the apparently expensive price of this running shoe.
Bottom line
The Skechers GOrun Ride 6 offers responsive cushioning that results in an untiring run. It is a lightweight shoe with a breathable upper, a feature that maintains a cool and dry environment for the foot. The firm grip of the outsole enables runners to perform well on the roads. Although a little expensive, its overall features and a nice color scheme make it worth its price.
Best price from 54 shops
We earn affiliate commissions at no extra cost to you when you buy through us.
82% say it's true to size.





Our reviews
The Sketchers GOrun Ride 6 is a fantastic long run trainer and race day shoe for those who need a bit of extra support.
The backstory
I ran my 2nd marathon, a Boston qualifier, in a pair of Brooks Racer ST 5. I loved them, but the line was discontinued.
So, nearly a year out from my first Boston Marathon, I set about the task of finding the shoe that would take me across the finish line on Boylston.
I struggle with injuries, so I'm not confident enough to run a marathon in a racing flat or other ultra-lightweight shoe. My race-day shoe for Boston would also be my main long-run trainer—something light enough to make my footsteps feel less plodding after 20 miles with enough cushion and support to soften the damage of my muscle imbalances and form deficiencies.
In summer 2017, my cohort of contenders consisted of:
The build
My first marathon build with the GoRun Ride was a test against 7 other pairs for what would become my Boston Marathon race shoe. I put them through their paces on long runs, tempo runs, easy runs, and consistency runs.
They quickly became my go-to for long runs, offering the best balance of comfort and speed. Within a few weeks, I knew they would be my race shoe.
They are not a tempo shoe. You can go relatively fast in them, but the toe box is a bit too wide and there is generally a bit too much shoe to really feel like a speed demon in them.
During my second marathon build-up, their use was confined to what they were best at long runs.
The races
I've run two races in the GoRun Rides: the 2018 Boston Marathon and the 2018 Goodlife Fitness Victoria Marathon. They were perfect for the conditions in Boston.
Rounding toward the finish at Boston. My Skechers GoRun Ride 6s looking almost as fresh at 550 KM as the day I first put them on.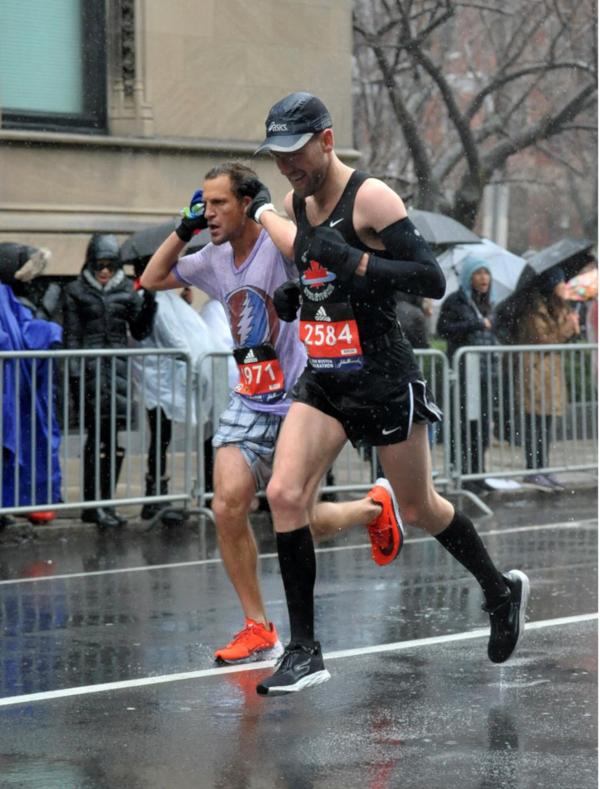 The coldest BM since 2009, my Skechers supported me through temperatures in the upper 30s, high crosswinds, and pouring rain.
I landed in a few puddles but didn't feel weighed down or too cold. While many suffered, I raced to a 2:45:16, an over 10-minute Personal Best! I love these shoes.
Going into the Victoria Marathon, I wasn't sure I would wear them, but only because I really wanted to try a racing flat.
By race day, nothing in my current roster of shoes felt as good, and I'm glad I opted for them again. They were the right pick for this race's hilly terrain, on another rainy day. Another PB of 2:44:02.
The fit
Initially, I didn't love the fit. The toe box is quite large, combined with the relatively stiff material of the upper. It created a 'crinkling' effect when the laces were tightened that causes the material to dig into the top of my forefoot on my first runs in the shoes.
However, the material quickly softened with use, and I was no longer bothered. The large toe box was from then-on only a positive as it allowed my toes to spread out and foot to swell a bit on long runs without any discomfort.
This 'crinkling' effect in the toe box created some discomfort at first when the material was a bit stiffer but was not noticeable at all after a few runs, and the large toe box is a definite plus.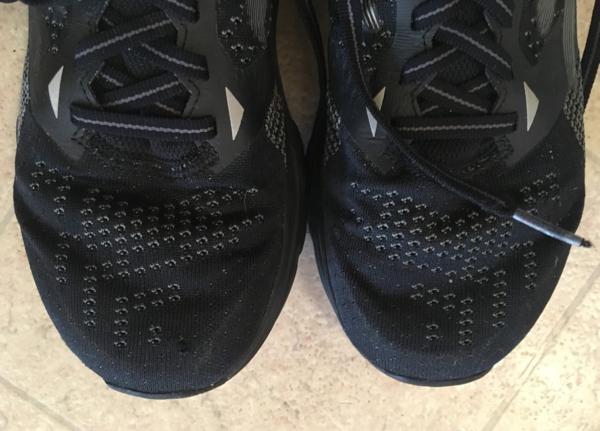 I found the upper to be exceptionally comfortable around the rest of my foot, never lacing up too tight, but keeping my foot in place from heel to ankle to mid-foot.
The feel
I would love to be able to race in a flat, but right now I need some cushioning as my form breaks down over long miles. The GoRun Ride is a perfect balance.
They're light enough for some late bursts and cushioned enough to keep my legs going. They never felt uncomfortable, too hot, too cold, or waterlogged. They're as versatile a trainer as they come.
They also stand up well to high mileage and all manner of weather and conditions. I've worn them:
In slush and light snow
In heavy rain
On hot and humid summer days
On non-technical trails
On every kind of paved surface imaginable
The outsole
My one complaint is the sole structure occasionally traps pebbles. I've never had to stop to pick them out, but I have had to shuffle and sweep my foot to knock the rocks out.
Handy for rock collector. Not as handy for grumpy runners. Luckily, pebble pick-up is rare.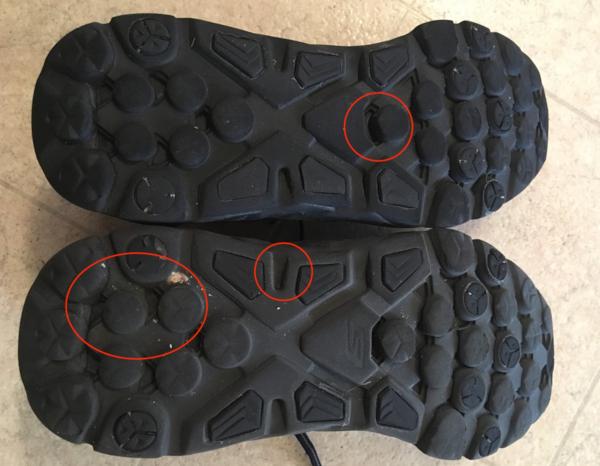 I retired my first pair after 550 KM / 340 miles, but not intentionally.
After racing the 2018 Boston Marathon in them in hypothermic conditions, I was confined for 2 hours to the warming area where I had to strip off all my sopping wet clothing.
Signs of wear after nearly 500 KM. Cushioning still feels good, and I intend on getting another 300 KM out of them.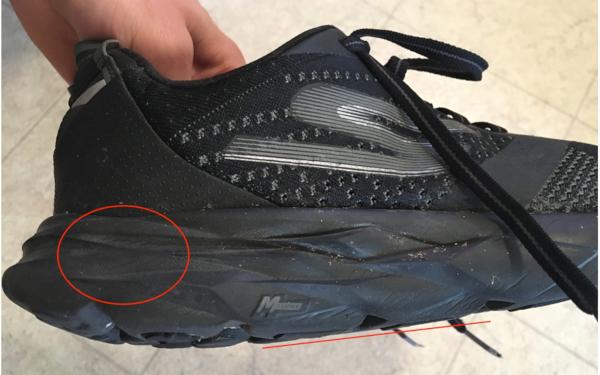 Somewhere along the line, I lost track of the shoes that got me through.
My first purchase after the race was a second pair, which I've now worn through another build and marathon. I expect I should get at least 750–800 KM out of them.
The verdict
They're a near perfect lightweight trainer, and, for injury-prone me, a solid choice for a well-supported race day. If I could buy them in bulk for long training runs for the next 10 years, I would.
Good to know
The GOrun Ride 6 makes use of the GOimpluse Sensors on its outsole. These strategically placed rubber pods ensure a firm grip on the ground while giving bounciness to each step.
Although the GOrun Ride 6 uses the same midsole mechanics as in the GOrun Ride 5, it does not use midsole paint on the sides.
The Ride 6 is true to size. It is available in medium widths D and B for men and women, respectively. It also has a standard running shoe length. Moreover, its semi-curved shape contours well with the natural shape of the runner's feet.
The outsole of the Ride 6 has GOimpulse Sensors. These are circular pods that are located on the front and rear sections of the outsole. They provide a firm grip on the ground and allow a dynamic push in every step. This outsole element is also present in the Skechers GOrun Ride 7.
The Ride 6's midsole utilizes 5GEN cushioning. It is an EVA foam variant, which is soft, lightweight and responsive. This technology adds comfort and enhances the efficiency of every stride. The feature also reduces impact shock on the runner's foot, thereby giving protection.
The shoe also has the M-Strike technology in the midsole. It's a platform design that encourages the wearer to strike more using the mid-foot, thereby accommodating a quicker step.
The upper of the shoe utilizes the GOknit fabric. The fabric is breathable in nature, with cooling panels and perforations on the front and sides. Moreover, the adaptable material gives a sock-like fit.
The shoe has a Quick Fit Portal at the back of the heel. It is a finger loop that allows the foot to enter the shoe easily.
The integrated inner support strap strengthens the upper and gives the runner a snug fit.
The External Hotmelt support straps provide more structure to the upper section of the shoe. They also act as overlays that assist in securing the foot.
The molded counter keeps the heel secure. This technology holds the back of the foot and prevents it from wobbling or exiting the shoe accidentally.
Rankings
How Skechers GOrun Ride 6 ranks compared to all other shoes
Popularity
The current trend of Skechers GOrun Ride 6.